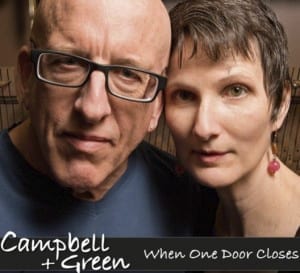 Friends of mine were visiting from Nova Scotia last week, on a tour to promote their new cd. More on that in a bit. Robert had commented on a previous My Kitchen Wand post that he hoped he would get some of what I was posting about when he was back on the west coast and I thought would be a nice surprise after the concert.
This nummy treat is an example of why I zest and keep citrus peel as mentioned in a previous post. I used 1/4 cup for this recipe and it is so nice to just pull it from the fridge. Hesperidin is in high supply in orange zest. It is a flavonoid that helps to lower LDL cholestrol levels, normalize blood pressure and is a good source of pectin. Pectin is used in the body to control blood sugar levels. Think of it as sort of a counter balance to the sugars in this recipe. Consistently adding refined sugars to any diet is not my first choice, but it is nice to know when celebrating that some ingredients can soften the overall effect.
From a food magic perspective the ingredients gathered together cover love, purification and protection.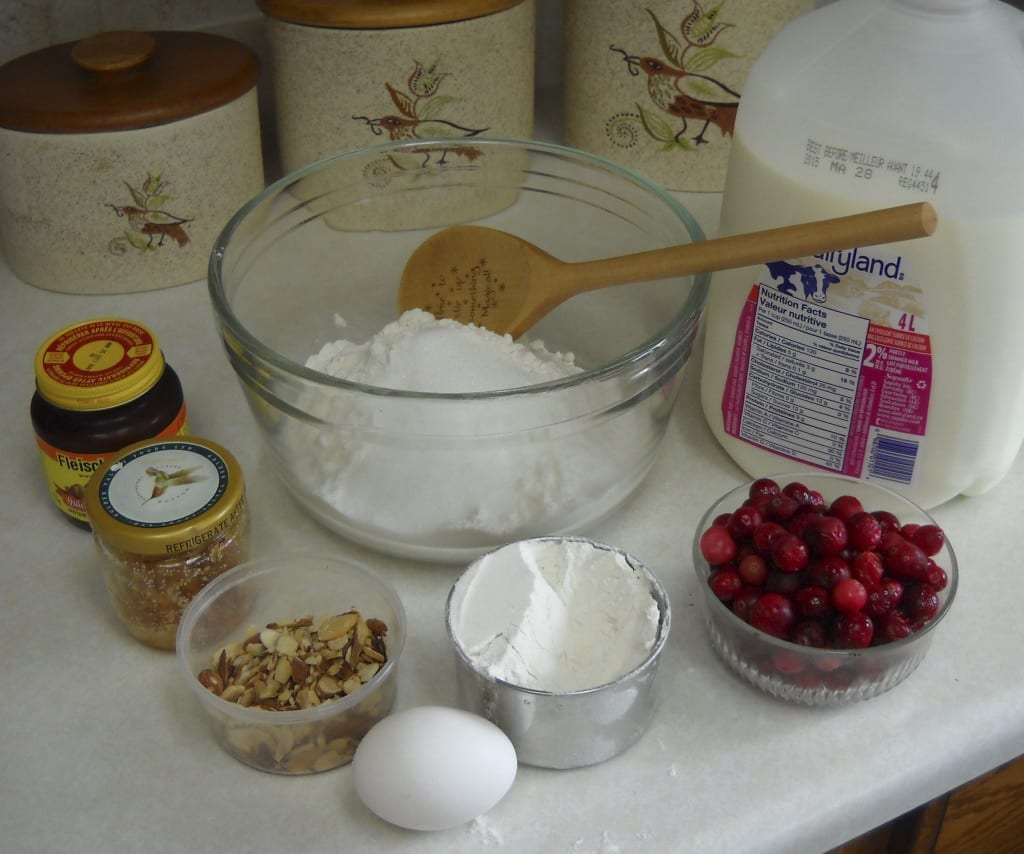 You will need:
3/4 cup milk
1/4 cup water
1/4 cup butter
3 1/4 cup flour
1 Tbsp. yeast
1/4 cup sugar
2 Tbsp. orange zest
1/2 tsp. salt
1 egg
1/2 cup roasted almond slices
1 1/4 cup frozen cranberries
7/8 cup brown sugar (1/4 cup x 3 plus 2 Tbsp.)
1 Tbsp. orange zest
1 Tbsp. slivered almonds
1/2 cup melted butter
As you gather the ingredients, place your focus on the people you are baking for. What do you like about them? What do you love about having them in your life? What have you learned from them? Close your eyes, hold those feeling with your intentions and ask for the compassionate spirits to be with you as you prepare your gift. Deep breath in…and begin.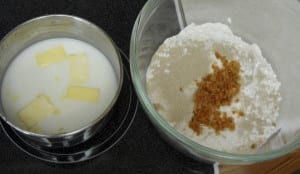 In a pot place milk, water and butter and gently heat the milk to just above body temperature so that the butter will melt.
The heat is needed to help the yeast grow but too hot and it will die, don't go over 115 degrees F.
Combine 2 1/4 cups flour, white sugar, yeast, salt and orange rind in a bowl while the milk/water is heating and combine once the butter has melted.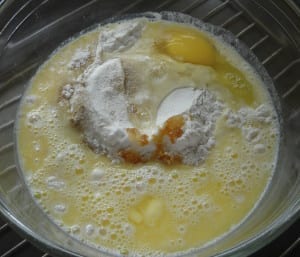 Add an egg and using a hand or stand mixer turn on and bring the ingredients together. The dough will be sticky and possibly climb up the beaters. Turn off and clean off.
I turned the dough out onto half a cup of flour sprinkled on the counter and kneaded until it was worked in. Then added the final half cup and continue kneading. There are things that can effect how much flour is needed, measuring, moisture, so I don't always add everything at once and risk a dry dough.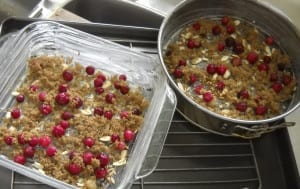 Once the dough is mixed allow it is rest for 10 to 15 minutes. This is a "quick" recipe, done in 90 minutes. That means there are not two full rises and the ratio of yeast to flour is higher to aid in a quicker rise. Lower ratios and longer rising will assist in developing the flavour of the flour itself. This recipe will get is flavour from the zest, cranberries and brown sugar. While the dough is resting prepare the pan(s). The recipe will create enough dough for both these pans, a 9 x 9 square and a nine inch spring form and I am going to finish them off in two different ways. One larger pan, say a 9 x13 or a little large if you have one, will also do the job if you choose to finish all the dough one way.
Butter the pans and sprinkle with 1/4 cup each of brown sugar, slivered almonds and  cranberries. Put aside. Divide the dough almost in half. You will need slightly more for the pinwheel, about a quarter cup extra volume.
Finishing Option One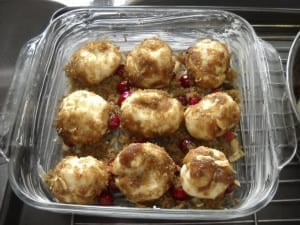 These are what are traditionally known as pull-aparts. The butter and  sugar ensure the pieces do not bake together.
In a bowl mix 1/4 cup brown sugar, 1 tbsp. orange zest and any remaining almonds pieces. I had a tablespoon or so left in the container. So rather than store them again I popped them into the coating mix.
Melt 1/2 cup butter.
Divide the dough into 9 evenly sized pieces and roll into balls. Dip in butter and then roll in the brown sugar/orange zest mixture and place in pan in a 3 x 3 pattern.
Finishing Option Two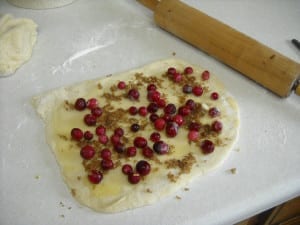 These will be upside down pinwheels. The pan will need to be flipped, once baked. They are filled with cranberries and have a little more tang to them.
Roll out the dough into a rectangle 7 by 12. Brush with melted butter and sprinkle with orange zest and 2 Tbsp. brown sugar. Evenly space the remaining 3/4 cup of cranberries and roll up from the short end.
Cut into seven pieces and place cut side down on top of the ingredients in the prepared pan.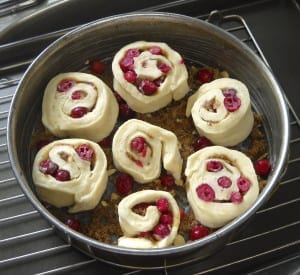 Back to general instructions
Find a nice warm place for these treats to rise until double, about an hour. I turned the oven on for a few seconds and then turned it off. Do not even let the oven register the lowest temperature or it will be too much. You want it just over room temperature, not too warm and definitely not hot.
If you have any remaining melted butter, drizzle it between the pieces of dough and so it can get to the brown sugar at the bottom of the pans.
If you are using still frozen cranberries, expect the rising to take longer as the cold from the cranberries will affect the activity of the yeast.
Once the dough has doubled in size preheat your oven to 375 degrees. Take the pans out of the oven they were in the oven. Bake for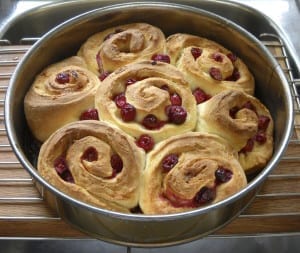 The trick to getting these turned over easily is three fold. Butter the pans well before adding toppings to prevent sticking. Do not over bake. Flip before the caramelized sugar has a chance to thicken.
Place a plate over the pan. The plate should fully cover the pan and not allow for the hot melted sugar to run out and touch any skin.
Using oven mitts or tea towels hold the pan and plate together and turn upside down quickly. Allow the buns and topping to drop to the plate. Place plate on the counter and remove the pan. Adjust as needed and scrape any remaining topping from the pan and return to the buns. Cool until ready to serve.
These I baked for the friends mentioned above. The release of their new album, When One Door Closes was the impetus for the trip out here and a chance to have a few minutes with them in the middle of the running around was great.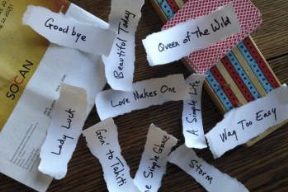 To hear Campbell+Green in action check out this link and you will be able to listen to all the songs from the new project. http://campbellandgreen.ca/
Below are the Cranberry, Orange, Almond Pull-aparts. Milk, coffee or tea and five minutes to myself please!
We all need a moment, every so often, to rest and reflect and listen; to ourselves, to the world around and to the creativity of others.
Spirit moves through each of us in a different way. Is that not wonderful? How does spirit move through you before being shared with the world?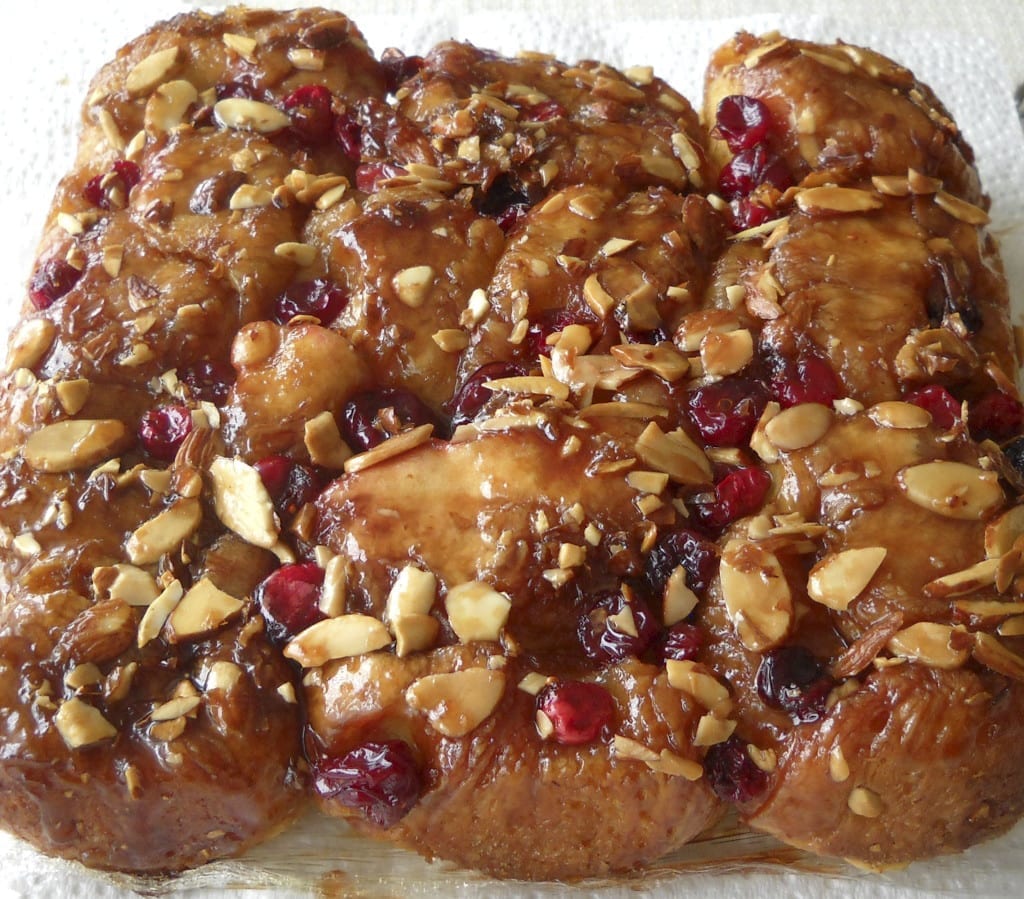 Orange, Cranberry, Almond Sweet Breads from My Kitchen Wand