Welcome back! We are at the last day of our preparations for Lammas Tea.
The tradition of "tea" be it high or low dates from the mid 18th century. Prior to that time most people sat for two meals a day, breakfast and an evening meal around 8:00pm ish. Anna, the Duchess of Bedford is said to have introduced the idea of tea and small snack before taking an afternoon constitutional. Over time the tradition has become very much a part of the culture of food lovers. High and low teas are different in that a high tea is enjoyed at the higher height of the dinner table, at the end of the work day by families and includes hot savoury items, more like an actual meal. Low teas are fancy finger food in the style of the afternoon tea we are preparing, served a little earlier in the afternoon on lower side tables and usually enjoyed by a group of women.
Started in Scotland and first mentioned in 15th century writings, scones are a traditional part of tea on the British Isles. Now made more often with white flour they come from a history of oats and so we are going to bake a recipe that harkens back to that original idea and includes some 2013 additions like red lentils for extra fiber and nutrition, dries blueberries and raspberries in honour of "first fruits". Added to that we will whip up a batch of vanilla butter and forgo the Clotted Cream as that is not always easy to find. If you have a good local source….indulge yourself.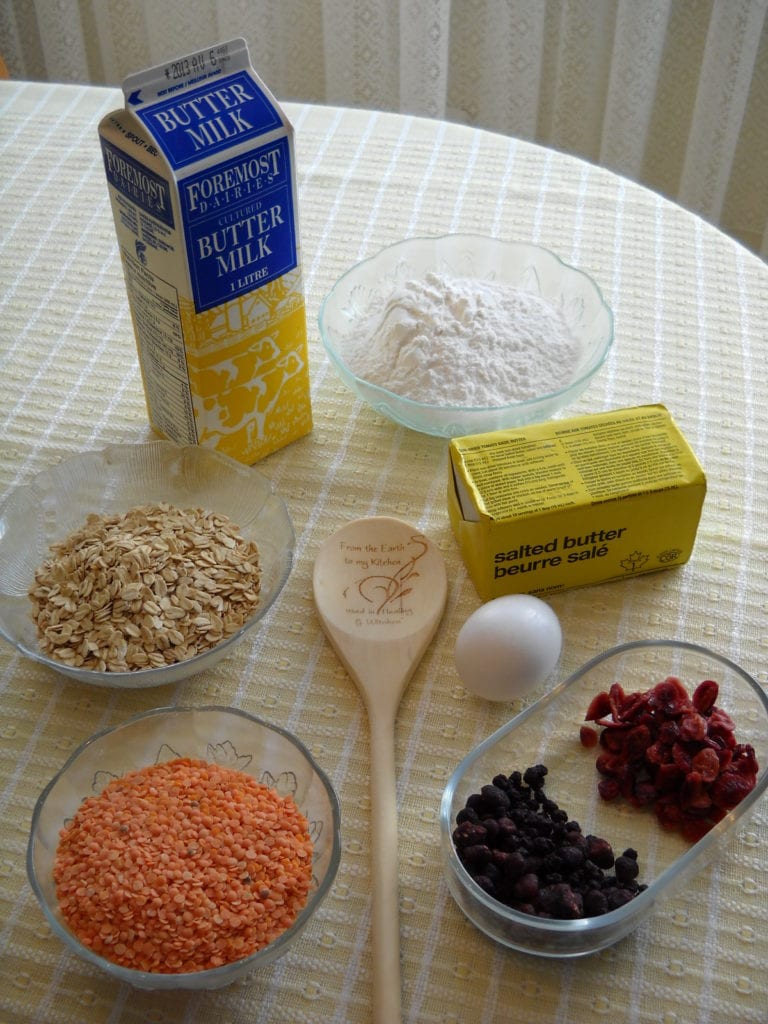 You will need:
1/4   cup dry red lentils
2      cups flour
1/2   cup oats
1/4   cup brown sugar
2      tsp baking powder
1/4   tsp baking soda
1/4   tsp salt
1/3   cup cold butter, cut into chunks
1/2   cup dried fruit
2/3   cup buttermilk
1 large egg
coarse sugar, for sprinkling (optional)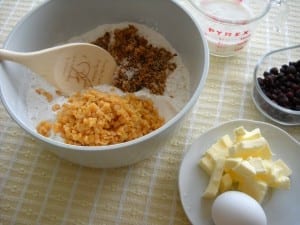 Deep breath and a shift in focus is the best way to start. Bring you attention into the present and let go of what will keep you for being fully present in the kitchen. Breathe……
Place the red lentils in a small pot and add enough water to cover an inch or so, bring to a boil, reduce heat and allow to simmer until the lentils are soft 15 – 20 minutes. In the scones the lentils will add a similar texture as the oatmeal and will bring extra fiber to the finished product. Drain well. Heat the oven to 400 degrees.
Combine all the dry ingredients, add the drained lentils and gently toss. Cut the cold butter into small pieces and add to dry ingredients. Mix with pastry blender, two knives or with clean hands until the butter is in small flour coated pieces between the size of cornmeal and baby peas. I like to get in with my hands and feel the textures changing while the ingredients blend and to say thank you for all the ingredients I am using today.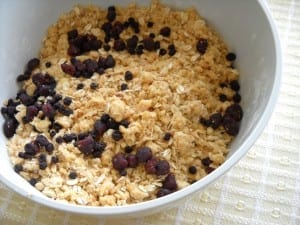 It is possible to do this in a food processor with a few quick pulses. Once mixed, transfer the mixture back into a bowl and add dried fruit. Combine the egg and buttermilk and add to the dry ingredients, blend only until just mixed. This will be a moist dough. Do not over mix.
Pat into small circles and place on floured surface. Now because we are making these scones for Lammas/Lughnasa, we are going to use a cookie cutter and turn our scones into circles that represent the sun but it is also possible to pat your dough into a rough circle and cut in four to create triangles. Place on baking sheet and add the optional topping of a dusting of coarse sugar. I am leaving it off as, we will be finishing with jam and there are soooo many other things that have sugar in them at this celebration of bounty.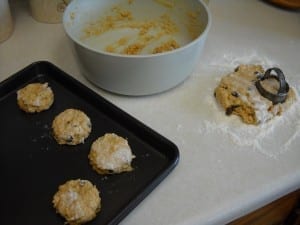 Bake 15 minutes depending on your oven or until the bottoms are lightly browned.
These round ones are about 2 inches in diameter.
If you bake the triangles they will need closer to 20 minutes as they are larger.
Scones can be served warm of cold and are best served the day made.
As a final added treat to spread on your tasty scones, we are also going to whip up some Vanilla Butter. The easy way is just below with added instructions if feel game as a second option.
For Vanilla Butter you will need:
1 Vanilla pod
2/3 cup Butter
Maple Syrup to taste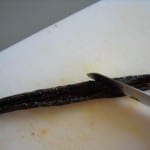 Cut the fresh vanilla pod lengthwise down the middle and scrap out the seeds inside.
Add to room temperature butter and mix well.
Slowly add maple syrup to taste starting with 1 Tablespoon and whip.
Chill.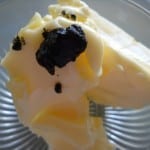 If you are really feeling adventurous you can also start with whipping cream and deliberately turn it into butter by whipping it past the firm peaks stage with the additional ingredients included.
The milk solids will separate and you will get butter and the remaining liquid. The solid pieces are patted together by hand so that the extra liquid can drain away. This is where the term a "pat of butter" comes from for the pre measured portions of butter you get at a restaurant.
Tomorrow, I am being joined by friends in a park by the river. We are coming together in friendship to share our goodies, tell truths, play games and gratefully enjoy the treasures that Mother Earth provides for us each and every day.
The tea cup below is from Japan. The cat is watching the fish it can see at the bottom of the cup!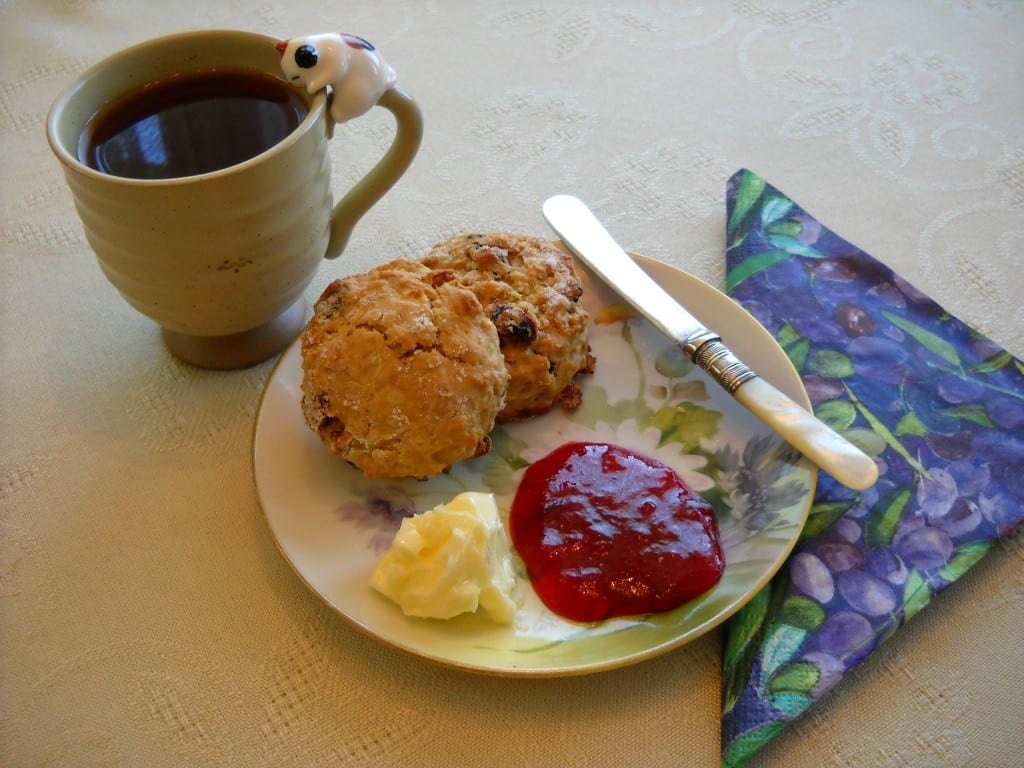 Red Lentil Oatmeal Scones and Vanilla Butter with Strawberry Rose Petal Jam from My Kitchen Wand