Don't believe me? A cup of steamed broccoli has six net carbs and three of these cookies are under four. They are made with an almond/coconut flour mixture and I really like having something to offer friends with diabetes or who are carb counting. It is possible to take this recipe to the cookie scoop stage and then freeze the little balls until needed. A quick pop in the oven while the kettle is getting to a boil works well and Cakes and Ale is so much easier for those with low carb, non gluten preferences.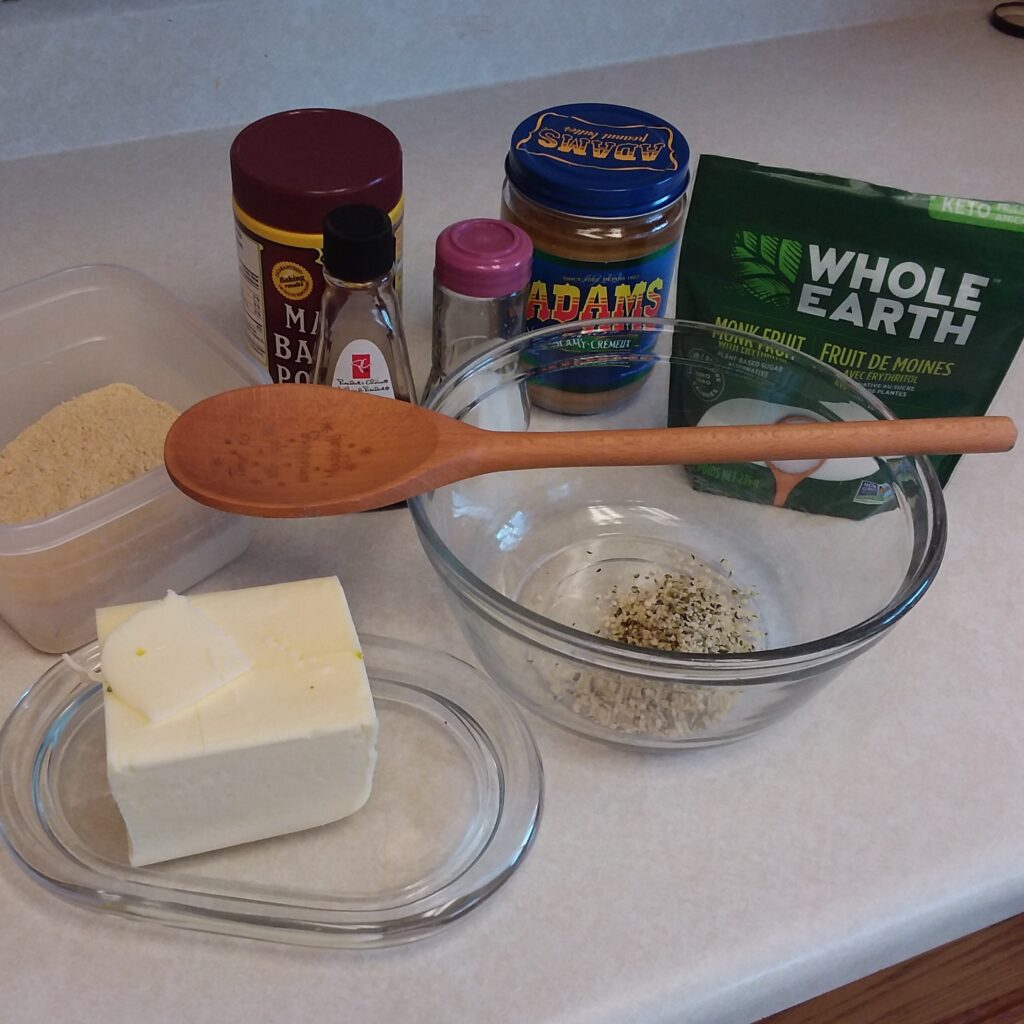 You will need:
Tbsp. butter, softened (bring to room temperature)
1/2 cup of creamy peanut butter
4 Tbsp. monk fruit/erythritol sugar substitute
1 small egg
1 tsp. vanilla extract
1 cup almond flour mix
1/2 tsp. baking powder
2 Tbsp. hemp hearts ( optional)
pinch of salt
"In my kitchen filled with care, I welcome Earth, Fire, Water, Air". Close your eyes for a moment while taking a soothing, refocusing breath. Clarify your intention and invite the compassionate spirits to join you. Gather your ingredients, wash your hands and begin.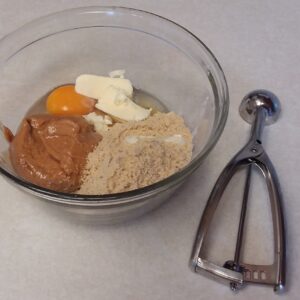 Preheat the oven to 350 degrees F. Cover a cookie sheet with parchment paper and put aside.
Place all the ingredients in a medium bowl and mix together. Butter at room temperature is most helpful. The pinch of salt and a full teaspoon of vanilla help in covering the "icy" aftertaste of the sugar substitute and the hemp hearts were to add more micro nutrients and protein, without adding more net carbs. I used the dark roast option of a brand of peanut butter that was just peanuts with no added salt or sugar.
It couldn't be simpler! I have found that mixing by hand is easiest (as it let's you squeeze effectively) but a spoon works too.
A small cookie scoop will allow for 25 cookies if the bottoms are flat, 22 if they are more rounded. Hand rolling is always an option and if larger cookies are the goal, remember they will need to bake longer and be checked as all ovens are a little different.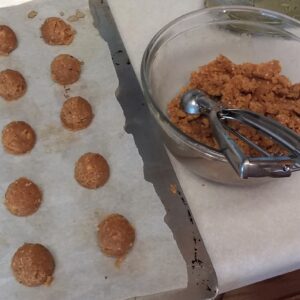 Finish the cookies by pressing them down with either a fork or fingers. I find fingers much quicker and generally more successful. The dough can get caught in the fork tines when the hemp hearts have been added and the edges tend to split a little more as the cookies are spread out.
In my oven, 9 minutes is all they need and like all almond flour baking, let the cookies sit for 5 minutes so that their structure can firm up before handling.
People dealing with diabetes or on a Keto lifestyle are looking for ways to avoid sugar spikes and cut down on carbs. Including these alternative sugars allows for that sweet tooth to be satisfied while keeping one on track, when used appropriately.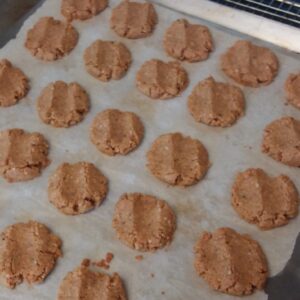 Sugar substitutes are a whole discussion in and of themselves. My impression is that information is constantly changing about what tastes acceptably good and has no unwanted side effects. Most alternative sweeteners have not been on the market for very long and we are all still learning.
Some, like allulose, are not yet approved for use in Canada or Europe, although it is available in the U.S. Made from genetically modified corn and wheat, it is all a question of what qualities are important to the user so please feel free to adjust the kind of sweetener if there is something you prefer.
There are 32.1 grams of net carbohydrate in the entire batch or 1.28 per cookie. From a calorie perspective, the numbers are 1,628 for a full batch or 65 per cookie when there are 25 cookies.
My personal first choice is to eat as little processed food as possible. In my opinion, whole food, should in theory, contain fewer chemicals and more nutrition than packaged/processed items. Considering this page and how much all purpose flour baking has been shared, I could not disagree if someone were to call me hypocritical. As the focus is celebrating, it is a time when we tend to splurge. Having options that accommodate all diet types helps everyone feel included.
As mentioned above it is about the qualities that are important to the user and considering that in 2019, the average per capita consumption of wheat flour was 131 pounds, consumers use a lot of all purpose wheat flour. It is more cost effective and most baking is based on its properties. It is also what we grew up with and so is what we see as standard and normal. Sometimes though there are good reasons to look beyond normal.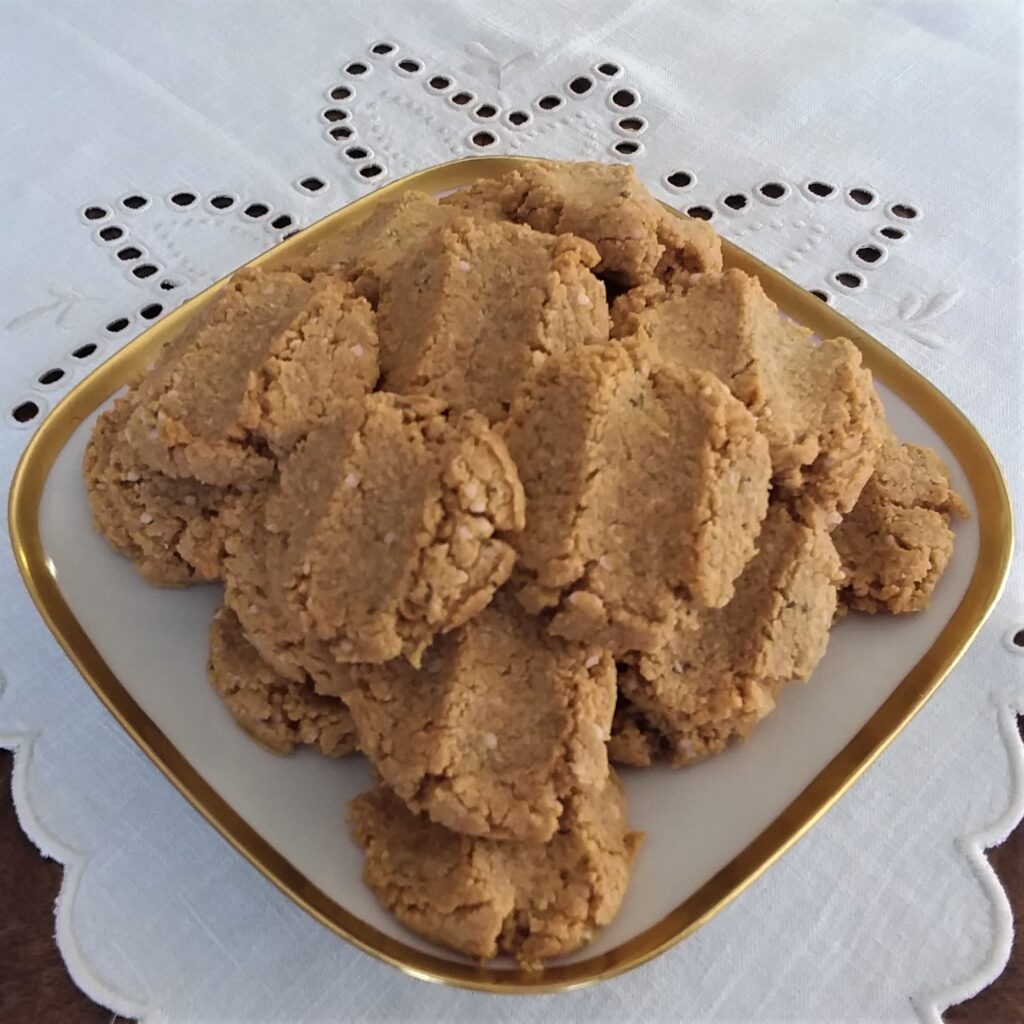 Keto Peanut Butter Cookies from My Kitchen Wand