Earlier this month I posted Imbolc Seed Bread and it got me wondering if a "sweet" version might be possible as well. It took a couple of tries as flavours blend differently in lentils than in flour but according to those doing the taste testing (thank-you!) we got there.
Red lentils are full of B vitamins, iron, magnesium, potassium, and zinc. One cup contains almost 18 grams of protein, over 15 grams of fiber and 40 grams of carbohydrates, giving them an entirely different nutritional profile to all purpose flour. At 21, they have a low glycemic index value, making them a valuable alternative when trying to keep blood sugars from spiking. The carbohydrates from red lentils come to 15 grams for the entire cake or 2.5 grams if cut into six pieces. There are many food choice styles that would find these numbers acceptable but just wanting a better nutritional mix is a good place to start.
As in all things, tweaking to the qualities that work for your family is recommended. This is a subtly citrus cake and the one thing I would not suggest adding is lemon juice. The absorption is different with lentils and even a little went too far.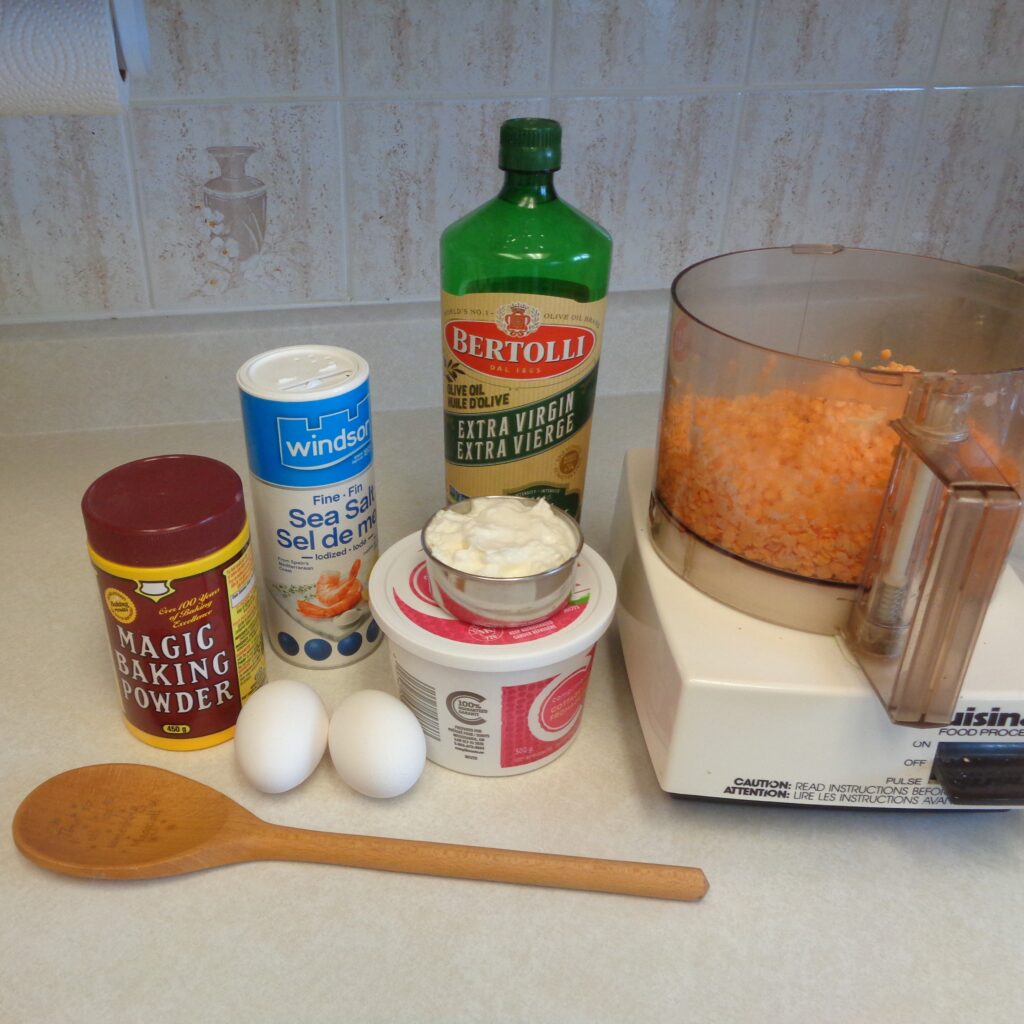 You will need:
3/8 cup red lentils, soaked overnight
1/4 cup cottage cheese
1/4 cup greek yoghurt, plain
2 Tbsp. olive oil
1 egg
1/2 tsp. salt
1/2 tsp. lemon peel
1/2 tsp. orange peel
1/4 tsp. chia seeds (optional)
1/4 tsp. flax seeds (optional)
2 Tbsp. Monk fruit/erythritol sugar substitute (or a preferred alternate 1:1 substitute) or white sugar
1 1/2 tsp. baking powder
Pause for a moment and just be still. Let go of your "nigglies" and come into the present moment. Define your intentions and take a deep breath. Hold. Release. Repeat. Feel your shoulders drop and maybe even yawn a bit. Feeling more centered? Begin.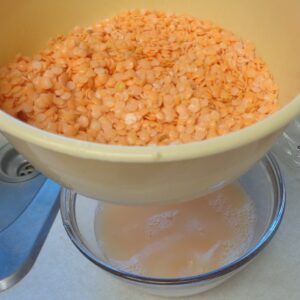 Preheat the oven to 350 degrees F. Brush a six inch round spring form pan with olive oil. Leave the brush with the pan as the oil will flow to the bottom and a swirl around again before adding the batter will help the finished cake come away from the pan.
Drain the lentils and rinse under clear water until the water leaving the sieve looses that milky quality.
Place the lentils in a blender and pulse several times before opening the container and scraping down the sides. Repeat as many times as needed until the mixture is smooth.
This recipe uses red lentils and although green or brown lentils are also options, the red ones will finish up looking more the colour one might expect from cake. The uncooked aroma from the lentils will still be there at this point and will go away once the batter is baked.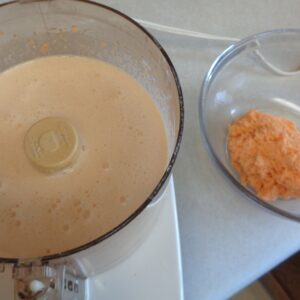 Remove from the bowl about half the mixture and place it in a mixing bowl large enough to contain all the ingredients in the recipe.
Into the remaining lentils add the olive oil, eggs, yoghurt and cottage cheese:; peel, salt and seeds if using. Pulse to mix well.
The mixture in the food processor will now be a liquid. Pour the liquid mixture into the bowl with the original lentils and combine with a spatula. The mixture will thicken a little as the two portions are combined.
Sprinkle the baking powder over the top before mixing everything together by hand.
Make sure there are no baking powder lumps in the mix. The baking powder will activate fairly quickly so be ready to transfer the batter.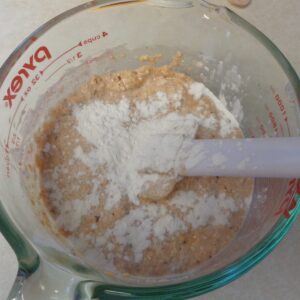 Give the pan one last brush to bring the oil back up around the sides and to make sure the bottom is fully covered.
Pour the batter into the pan.
Bake for 30 minutes, test with a knitting needle or toothpick and bake an extra five minutes if needed. Remove to a cooling rack until cool.
There is a tendency in non wheat flour baking, with ingredients like almond flour and lentils, for crumbling. For that reason cooling is important to build stability.
After five minutes, run a knife gently around the inside of the baking form. Undo the spring form and let the cake fully cool before transferring it to a serving plate. Cut into sections and serve with a little sauce of your choice and a bit of sweetened whipped cream.
The red lentils and egg do not combine the same way that flour and eggs will so you may find you are more aware of the eggs as you bite into your first slice but I find that that awareness goes away if the cake is fully cooled.
My other observation is that clean up takes a little extra attention as the batter tends to stick to things.
Store any leftovers in the fridge and take them out at least 15 minutes before serving. They will be firm and the time will allow the pieces to warm up and soften. Frozen sections have thawed nicely and still been moist for days.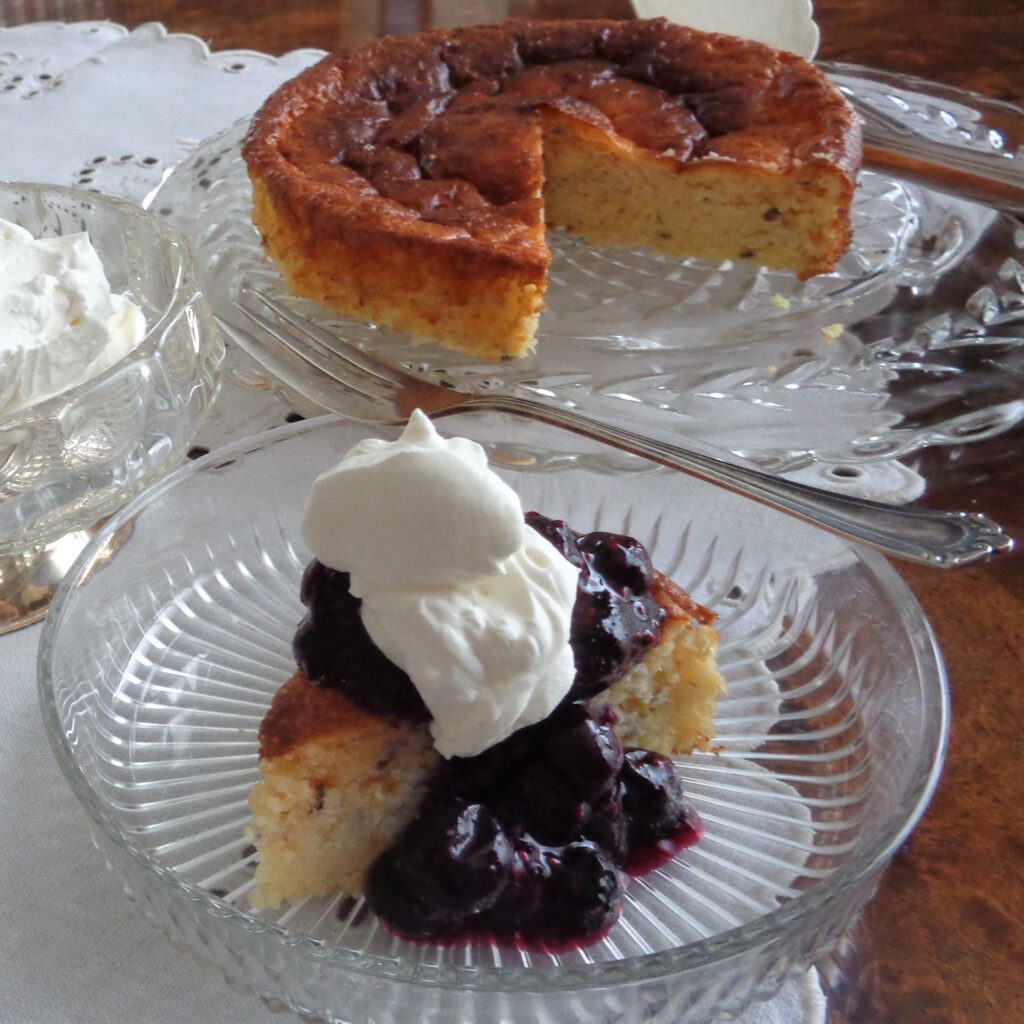 Red Lentil Citrus Cake from My Kitchen Wand