Yes, autumn is coming. The breezes have that lovely first hint of coolness to them. The leaves are dropping and all around the garden, plants are getting ready to go to sleep. I haven't pulled morning glory out of the hedge in at least a week! But it is not here yet, so before we fully transition into pumpkins and apples and kale. I thought we could spend a little time with pears.
One of the first written references to pears, dates back to 5,000 B.C.E. when a Chinese diplomat, Feng Li, left his post, obsessed with grafting fruits and nuts to develop a new business. Predating the written evidence though are Neolithic and Bronze Age remains found in prehistoric Swiss stilt houses that suggest pears are ancient indeed.
Homer, in The Odyssey, gives them high praise by calling them the gift of the Gods. Pomona, Goddess of fruit was well loved by Roman farmers and there is much documentation about  grafting techniques from that era. Early settlers to North America brought the pear to the east coast where they did not fair well. Pacific northwest orchards however have thrived, partially due to cooler climates.
Pear trees can bare fruit for a very long time ( some sources say over 300 years when growing happily ) so it is understandable that magically pears are connected to longevity.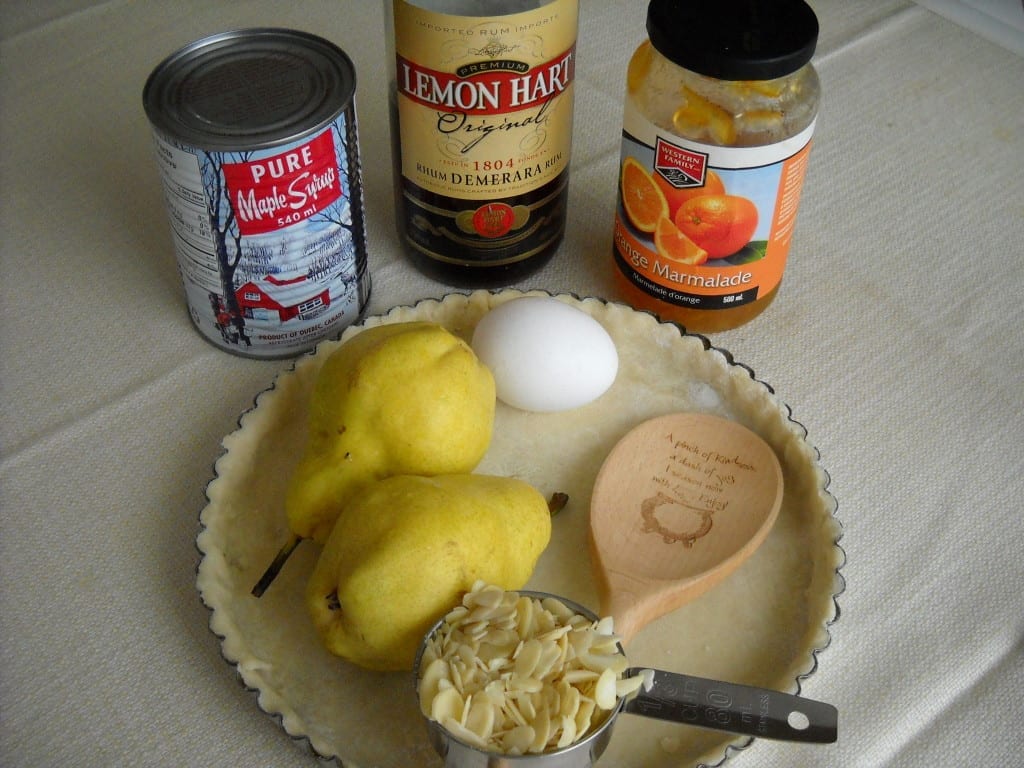 You will need for the pastry:
3/4 cup plus 4 tsp flour
1/2 cup cold butter
1/4 tsp of salt
3 Tbsp. water
You will need for the topping:

1/3 cup butter
1/2 cup sugar
1 egg
1/3 cup slivered almonds
1/4 cup flour
1Tbsp. rum ( or 1 tsp. rum flavouring )
1 1/2 Tbsp. maple syrup
2 ripe pears
slivered almonds for around the edge
2 Tbsp. apricot jam, crab apple jelly or orange marmalade
1 cup whipping cream
rum and maple syrup to taste
This particular pastry dough is a cross between regular pastry dough and puff pastry. You will not need to roll out and refold the many times needed for a traditional puff pastry and it will take longer to make than a normal pastry dough, mostly because of the cooling time. Your choice may be to make your regular pastry or purchase frozen puff pastry and if so, carry on! Once you have the pastry in your tart pan proceed to filling it below.
"In my kitchen, filled with care, I welcome, Earth, Fire, Water, Air". Breath in deeply, hold for a moment, and release all niggles as you exhale, bringing your attention into the kitchen to the project at hand. Allow your focus to be present and begin.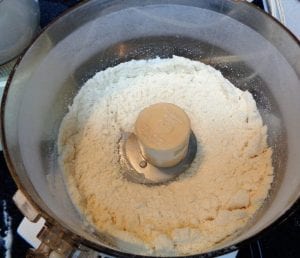 If starting from scratch then add a knife blade to your food processor and drop in the flour and salt. Cut the cold butter into small cubes ( about 1/4 inch ). Place 1/4 of the cubes into the bowl and process until they are invisible. Place the remaining butter in the bowl and pulse five or six times until it looks like crumble with the butter no larger than small peas.
Add water and pulse again four or five times. Your mixture should NOT come entirely together but be just starting to gather. Turn the mixture out onto a piece of wax paper and using the side of the wax paper, pat into a rectangle.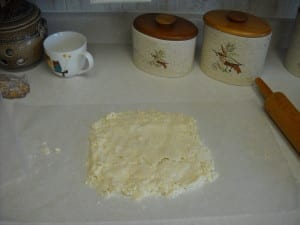 Place a second piece of wax paper on top and roll with a rolling pin out to eight by ten inches. As the butter softens this will get a little sticky and you can sprinkle small amounts of flour when the top layer of wax paper comes off.
Now, using the bottom sheet of wax paper as support, put your hand under the wax paper and fold one side over, one third of the way across the rectangle. Repeat with the other side, so the dough now looks like a three page brochure.
Fold the dough up lengthwise three or four times, to form more of a square, wrap and refrigerate AT LEAST one hour. The butter will have softened while using the rolling pin and it will need to firm up again.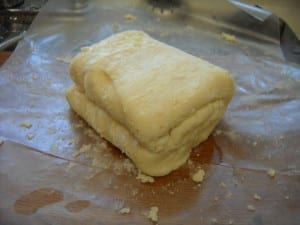 The amounts above are for half a recipe, more than enough for one tart but I would suggest making double and keeping some frozen on hand for quick solutions to ripe fruits and veggies and tasty appetizers, coming next.
Once the dough has cooled, and you are ready to complete the pie, preheat your oven to 350 degrees. Roll out the dough. This will take a little elbow grease if it has been sitting in the fridge for a day. Gently place in a pie or tart form. Trim the edges. I used a tart pan with a removable bottom so taking the entire pie out in one piece to put on a serving plate is easy and decoration comes from the flutes on the side. If you are using a more traditional pie plate you might need to double the almond filling amounts as it is deeper. If you are finding any tears in the dough, a few drops of water on a finger will work like glue when the edges are pushed together again.
Gather any extra dough into a ball and return to the fridge for more adventure, later.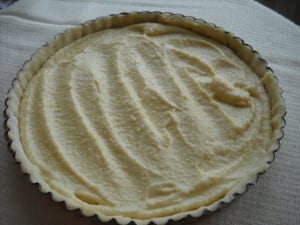 Pop the empty pie shell back in the fridge and move on to the filling.
I put the almonds through a small coffee/spice mill that chopped them very finely before adding them to the rest of the filling. If you have a good food processor or hand blender, you might not need to do that. I then combined the butter, sugar, egg, flour, rum and maple syrup in large measuring cup, added the ground almonds and used a stick blender to mix everything together. Once smooth, spread out over the bottom of the tart shell.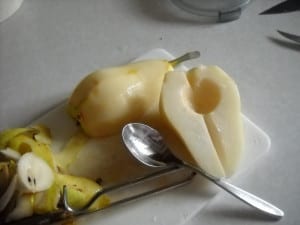 Wash, peel and core the pears. If they are ripe and still firm it will be easy to use a small spoon to scoop the core out and then cut or pull out the centre threads. Slice lengthwise and put aside the smaller edge pieces. Fan the pear pieces out and place on top of the almond filling in circle. Leave enough room that the filling can come up in places, as this is the part that will brown the most and look golden when baked.
Dice the smaller edge pieces of pear and place in the middle of the tart. Sprinkle slivered almonds around the outside of the tart and bake for 40 minutes.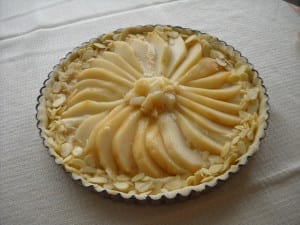 Just before the pie comes out melt the jam in either a small pot or the microwave. Once the pie is done, remove it from the oven, brush the top of tart with the liquified preserves and allow to cool about 10 minutes before attempting to remove from the form. Continue to cool until served freshly.
When you are ready to serve, whip the cream and add your rum and maple syrup to taste. Maple sugar would be the best choice if it is in your pantry as adding both liquid maple syrup and liquid rum will soften the peaks of the whipping cream but I was looking for whipped cream with extra flavouring.
Mabon will be here soon enough but for now it is still possible to enjoy some of the last jewels of summer and thank Pomona for all her juicy gifts. This is a thin tart with lots of fruit so larger slices make sense. I cut this into six pieces and they all went poof!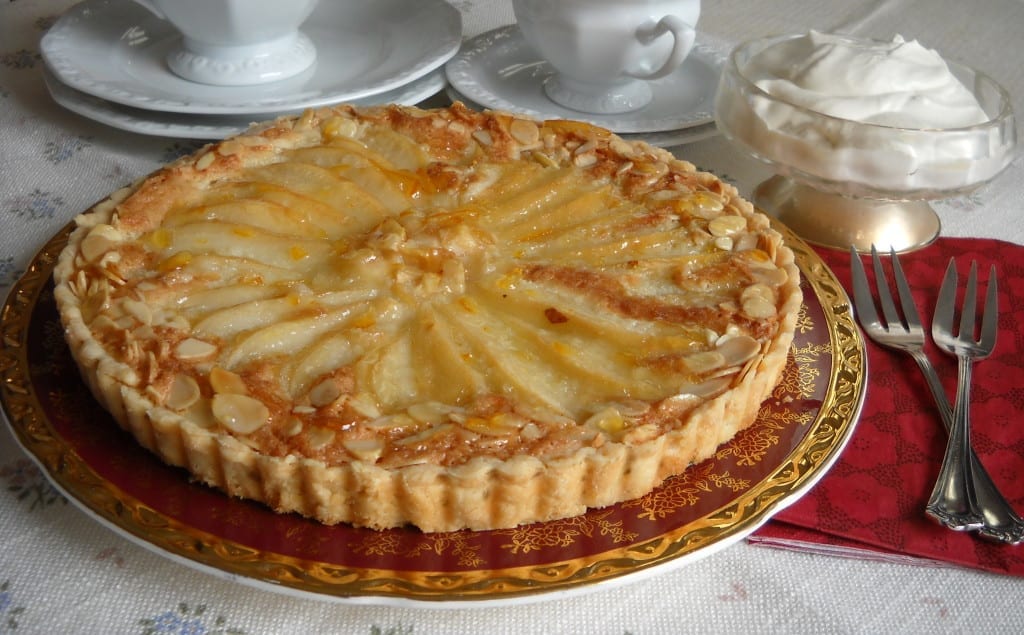 We are in the last days of the 7,000 likes celebration (August 2014). If you haven't yet entered, the form is on the right hand side of this post.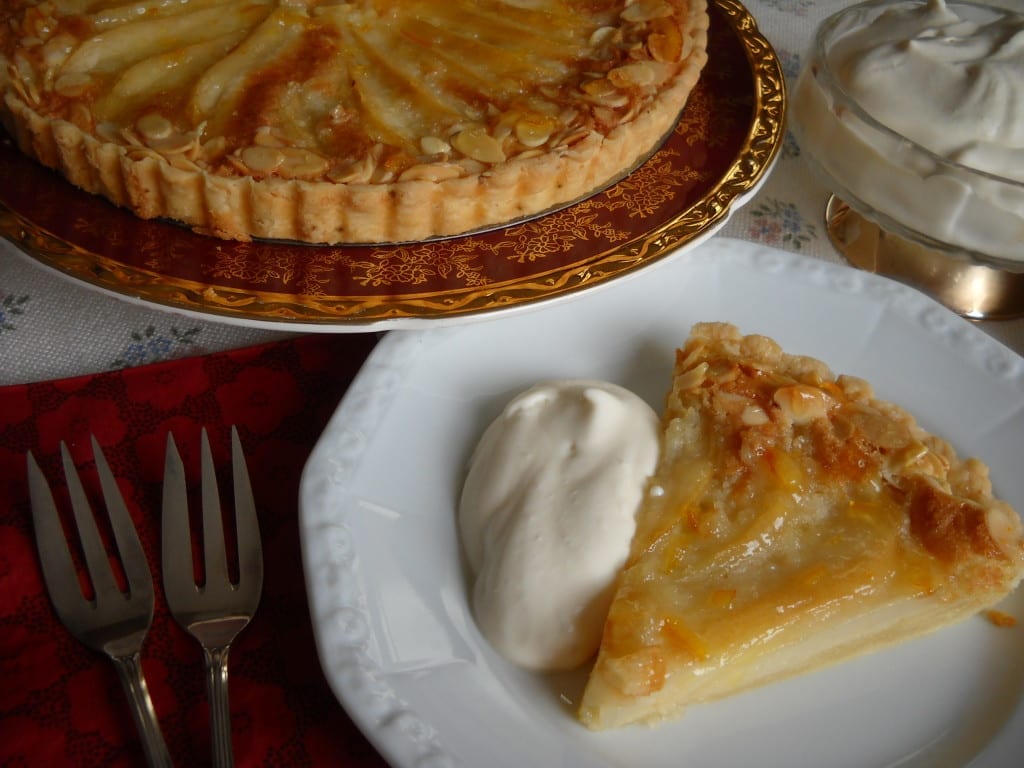 Pear & Almond Tart with Maple Rum Cream from My Kitchen Wand