On the west coast of British Columbia, I wait for the first rhubarb of the year. It is usually here by Beltane and I am so happy to be able to make anything with rhubarb. This year has been colder than normal and things are a little bit behind. I was thrilled when the local vegetable stand announced its arrival yesterday. I like the idea of coming inside to something warm at this time of the year, whether that is after a brisk walk, gardening in chilly, windy weather or celebrating the turning of the wheel. Rhubarb, for me, is always confirmation that spring has arrived and I will happily admit, that I am a bit of an addict.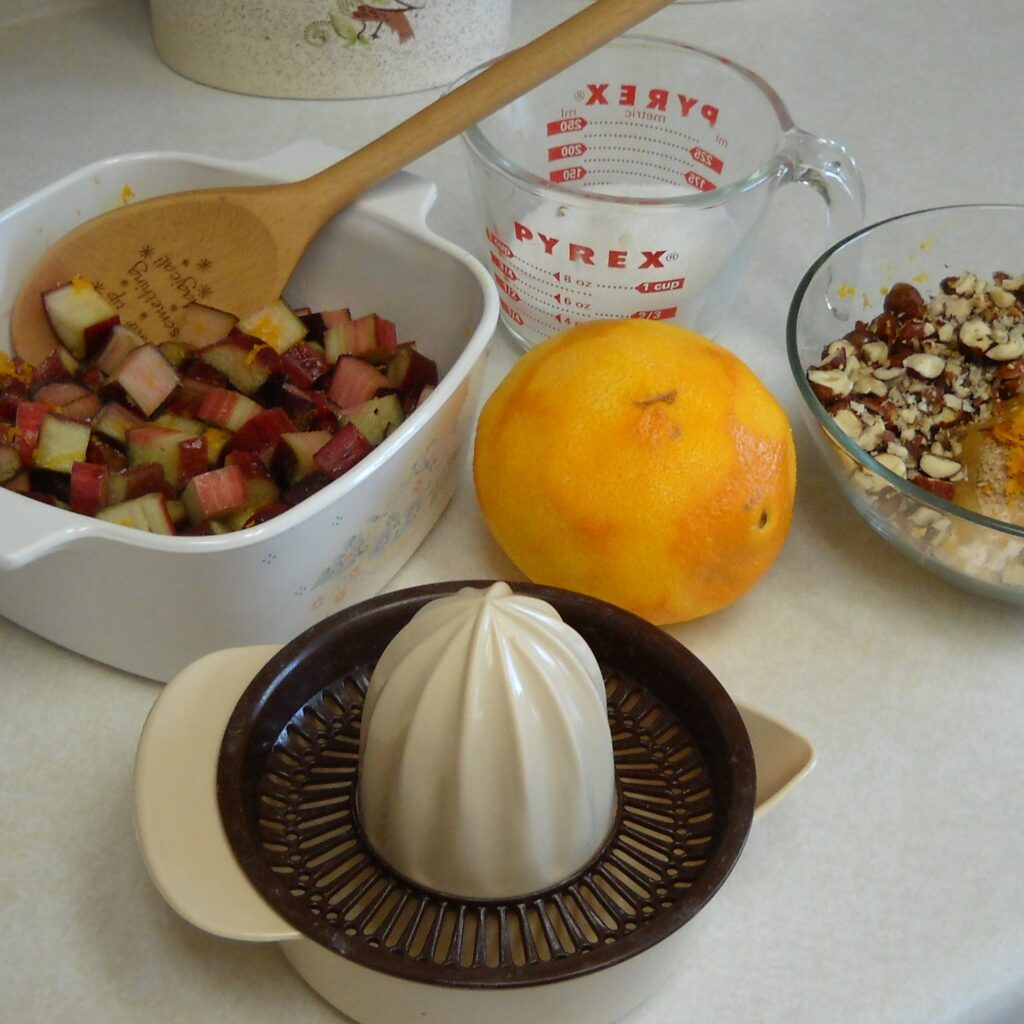 You will need:
2 1/2 cups sliced rhubarb
2 Tbsp. sugar
zest of a large orange
2/3 cup flour
1 1/2 Tbsp. cornstarch
2/3 cup sugar
1/4 cup bran
1/2 cup hazelnuts, chopped
1/4 cup chopped stem ginger in syrup
1/2 tsp. cinnamon
1/4 tsp. ginger or nutmeg
1/8 tsp. salt
rounded tsp. baking powder
6 Tbsp. orange juice
2 Tbsp. melted butter
left over orange juice and additional boiling water to 10 Tbsp.
Gratitude that we are coming out of the dark half of the year and that life is returning to the land is a perfect place to start this dish. Stop for a moment and just appreciate the choices. Ginger, orange, rhubarb, hazelnuts, flour, sugar and spices all came together from around the world. Whatever we choose to prepare, we are blessed with accessibility, often unaware of what it took to bring the ingredients to our shelves. Gratefulness is a good place to begin.
Preheat the oven to 375 degrees F. Butter a medium sized casserole dish that holds 6 – 8 cups.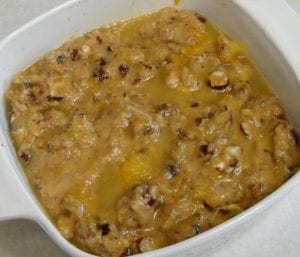 Wash and slice the fresh rhubarb, then combine it with 2 tablespoons sugar and the zest of one orange. Stir and set aside.
In a medium bowl, combine everything else except the orange juice and melted butter. Juice the zested orange and set aside 6 tablespoons with the cooled melted butter measure the remaining orange juice and add enough boiling water to get reach 10 Tbsp.
Combine the orange juice/butter mixture with the dry ingredients and then add to the sliced rhubarb. Stir only until just combined and transfer to the prepared bowl.
Pour the remaining orange juice/water mixture on top and bake for about 45 minutes.
This is not a "pretty" dish when it comes out of the oven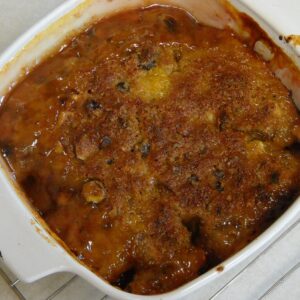 . Every time will be a little different. The sauce will still be bubbling and that creates passages through the pudding. An extra 10 minutes is usually just fine if things are running late.
Spoon into dishes and add a little something extra if you would like. In North America, most likely whipped or ice cream and in England possibly a little custard sauce.
Adjust the sugar content to your family's taste.
In the time since this recipe came together, this household has moved from chopped to finely chopped to minced to blender whizzed for the hazelnuts and ginger. The flavour is still there but for those will denture issues it has been helpful to pulverize.
On an occasion I had been missing the bran (which I later discovered is an entirely different situation from not having any in the house) and substituted crushed bran flakes with a little wholewheat flour.  Worked like a charm. I see no reason not to substitute the all purpose with whole wheat flour although the pudding might then need a little more moisture.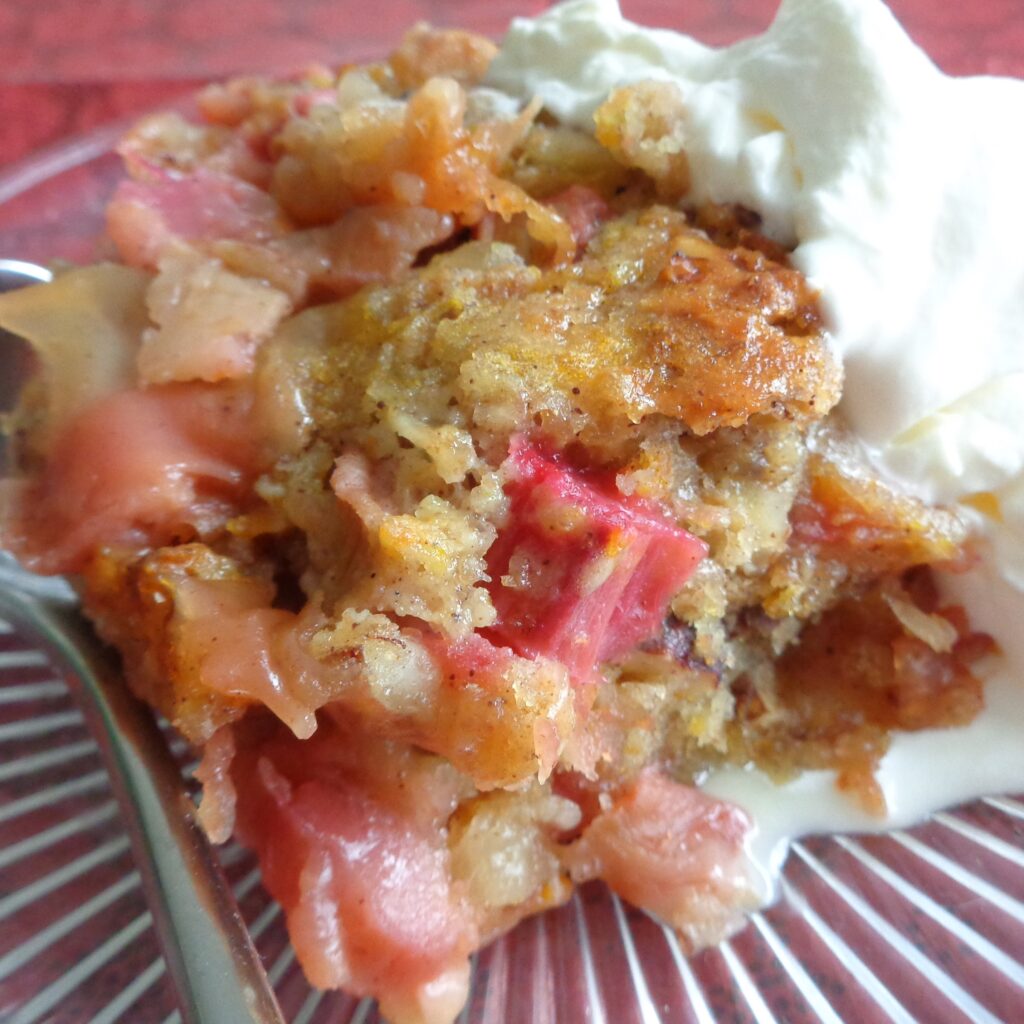 This was yesterday's version, the first of the season and below was the original end of season picture, taken several years ago but never posted; tart, sweet, warm and gooey. Delish!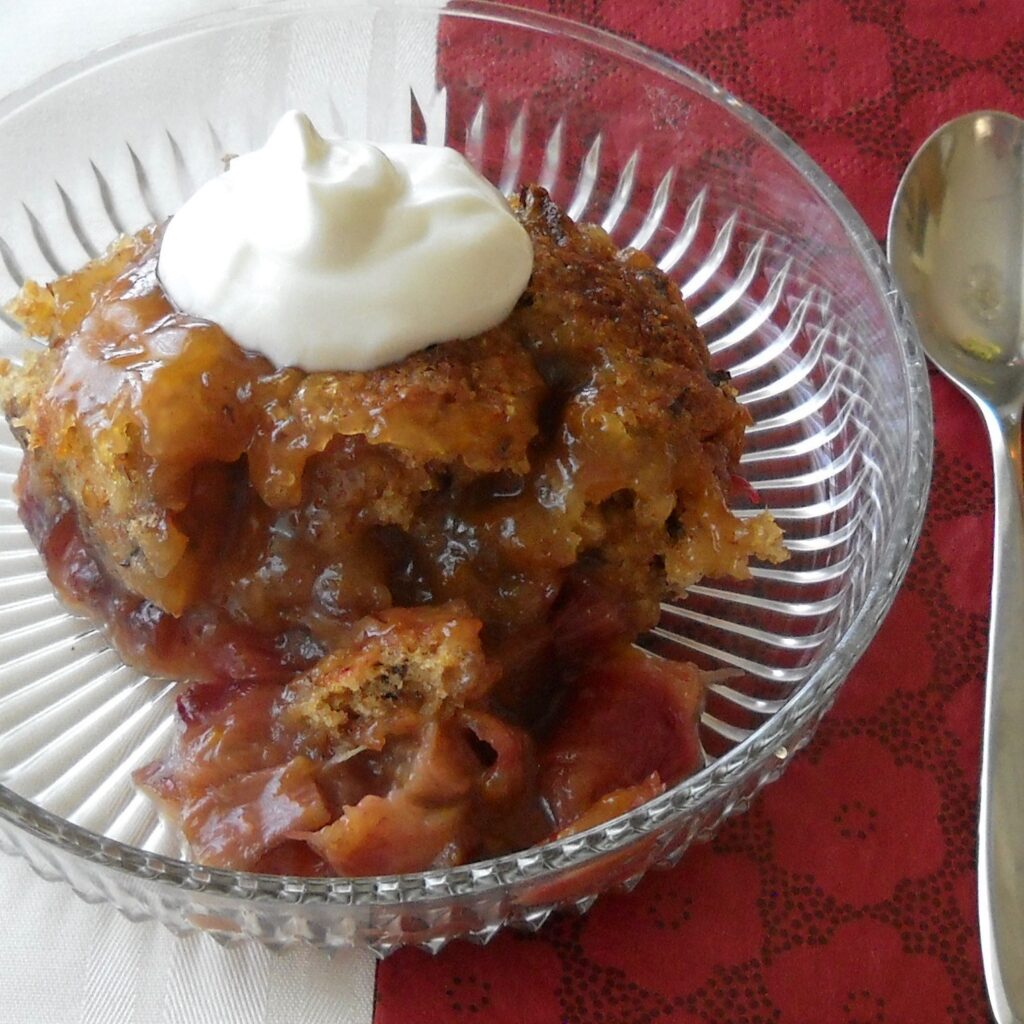 Rhubarb Pudding from My Kitchen Wand