Filo rolls can fill the bill in many places, served savoury with fillings like spinach and garlic or sweet with any number of fruits. Appetizer, main course or dessert are all possible if you have a box of ready made filo at home.
The challenge can be that once the box is open, the pastry can dry out so proper storage (airtight and cold) of what is left over is important.
This recipe has only 1 tablespoon added honey. The rest of the flavour comes from the blueberries and lemon zest.
Frozen blueberries can be substituted. The sauce may take a little longer to reduce due to the added moisture.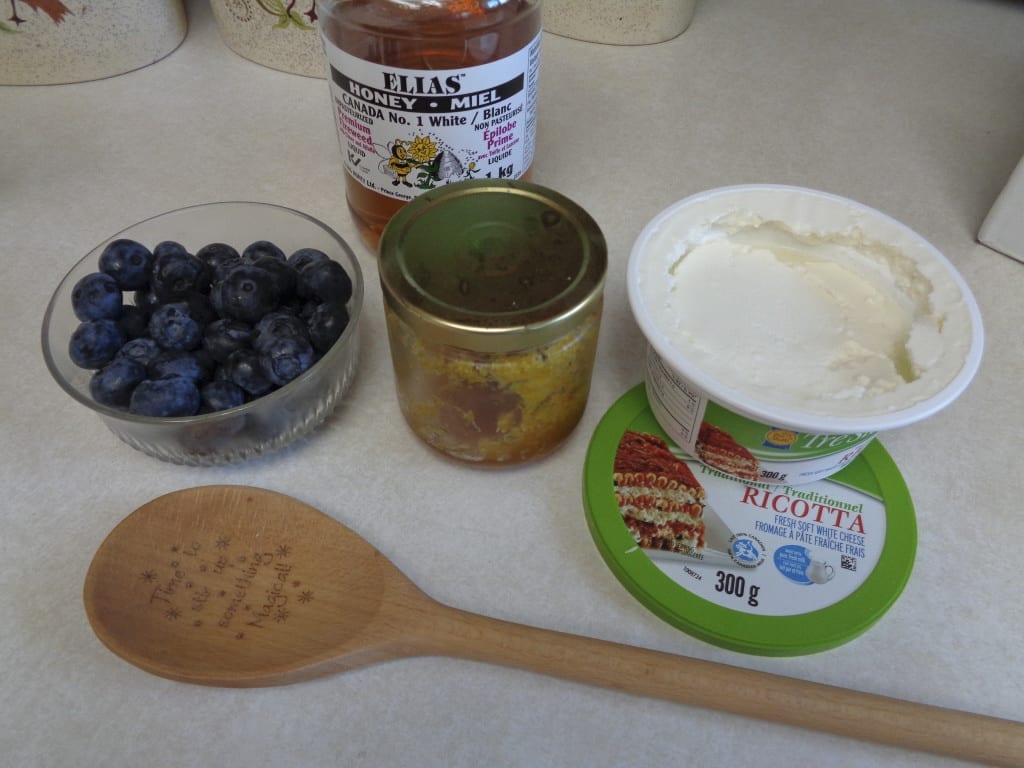 You will need:
4 sheets of filo pastry
2 -3 Tbsp. melted butter
1/2 cup ricotta
1 tsp. lemon zest
1 tsp. honey
20 blueberries for inside each roll
1 cup additional blueberries for the sauce
2 Tbsp. water
Close your eyes for a moment and take a deep breath. Let go of anything that stands between you and the present moment. Breath deeply and release. Take a moment to offer thanks for the supplies and gratitude for all blessings. Begin.
Mix together in a small bowl the ricotta, honey and lemon zest and out aside.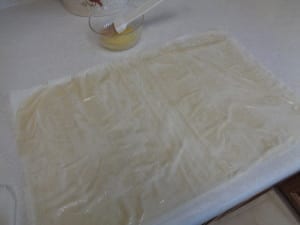 Melt butter and allow to cool. Preheat the oven to 350 degrees.
Place one piece of filo on a clean counter and brush with melted butter. place a second layer of filo on top and brush again with melted butter. Repeat two more times until all four layers have been added to the pile.
Filo will dry out quickly so do not leave the package open to the air and return sealed to the fridge as soon as possible. If your intention is to use more than four sheets of pastry, cover the unused filo with a damp tea towel and that will help the filo to not dry as fast while you work.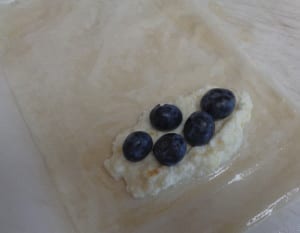 Cut the filo lengthwise and widthwise to create quarters and onto the short end of each quarter place one fourth of the ricotta mixture and five fresh blueberries, leaving about and inch of space for easier rolling.
Fold the closest edge up and over the filling and then fold the side edges into the center creating a envelope.
Gently continue rolling up the filo and place each packette on a cookie tray with the edge side down to keep it sealed. Bake in a 350 degree oven until the filo is golden grown, about 20 -25 minutes.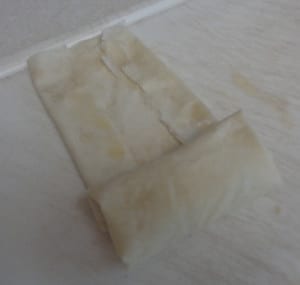 While the filo is baking prepare the sauce by placing the blueberries and water in a small pot and bringing it to a simmer.
Simmer over a medium temperature, stirring, until the water has reduced and the blueberries have begun to pop and mixture thickens a little, about 7 minutes.
The blueberries, once cooked will be sweeter but if you prefer, add a tablespoon or two of sugar to the mixture. It is after all,  a question of personal taste.
Remove the filo from the oven.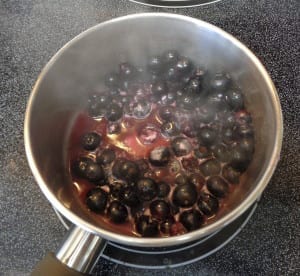 These can be served warm or left to cool to room temperature before serving.
It is also possible to reheat the sauce and add it warm on top of the rolls before serving.
Choices, choices, choices!
Blueberries make this an ideal Lammas option but cold nights and hot desserts later in the year are always a good combination.
It is also possible (and recommended) to change out the fruit as the seasons turn around the wheel.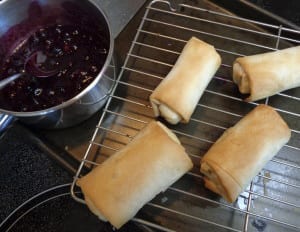 Plums and apples may take a little longer to soften when cooking up the sauce and will benefit from some extra spices. Plums will need sweetening as well.
Who doesn't like to experiment? Spiced pears or maybe that can of peaches form last summer?
To serve, place one or two rolls on a plate and drizzle with several tablespoons of blueberry sauce.
Bon Appétit.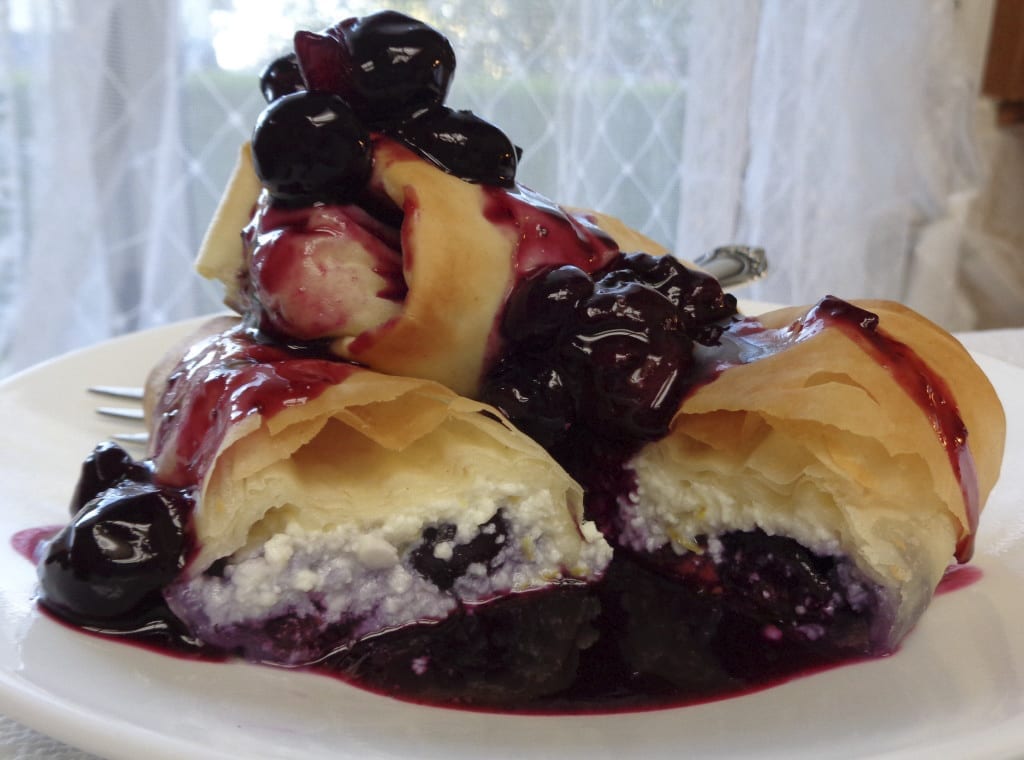 Ricotta Filo Rolls with Blueberries from My Kitchen Wand