Early this month, I posted an infused oil that is used on animals in South Africa. The rooibus chamomile is a go to for itchy skin and has become the first option before trying anything else. The infused oil itself can be drizzled over food with or without the herbs themselves. If straining works best in your circumstances here is an easy biscuit that uses up the herbs so that your canine friends get all the benefits.
As in all things, gather your research before trying, check for allergies, monitor your animals response and finding and solving the source of the irritation is always better than treating the symptoms.
You will need:
2 ½ cups whole wheat flour, spelt or oat flour or any combination of the three
1 egg
1/2 cube or 1 tsp. bouillon granules
½ cup hot whey, water or stock
1/2 cup leftover rooibus and chamomile used for infusing the almond oil
salt to taste (optional)
Preheat oven to 350 degrees F. and dissolve bouillon in hot liquid. I used whey as it was handy but stock or water works just as well. I left out salt as there was already salt in the bouillon cube but if you think a little more is needed, add that to the liquid as well.

Place the warm liquid mixture, egg and herbs into your blender. (Too hot and you will cook the egg.)
Whirl to chop up the herbs.
Since the liquid is heated there can, at least with my blender, be a problem getting it open as a vacuum can easily be created. The base is so wide it is difficult to get a proper grasp with a hand to open the blade section.
I solve that by using an air filter wrench with the rubber band. Works like a charm and has no affect on my blood pressure.
Pour the liquid mixture into a bowl containing the flour and mix.
I don't worry about gathering it all together in the bowl as it can be easily kneaded together on the counter once everything has been turned out of the bowl.
Knead together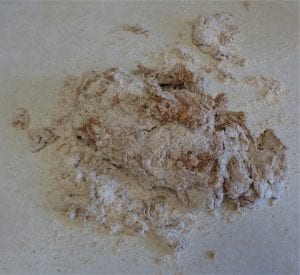 until all the flour is worked in.
Roll out and cut into smaller pieces. There are several ways to do this but think about the size of you furry friends, especially their mouths.
The smaller their mouth the smaller the final size should be and the thinner the dough should be rolled out.
Pieces that are going to be 1/2 inch wide or smaller should be about 1/4 inch thick while pieces that are around an inch in diameter can be more like 1/2 an inch thick.
This will also change the baking time.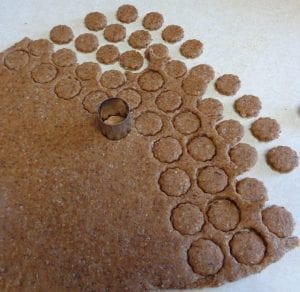 If you have a cookie cutter that works for you, roll and cut.
You know that making them look good is about you and not them, right?
There is always the option of a dog bone shaped cookie cutter as well.
Place dough pieces on the cookie sheet and bake.
I found these smaller ones were good at about 13 minutes while the large ones made with the cutter two sizes up were nicely baked at about 17 minutes. The larger ones were also thicker.
It is also possible to simply roll out the dough and cut strips if you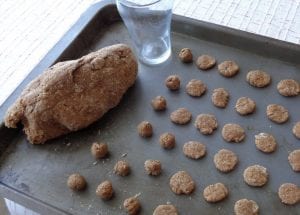 have German shepards rather than chiquaquas.
Alternately, take little pieces of the dough, roll with your hands into a ball and then flatten with the bottom of a glass.
All good and they really won't think you love them less.
Bake, cool and store in an airtight container.
There is evidence to suggest that using chamomile with cats is not a good thing but it may be that combining with rooibus creates a more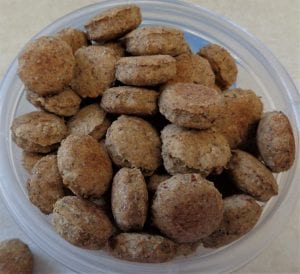 cat friendly mixture as herbalist Lalage Worsthorne credits listening to her cat, Gingerbits with helping her put her formulation together.
The elephants of Knysna Elephant Park have been enjoying this additive to their food for years.
Chamomile also soothes and calms the body and well as irritated eyes. It has a history of aiding in the settling of some gastrointestinal issues.
Various holistic veterinarians are now recommending rooibos as a safe alternative to allopathic cortisone but please do some follow up research for your situation.
How many snacks come from this recipe will depend on the size of treat. There are over 100 here but they were made for smaller dogs. Larger animals are another issue entirely.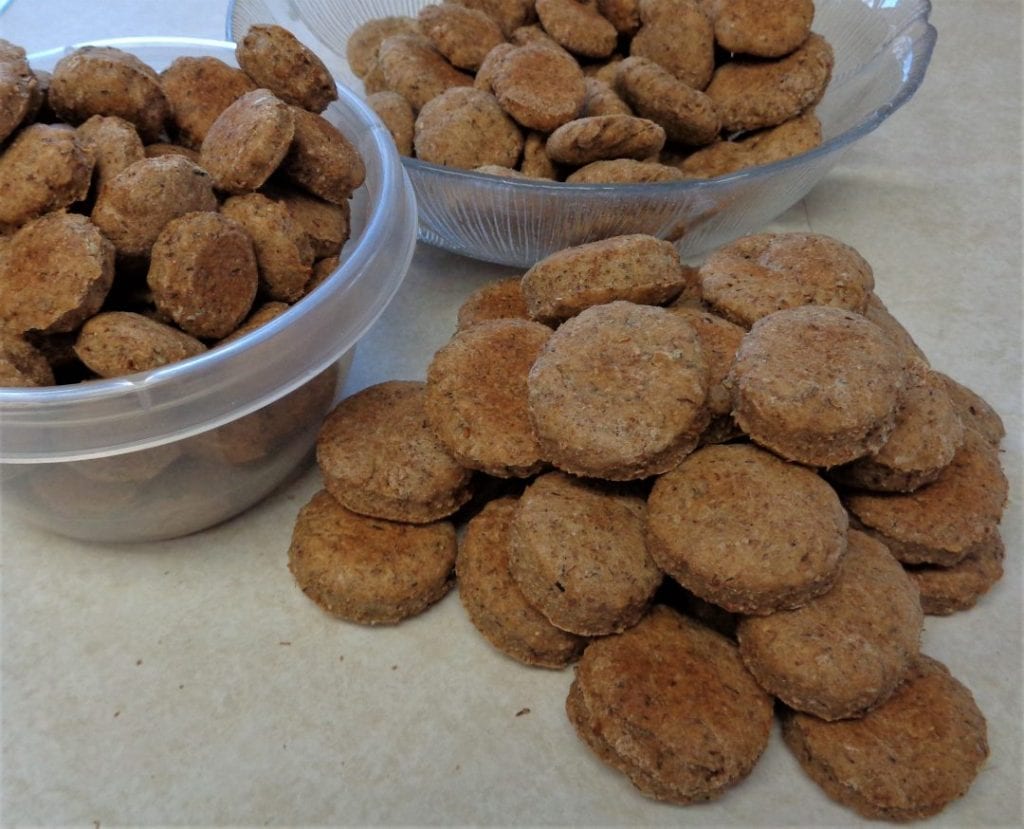 Rooibus Chamomile Biscuits for Canine Friends from My Kitchen Wand