Cold and mucky day? Feeling blue and looking for comfort food? Standing in front of the open fridge door and wondering what you can put on the table in 20 minutes? Cream of vegetable soup fits the bill in so many ways.
You will need:
2 carrots
2 celery stalks
2 small onions
3 small potatoes
3 3/4 cups stock. I used beef
1/2 tsp curry powder
salt to taste
3 Tbsp. whipping cream
1/2 cup chopped fresh parsley, spinach or mixed herbs
With thanks that all you need is available, gather the ingredients. Even with room in your life for more abundance, find gratitude within as hands are washed, aprons put on and compassionate spirits welcomed. Begin.
Peal carrots, onions and potatoes and chop. Toss into pot. Wash and chop celery. Add to pot. The smaller the pieces the quicker the veggies will be cooked but I will say I usually don't get smaller than 1 1/2 inch pieces.
If you have turnips, parsnips, butternut squash or something similar in the vegetable hamper, changing up the mix is just fine.
Add the stock. Use what is handy. I had beef available but if chicken or vegetable is on your shelf, use it up. Water and a boullion cube may be the best option at your house.
Bring the stock to a boil and then turn down to simmer. Ten – fifteen minutes usually does it for me.
Add a blending stick and blend until smooth. Using a blender works too. Do it in smaller amounts and then return the blended soup to the pot.
Add curry and salt to taste and a splash of whipping cream, or half and half or milk, whatever you have on hand.
I like to add some green just for a little colour and extra nutrition. In this case chopped fresh spinach but there are other options as well, parsley, chives, mixed herbs. Choose what you have in the freezer or easily available. No extra cooking needed. The spinach will wilt from the heat.
One final burst of the blending wand and serve hot. It is filling and if snow shovelling is still on the to do list well worth the effort, before, after or both.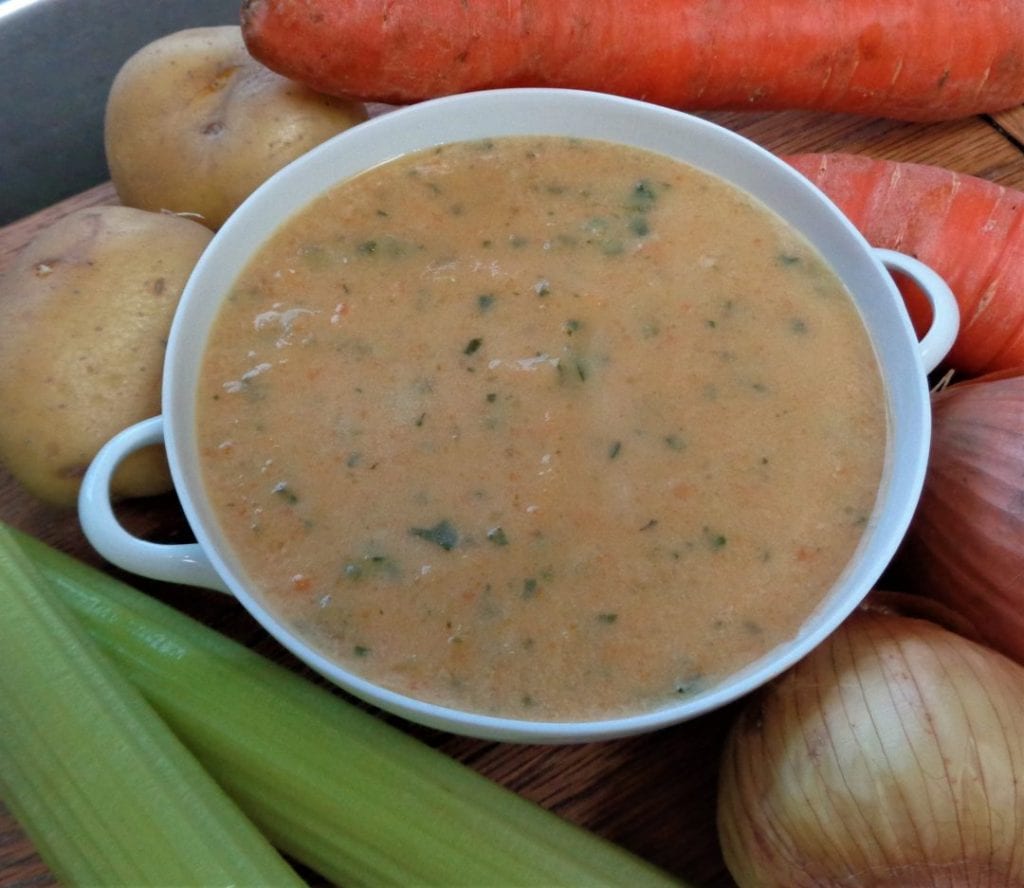 Cream of Vegetable Soup from My KItchen Wand