In honour of Cheese Lover's Day (January 20th) but good for any day (don't you think?), a tasty savoury variation on thumbprint cookies!
Four things came together that got me thinking. We are headed towards Imbolc and cheese is one of the foods of the season. Definitely not this cheese as it is an aged variety and would not be ready so quickly, made from fresh milk. Can we just pretend it has been sitting in the cheese cave for a year? Secondly, this is Soup Month so the idea of something that some might consider a cracker was appealing (they don't have to be filled or thumbprinted). Additionally, this is always the time of the year when leftovers from holiday season need to using up and of course there is January 20th coming soon.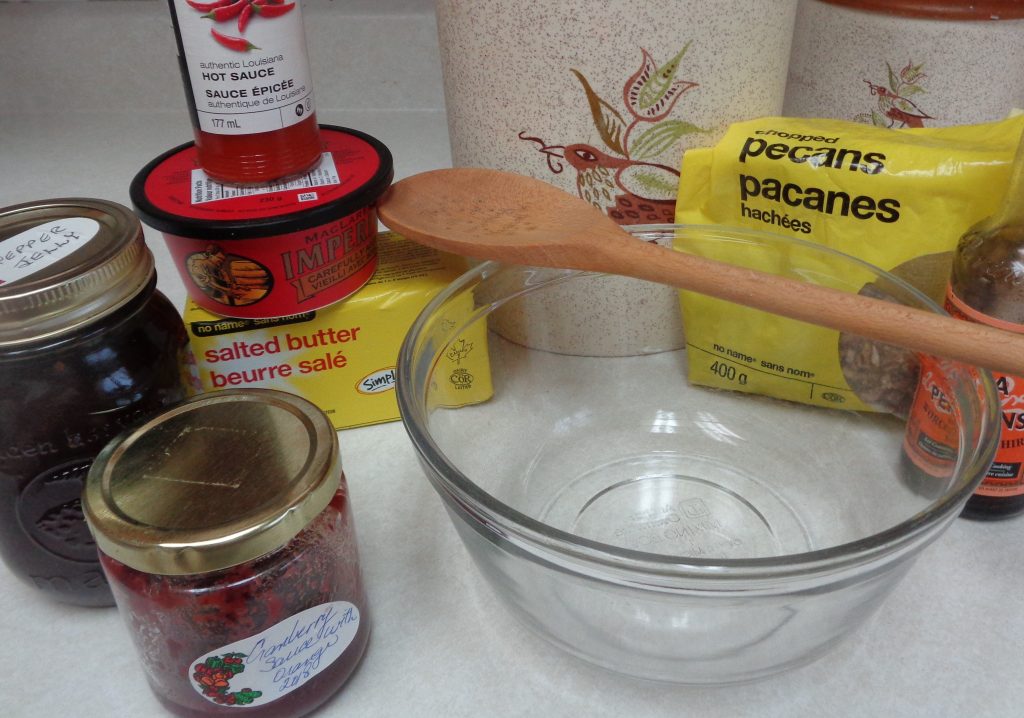 You will need:
1/4 cup butter, at room temperature
1/4 230 g. container of MacLaren's Imperial Cheese, room temperature
1/8 tsp. Worcestershire Sauce
Curry, Cayenne pepper or Garam Masala (optional)
3/4  cups all purpose flour
2 Tbsp.  finely chopped pecans
Spicy jelly of your choice ( I used a combination of pepper jelly and cranberry sauce)
Hot Pepper sauce (optional)
As in all beginnings, take a moment to bring your focus into the present moment. It can be done by closing your eyes and taking one or several deep breaths; washing your hands while "seeing" all the stresses run off the tips of your fingers, taken away by the warm soapy water or taking a moment while an apron is donned to focus on the transformation from where you were to where you are. Invite the compassionate spirits to join you and begin.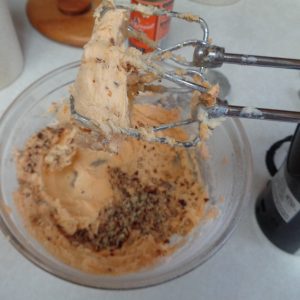 Cream together butter and cheese until fully blended, add the optional seasonings, Worcestershire sauce, finely chopped pecans and flour.
My apologies for the poor picture quality, 9:00pm is not a great time for pictures in my kitchen.
A couple of things before we carry on as options can be fun.
1) Leave out the pecans, chop more and roll the cookie balls in the pecans before baking.
2) Substitute 3/4 cup Rice Krispies for the pecans and bake flat.
3) These have a medium kick when finished so there is no "need" for additional spices but they are still fun to play with. Much will depend on the tolerance for heat in your family.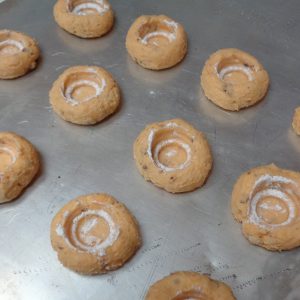 Roll into small walnut sized balls and place on parchment lined baking sheet.  There is more than enough fat in the cookies that going directly onto a cookie sheet is okay but parchment certainly helps with cleanup.
Indent each cookie with the tip of your thumb, which is where these cookies got their name.  As you can see, I did not do that. I find the cap of a small bottle works really well. You get a more even hole that makes for easier filling. The white is flour which will disappear while baking. I will explain why you will not need it below.
10 minutes at 375 degrees works well. The cookies should be lightly brown on the bottom and still orange on top. Remove from the oven and cool.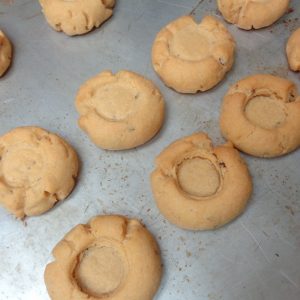 It is a good idea to press the centers down again just after the cookies come out of the oven as the middle will have puffed up reducing the hole size. At this point the bottle cap will also save your thumb from getting burned as the cookies will be hot.
Okay confession time. I made three small batches, trying to get the flour right. Batch one is the picture before the cookies went into the oven. There was not enough flour in the mix. They had a lovely party in the oven, got to know the others really well, the flour disappeared and once cut apart, cheese crackers were enjoyed with soup.
Option two is the picture to left. The flour was doubled and you can see that when the bottle cap was pushed in there was not enough flexibility in the dough and the edges split. On the good side, there was no need to dip the cap in flour as the dough was definitely firmer. Can you see that half of the cookies have had their second push and the holes are deeper? With more flour came a less intense cheese flavour.
Option three was the Goldilocks place. The dough held together and the cookie edges did not split when the "thumbprints" were added. Final measurements are in the list above and they are the picture just below. Success!
How you choose to fill these is totally up to you. I had Hot Pepper Jelly in the house and left over Cranberry Sauce from Christmas. I combined the two and added an extra drop or two of hot pepper sauce for those with a Kevlar stomach. You might experiment with an on hand variety of hot sauce and any open jam. Fill just before serving and enjoy!
Makes about a dozen and can be easily scaled for parties. They freeze well and would be a great assist when holiday season comes around again or pull out a smaller number when cuddling up for movie night.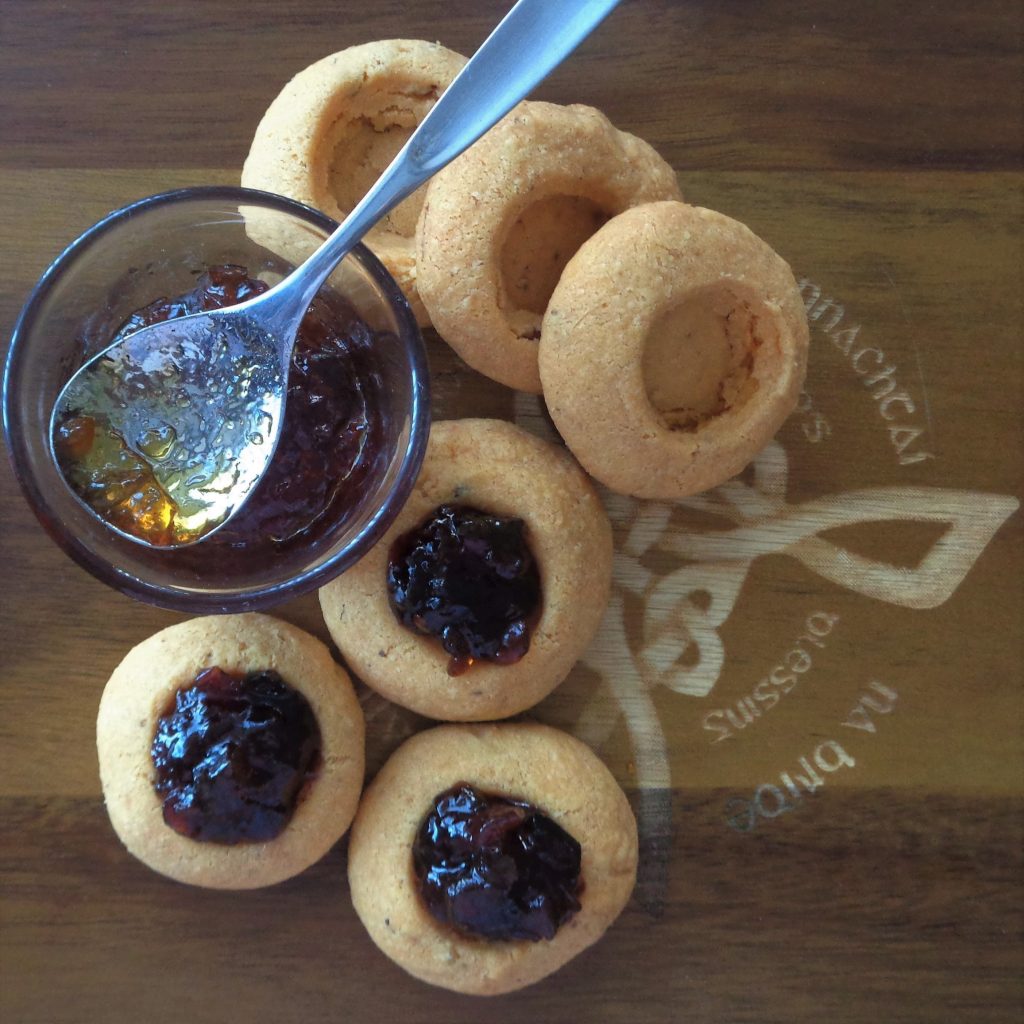 Savoury Thumbprint Cookies from My Kitchen Wand