Looking for that " been having a fabulous day at the beach look"? A sea salt spritzer can help bring out that added wave and glow and making it yourself can save some pennies along the way.
When searching online you will see a number of suggestions for ingredients. I thought it might be valuable to go over how each one can be helpful so you can choose what works best for your idea of the perfect sea salt spray.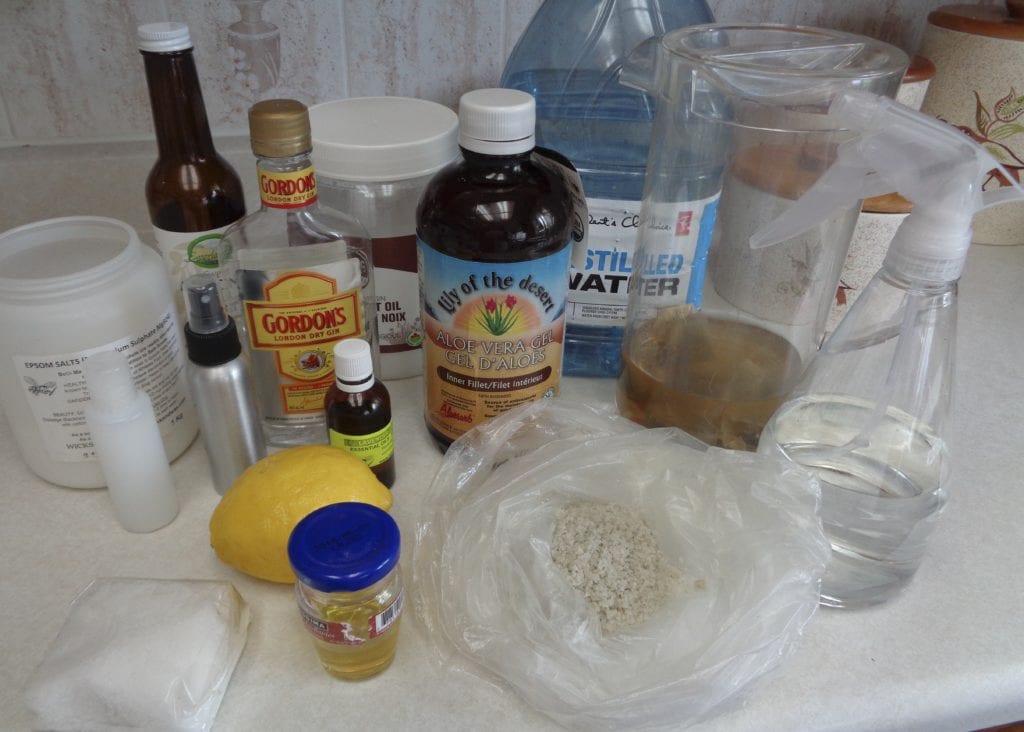 Don't be put off by this sampling of possible ingredients. You will not need them all.
A simple three ingredient mixture from Huffington Post uses one tablespoon each of sea salt, coconut oil and leave-in conditioner in 1 cup warm water but changing some things up might work for you as well.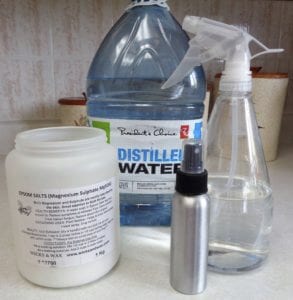 Container with spritz attachment – Test your bottle as several that I have recently purchased leaked. A working spritzer is also important. If you are adding essential oils then a dark coloured glass or metal container work best as light and essential oils are not a good combination. Small bottle for one person and larger one for the whole family.
Water – I see lots of recipes that I am assuming use tap water as there are no special mentions. I happen to live in a place with good tap water (not too hard or full of too many extra chemicals) but I also am in the habit of using distilled water for toiletries so I naturally reach for that.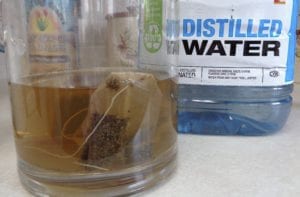 Tea – Tea is a possible substitution for water in certain circumstances. If you have light coloured hair and would like to add that sunkissed look, chamomile tea can help. It does not work very well if you have dark har.
Steeped black tea is an option if you are looking to darken your hair. It is also important to know that tea will need more than one application to make a visible difference so your best bet is using the tea as a separate rinse.
When using tea the finished product should be stored in the fridge.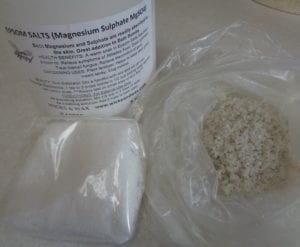 Epsom Salt – Magnesium sulfate combined with a conditioner can act as a volumizer and assist in getting rid of excess oil. Equal parts mixed together and allowed to sit in hair for 20 minutes before rinsing will do the trick. Epsom in hairspray
Sea or Himalayan Salt – All salts once dry on hair will add to the hold of the waves. Sea and Himalayan hold a little bit more than Epsom salt.
Coconut Oil – helps hair retain its natural protein and is absorbed into the hair better than many oils. It is however not for everyone. Coconut oil is more effective on fine to medium hair that may be lacking protein in the follicles and not so well for coarse and dry hair where it can make hair more brittle, leading to broken strands and hair loss.
Argan Oil – One of argan oils uses is as a hair conditioner, helping split ends and taming frizz. It softens hair, leaving it silkier and shinier. It is not an inexpensive oil so it is good you will only need a few drops.
Almond Oil – Full of healthy ingredients such as Omega-3 fatty acids, phospholipids, vitamin E and magnesium. It nourishes, strengthens, treats damaged hair and adds silkiness and shine.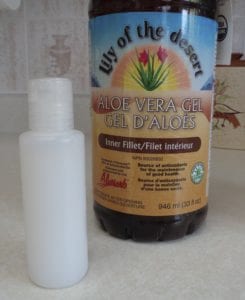 Leave-in conditioner – Conditioners of all sorts will help counter the drying of the salts in the hairspray.
For oily and fine hair, no conditioner may be needed, so try with and without before settling on a formula that works for you.
Aleo Vera Gel – can be used to detangle, define curls and moisturize. The enzymes in aloe vera help clear away skin cells clogging hair follicles on the scalp allowing the nutrients that enhance growth to get where they are helpful. Full of amino acids there are lots of nutrients to be found. In a hairspray they also add a shine.
Essential Oils – will add a lovely aroma of your choice. Keep finished spray in a dark container for maximum benefits. Also please remember that getting the oil on the scalp will have the greatest benefit so using them in a shampoo rather than a hairspray will be more successful if choosing for specific results. Here are seven suggestions.
Lavender can assist in healing dry skin and hair, thereby smoothing scalps. It is also thought to promote hair growth. As thinning hair can have an emotional component, lavender can assist in creating a calming environment.
Rosemary also treats dry scalp and dandruff. Supporting hair growth and encouraging thickness are also attributed to rosemary essential oil.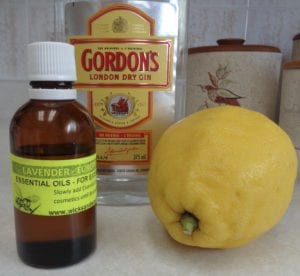 Chamomile adds shine and softness to hair in addition to the lightening option mentioned above.

Cedarwood has been used to promote hair growth, slow hair loss by increasing circulation in the scalp. In some cases it has also been used as a treatment for alopecia and to keep bugs away.

Lemongrass Oil is another natural bug repellant and stress reliever. It can also reduce dandruff when used topically.
Lemon Juice – This will help in lightening naturally light coloured hair. Again like the tea, it will have little effect on dark tones. It is important to remember that lemon juice is acidic and works by stripping colour and oils. Keep the finished spray in the fridge if using.
Alcohol – acts as a preservative.
Choose your ingredients and combine. Remember that all the benefits from the ingredients work best when they reach your scalp and in a hairspray that is not going to happen. This is really about getting that toussled day at the beach look. Many of these ingredients can be used in alternate ways such as scalp massages and hair treatments where the benefits to your hair will be greater.
Try this as a basic combination and tweak as needed:

1/2 cup warm water
1 Tbsp. epsom salt
1/2 tsp. sea salt
1/4 tsp. almond oil
1/2 tsp. aloe vera gel
1 drop lavender essential oil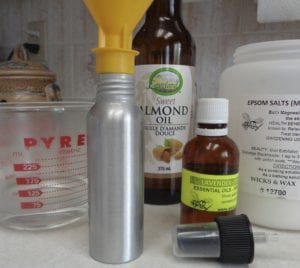 Top the bottle with a funnel and add 3/4's of the warm water to the container.
Add the individual ingredients and once they are added, top with remaining water until full.
Twist on spritz top and shake for 1 – 2 minutes to dissolve salts.
If the water was very warm, the container might need wrapping in a tea towel. especially is using a metal container. Label.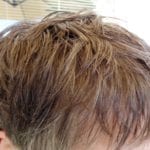 To use, towel dry hair. Shake bottle and spritz lightly and evenly.
Scrunch hair as it continues to dry. Apply a second time once hair is dry if needed.
This short hair found body and volume.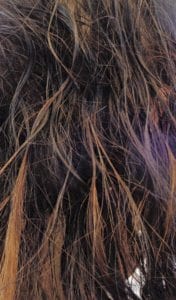 Longer very straight hair held its wave all afternoon long.
The dried salt in your hair will probably inspire a wash at the end of the day and repeated daily use is not recommended if you have dry hair to begin with.
So when the summer days finally arrive, apply a sun block.
Grab some water.
Find your sunglasses and a good book.
Go out and enjoy the day.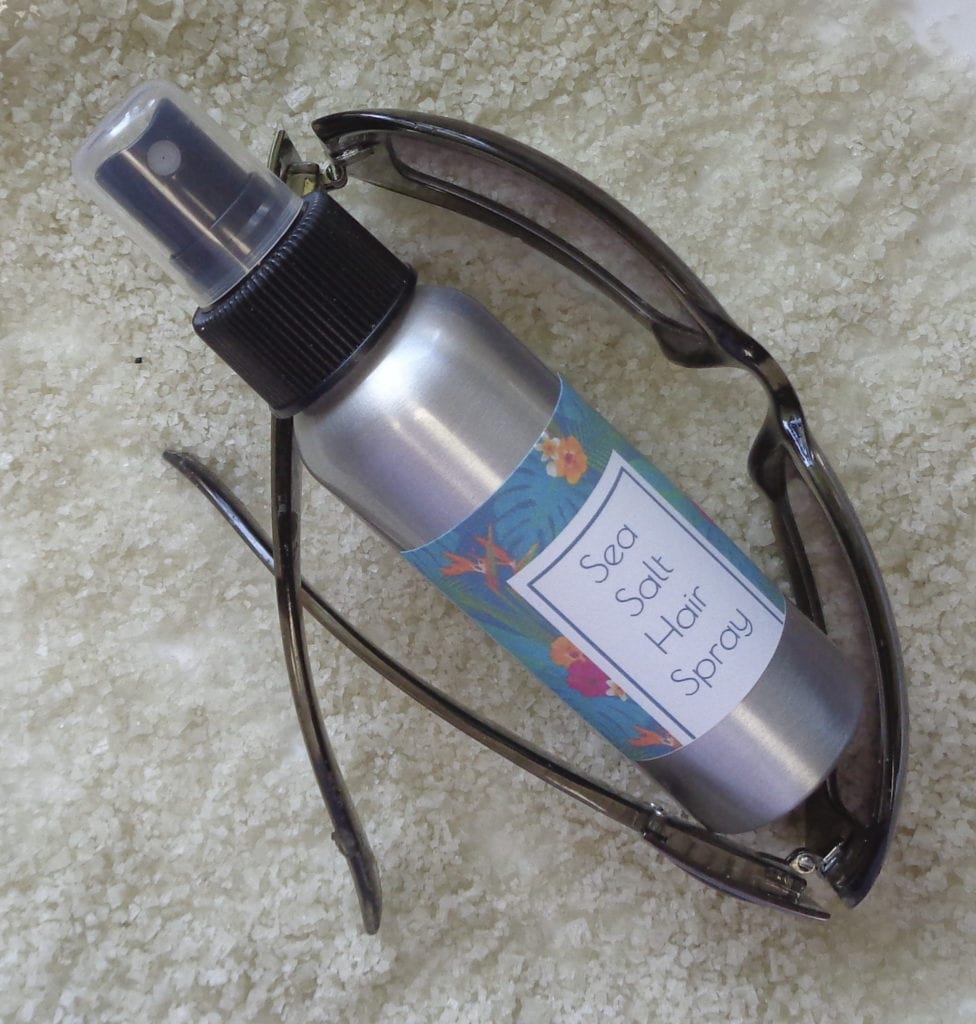 Sea Salt Hairspray from My Kitchen Wand