A few days ago I posted a recipe for Oranges in Cardamon, Cinnamon & Rosewater Syrup. You can see the full post here. Sometimes the question comes up, what do I do now. I have listed below a half dozen ways to use these tasty orange treats. I hope you find something interesting enough to try.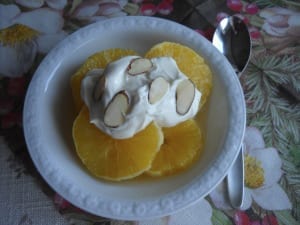 Serve with yoghurt, topped with nuts and some of the syrup as a dessert. This happens to be a honey Greek variety but choose what you think would be a good combination.
Try pistachios for a little extra colour.
You can also cut into quarters and start with some granola or porridge underneath for a healthy hearty breakfast.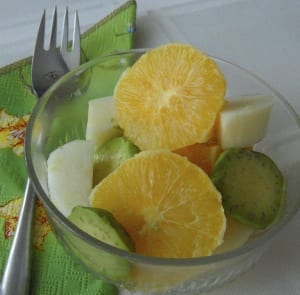 Use the oranges as part of a fruit salad. Pictured here with avocado and pear slices but you can use whatever is fresh and handy.
Serve plain or….
Mix three parts syrup, one part vinegar and one part oil, Toss and serve.
Add chopped cooked chicken to the mixture and serve over a mix of lettuce for a light salad.
If any syrup is left over from the filling of the jars, do no throw it out!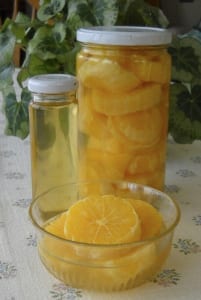 It will make an excellent flavour enhancer to iced and hot teas as well as lemonade or mulled wine.
The rosewater may not shine through stronger beverages but the spices will add to the depth of flavour.
Use in any recipe that calls for a simple syrup.
Basbousa Cake is one such recipe. A Mediterranean cake made with semolina (cream of wheat) and buttermilk.
Since Imbolc traditions highlight dairy, I am going to make one to accompany the oranges. Stay tuned!