So now that there are lovely jars of orange slices mellowing in a simple sauce of cardamon, cinnamon and rosewater, I am left with a full chopping board of the peels.
Yes, I could compost them but not all and not quite yet. I have chocolate classes coming up and hot cross buns are around the corner so I am going to candy at least some of the peel and play with it after that.
Before we get started though, here is link to 30 creative ideas for using up orange peels http://thesproutingseed.com/30-ways-to-use-orange-peels/. I want to try the candle idea!
Orange peels are high in Hesperidin, an antioxidant that helps in the regulating of cholesterol and lowering of blood pressure. The University of Michigan has some successful results in a trial looking at heartburn and indigestion; 2 – 3 grams of dried peel was boiled in 3 cups of water and the liquid consumed as a tea. Orange peel also contains chemicals that can assist in reducing chronic inflammation.
So by adding a little bit here and there to your baking and meals, you can reap the rewards of having a wider range of micro nutrients in your diet.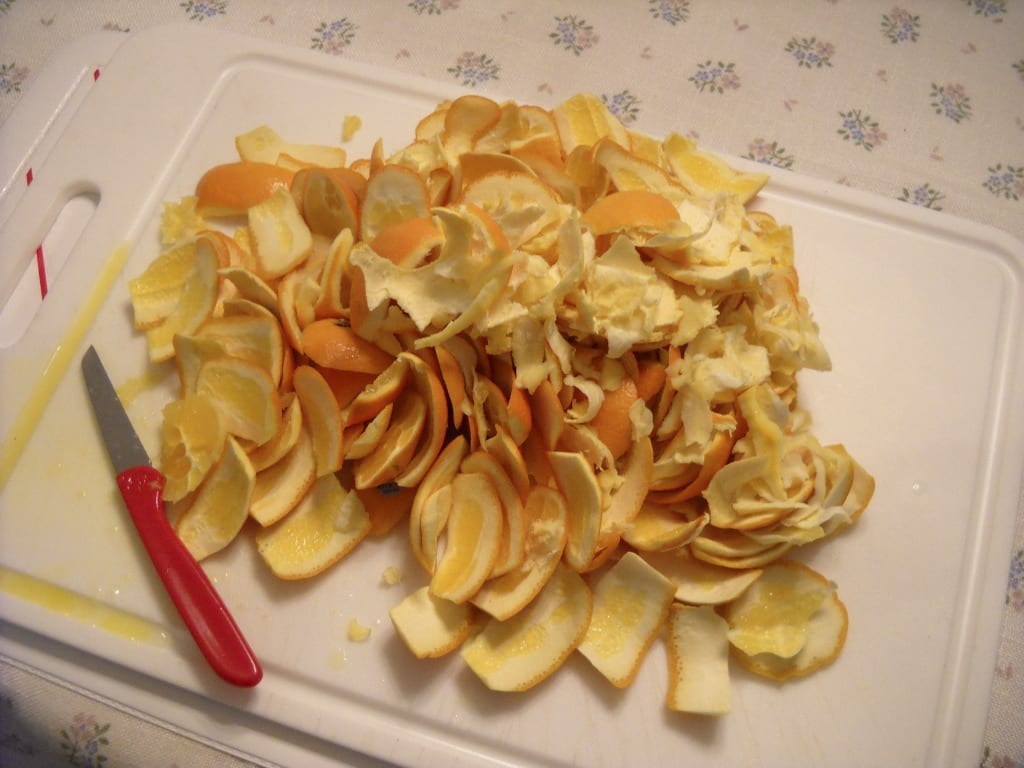 You will need:
2 – 3 cups of orange strips about 1/4 inch wide with the pith
4 1/2 cups sugar
1 1/2 cups water
Brigid is the Celtic Goddess of Fire ( Hearth & Forge ) which means her grace would be a blessing in your kitchen whilst cooking and crafting. She is also central to Imbolc traditions so highly appropriate to invite into your space at this time of the year. Center yourself through your breath, let go of any niggles keeping your focus elsewhere. Deep breath, hold, release and begin. "In my Kitchen washed and cleaned, I welcome Brigid's blessings gleaned".
I am using up orange peel so have lots to choose from. If you are starting this from scratch then carefully put the fruit part of the whole orange aside for another adventure
*Before throwing out the left over not so pretty pieces, try filling up a jar and adding vinegar. Allow to steep in a warm dark place or a couple of weeks and use in your house cleaning tasks once strained. So much nicer to smell than straight vinegar.
When making candied peel you want the white part under the orange coloured outer skin. It is called pith and I sorted through all the pieces I had cut off the oranges used in the previous recipe and pulled out the ones with nice pith, cutting into 1/4 inch strips along the way until I had about two and a half cups.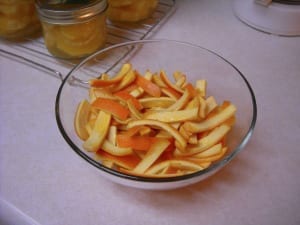 Fill a pot half full with cold water and place the peel into the water. Cover and bring to a boil over medium to high heat.
Once the water is boiling, drain it off and begin again. Repeat the process at least three times before trying a piece.
The peel should be soft and not too bitter. Repeat if need be. Each boiling bath will soften the peel a little bit more and mellow the bite of the peel.
When you are happy with the texture, drain the peel and measure into the empty pot 4 1/2 cups of sugar and 1 1/2 cups of water. Place on stove and bring to a good simmer for just under 10 minutes. If you have a candy thermometer, it should read 230 – 234 degrees F.
Add the peels. The syrup will probably come off its boil so pay attention until it boils again and then reduce to a steady slow simmer for 45 minutes until the skin becomes translucent.
Gently swirling the pot is a better option than stirring with a spoon as this will protect you from the possibility of sugar crystals.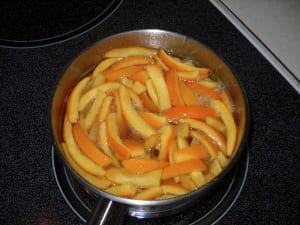 Once ready, I scooped out the peel repeatedly with a slotted spoon. Allowing them to drip over the pot for a few seconds and then dropped them onto a plate of sugar for tossing. Make sure that each piece of peel is coated on all sides ( You may need to separate any that are stuck together ). Place the coated pieces on a cookie sheet and let cool and harden for about 4 – 5 hours before storing in an airtight container with a little extra sugar.
( Quick note: you can do the same thing with lemons, lime and grapefruit. It will be necessary to adjust the cooking time for thinner pieces of peel. )
If you have been following the previous orange post then you will know that syrup was also flavoured with rosewater, cinnamon and cardamon. I mixed all the left overs together brought it back to a boil and sealed the extra, now orange flavoured syrup in containers for use in other recipes or in teas (both hot and cold).
I also took the finely slivered orange peel from that recipe and candied it as well for decoration on future projects.
The I decided to have some fun.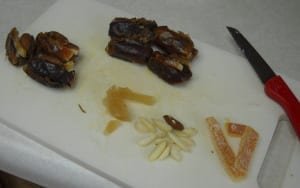 Around the house I had whole and slivered almond, stem ginger and dates.
I stuffed each date with a slice of ginger a piece of candied peel and a couple of slivered almonds or one whole one.
Although stem ginger is very mild, I made a few without for those who are not so happy about the flavour.
Then I got out some dark chocolate and started dipping.
It is really interesting how each layer of flavour comes out through the chocolate as you chew. The sweetness of the dates, the crunchiness of the nuts, the heat of the ginger and the tartness of the orange show up in waves.
Orange Peel may not be on the top of your list for things to do but having a supply available for baking and meat dishes can turn a rather bland dish into something special and besides you have all that free space now in your freshly cleaned for Imbolc pantry.
From top to bottom, freshly candied orange peel, peel dipped in dark chocolate, orange peel slivers, dipped stuffed dates, the ones that are decorated are to let people know which ones have the ginger.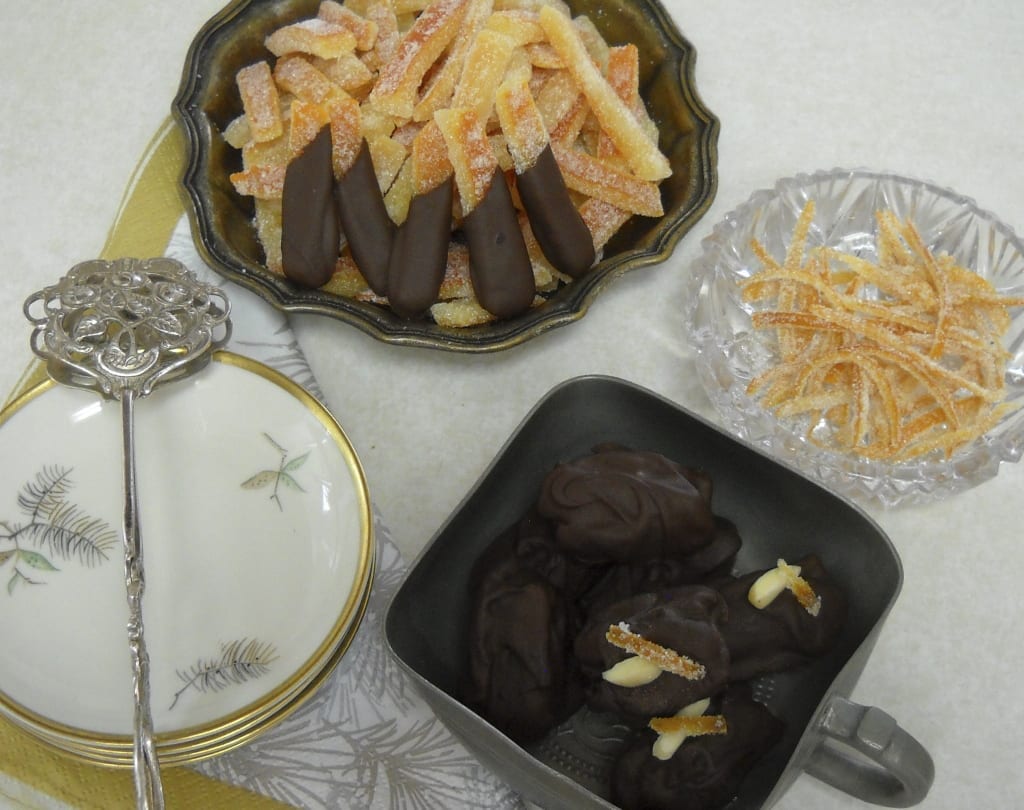 Play time with Candied Orange Peel from My Kitchen Wand