When I first started teaching bath bombs, I wondered, in the back of my mind how to make them useful in a shower. The bath tub is a place my step-mother can no longer go but there are times when a little essential oil therapy would be a good thing, a soothing shower before bed or a way to clear the sinuses of cold symptoms.
When the penny finally dropped, I realized that even if the experience of relaxing in a bath could not happen the therapeutic benefits of steam were still available and could be heightened with specific essential oils. I then discovered that others had figured that out long before me.
Cultures around the world have incorporated steaming and steam baths as healing practices. Traditionally the herbs themselves would have been used but today essential oils are easily available, making these little shower buddies a snap to prepare.
This batch is specifically intended to help with breathing as there is a nasty cold going around here.
Another option would be to make them without scent and then customize with several drops of oil for the experience/situation that needs addressing such as stiff muscles, stress or insomnia.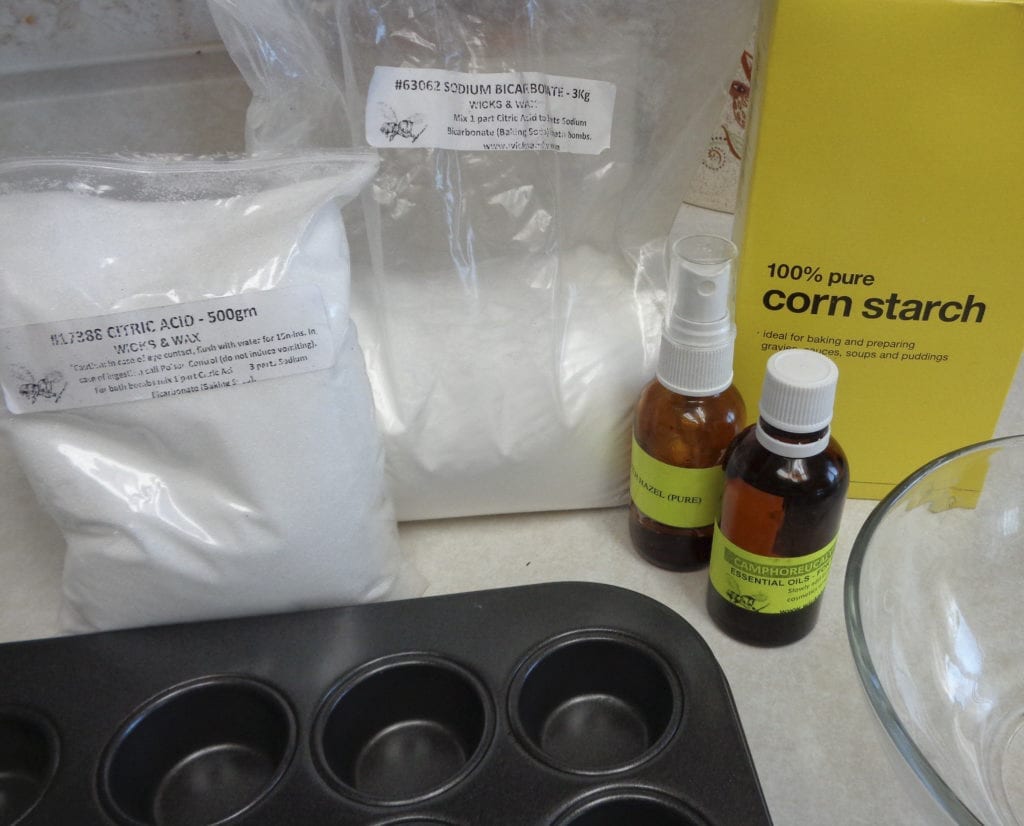 You will need:
1 cup baking soda
1/2 cup citric acid
1/2 cup cornstarch or arrowroot powder
Witchhazel in a spritz bottle ( Water will do in a pinch but more on that later )
75 drops of essential oils (In this case I used a Eucalytpus, Camphor, Mint blend)
Eucalyptus is the workhorse. With a high menthol count, it can help unclog nasal passageways. Studies have shown it to be helpful for bronchitis and other respiratory issues. It's antimicrobial properties can help speed up recovery from illness.
Camphor is a stimulant that boosts activity in the circulatory system and comes into its own here for its antiseptic, disinfectant and germicide properties. It will also battle bacteria and fungus.
Peppermint also has a high menthol content that will work at clearing sinuses. It is also a stimulating essential oil, making it the energizer in your morning shower and with its antibacterial and antiviral properties, peppermint will also help battle that nasty cold.
In a bowl mix together the baking soda, citric acid and cornstarch. ( Note: In the next batch I may well leave out the cornstarch and here is why. Cornstarch is good for your skin and ads a silkiness to the water but because these are intended for shower use, that benefit will be lost. ) There will probably be lumps in the baking soda, so get your hands in there and mix the ingredients together while squeezing apart any lumps you find along the way.
Witchhazel or water? Any liquid that gets added to the baking soda will start the fizzing action. Whichever way you choose to go, add the liquid in small amounts and it is best NOT TO ADD IN ONE LOCATION. Drizzle it around the bowl or better yet spritz with a spray bottle. I use witchhazel in my bathbombs. It is good for the skin and I find it helps bathbombs harden better than water. That said these shower buddies will not come in contact with your skin so no health benefits will be shared. If there is no witchhazel in the house and you would not like to make the investment, water is a possible alternative.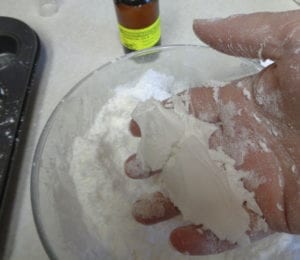 Spray witchhazel over the mixture (3 or 4 pumps), mix with your hands, take a handful and squeeze. Nothing will happen. It is too early. Repeat the process four or five or six more times. You will notice that the mixture will begin to stick together as you squeeze, first not well and then better as more witchhazel is added. Think of it as trying to squeeze snow into a ball. Do not get too much liquid into the mix or the baking soda will become overactive and continue bubbling even after it has been packed into a form. Adding a little more baking soda will dry out your mixture if this happens.
The other thing that might come up is that if the packing takes too long, the mixture can dry out a bit and then it is more likely to crumble. Also easy to fix, just work a little more witchhazel into the leftover mixture, getting it back to the right consistency and carry on.
Once you are good with the consistency, add the essential oil. I drizzled/eyedropped the mixture all over the top and then mixed it in the same way as the witchhazel, with my hand.
Mini muffin tins were used for this recipe. If you have small fancy tarts shells or silicone ice cube designs, they are great options. Fancy can look pretty but sometimes they can also make the finished product more fragile.
Firmly pack the mixture into the molds and tamp down. Let your shower buddies air dry. After several hours (these sat for about 2 ½ hours), or overnight, turn the molds over and gently tap the edges. They should fall out. In metal forms, gentle pressure on the center of the bottom may help as they are not as flexible as silicon molds. Let the shower buddies sit for another hour or so to dry out the sides that did not get as much air.
Once dry, store in a labelled jar away from light. They may look pretty sitting out but the essentials oils will dissipate if left on an open shelf in a clear jar. This is another reason making unscented bombs and scenting just before use can be a good idea. ( Unscented discs do not need to be stored away from the light and can sit in clear jars. )
This recipe made 10 mini muffin sized discs with 75 drops of essential oil added. That averages  7-8 drops per disc. If the choice is to add the oils directly to the top of the dried discs just before using please consider this as an adult amount. Young children, over two years of age, should only be given a half strength amount, 3 – 4 drops.
Place your shower buddie in the corner of the shower or on the soap dish. A little water will get the ball rolling and begin to fill the steamy shower with lovely aromatic oils. The intention of the discs is to gently release the essential oils over the time in the shower so keep it away from direct contact with the shower head spray.
I wish you a bench or seat in your shower, so that it is possible to comfortably relax and just breath. At the end of the shower, wash away any of the baking soda mixture still sitting in the shower.
This particular essential oil combination is for stuffiness and congestion but if sleep help is what you are looking for, try lavender and/or chamomile. Citrus oils and Litsea are good for a morning pick me up and there are lots of suggestions on the web for other combinations.
So if things are all clogged up, try a hot steamy shower with a soothing shower buddy to open up all those clogged passages and bring you and yours a little relief.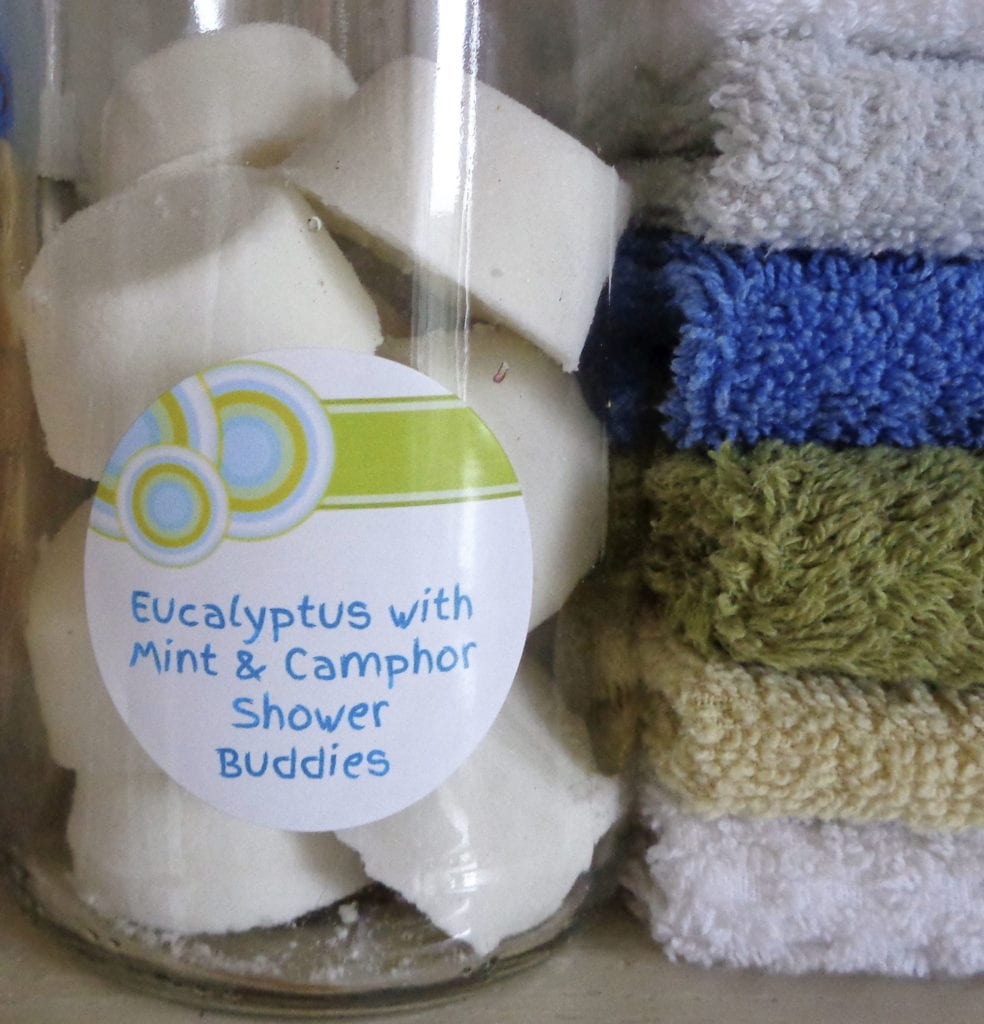 Eucalyptus with Mint & Camphor Shower Buddies from My Kitchen Wand