Onions soup!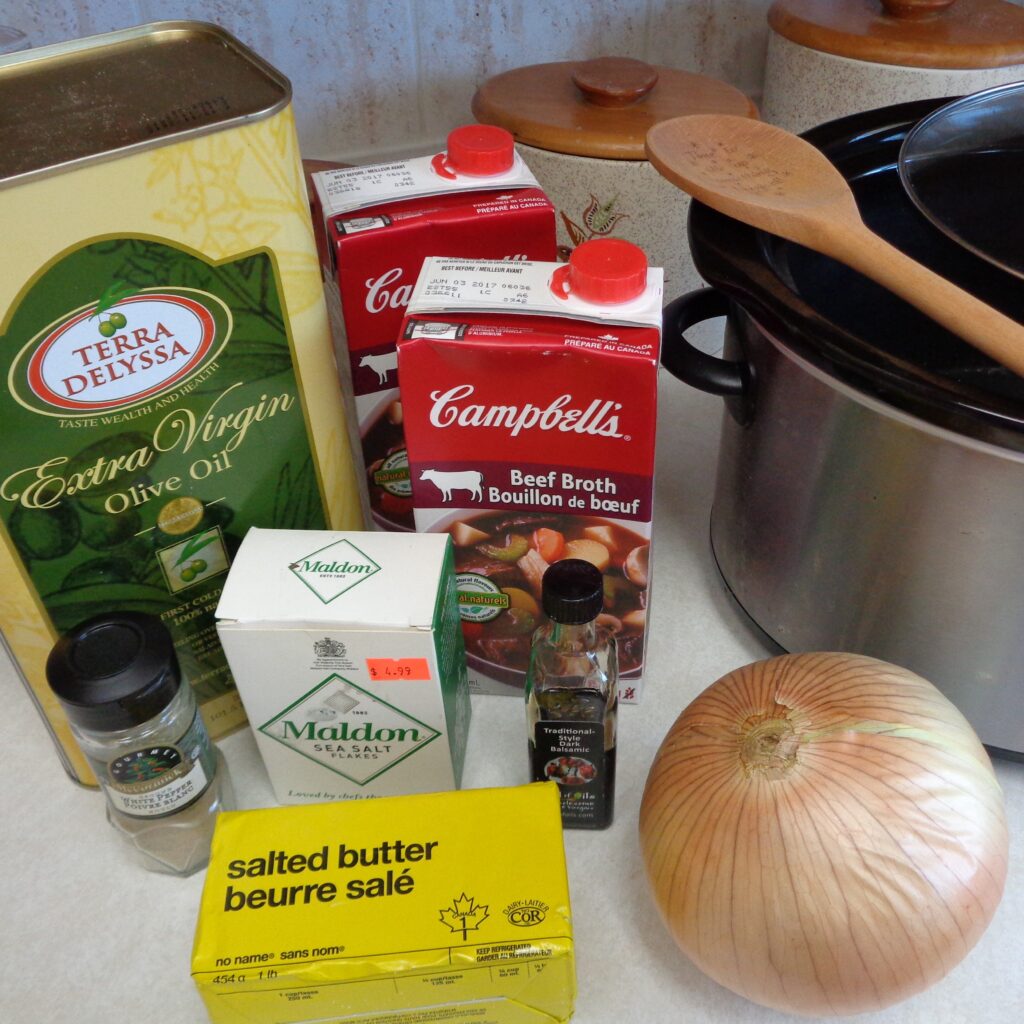 You will need:
1 1/2 pounds onions, peeled, sliced, and cut into quarter-moons
2 Tbsp. fat (more below)
salt
black pepper, freshly ground if possible to taste
1 – 1/2 Tbsp. balsamic vinegar
5 cups beef broth
1 -1 1/2 Tbsp. sherry or brandy, optional but recommended
croutons to cover each bowl or a toasted slice of baguette
1 cup grated Gruyere cheese (1/3 cup per bowl)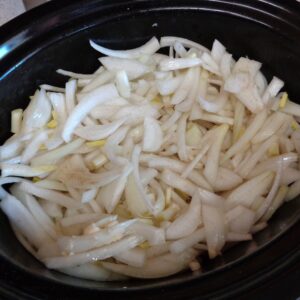 There is much literature "out there" about the best onions to use when making onion soup.  A challenge of testing and assessing sweetness, bitterness, and other qualities is that any judgement is really just about that particular onion and can not necessarily be applied to an entire variety; earth, water and weather making such a large contribution to the finished crop.
Vidalia onion season begins in April. How timely! Washington Walla Walla's arrive around June with those grown in Wisconsin about a month later. Both varieties are considered sweet onions and there are probably additional local sweet onion options where you live. Making a meal from onions is one way to enjoy fresh vegetables while it is still too early in the year for other options.
The one addition I would make to the conversation is that a mixture of onion varieties will give a more complex flavour to your soup.
That said, yellow onions were what was on hand so that is what I went with this time. Before going to bed, peel, quarter and slice the onions before placing them in a large slow cooker turned on low. Sprinkle a goodly amount of ground pepper and some salt over the onions then add the fat.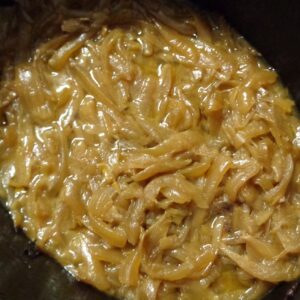 I chose a half and half mixture of butter and oil as that seems to be running around in my head these days, sourced in an interesting pasta making class, where there happened to be a number of members of Italian heritage who use this combination for many sauces.
Cover and cook overnight. The plan here is for dark golden brown onions that are soft. Some recipes leave out the golden part and that can mean the onions look more the colour of semi sweet chocolate. I find that can bring out the bitterness factor. This process can take up to 12 hours.
Once your perfect caramelized colour has been achieved, add the broth and balsamic vinegar. Pop the lid back on and continue to cook for another six to eight hours, also on low.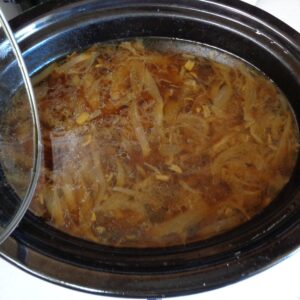 The longer the soup cooks the more intense the flavour will be. If however, your slow cooker has a loose top that lets out steam, it will loose moisture over time. This can be solved by wrapping a towel around the top to trap the steam and stop it from escaping.
In the set up photo I showed a couple of boxes of beef broth but I will fess up and say that I was given an Instant Pot as a Christmas gift last year and have been experimenting with bone broth. If you have any handy and would like to use that instead, it is also an option but not a necessity.
Taste the soup, always a good idea, before seasoning with salt and more pepper if desired and before adding the sherry or brandy, if using.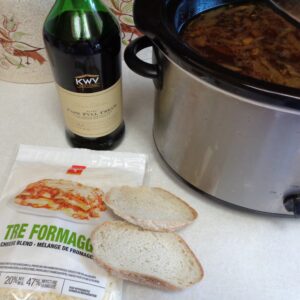 In the last half hour of cooking prepare the toppings. The traditional finish is a slice of toasted baguette, topped with Gruyere.
In this house, I use home made croutons as it is easier for older people (and younger ones also) to manage the smaller pieces of bread and all that gooey, melted, stretchy cheese. In this particular case I used a package of already shredded cheese, not something I usually have in the house as I personally, don't find the taste is the same as ungrated cheese. This was a remnant from a class and I wanted to use it up.
Preheat the oven to 350 degrees F.
Place the bowls on a cookie sheet with lip or similar tray and transfer the soup and onions into oven-safe bowls.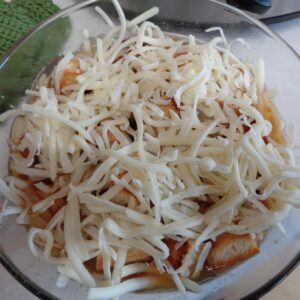 Wipe up any spills on the tray before topping with croutons (or a slice of toasted baguette) and a generous amount of shredded cheese. Bake until the top is melted, browned and bubbly.
The top section of the oven will be the hottest so raising the rack is a good idea. It is also possible to broil the topping for 2 to 3 minutes if it is not happening quickly enough for you. Just be sure to pay attention so as not to burn the cheese.
Remove the tray from the oven and allow the bowls to cool for a few minutes before serving.
It is easy to think of the topping as the raison d'etre for French onion soup but it is just as important (probably more so) to have a delicious onion soup below the tasty covering that floats about it. A long slow cooking time will add flavour as well as proper seasoning, a great broth and good caramelization of the onions. This is not a 15 minute soup but since there is sleep involved for the first half of the recipe, it is not all work and well worth the reward. Watch your tongue. It will still be hot!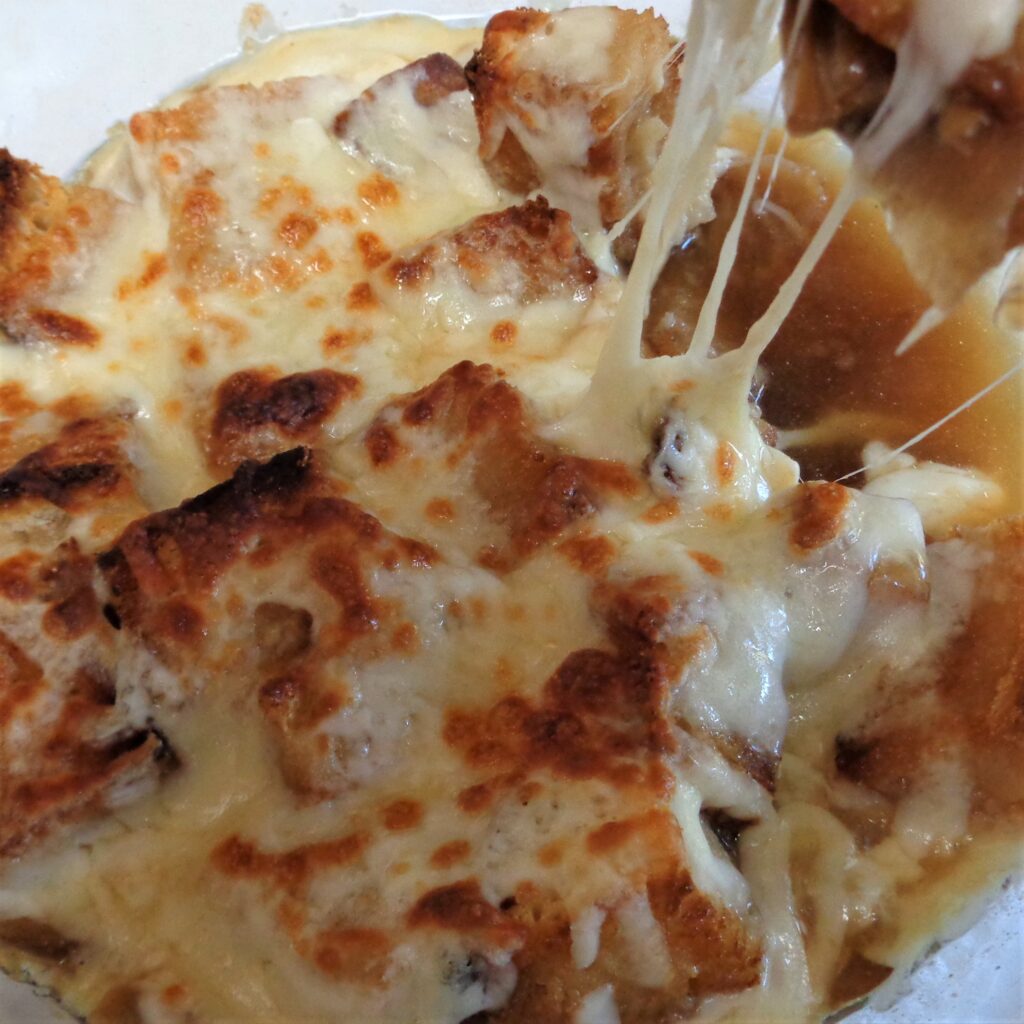 Slow Cooker French Onion Soup from My Kitchen Wand