Sour cherries are here for a very short time so I am fortunate that there are two orchards in the general area. Just like sour apples generally make better baking apples, sour cherries are usually thought of as cooking cherries. Cakes, puddings, cold soups and other deliciousness can come from sour cherries. When ripe sour cherries look a little like marashino cherries, all shiny and slightly translucent. Frozen and canned will also work if they are more readily accessible. This is a wheat free muffin that makes just six medium to large tasty muffins.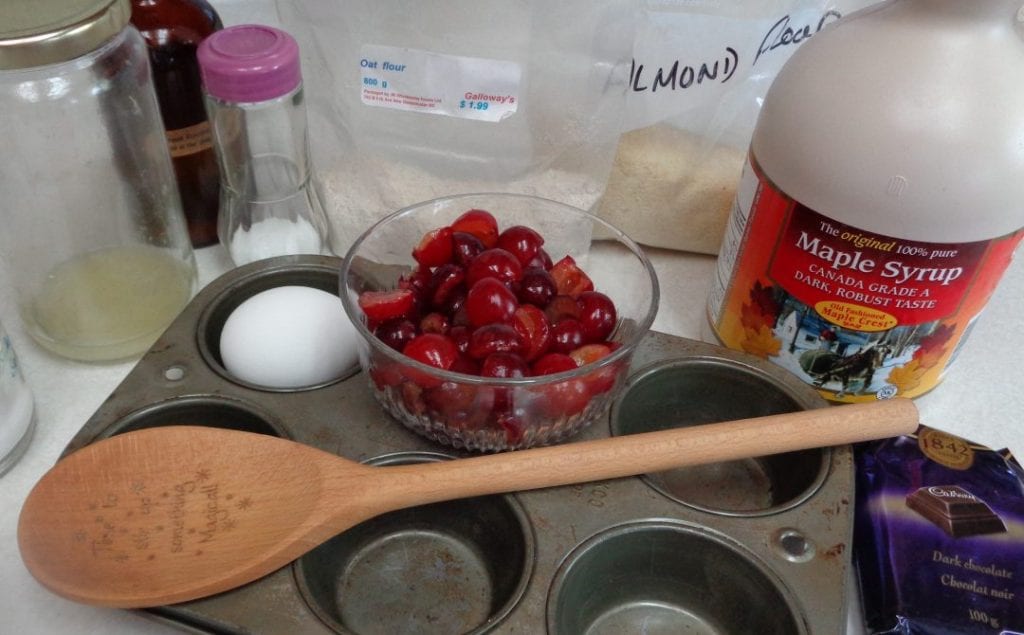 You will need:
1 cup + 2 Tbsp. oat flour
3/4 cup almond meal
1/4 tsp. salt
3/4 tsp. baking soda
1 egg, slightly beaten
1/3 cup pure maple
1 tsp. rum, lemon or vanilla extract
2 -3 Tbsp. milk, whey or almond milk of your choosing
1 Tbsp. olive oil
1 tsp.  fresh lemon juice
1 cup fresh, bottled and drained or thawed and drained sour cherries
6 squares of a dark chocolate bar cut in four smaller pieces
At harvest time we get to see the work that has been developing over the past months. Buds have turned into flowers and then into fruit that has ripened with water and warmth. Each cycle of seasons is different but the sense of gratitude that comes with a successfully completed harvest is universal. Find a place for gratitude in your heart as you wash your hands, put on an apron and gather your ingredients. Take a deep breath and release the cares of the world for a few moments. Begin.
Preheat oven to 350 degrees F. Either place six liners into a regular sized muffin tin and spray the inside of the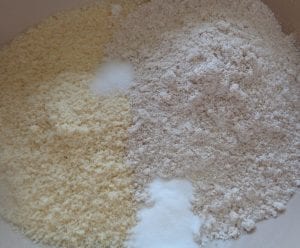 liners with nonstick cooking spray or generously grease the muffin tins.
This recipe is fragile, especially as it first comes out of the oven.  I also prefer baked muffin sides over soft ones that come when peeling of the liners and if that is your preference as well then making sure the muffins will release is important, so grease well. Another reason not to use cup liners and to grease well is that there will then be more room for batter and this makes a fair amount, especially as the almond flour expands when wet.
In a large bowl, stir together all the dry ingredients, one cup oat flour (the 2 tablespoons will be needed later), almond meal, salt and baking soda.
If being gluten free is important then please make sure the oat flour was made and packaged in a gluten free environment. The alternative, if you have a good blender is to make your own by pulverizing rolled oats, again from a gluten free environment.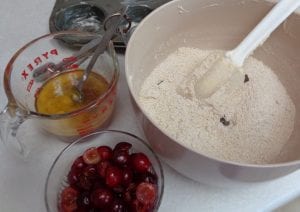 Mix together in another smaller bowl or measuring cup the egg, maple syrup, extract (I used rum), your choice of milk, olive oil and apple cider vinegar. Once smooth and well combined, add wet ingredients to dry ingredients and gently stir until the dry ingredients are just moistened.
I made these during the time of fresh sour cherries. Around here that is about two weeks long. Fresh sour cherries are lovely but if yours are in the freezer or a jar, that is okay too. Just make sure to drain the fruit well and pat dry before using. Enure they are pitted and halved, no need for an extra trip to the dentist.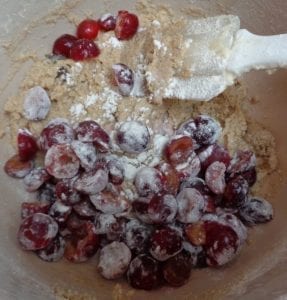 Toss the sour cherries and remaining oat flour together, then gently fold the mixture into the batter.
Fold in the chocolate pieces or chips if that is easier. I kept six out to place on top so they, along with some half cherries, are nicely visable once baked.
Divide the batter evenly between 6 muffin cups.
20-25 minutes is the approximate baking time. A toothpick inserted comes out clean when the muffins are baked.
Be sure to cool for at least 10 minutes on a cooling rack before removing the muffins from the pan. Gently release any places that are sticking before removing from the cups. Cool completely.
These muffins will have a different texture than ones made with wheat flour and still very much enjoyable.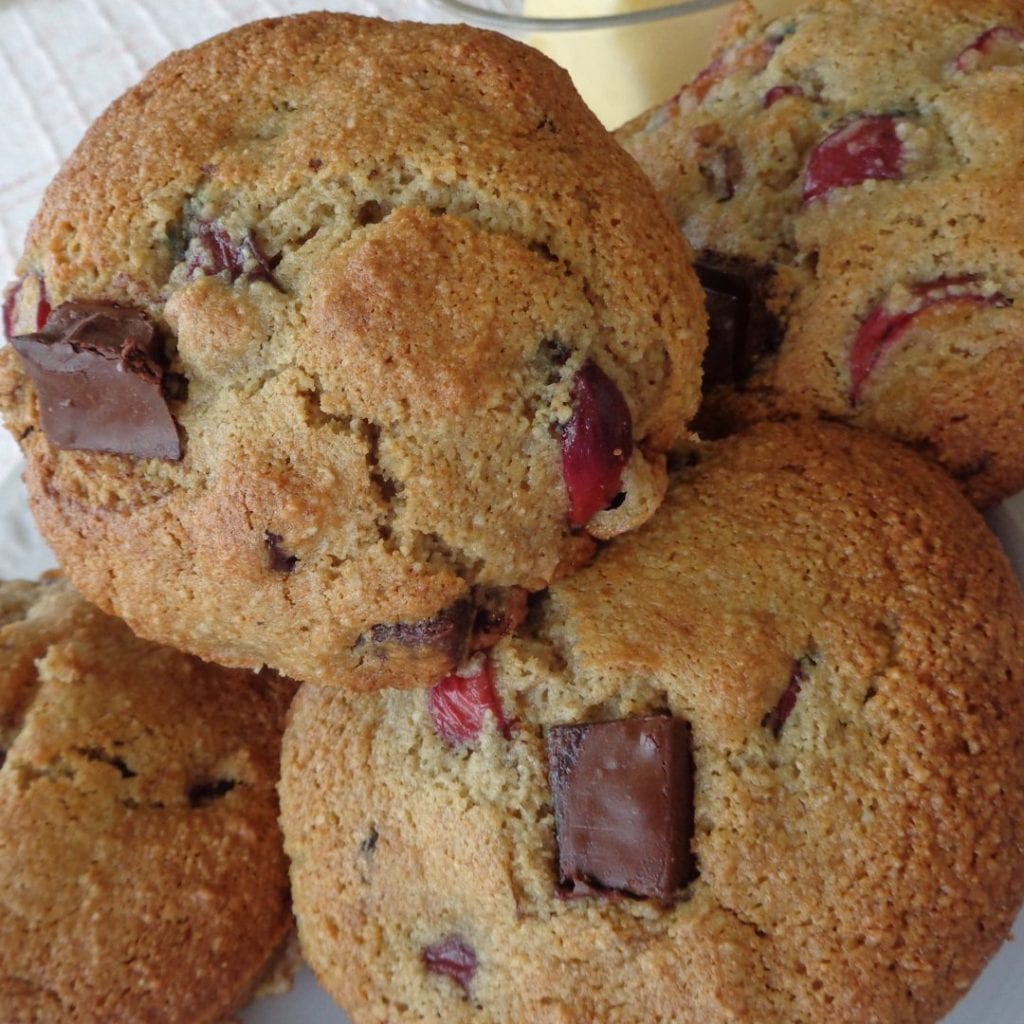 Sour Cherry Chocolate Muffin from My Kitchen Wand