I try to post recipes that do not require a trip to the store for non standard equipment as the first step. In this case, a substitute might be a mini muffin or tart tin that would allow you to make doughnut holes. Unless the plan is to make more than two or three batches of doughnuts a year, maybe see if a friend has a doughnut pan they are willing to lend. I did.
I started with a gluten free chocolate, avocado and almond flour recipe that I will never mention again and moved back to my go to recipe for adventures like this.
Plain with warming spices in the batter and coating, just in time for Imbolc but great at any other occasion as well. Dipped in melted butter and then in ground brown sugar and spices.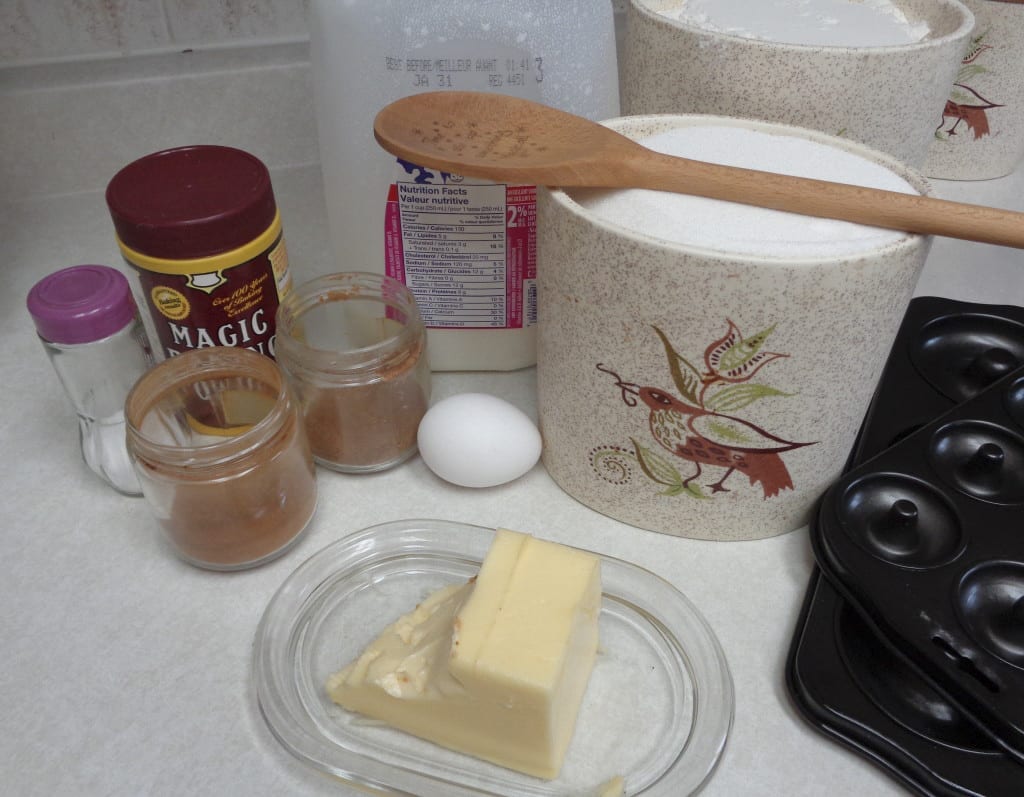 You will need:
1/3 cup butter at room temperature
1/2 cup sugar
1 egg
1 1/2 cups flour
2 1/4 tsp. baking powder
1/4 tsp. salt
1/2 tsp. nutmeg
1/2 cup milk
1/4 cup butter, melted
2/3 cup brown sugar
1/2 tsp. cinnamon, ginger, 5 spice or a combination
If you have young ones around the mixing is easy and the piping is fun although more hand control is needed for the mini doughnuts. An hour making these also opens the door to a conversation about times of the year when everything is growing and easy to find versus times when nothing is growing and making food out of simple ingredients was the "in" thing.
Preheat the oven to 350 degrees F. Grease the doughnut pans with either an aerisol option or by hand. Take a deep breath to focus your attention in the kitchen and gather the ingredients. Hold a thought of gratitude for all the blessings and supplies available in the dead of winter.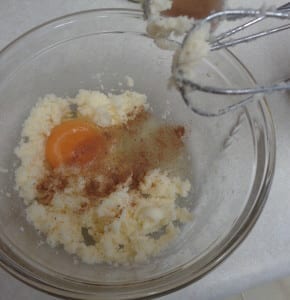 This is a standard cake style recipe.
Sift together the flour and baking powder.
In a medium bowl beat 1/3 cup butter with 1/2 cup sugar, the salt and nutmeg until light and fluffy.
Add the egg and mix well.
Alternate the flour mixture with the milk mixing well after each addition.
Once the batter is mixed, transfer the mixture to a sandwich bag and close the seal.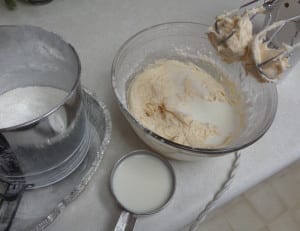 This recipe makes enough batter for five regular sized doughnuts and a full tray of minis.
I prefered the regular sized doughnuts and a second tray would be required or the doughnuts would need to be baked in shifts if you do to and want to make only regular size ones.
I mention this because the next step is to cut off a corner of the sandwich bag and pipe the batter into the tins.
If you are making mini doughnuts it is valuable not to cut the corner off too far down as too much batter will come out and it will be more difficult to control.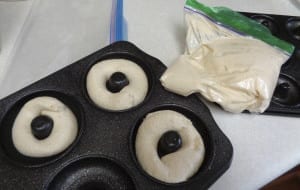 Fill any minis first and then make a second cut for the regular sized doughnuts. Fill just under 3/4's full. Do not over fill.
If you are going with doughnut holes and using mini muffin tins then you will be good with a larger cut but it might be necessary to push any poiny tops down a little. (You might also need to up the butter, sugar and spice amounts as there will be more are to cover.)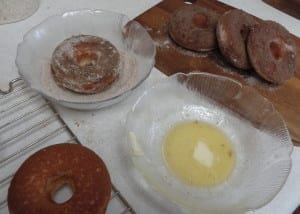 Bake for 10 to 15 minutes for the minis and 15 – 20 for regular sized doughnuts.
They should be golden brown but know that the black tins will probably give you a slightly darker bottom. For this recipe that is alright as the doughnuts will be covered in sugar.
As the doughnuts are baking, melt the remaining butter and place the brown sugar in a blender to pulverize the granules.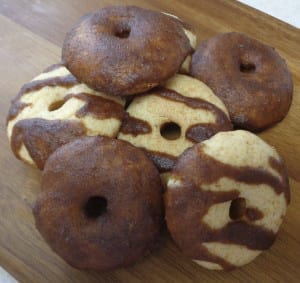 Mix in the spices to taste. Dip the warm doughnuts in butter and then in the spiced sugar mix. Serve. ( That is the picture below ).
The minis to the left have a brown sugar and rum glaze. I just mixed enough rum into 3 Tbsp. of ground brown sugar to get the mixture runny enough for dipping and drizzling and then let them dry.
They pack a little punch as it took more rum than I thought it would to get the sugar glaze consistency. Made some people pretty happy.
For everyone else, grab the milk and serve. Simple ingredients, great taste and no deep frying.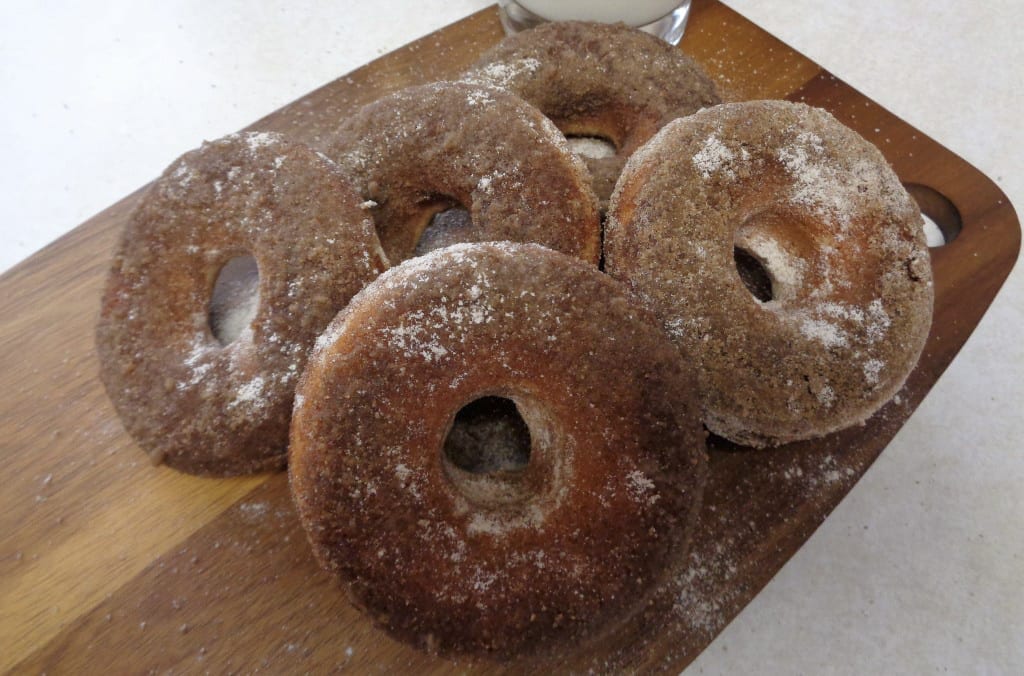 Spiced Brown Sugar Doughnuts from My Kitchen Wand