Stolen you say? Not quite…Stollen, also called Klabben is a German Christmas Fruit Bread that has been recorded as being around for about 700 years and looks very different today from it's much more humble "official" beginnings.
If there was only one thing I could bake at Yule, this would be it.
Stollen recipes are like shortbread recipes. They hold family memories. This one was handed down through my father's side of the family. There are many variations and "ours is best" is a common sentiment in many a household as we hold cellular memory that reminds us of home.
Stollen was first mentioned in an official document in 1474 but was apparently baked for the Saxon Royal Court during advent in 1427. It was a hard, bland variation but then again advent was a time of fasting and tasty morsels were out of the question. Sixty three years and five Popes later, papal consent was finally given to the house of Saxony to use butter instead of oil in the preparation of stollen. (Butter being on the no go list during advent.) Only the House of Saxon received this permission outright anyone else would have to pay a tithe to the Catholic Church to use butter in their stollen. When Saxony converted to Protestantism the tithe stopped altogether and fruits and nuts started appearing in what had been tasteless pastry.
Today's stollen is filled with fruits, nuts, sometimes rum and/or marzipan and is enjoyed during the month of December.
This recipe uses baking powder instead of the more traditional yeast variety and has been in my family for as long as I have been around, tweaked over the years as the economy got better. The house fills with a wonderful aromatic mix of cardamon, nutmeg, lemon, rum, almond, currants and raisins.
This is a wash the counter top and get to work recipe, where all the ingredients are kneaded together by hand, no need for a Kitchen Wand and just the way I learned to make biscotti through a friend's grandmother. So let's  move on from the set up shot and get right to work.
I will apologize for the photos up front. As the light grows weaker up north, it becomes a bit a challenge to get any vibrancy into the pictures.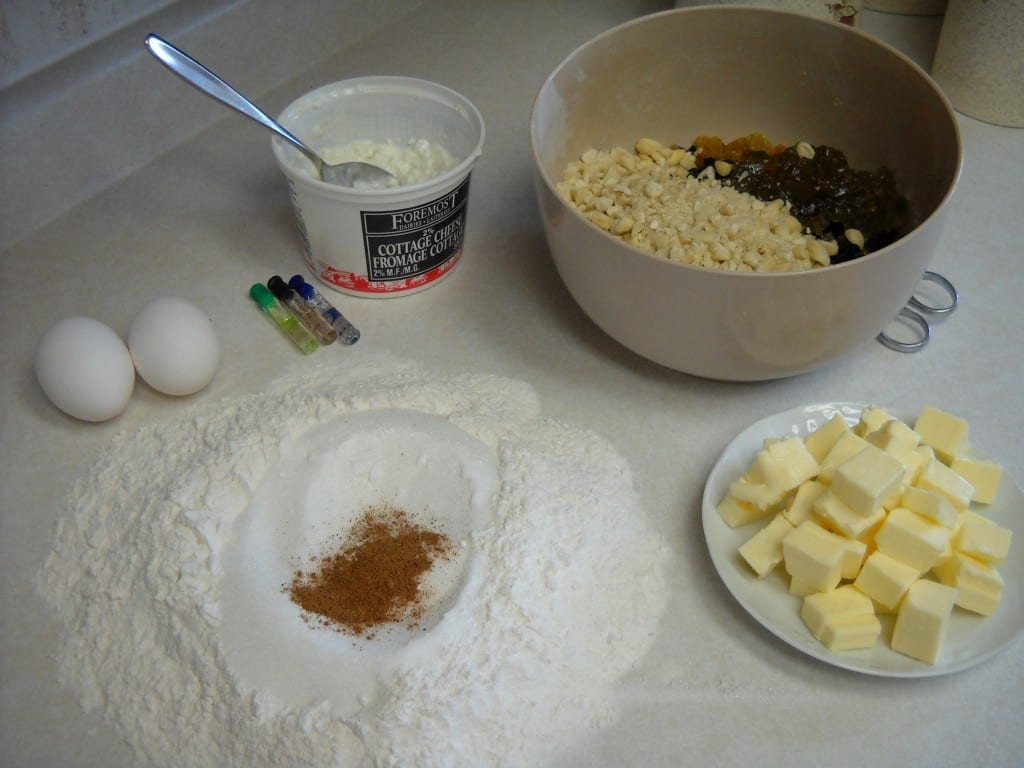 You will need: ( For more information about measurements, please scroll to the bottom )

500 grams all purpose flour
200 grams white sugar
3 tsp. baking powder
3 Tbsp. vanilla sugar
Knife tip of nutmeg
Knife tip of cardamon
2 Eggs
250 gr. cottage cheese
200 grams butter, diced
1/2 bottle bitter almond essence
1 bottle rum essence
1/2 bottle lemon essence
100 gr. citron, chopped
200 gr. currants
200 gr. sultana or other light coloured raisins
200 gr. blanched almonds, chopped
50 gr. melted butter
1/2 cup icing sugar
This is a good time to reflect on all our bounty, so easily accessible. To feel appreciation and gratitude for the shelter, warmth and good food we have. Take a deep breath in, bringing your focus into the present moment, open your heart Chakra…..relax…. Feel your energy expand into the kitchen, set your purpose and begin.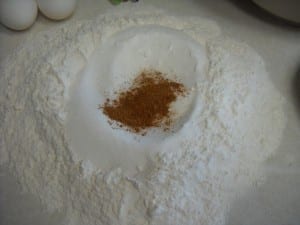 Clear and wash the counter top. Wash your hands. This recipe is mostly done by weight so scales will be helpful.
Measure the flour and place on the counter top. Measure and add the sugars, baking powder and spices.
Mix the dry ingredients together a bit with your fingers and then make a well.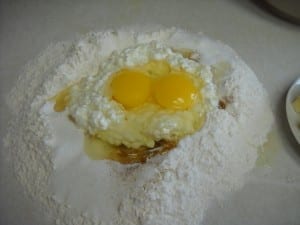 To the well, add the cottage cheese ( I use the creamed variety ), eggs and essences.
Essences are small bottles of flavouring you can find in a delicatessen, usually made by Dr. Oetker. They are shown in the  first picture, at the top. Extract is usable in a pinch but for an authentic flavour I find I prefer the essences.
This is going to be a little cold. Mix the liquid ingredients together slightly. Add the butter.
Top with the fruits and nuts. We have always chosen light coloured raisins for this recipe as it helps to add contrast to the currants and citron in the finished mix but from a taste perspective, Thompson Seedless will work as well. I chop my blanched almonds and other family members buy the flaked ones. ( It is all in what you grew up with. )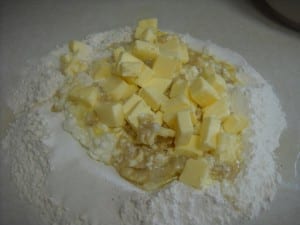 Now is the time to get your hands into the mixture. You will need both hands and that left no one to take pictures. Squish, squeeze and knead to bring everything together into a dough. Shape into a loaf.
There are several stories about the shaping of stollen that date back to the 1400's.
One suggests the bumps on top are the humps of the camels that carried the Magi to Bethleham while the raisins, nuts and currants represent the jewels and treasures the Magi brought.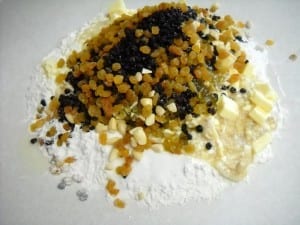 Another suggests that the bread looks like the swaddled baby Jesus. ( I never did like the idea of cutting off pieces of a baby to have with a cup of tea ).
In truth dried fruit buns and breads are a long, long tradition in northern countries (Hot Cross buns being another example). Some way was needed to bring sweetness and flavour to baking and without refrigeration, drying was the best option for preserving ingredients at harvest while the sun was still warm enough to do its work. These precious treats were stored and carefully measured out until the next harvest.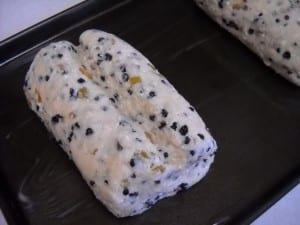 Bake at 325 degrees for about 90 minutes or as I do sometimes, when baking for friends who are by themselves, form two loaves and bake at 350 degrees for about an hour. When baked remove from the oven and baste with melted butter then sift icing sugar over the top. Allow to fully cool.
I try to bake mine, the last week on November and allow it to sit for a week before cutting. You will see recipes that soak the fruit in rum overnight, ones that add a roll of marzipan in the middle of the bread and ones that are made with yeast and are more like a bread. It is all good. Slice and serve with or with butter.
With a business that has a gift giving connection, December is hectic. But on Sunday afternoons as we light a candle on the wreath to honour the coming of Solstice, I make time for a piece.
Couldn't you just cuddle up by a burning fireplace and watch the snow fall with a cup of tea ( or coffee) and a buttered slice of this?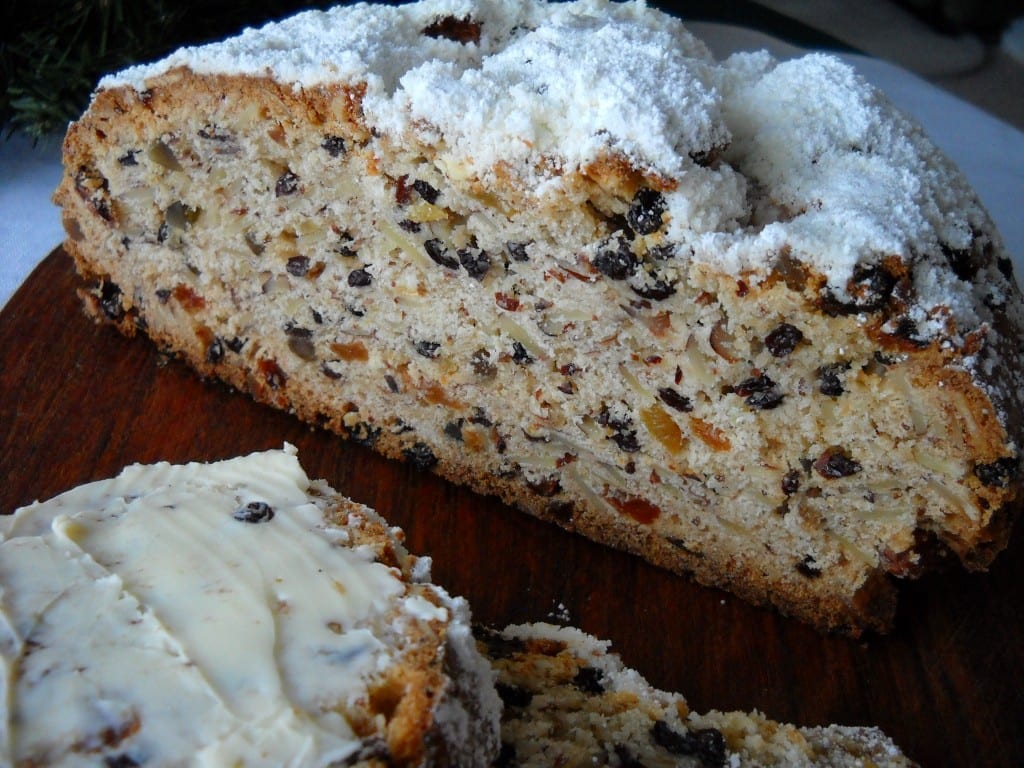 Stollen from My Kitchen Wand
Additional Measuring Thoughts
Most European recipes are created by weight so a set of scales is helpful.
There is also a special measuring cup that allows you to measure standard ingredients like flour, sugar, raisin etc. It is cone shaped, sits on a base and around the sides are all the ingredient options. You just have to look for the ingredient you need and then fill to the desired amount. 250 grams of flour will have a different volume than 250 grams of sugar.
This one is available at Lee Valley. You can see the names at the top of the cup, cocoa, almonds, sugar etc.
Converting from grams to cups can be a bit of a task as any conversions will depend on how firmly packed an item is.
Below is a best guess for the Stollen recipe above.
3 3/4 cups unsifted all purpose flour
When I searched the computer I got everything from 2.1 to 5 cups for converting 500 grams flour, so I measured out a cup and got 135 grams. You can always sprinkle a bit more in while kneading if it feels too sticky. It is natural for the dough to stick to your hands a bit so don't make it too dry.
1 cup white sugar
3 tsp. baking powder
3 Tbsp. vanilla sugar
3/4 tsp. of nutmeg
3/4 tsp.  of cardamon
2 eggs
1 cup cottage cheese
1 cup minus 2 Tbsp. butter, diced
1/2 bottle bitter almond essence
1 bottle rum essence
1/2 bottle lemon essence
As mentioned above, extracts have a slightly different flavour but if that is what is available then they will be your best option. Possibly a teaspoon and a half extract for one bottle essence.

Just under 1/2 cup green citron peel, chopped
1 1/3  to 1/12 cups currants
1 1/3  to 1 1/2 cups  Sultana or other light coloured raisins
Just under 1 2/3 cups blanched almonds, chopped
1/4 cup melted butter
1/2 cup icing sugar
Enjoy!