We are going to blink and Yule will be here, quickly followed by Christmas morn'. Since Yule falls on a weekend this year, the possibility of brunch comes to life. This recipe brings colour and flavour to the table. The sourness of the cranberries, the crunch of the toasted walnuts in a sweet orange batter make a tasty combination. Best served fresh and warm, well suited for bribery when getting out from under the blankets takes extra incentive.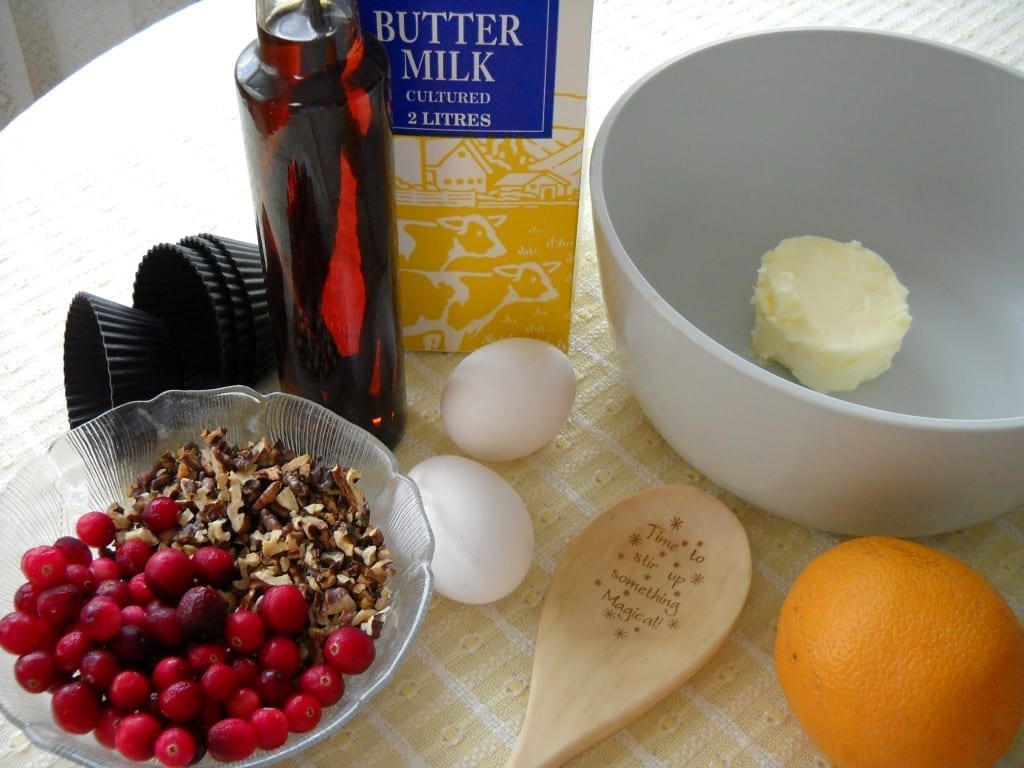 You will need:
1/2 cup butter
2 cups all-purpose flour
3/4 cup buttermilk
Finely grated zest of 1 orange, plus 2 tablespoons fresh orange juice
1 teaspoon vanilla extract
1/4 teaspoon baking powder
1/2 teaspoon baking soda
1/4 teaspoon salt
1 cup sugar
2 large eggs
3/4 cup fresh or frozen cranberries
1/2 cup walnuts, toasted and coarsely chopped
"In my kitchen filled with care, I welcome, Earth, Fire, Water, Air". Breath… center…. focus…, begin.
Preset the oven to 375-400 degrees. Gently toast and chop walnuts, put aside.
I am not a great fan of paper baking cups. I totally love not having to wash the muffin tins but I don't really like the softness of the sides. I am a crunchy girl at heart. I used silicone muffin molds this time but I also have a 6 inch spring form pan that I sometimes bake these in as well. It makes a big muffin that I then cut into wedges as a garnish on a breakfast plate. When using the metal pan, I grease and flour. This helps to give a nice outside edge and everyone gets a bit, like sharing the skin on the turkey.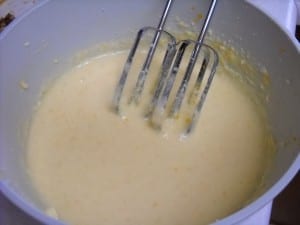 Cream the butter, and sugar together until light and fluffy. Zest the orange and add along with the eggs.
I tried to take a picture while the mixer was on and that did not go so well. Lighting, movement, balancing act. What I wanted to show and it really didn't work well was what a lovely colour the batter is once the orange zest is added.
Combine the dry ingredient and add in about a cup, stir well. Add the buttermilk. ( If that is not a handy item in your house, try putting 1 tsp, vinegar into milk.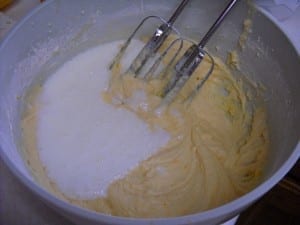 Let stand a moment or two and use as a substitute.) Mix into batter and then add the remaining dry ingredients, holding back a few tablespoons for flour mixture. This is a cake method muffin so start and finish with the dry ingredients and do not over mix.
Add the fruits and nuts, holding back enough cranberries and toasted nuts to use as garnish. If you are using frozen cranberries, do not thaw fully and mix vigorously. This will create pink muffins as the juices mix with the batter.
I sprinkle the last few tablespoons of flour over the ingredients to help them stay in the batter and not drop to the bottom.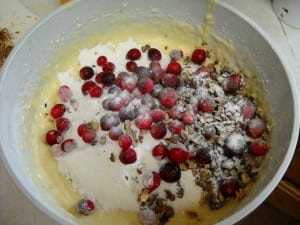 Fold gently into the batter. Over mixing will create funny shaped muffins, with pointy tops.
Fill containers/pans 3/4's full and top with the remaining cranberries and walnuts.
A couple of each on top will add colour to the presentation.
( If I have candied nuts around I will sometimes chop them and use in the topping. )
Bake 20-25 minutes depending on your oven.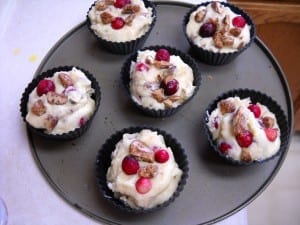 This is a sweet muffin and with all the treats that arrive at this time of the year it is nice to know you are including some ingredients your body will thank you for as well.
Cranberries are full of vitamin C to help protect your immune system. They also contain proanthocyanidins, powerful antioxidants that are said to prevent certain bacteria from sticking to the urinary tract. When the bacteria can't stick, it cannot cause infection.
Nuts can sometimes be an iffy ingredient when baking for a group as many more people have nut allergies today. They are however, very good for you, with lots of Vitamin E, antioxidant and anti-inflammatory benefits. For more information on walnuts check out http://www.whfoods.com/genpage.php?tname=foodspice&dbid=99
Not as quick as a traditional muffin but well worth the effort for a special morning. Greet the returning sun with Walnut Cranberry Muffins, looking forward to this new cycle of Life.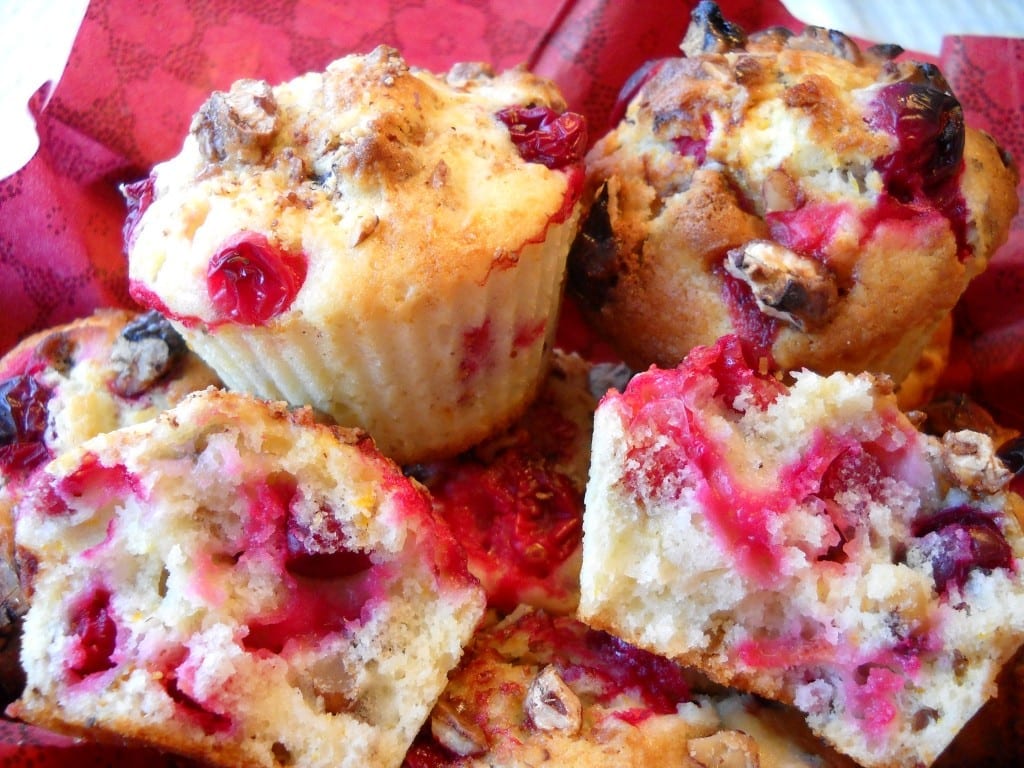 Walnut Cranberry Muffins from My Kitchen Wand