I was up for an adventure the other day and decided to take some teff flour out for a run. I know teff as a seed used in the making of flatbread in Ethiopia. It has an earthy flavour and I have read that some people choose to leave it out of their gluten free regime as it can be heavy. This recipe comes from The Gluten Free Gourmet Cooks Comfort Foods by Bette Hagman. I was thinking that it might be a great way to use up Thanksgiving left overs which in Canada is next month already. I don't personally need to watch my gluten intake but "I loves to experiment".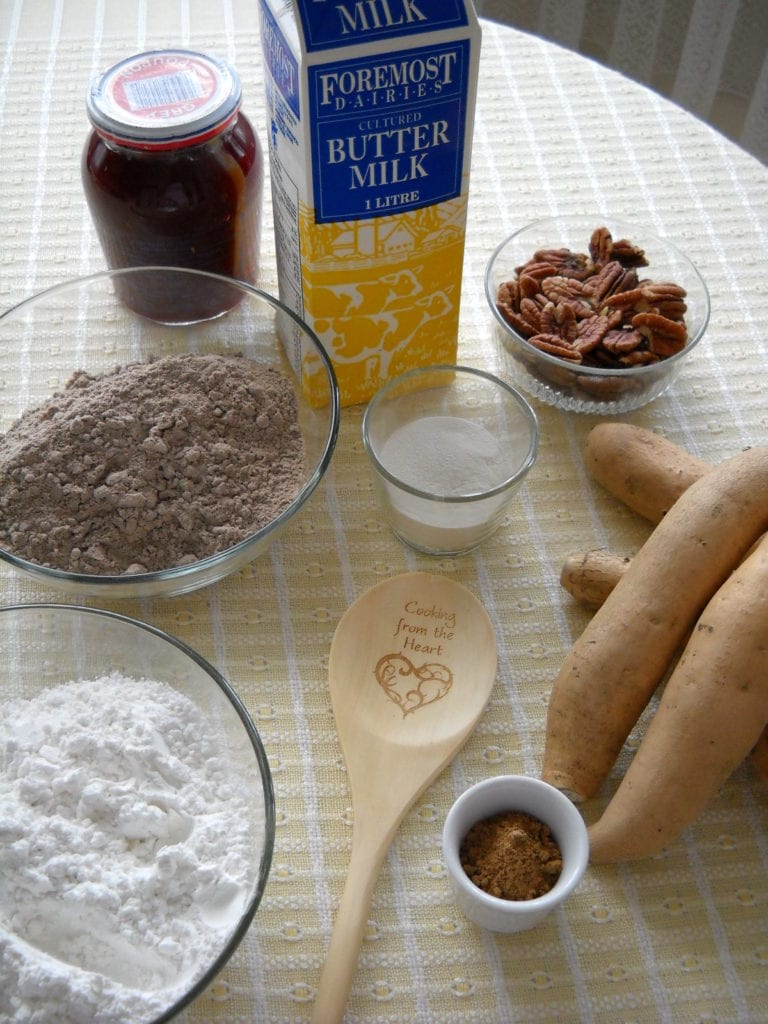 You will need:
1 cup Featherlight Mix (1/3 cup each tapioca flour, cornstarch and rice flour with 1 Tbsp. potato flour ) You can mix yourself or buy premixed where available
1 cup teff flour
2 scant tsp. xanthan gum
3/4 cup sugar
1 rounded teaspoon baking soda
2 teaspoons baking powder
1 teaspoon pumpkin pie spice
1/2 teaspoon salt
1 cup cooked sweet potato, mashed
1 cup whole cranberry sauce
3 slightly beaten eggs
1/3 cup vegetable oil
1/2 cup buttermilk
Find your center and take a relaxing breath in, hold and release. Feel yourself deeply connected to the planet. Now energetically reach up to the stars. Find your place of gratitude for the ingredients, the time and the willingness to stir up a little edible Alchemy. Magic is afoot!
This comes together very quickly when all the ingredients are ready. You can cook and mash the sweet potato in advance and store in the fridge if that makes life easier ( or plan ahead, make more one night for dinner and set some aside for play).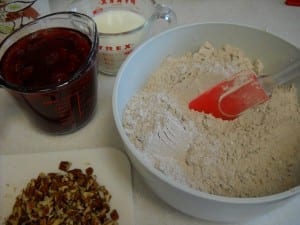 Grease your standard loaf pan. Truth time! I doubled this recipe when I made it and needed to used 3 loaf pans, so if you have a larger pan around, try that.
Combine the dry ingredients together, blending the flours, sugar, leavening agents and spices.
Xantham gum is used to help create the binding qualities missing when gluten is not present in baking.
Add cranberry sauce, ( I used up some home made cranberry orange).
Combine all the liquid ingredients. This is an opportunity to break the egg yolks before they land in the flour, always a good idea.
Pour the liquid ingredients into the dry ingredients, add nuts and mix only until just blended. The flours will moisten a little differently than wheat flour, so it is good to watch the mixing.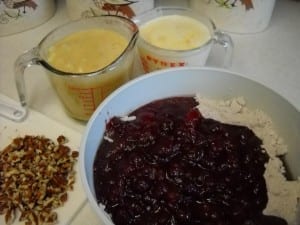 Now the recipe says spoon into the loaf pan but I found the batter moist enough to pour.
Bake at 350 degrees and this will need it's full hour. My oven tends to run hot and even with that I needed the total time for 3 loaves and another 10 minutes would not have been amiss.
Allow to cool for 10-15 minutes before taking out of the pan. I find gluten free baking a little fragile and cooling helps to strengthen the finished product.
Teff flour is not a common flour and using it this way is outside its' usual comfort zone but by combining the featherlight flour and adding other flavourful ingredients, this loaf went over well with all the taste testers. Nice addition to lunches and good with something warm now that the sun is traveling down under.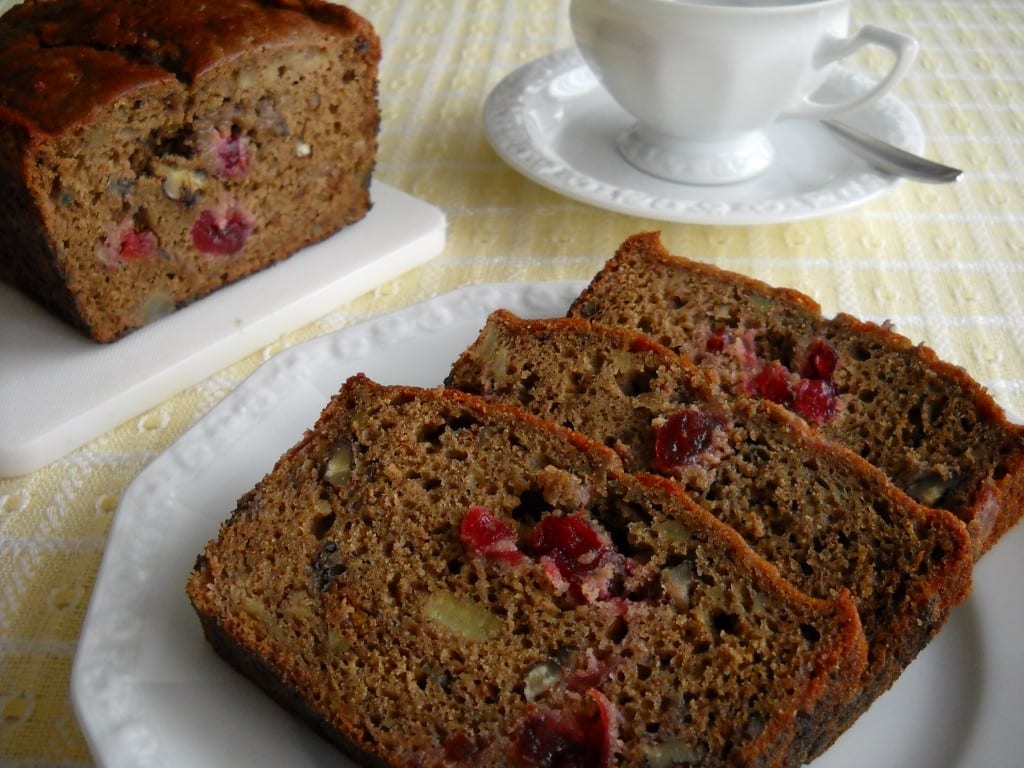 Sweet Potato, Cranberry Sauce and Teff Loaf from My Kitchen Wand