As late summer arrives so do Okanagan nectarines and I look forward to finding precious yellow fleshed balls of juiciness in the local fruit stands. Usually I am not willing to risk cooking with nectarines as local ones are a treat. I love them fresh and ripe, served with a piece of paper towel.
Nectarines are related to roses, almonds, peaches and cherries. They come from China, having traveled through Persia to Europe and then via England out into the Americas and Australia with the explorers. Nekter was the life sustaining drink of the Olympian gods and nectarines take their name from that reference. They are high in Vitamin C and Potassium.
According to Scott Cunningham they are a water element connected to Love and Venus. Their season here begins just as Lammas is being celebrated and fruit is one of the natural additions to a Lammas table.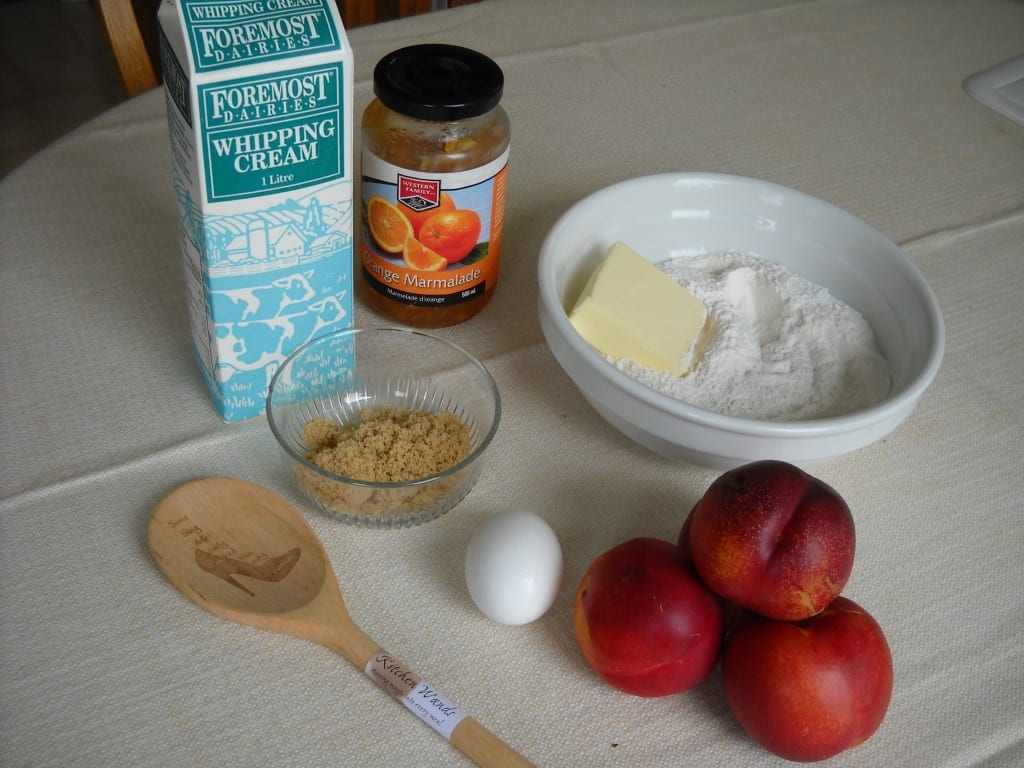 You will need:
1 1/2 cups all purpose flour
1/4 cup  blanched almonds or almond meal
3 Tbsp. sugar
2 tsp. baking powder
1/2 tsp. salt
6 Tbsp. cold butter
1 egg
1/2 cup whipping cream
1 Tbsp. sugar for sprinkling
Fruit Compote:
4 medium ripe sized nectarines
1 Tbsp. butter
2 Tbsp. brown sugar
1 – 2 Tbsp. orange marmalade
1 cup whipping cream
1 – 2 tsp. vanilla sugar
Focus your attention and breathing. Let go of the niggles of the day. Deep relaxing breath in…and out. Open your heart to Love and invite your compassionate spirits to play. " In my kitchen filled with care, I welcome, water fire, earth and air".  Begin.
Preheat your oven to 375 degrees and grease a small pan, large enough to hold four shortcakes. Put aside.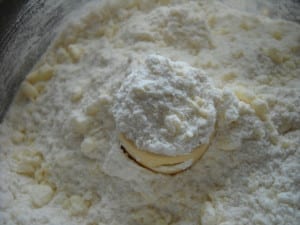 In a kitchen processor, add the blade attachment and if using whole or slivered almonds, start by adding the almonds and pulsing a few times until they are powdered/mealy. Add in the dry ingredients and mix once. Cut the hard butter into 5 – 8 small pieces and place in bowl. Pulse until the mixture is crumbly. You can go a little smaller than the size shown in the picture to the left.
I usually make shortcakes by hand and the finished product has more of a layered feel when pulled apart, which I like. If you decided to make yours by hand then room temperature butter can be rubbed in much more effectively than cold.
When using the machine, you will be much happier with the finished product using cold butter. And if it fits in your budget, use butter. It makes for a more richly flavoured finished product.
Add in the egg and whipping cream and pulse a few time, just until it begins to come together. Take the mixture out of the bowl and pat together. Yes, it will want to fall apart.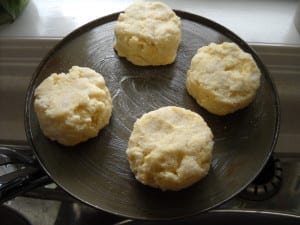 Divide into four and pat into shape. You can also use a 1/2 cup dry measuring cup as a form. Tip it over once packed and tap ( possibly not so gently ) out. Cookie cutters will work as well if you have an open tops but this one recipe where I would not recommend using a glass to cut the circles.
Sprinkle the top with sugar. Bake for 20 minutes if you like yours soft and a little longer ( I did 27 minutes ) if you like yours crunchy. Put aside to cool. These shortcake will crumble easily so cooling time and a serrated knife are your friends.
Whip the whipping cream to soft peaks and add vanilla sugar. You can also add regular sugar and vanilla extract if that is handiest. Whip until firmer peaks appear and place in fridge until needed.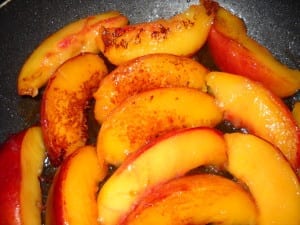 Wash and cut the nectarines into 6 or 8 slices, removing the pits. Now you can roast these on a grill or in a toaster/oven. They will also bake in the oven beside the shortcakes but I prefer to saute them in a pan as I can keep an easy eye on what is happening.
Melt butter in pan and once hot add the nectarine pieces. They only need a couple of minutes on each side and you don't want to add to much caramelization to the pieces as the brightness of the fresh fruit colour will disappear. The skins can tend to separate from the fruit at this point and it is your choice whether to keep them on or pull them off.
When nicely grilled, mix in brown sugar and marmalade and gently toss. This mixture can be served warm or at room temperature. Do not serve hot unless you are eating immediately and know your whipping cream will melt.
To put it all together, cut open a shortcake, pour a tablespoon of liquid over each side. Place 6 – 8 slices of nectarine on the bottom half of the shortcake, top with whipped cream and add the sugared top half of the shortcake.
Voila! A twisted play on a traditional strawberry shortcake for a little later in the summer season once the local berries are finished. just as juicy and tasty. A recipe I am willing to cook nectarines to make.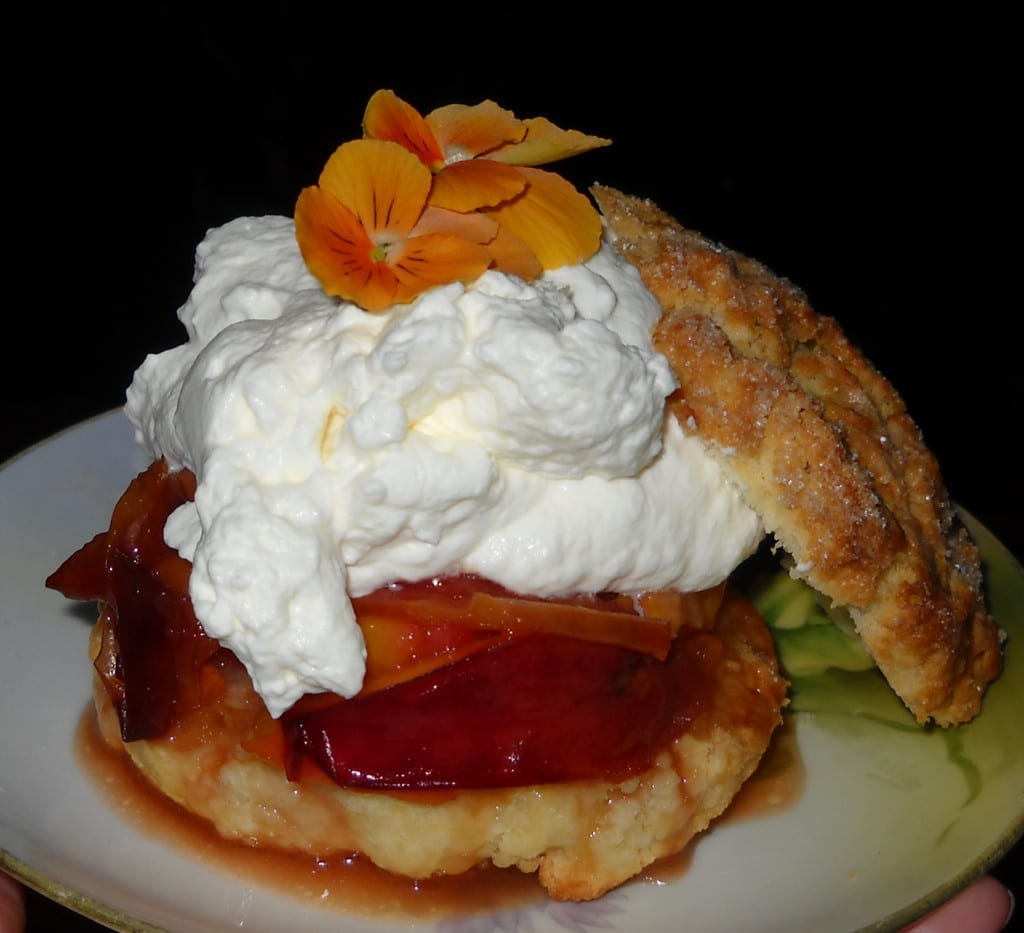 Roasted Nectarine Almond Shortcake from My Kitchen Wand