One of the "special" gifts I received this year was a selection of herbs; grown in my friends garden and dried in her "doll house".
Since dairy is such a part of Imbolc traditions, sharing a recipe or more accurately a process, I learned years ago from family for turning buttermilk into a fresh cheese, seemed appropriate. This is super easy and gives a lovely light finished product. You can play with the additions too. (I have been known to add hazelnuts, dried cranberries and a little sugar).
The connection of Imbolc to dairy is two fold. At this time of the year, in the British Isles,  ewe's are lactating, having just given birth or preparing to do so. I mbolg can be translated as " in the belly" and Io-melc as "ewe's milk". Hence the name of the celebration.
Additionally, Brigid, the fire Goddess associated with this festival has a connection to livestock, including cows, as does St Brigid, whose holy day "happens" to fall at this time as well. St Brigid is often depicted with her white cow.
So it is understandable that dairy products like buttermilk, butter and cheese would be natural offerings for at an Imbolc table.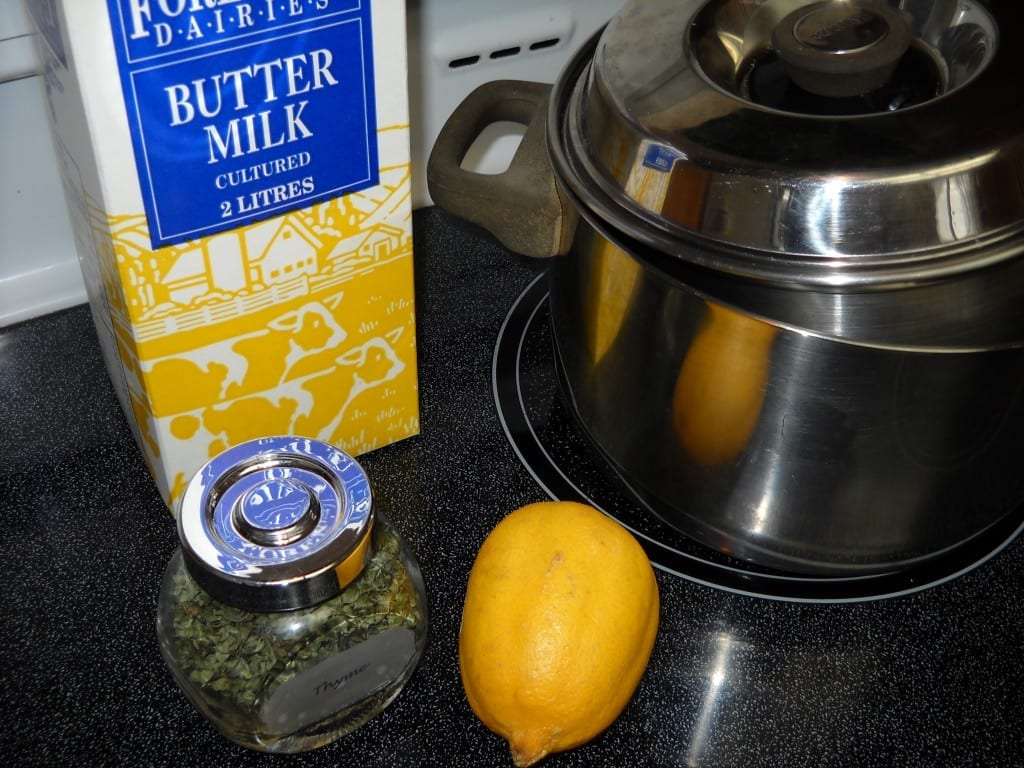 You will need:
2 – 3 cups cultured buttermilk
zest of 1 lemon
1 tsp. dried thyme
pinch of salt
Pay attention to your breathing. Breath deep, hold and relax, exhaling slowly, repeat. Each breath will likely be two to three times longer than your regular breathing. Relax and focus. Let go of what has irritated you today. Invite helpful compassionate spirits to assist you and thank them for coming.  Breath…..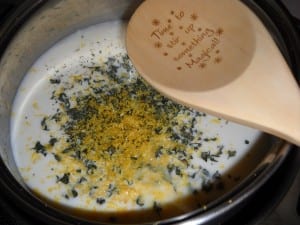 You can use a double boiler, I usually, for this, put one slightly smaller pot inside another as shown in the picture above.
Add water to the bottom pot, enough that the smaller pot is sitting in water but not enough to over flow or run dry.
Pour the buttermilk into the pot. I see recipes around today that suggest a blend of milk and buttermilk. I have never tried them as I have been happy with the results from straight buttermilk but I can see it having the potential of being a little less tangy.
Add the zest of one lemon and the dried thyme and give it a stir.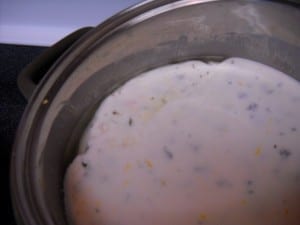 Put the lid back on the pot and allow the buttermilk to slowly heat. Do not allow the water to boil. You can check every so often but there is nothing to do until the milk solids begin to come together, separating from the remaining clear liquid.
Once this process begins to happen around the edges, the middle section will coagulate within a few more minutes.
Place a draining cloth into a sieve over a bowl or the now empty pot that contained the water.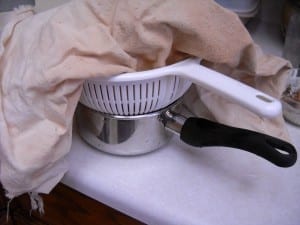 I find something thicker than cheese cloth works best for me and I have a piece of natural muslin fabric that I use again and again for jams, yoghurts, cheeses etc. ( Yes, it gets washed in between and bleached every so often. )
Pour the entire contents of the pot into the draining cloth and allow to fully drain. This can take up to several hours.
I have a little plastic container with holes. In cheese making, the intention is to allow places for the liquid to continue to drain out as the cheese becomes drier and is pressed into a form.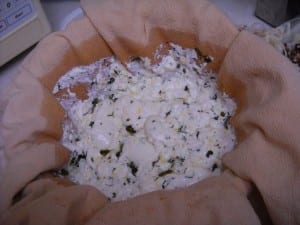 I find a small 3-4 inch sieve works as well in a pinch and will give you half balls. If yours is metal I would suggest a little cheese cloth between the metal and your cream cheese.
An alternative option is to allow the entire batch to continue draining for several hours and then shape by hand.
This cheese will keep for several weeks in the fridge.
It is always possible to make this cheese without the herbs or to add flavouring ingredients after the cheese is drained. Waiting allows the option of making several different flavours from one batch.
Curry Pumpkin Seed Crackers 
Seeds are another staple of the celebrations of Imbolc.
In some farming areas a bucket full of last years seeds are blessed before being mixed into the larger bag.
You will need:
1 1/4 cups flour
1 1/2 Tbsp. sugar
1/2 tsp. salt
1/4 tsp. curry or paprika or something of your choosing
3 Tbsp. roasted pumpkin seeds or ground nuts or something similar of your choosing
4 Tbsp. butter
1/4 cup cold water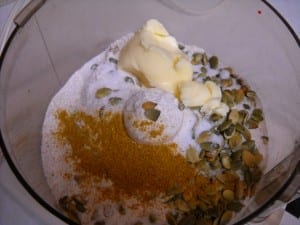 Place all your ingredients except the water in a food processor and gently pulse 4 or 5 time.
Turn on for short bursts until all the ingredients are mixed.
Once mixed pour in water and mix again for a very short time until the mixture forms a ball.
Turn the dough out onto a floured work surface, divide it in half and roll out as thinly as possible. The thinner, the better.
You can cookie cutter the crackers or cut into square or triangle or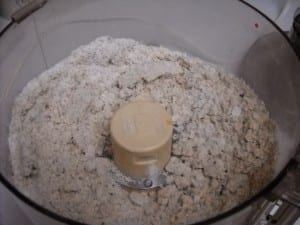 rectangle pieces.
I generally don't use a cookie cutter for this as it leaves all sorts of left over pieces that need rerolling but for an extra special occasions, I might be enticed.
Pop on a cookie sheet. You don't need to leave lots of space as there is no leavening agent.
Prick a few times and bake at 400 degrees.
Repeat until the the dough has been used up.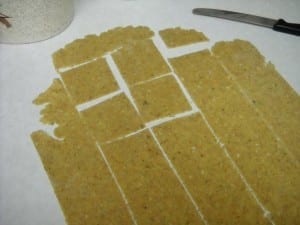 Did I mention roll thinly?
You will be much happier with the results when you do.
Crisper crackers come from thinner rolling and good attention to not over baking.
Store in a airtight container to retain crispness and enjoy with fresh cream cheese.
I would encourage changing up the spices and playing with the finished taste to complement what they are being served with.
Imbolc is a time for getting going again, clearing, cleaning and preparing. The light is returning (one of the reasons for candles ), winter is coming to an end ( we hope ) and the things that have been growing internally whether baby lambs or personal plans are getting ready to step forward into that new light.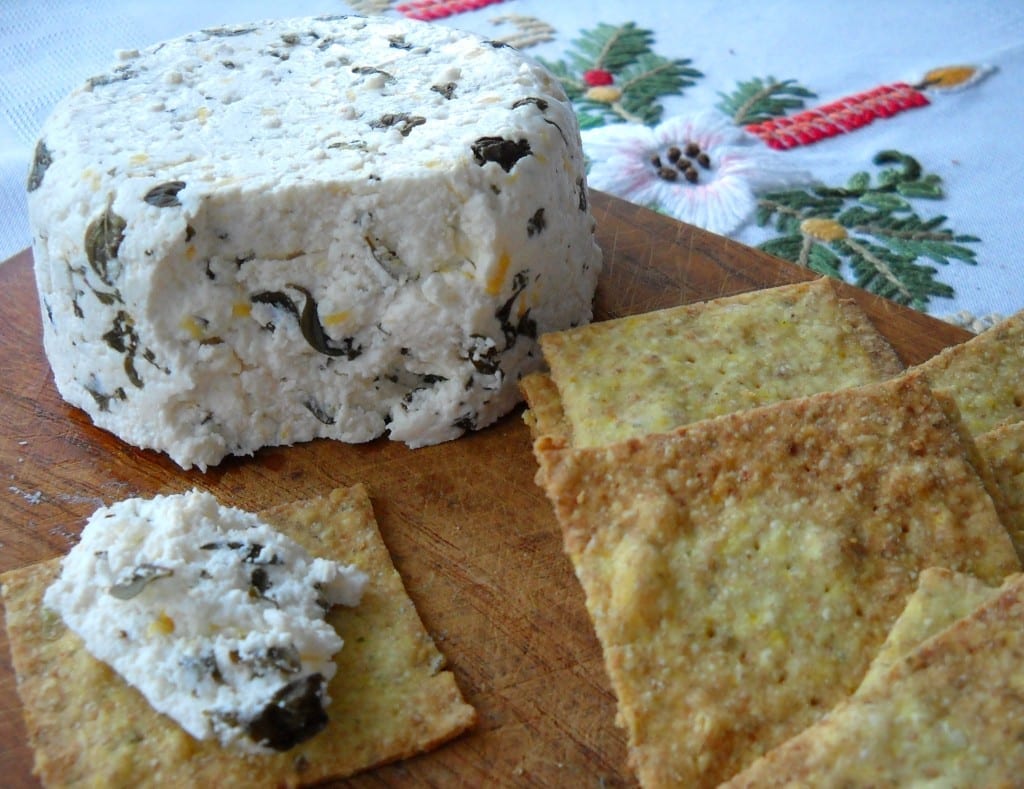 Thyme & Lemon Buttermilk Cheese with Curry Pumpkin Crackers from My Kitchen Wand