After posting a recipe for a whole wheat soda bread in connection with the coming celebration of Imbolc, last week (http://mykitchenwand.com/?p=1230),  I received a question about a gluten free alternative from France. I had been thinking about it myself and wondering what might be a good way to get that whole grain experience into a loaf of bread without going too far into bean flour options ( which are not my favourite ). I do not need to eat gluten free personally but I love understanding how things work together. So…
The inspiration for this experiment was a scone recipe I posted several months back that included cooked lentils and oatmeal. I was looking for ingredients that I thought would be easily available in many places in the world. I had a number of leftover bits and pieces in the pantry so I did a little recipe development yesterday. Here is what I used.
1 cup plus 2 Tbsp, all purpose gluten free flour
1/4 cup brown rice flour
6 Tbsp. ground flax meal
1/2 cup gluten free oatmeal
1/4 cup cooked orange lentils
1/2 tsp. salt
3/4 tsp. baking soda
1/4 tsp, xanthan gum
1 cup buttermilk
6 olives, optional
1 1/2 tsp Herbs d'Province, optional
2 Tbsp. finely chopped sundried tomatoes, optional
I was using what was available in my pantry. You may have alternate choices on hand.
Cook the lentils in water until soft. Mix all the dry ingredients together ( including the optional ones, if using ) in a bowl. Add the cooked lentils and blend until mixture is crumbly and the lentils are evenly spread through the flour.
Make a well and add the buttermilk. Stir until mixture comes together. Pat into a shape. I made a rectangular shape for slicing.
Do not cut slice across the top, "to let the fairies out". I found those were the pieces most likely to break off when slicing the bread.
Bake at 400 degrees about 20-25 minutes.
Best served when fresh and cool. Cut with a serrated blade. This loaf is moist and dense. I stored over night in a paper bag after cutting and it was still moist the next day.
Tips and thoughts:
Scotch oats were used in this recipe. If all you have available is regular, then pop them in a blender for a few seconds to make the meal pieces a little smaller. I might try soaking the oatmeal first which would mean adding a few tablespoons more buttermilk to the recipe quantities. I think by doing that it might be possible to delete the xanthan gum. Both the oatmeal and lentils would assist in the binding of the flours.
Cook the lentils in 1/2 a cup of water until soft. Add more water if needed but drain if there is water left over.
Rice flours absorb liquids differently than wheat flours so start with 1 cup buttermilk and feel your dough before adding more.
I would substitute a non rice flour for the brown rice flour in the recipe. There is a bit of a sandy feel to the finished product. ( This might be where your chestnut flour comes in Rita ). There is rice in the all purpose mixture but the ratio will be reduced by changing out the brown rice.
Personally, I would cut the olives, sun dried tomatoes and herbs d'Province amounts in half. It was a bit too intense, for me. Good with a plain cream cheese but the bread will overpower other toppings.
Pine nuts might also be a nice addition. Here they run $7.00 for 100 grams ( $31.00ish a pound ) but in France they may be more of a staple and less of a luxury item.
The bread itself got a dusting of flour that the loaf did not absorb while baking. The bottom was nice golden brown while the top crust looks a little pale.
The bottom line for the experiment though: lentils, oats and ground flax meal as a possible way to approach a whole wheat gluten free experience, had good results.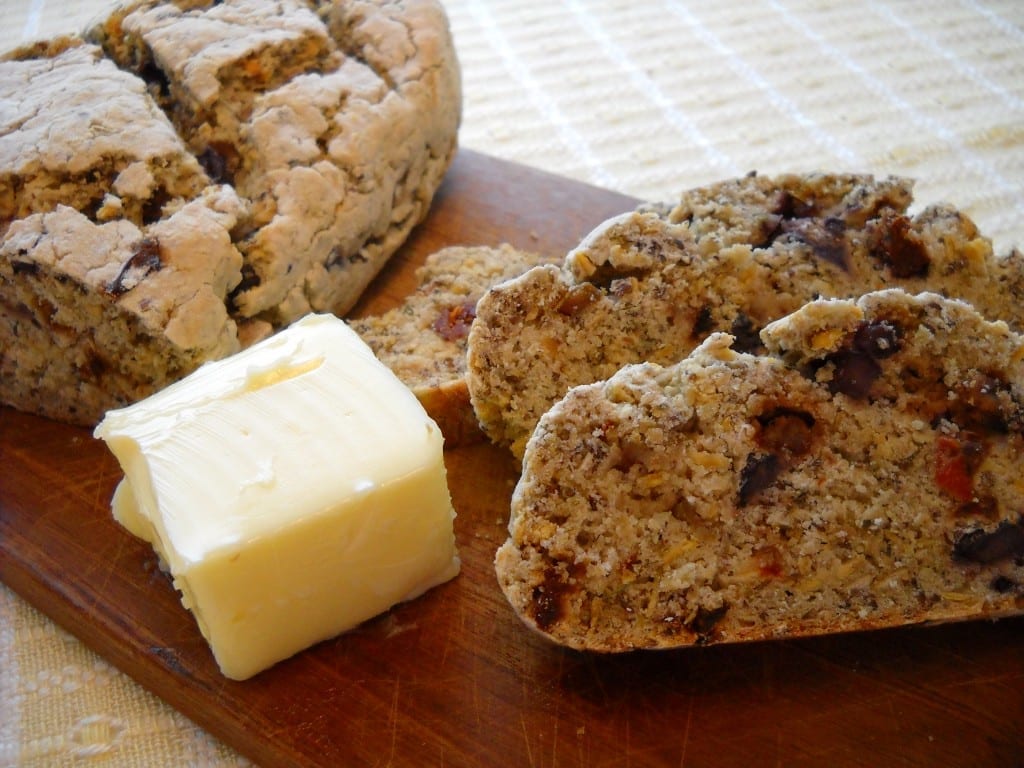 A gluten free soda bread experiment from My Kitchen Wand