Persimmons are full of Vitamin A, just over half of the daily reccomended amount actually and just under one quarter of the suggested daily amount of Vitamin C. They are also a good source of fiber and manganese.
Don't let not having persimmons stop you from making this loaf though. You can substitute apple or pear sauce. I am also thinking about adding a few fresh cranberries the next time I make it to hit an additional note on the taste spectrum.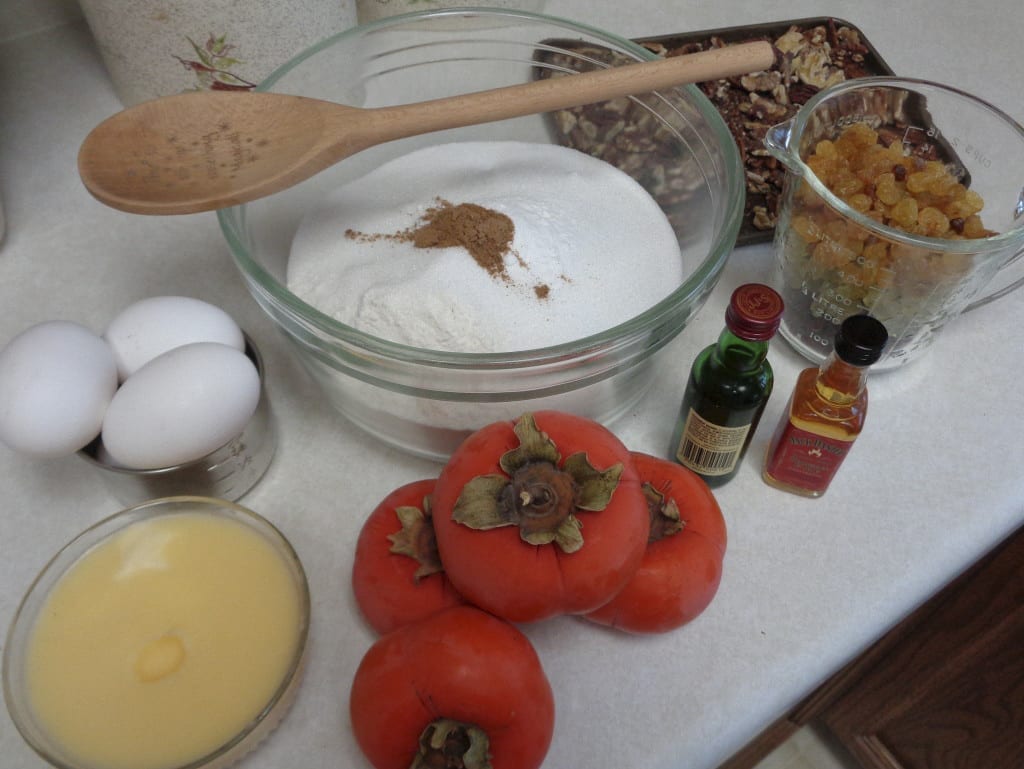 You will need:
3½ cups sifted flour
2 tsp. baking soda
2 tsp. ground nutmeg ( other options ; cinnamon, five spice, pumpkin pie spice, speculaas spice)
2 cups sugar
1 cup butter, melt and allow to cool
4 large eggs, take out and allow to warm up
2/3 cup cognac, bourbon, whiskey, rum or port
2 cups persimmon puree, about 4 persimmons
1 1/2 – 2 cups walnuts or pecans, toasted and chopped
1 1/2 – 2 cups mixed dried fruit ( I used dried cranberries, chopped apricots, citron and golden raisins)
1 cup icing sugar
1 – 2 Tbsp. liquid
These loaves are for people I care about. As I washed my hands and gathered the ingredients, I thought about all the times someone had acted to assist me. Now I am not saying there were only good times, I am saying my intention as I prepared to begin was to focus on the good times, to hold gratitude and appreciation in my body as I put the ingredients together. To focus on the present moment while creating my offering for our Christmas gathering.
Deep clearing breath to……. begin.
Melt the butter and put aside to cool.
Preheat the oven to 350 degrees.
Grease and flour  2  9 x 5 inch loaf pans, tapping out the excess flour and put aside. You can also use fine bread crumbs for a crunchier crust or grease and line the bottoms with parchment paper. The intention here is to not have the fruit pieces stick and create an issue when releasing the loaf from the pan.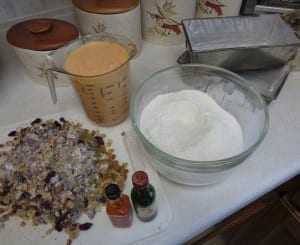 Sift the dry ingredients, flour, soda, nutmeg and sugar in a large mixing bowl. Take 1/4 cup of the dry ingredients and toss the nuts and dried fruit in it. Make a well in the remaining flour mixture
Mix together the butter, eggs, liquor and persimmon puree together. I mentioned in a previous post that persimmons and I hadn't found a good relationship. I think with these loaves we got closer. ( Can't say we will ever be the best of friends).
Truth time! I was about a quarter cup short of persimmon puree so I added in cottage cheese to make up the difference and blended it with an electric hand wand. Totally did the trick.
Next let's talk booze. I had a selection of sample size bottles sitting around for heavens knows how long. I picked out the ones I thought would work best together and ended up with Irish whiskey, cinnamon flavoured bouron and port. I am not saying do the same. Use whatever you have at home, sitting in the back corner collecting dust that makes sense. The final product is not going to taste like over preserved Christmas cake and I understand you might have better uses for 2/3's of a cup of alcohol you like. You might also prefer substituting apple juice. I went for cleaning out the cabinet.
Pour the liquids into the well of the flour mixture and stir. Do not over mix. Stir just enough to moisten the flour. Add the floured fruits and nuts. Combine and transfer to the pans.
Bake for about an hour or until toothpick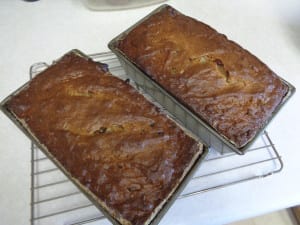 inserted into the center comes out clean. The tops will be shiny.
This is not a sweet loaf, which works well for many but it is also possible to create drizzle for the top to add a little extra colour and design.
Mix icing sugar and a liquid until the mixture is thick but will still run down the side of the cake when the glaze goes over the side. I used up some Japanese plum wine but anything you have handy will do, rum, port etc. Drizzle the glaze over the side of the loaf so it drips down the side and either fully cover the top as in the picture below or drizzle back and forth as much as you would like.
If you have the time, let your loaves sit at least a day to mellow before cutting. I cut very thin crusty slices off both ends and then got 20 good sized half slices from the remaining loaf. If you are feeling super saturated with sugar from the last few weeks, your tastebuds will be pleased with something a little different.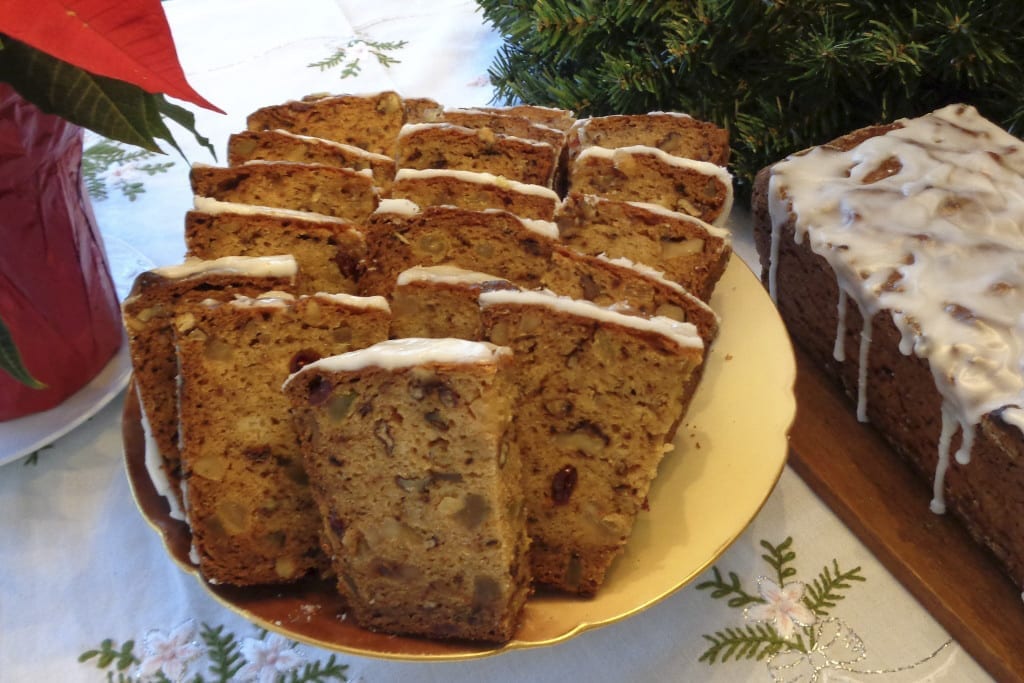 Tipsy Persimmon Loaves from My Kitchen Wand