I was in the middle of cookie stamp testing this weekend and it brought back memories of making Valentine cookies with my mother. We used to make simple hearts with different shades of pink icing and maybe a few extra highlights on some. We never made a lot as Valentines was usually just a day of celebrating, not a season like Christmas. So in the middle of my testing, I dug out two heart shaped cookie cutters and temporarily switched plans.
I cut out six large hearts and twelve tiny ones which was about a third of the cookie dough recipe below, even less if you have smaller sized heart cookie cutters. Cutting the recipe in half is possible, if you have a use for half an egg or just make more cookies. Any left over dough freezes well and you will be good to go for Easter/Ostara in six weeks.
I used the recipe below and a hand mixer because it was a relatively small amount of volume. If you have a stand mixer, I would suggest doubling the amounts for better blending.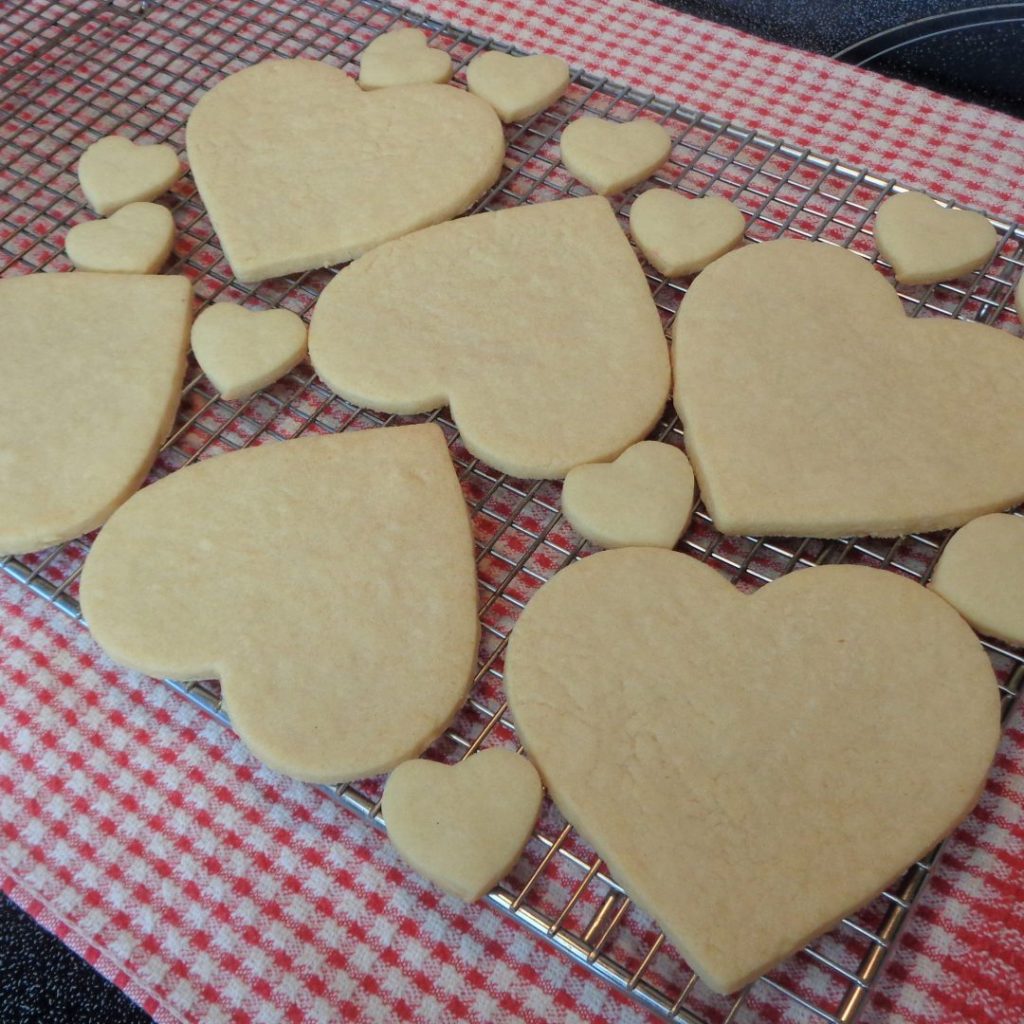 You will need for cookies:
1 cup butter
1 cup sugar
1 Tbsp. orange zest
1 tsp. orange extract
1 egg
2 tsp. baking powder
3 cups flour
You will need for icing:
1 cup icing sugar
1/4 cup butter
1/2 Tbsp. orange zest
1 Tbsp. milk
red food dye
I flavoured these cookies orange because it was handy. If you prefer, delete the orange and add 1/2 – 1 Tbsp. of vanilla extract or paste. Start at 1/2 tablespoon and taste before adding more.
In a bowl with the sugar, add the butter fresh from the fridge. Slice the butter in four and then each slice in four again and then each section into three. Let the butter warm for 30 minutes until soft to a push but still cold.
Preheat the oven to 350 degrees F.
Whip the butter and incorporate the sugar until light and fluffy. Add the egg, zest and extract. Continue blending with a hand mixer. Now add the baking powder and flour and mix well.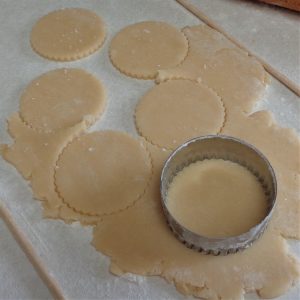 Gather the dough together and turn out onto a floured work surface. Break off a portion of the dough and roll out ready for cutting. This recipe works just fine straight out of the bowl, especially if the butter was still cold when the ingredients were combined.
I took this picture while working on the cookie stamps but the same suggestion applies. A balsam wood stick on either side of the dough helps keep the cookie height even making for similar baking time for each cookie. (Cookies on the outside of the pan will usually bake a little more quickly than those in the middle.) Simply roll the rolling pin along the sticks, not the cookie dough. It keeps the dough equally thick all the way across.
Using your cookie cutter, cut out the cookies as efficiently as possible. The fewer times the dough needs to be rolled out the better.
Transfer the cookies to a cookie sheet and bake for 7 – 8 minutes.
Sugar cookies are generally not browned at the edges when considered done so keep an eye on the cookies as the time draws near. They will look under cooked but will harden as they cool. Transfer to a cooling rack when done.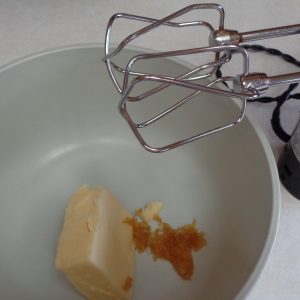 While the cookies cool begin the icing.
Whip the butter and orange zest together. I made double so there is half a cup of butter in the bowl to the right.
Half of the finished icing ended up in a container before the colour was added and I had more than enough to ice these cookies.
Add in the icing sugar and starting slowly incorporate the sugar before upping the speed and whipping while the milk is added and your preferred consistency is reached.
It will probably take 1 – 1/2 tablespoons of milk. When well whipped add two drops of red food colouring, mix well and ice the first group of cookies. Add two – four additional drops, mix well and ice the next group. Continue increasing until all the cookies are iced.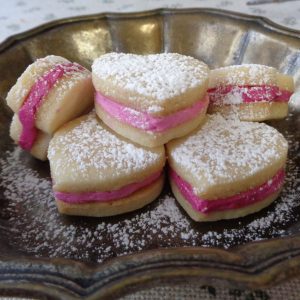 This was about the time I realized I was not going to get red, no matter how much food colouring I added. There was just too much blue in the dye. I was fine with varying shades of baby pink to fuchsia but if you are looking for a true red test your dye first.
I used the darker colours to make mini heart sandwiches and scrounged around the house for a few sprinkles to add to the cookies.
There were mini M&M's in red, large size sugar crystals, heart shaped sprinkles in white, pink and red and something similar to mini M&M's in pink.
The decorations were easily available for me but I really think that a simple icing job works just as well. I didn't even try to get anything smooth, just ran the knife back and forth to deliberately create lines in the icing.
A simple cookie, that youngsters to help with and something that won't cost more than a dollar in decorations at a bulk store, if necessary. A tasty, cost effective way to ask, "Will you be my Valentine?".
Now back to cookie stamps.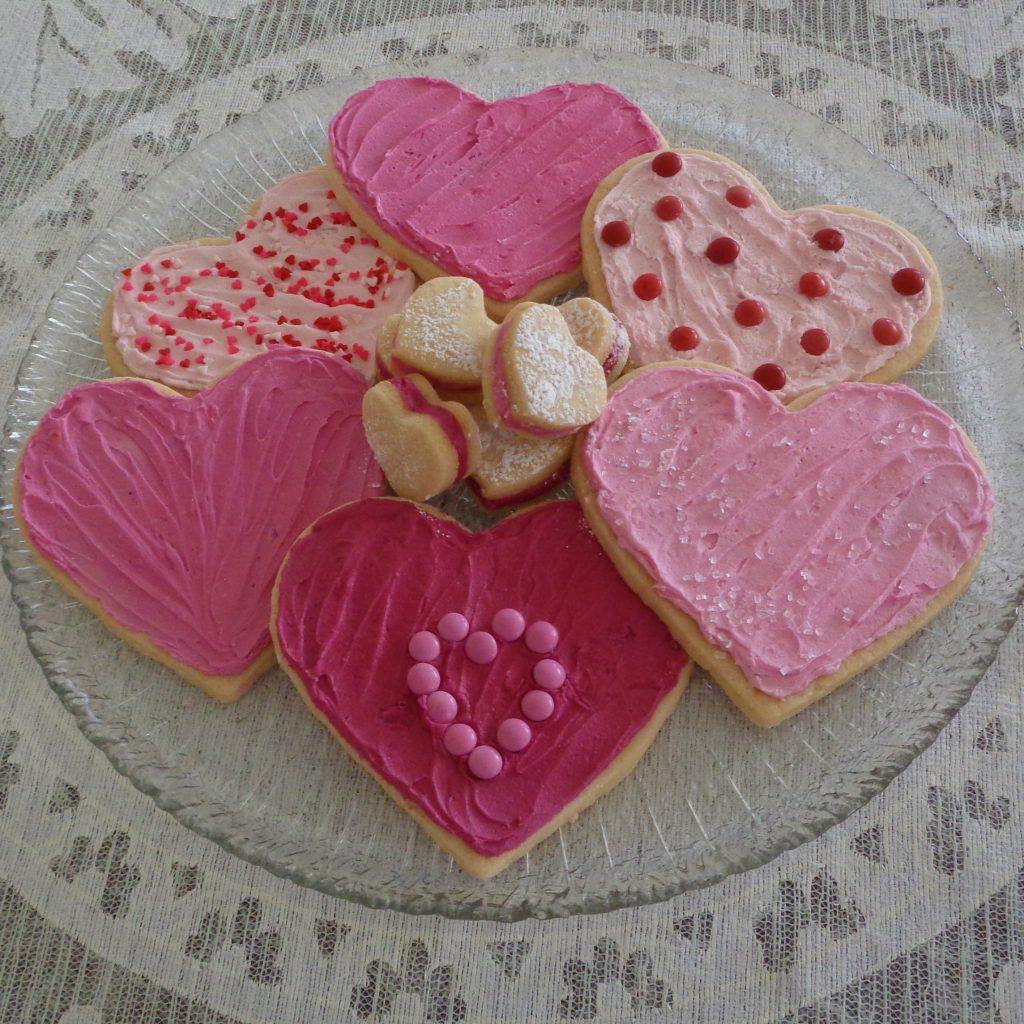 Valentines Sugar Cookies from My Kitchen Wand