Can you believe we are half way through January already!?!? The time is flying for me and it is a good reminder that reaching my goals means staying on track. Imbolc will be here before you know it.
Imbolc happens at the same time as Candlemas and they have many connections as traditions from one are layered over the other. In the Celtic calendar it is considered the beginning of spring, a time when the ground is first awakened. The Goddess of the spring in Celtic traditions is Brigid. She is associated also with fire, arts and crafts, as well as livestock such as dairy cows and poetry.
A common custom of farmers was to take a loaf of bread, mix it with milk and sacred water before laying the mixture in the first plowed furrow. St Brigid, whose feast day happens at the same time was honoured with a loaf of bread left on a windowsill, like milk and cookies for St Nicholas.
This is a very traditional, hearty loaf that goes great with cheese, soups, or steaming from the oven with a little butter and jam. My understanding is that a softer variety of wheat was grown in Ireland and consequently baking soda was a better option than yeast for making breads rise. Additionally, whereas over time, England moved towards the concept of bakeries and bread making "in house" lessened, Irish housewives kept the tradition of daily bread for much much longer and soda bread was the bread of choice.
A 100% traditional loaf would be only whole wheat. White, all purpose flour is a relatively new invention and once it arrived, it was seen predominantly on the tables of feudal lords. This recipe is a 50/50 blend, not as heavy as days gone by and still full of flavour.
Buttermilk is the preferred liquid in soda bread. The acids in the buttermilk work with the baking soda to create bubbles and help the bread to rise. This makes absolute sense as buttermilk is the liquid left over from churning milk and all good farms used everything available for something. It is called buttermilk not because it is made from butter but because it is the liquid remaining once the butter has been made. Commercially made "cultured" buttermilk, which is what most of us have access to today has added Lactococcus lactis culture to turn regular milk into buttermilk.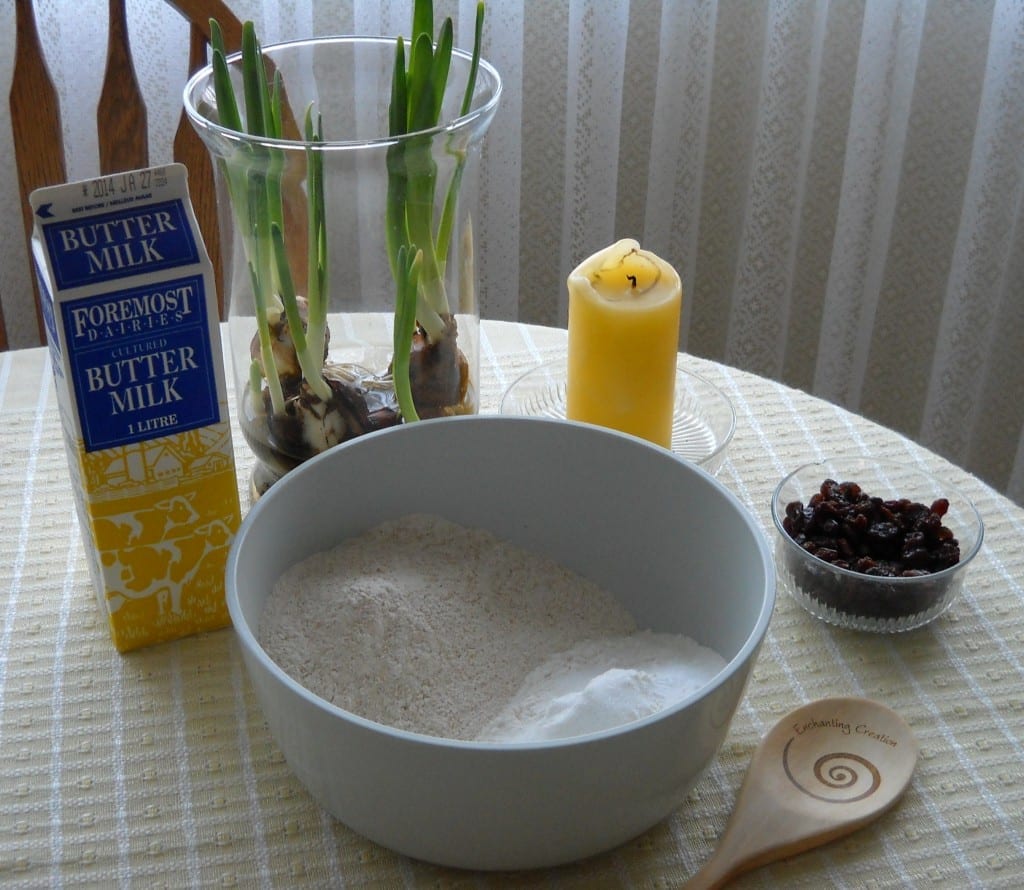 You will need:
2 cups whole wheat flour
2 cups all purpose flour
1 tsp. salt
1 tsp. baking soda
2 1/4 cups buttermilk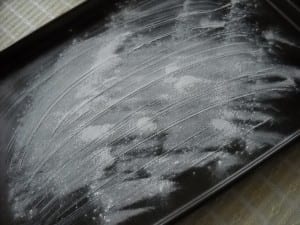 Deep Breath….."In my kitchen filled with care, I welcome, Water, Fire, Earth, Air". Let's begin.
Soda bread would have been baked in a bastible ( think cauldron) over an open fire hearth. Bastibles come with an indented lid so that the cook could put coals on the lid allowing for heat to come from both directions to bake the bread. I will assume you will be using your oven.
Grease and flour your pan. I would suggest only the area the loaf will sit on as this is going into a 450 degree oven and the excess flour will burn. ( Turn oven on to 450 degrees ).
Mix all the dry ingredients together. Darina Allen from Ballymaloe Cookery School in Ireland, says do this with your hands, allowing the flour to drizzle through your fingers ( a women after my own heart ). She says it will incorporate more air into the mixture, making the finished product lighter.  
My reference comes from my training days when the kitchen instructor would shout at the class, "God gave you hands before he gave you utensils, USE THEM!" Probably not what you would hear in the classroom today.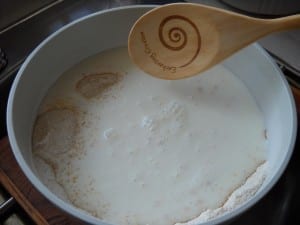 Make a well and add the buttermilk.
Your intention is to work gently and quickly. Overworking will make your bread tough and it will not rise as well.
Old recipes will say use your hand and mix the ingredients together by opening your hand and holding the fingers stiff. Keeping one hand clean will make life easier.
If you would prefer a spoon, start in the center and stir outwards to the edge of the bowl.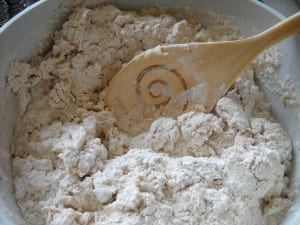 Once mixed a little more than the picture shows, turn the dough out onto a floured surface and gently shape it into a ball.
It will be soft.
Press down to about two inches and cut a cross in the top of the loaf. Cutting the cross will allow the bread to rise even more. You will also recognize the symbol the loaf makes as the wheel of the year.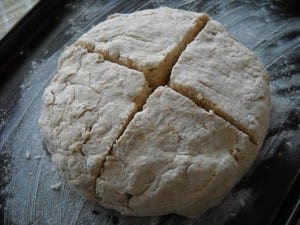 I read somewhere that Darine Allen says in her cooking school that cutting the cross "lets the fairies out". I can't remember where I read it but I always remember the words when I am making soda bread. It is highly appropriate right now as spring is the season of fairies.  "Garden fairies come at dawn, bless the flowers, then they're gone".
And what is Imbolc if not a time to bless the land and the seeds that will keep the community healthy in the coming year?
Bake at 450 degrees for 20 minutes and then reduce the oven to 400 degrees and continue baking for another 25-30 minutes. The bread will be done when it sounds hollow when knocking on the underside. Allow to cool.
Now, Spotted Dog. All countries cuisines have their unique names and this is one of them. If you add raisins (say 3/4 cup but it is up to you) to soda bread it becomes Spotted Dog. Usually, a couple of teaspoons of sugar are added as wellas you are making a sweet bread.
Additionally, if you had eggs on the farm, one might be part of the liquid mixture to help with the rising of the bread. When using an egg, it is a good idea to lower the temperature and bake the bread a little longer as eggs assist in the browning of baked products.
Life is returning to the Earth and things are starting to grow again. Whether you make this recipe to place on a windowsill or an altar or beside a bowl of hearty body warming soup; if you add the raisins and gather a group of friends together with butter, jam and a cup of tea; or bake it plain to serve with other tasty bits, I wish you and yours the time and peace to enjoy the customs of Imbolc, in whatever way you choose to honour them.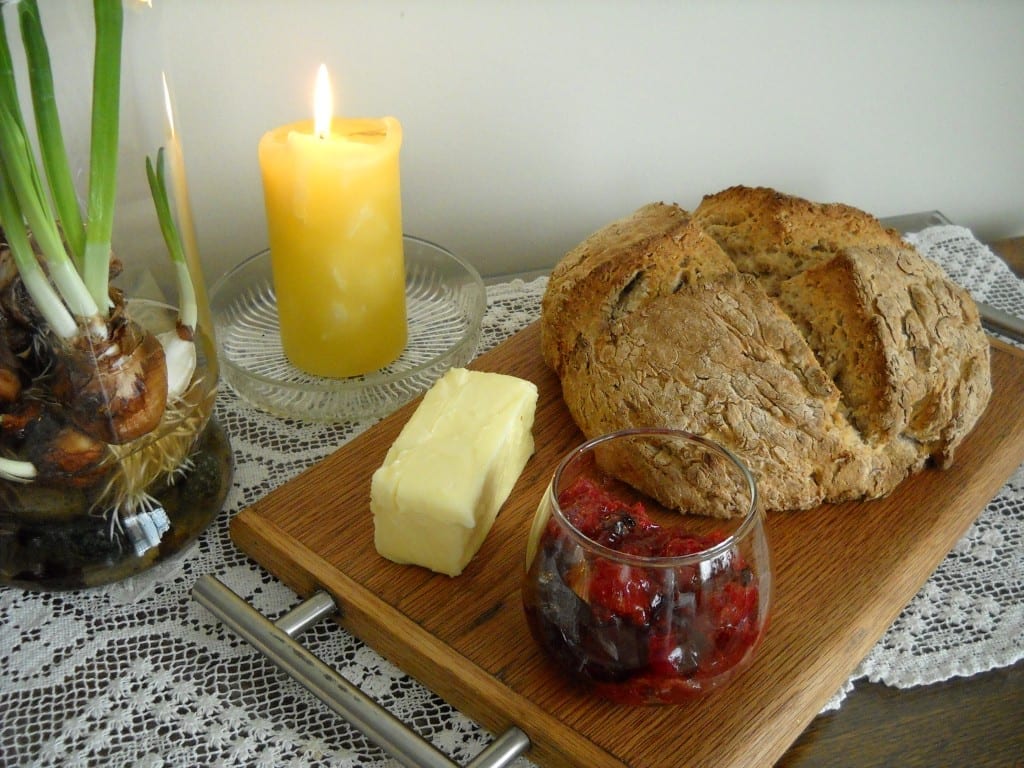 Soda Bread from My Kitchen Wand