Following up on the theme of smaller portions from yesterday, Biscotti is one of those items usually served in fairly large pieces, usually with the intention of dipping it in coffee and wine.
Originally a close cousin in purpose to hardtack, biscotti fueled the Roman soldiers in their quest to dominate the known world. Twice baked, it was hard, easy to pack and had an almost unlimited shelf life. Pliny the Elder is even quoted as saying that biscotti would be edible for centuries.
These days this once plain biscuit has been sweetened and embellished with, spices, fruits, nuts and/or chocolate.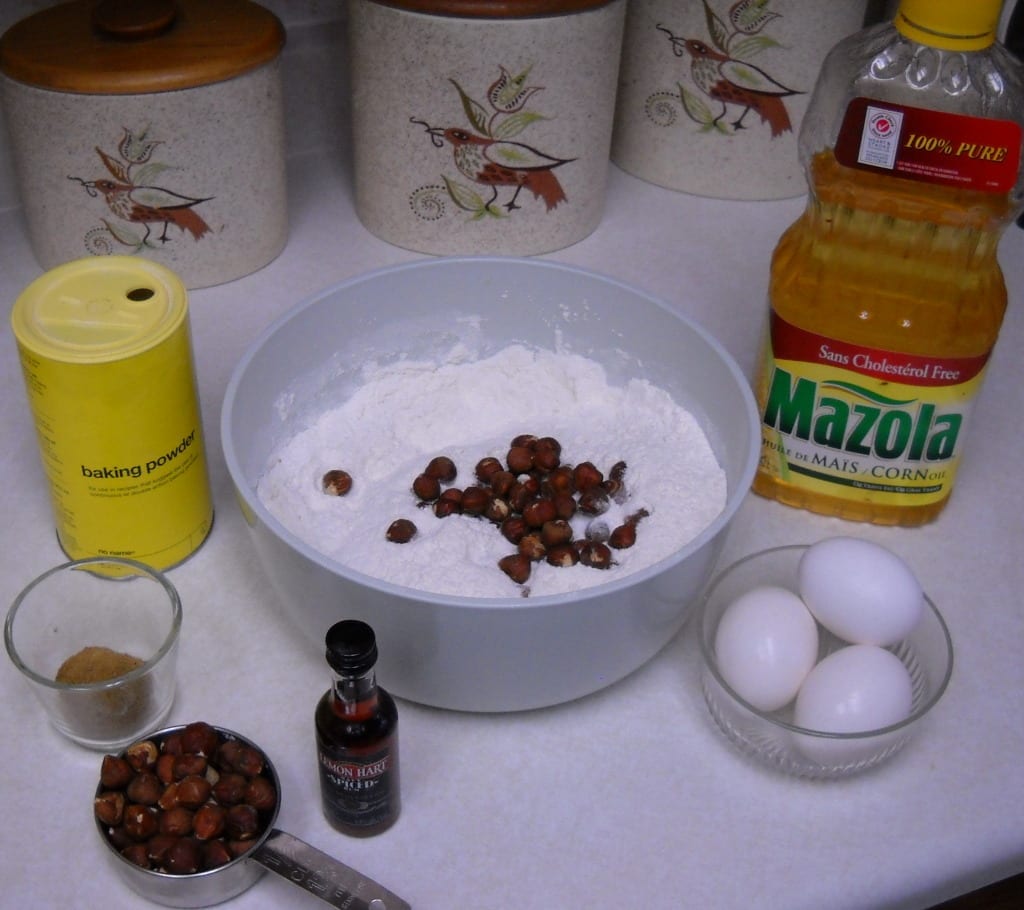 You will need:
3 eggs
1 Tbsp. Anise, ground
1 cup whole Hazelnuts
2/3 cup oil or melted butter
1 cup sugar
3 cups flour
1 tsp. baking powder
1/2 tsp. salt
bottle of spiced rum
Preheat oven to 300 degrees.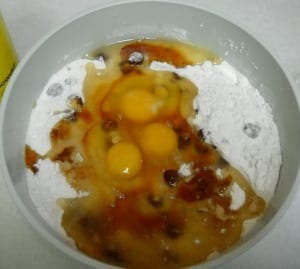 An Italian friend of mine, makes biscotti the way I make stollen. The first time she shared her recipe, it started wash and dry the counter top. I made these in a bowl as I understand that is not a common method in North America and it really won't make a big difference.
Place all the dry ingredients in a bowl and mix. Toss in the hazelnuts and cover with the mixed dry ingredients.
You may chose to chop the nuts and not use them whole. That is perfectly fine.  The more traditional nut option is almonds but each area of Italy has it's own version of biscotti and this is what my friend learned from her mother.
This time of the year many liquor stores have little sample bottles attached to other bottles. The spiced rum was such a bonus. It is not mandatory, some recipes call for brandy and others reduce the flour to compensate if you don't have something similar handy.
Add the liquid ingredients. Mix with a wooden spoon until it makes sense to use your clean hands to bring the dough together.
If hands are not be your first choice, I will share what my industrial kitchen instructor used to shout in class, " God gave you hands before He gave you knives and forks and spoons. Use them". I think that getting into the dough, like kneading bread and adding fat to pastry has merit. Machinery is not always the best option.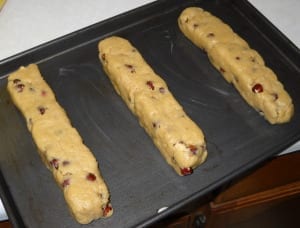 Usually a recipe will say divide and form into two loaves but this time I divided it into three.
The word biscotti translates from the Italian as twice baked, this is the first time in the oven. Bake for about 30 minutes depending in the oven. The biscotti logs should be firm to the touch and light browned but not looking "baked".
Place on cooling racks and allow to cool slightly but not fully. Using a knife with a serrated blade will get you the least amount of crumbling. Reduce the temperature to 275 degrees.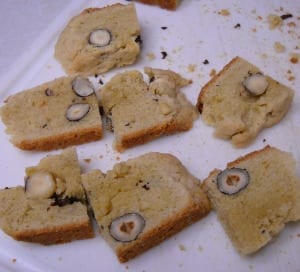 Diagonally cut the each loaf into 1/2 inch slices and then cut each slice in half, making about 2 x 2 inch squares.
Return the slices to the oven, turning every eight to ten minutes allowing the biscotti to continue to dry out, becoming hard but not overly browned. This will take about 30 minutes.
Remove from the oven and cool once dried before finishing with a chocolate dip.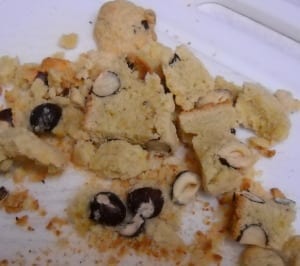 On a slightly different topic, there will be have crumbly bits if you decide to make this recipe.
It happens because of the choice to use whole hazelnuts and can also happen if slicing starts too soon while the loaf is too warm. You will notice more stability in the slicing as it cools.
I would encourage you to take all those bits and pieces and store in an airtight container as they will come in very handy next week when I post a recipe for semi-frodo.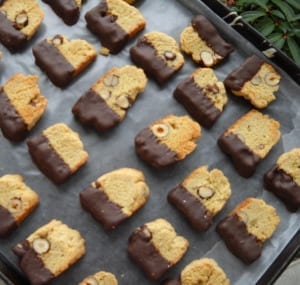 Melt your dipping chocolate in a small bowl. Having depth for dipping is a good thing and gently dip the cut end of each cookie. Place on a wax paper lined cookie tray and allow to dry.
Sorry the picture is a bit fuzzy. This one was the best of the bunch. Winter Solstice is coming though and the light WILL return.
Once dry store in an airtight container. The recipe will make about five dozen biscotti bit(e)s that will last a long long time, unless of course you are making them for our 4th annual cookie exchange.
When putting a plate of cookies or a gift box together, the biscotti was usually a challenge to place without it dominating the presentation. This option allows it to play nice with others and still be recognizable. It also allows your guests to sample without having to eat a full slice as there will surely be other delicious things on offer as well.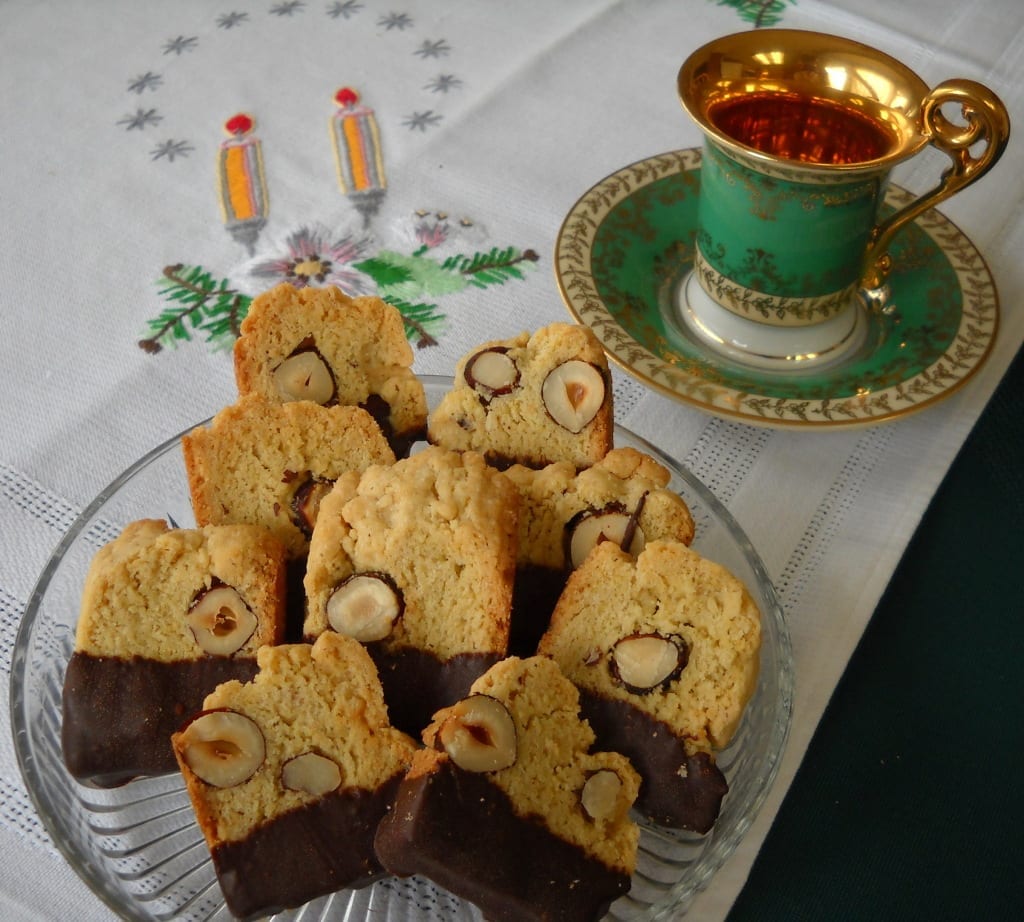 Anise and Hazelnut Biscotti Bit(e)s from My Kitchen Wand