During Yule and Christmas, I tend to be fairly traditional. If I am going to experiment it is more likely to be around New Years. A couple of posts ago, I mentioned keeping the crumbly bits of the biscotti for a future recipe. This is that recipe.
Semifreddo translates from the Italian as half cold. Things like ice cream cakes or frozen lemon meringue pie fall into this category as well. Think of it as taking a frozen dairy mixture to the level of a piece of pastry. While Italian gelato is made from a mixture of milk and eggs, semifreddo is usually created from whipped creams. This recipe is neither. Using  Mascarpone cheese and Greek yoghurt as a base, this recipe from the fall 2014 issue of All You Need is Cheese has been calling me for months.
Dairy is often used as an offering of choice for "Mother Goddesses" due to its' fertility connection so making something like this semifreddo to offer at a time celebrating the new life of 2015 seemed highly appropriate.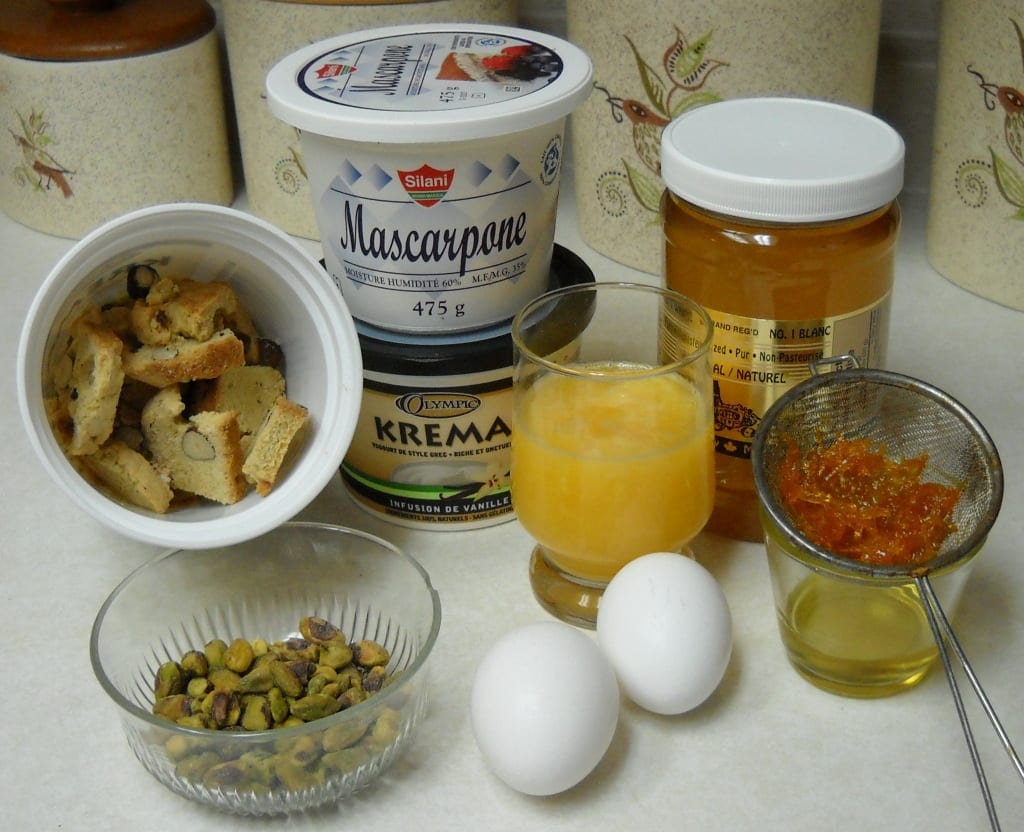 You will need:
2 oranges
1/4 cup sugar
2 cups Marscapone
1 cup plain Greek-style yoghurt
1 1/2 cups coarsely chopped biscotti
2 Tbsp. honey
1/4 cup pistachios, unsalted, shelled and coarsely chopped
2 egg whites
As you gather your ingredients and equipment, focus your thoughts on this time of transition. What are you grateful for in 2014, what would you like to bring with you into 2015 and what new things are you willing to welcome to your life in the coming months. Hold gratitude and anticipation in your heart. Take a deep breath, welcome the compassionate spirits and begin.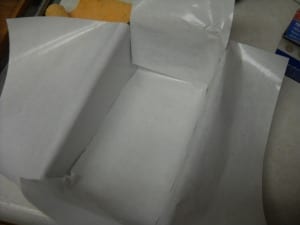 Prepare your loaf pan by covering with freezer paper, parchment paper or use a silicone 9 x 5 inch loaf pan.
This will allow you to lift out the entire dessert for cutting without issues. Make sure the corners are neat for easy release later.
It is also an option to use a different shaped mold or to put into individual dishes/molds that will need a little hot water to release.
Cutting is slices in very common and you can accessorize to you hearts content with fancy shapes and finishes.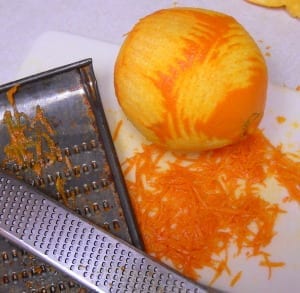 Start by zesting the oranges.
If you have the choice, chose a grater that gives you larger pieces of orange skin. You want to be able to see the orange pieces once they are candied. A wood rasp, my standard go to is too small for this recipe.
The other option is to cut the orange rind by hand into strips but the larger grater did the trick for me.
Juice one orange. The original recipe called for the zest of one orange but I did not find the flavour strong enough. If you add the juice of two oranges though, the mixture will be too soft, so enjoy the juice of the second orange in another way.
Place the zest in a small pot, add water to cover and bring to the boil.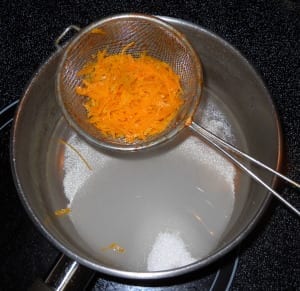 Once boiling drain off the water and return the zest to the pot with 1/3 cup water and 1/4 cup sugar.
Cooking the orange peel in the boiling sugar water will candy the zest. Once cooked, drain the zest and reserve the thickened syrup for the egg whites.
If you do not have crumbly bits from the Biscotti Bit(e)s of last week then a good quality store bought almond flavoured biscotti will do the trick.
Coarsely chop the pistachios and biscotti. In a bowl, mix the cheese, yoghurt and the juice of one orange.
Mix well and add the honey, nuts, biscotti and candied orange zest. Stir.
In a clean separate bowl, beat the egg whites foamy while slowly adding the orange syrup. I found the syrup had cooled to something too thick to pour so I popped it in the microwave for a few seconds to soften before adding and continuing to beat until soft peaks formed.
Gently fold both mixtures together and transfer to the prepared pan. Freeze for a minimum of 4 hours before serving.
I transferred the mixture from the pan and took away the lining at about 3 hours. Wrapped it up properly before returning it to the freezer until the next day.
Cut into slices with a warm knife and allow to soften slightly before serving. Leave the plates on a counter or place the cut pieces in the fridge if you know dinner is going to be a leisurely affair.
Try drizzling with a little honey and chopped pistachios, a traditional way of serving Greek yoghurt. Because this is cheese based and not whipped cream, it will be filling so adjust serving sizes to compliment your menu.
I have experimented with Cointreau ( an orange flavoured liquor ) and orange in the past. In cranberry sauce with orange, I found that adding Cointreau took away the fresh taste I was looking for but adding alcohol to gelato is not uncommon in Italy so if you feel inspired, let me know how it went. One note, adding alcohol will alter the melt temperature of the finished dessert.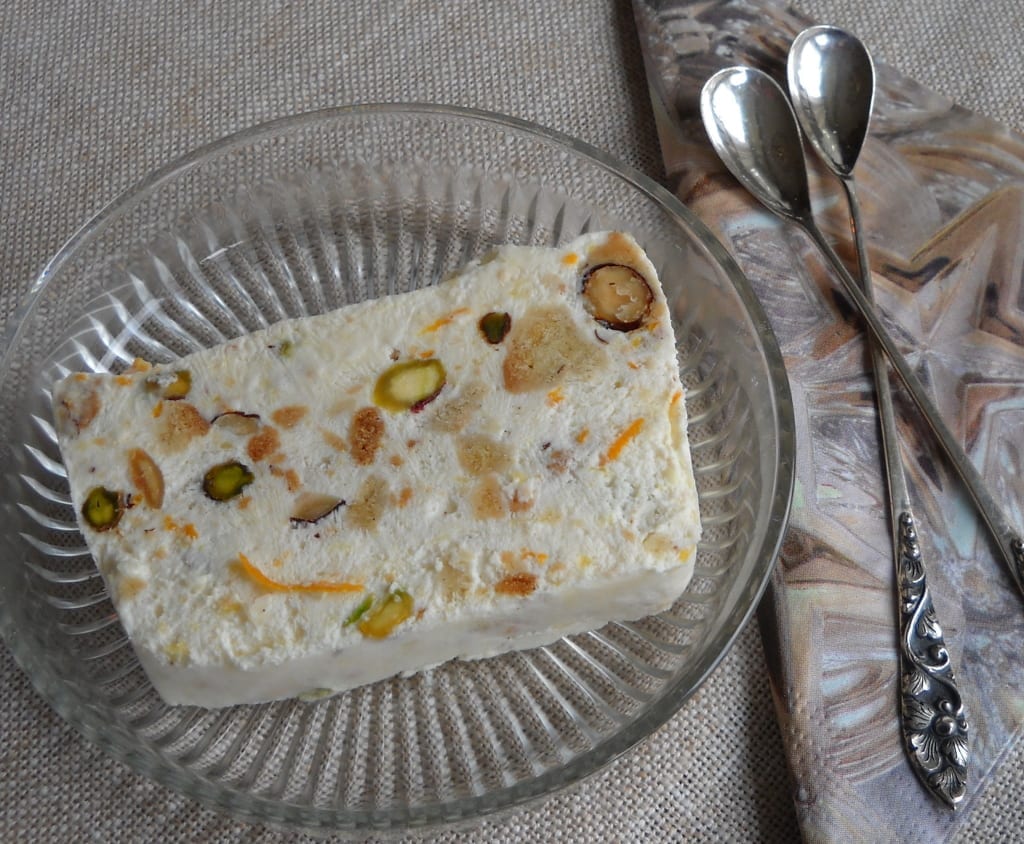 Orange, Pistachio, Biscotti Semifreddo from My Kitchen Wand