At this time of the year there can be just sooo much goodness out there. Gatherings after get togethers followed by open houses. One way to offer options to all those invited is to serve smaller portions, allowing your guests to sample while not filling up on any one thing.
This recipe being mostly cheese is a solid hit of protein so a little goes a long way. Sacred to the God Apollo and known as far back as 6000B.C., cheese, symbolizing the fruition of plans, has been a food source for a long time.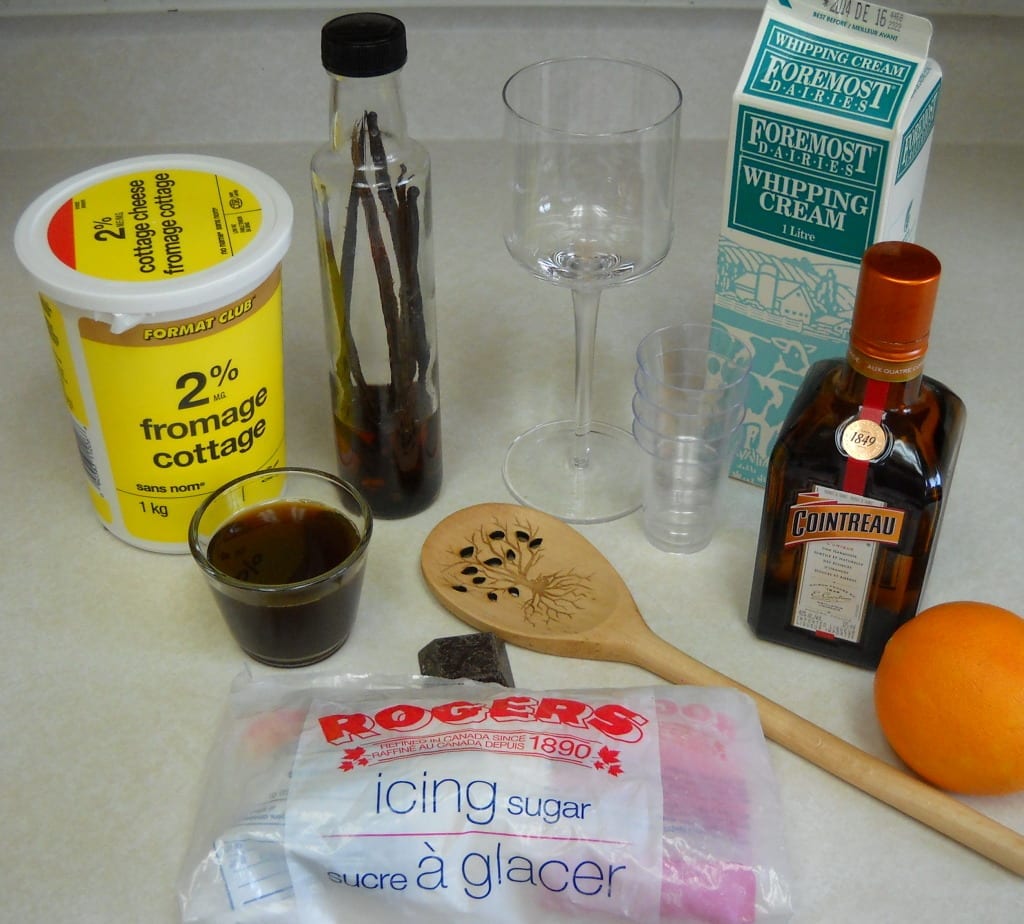 You will need:
3 cups of creamy cottage cheese, divided into three sections
12 Tbsp. icing sugar
4 oz. dark chocolate, chopped into pieces
2 Tbsp. seriously strong coffee or expresso
2 Tbsp. Cointreau
2 Tbsp. milk/cream/whipped cream
vanilla extract
Gather your ingredients and gather your energy, leaving any nigglies outside. They can be waiting for you afterwards if you really need them, otherwise bless and release the things that are keeping you from being present. Take a deep breath in and invite the compassionate spirits to join you. Welcome time in the kitchen with intention and breathe.
The plan here is to use the best blending tool you have at home (a stick or proper blender will do a better job of making a cream than a hand mixer) to mix 1 cup cottage cheese with 3 – 4 Tbsp. icing sugar and 2 Tbsp. liquid. Blend until smooth, thick and fluffy.  Adjust for sweetness and then gently spoon that mixture into the shot glasses.
The three layers I made were one:
1 cup cottage cheese
3 – 4 Tbsp. Icing sugar
3 oz. Dark chocolate melted
2 Tbsp. strong coffee
two:
1 cup cottage cheese
3 – 4 Tbsp. Icing sugar
2 Tbsp. Cointreau
three:
1 cup cottage cheese
3 – 4 Tbsp. Icing sugar
2 Tbsp. cream
1/2 tsp. vanilla extract
Between mixing layers one and two, I did not wash off the mixing stick. That gave me the extra colour I was looking for as the cointreau is clear and there would have been no visible difference between layers two and three.
I am going to encourage you to understand the technique here and then chose a combination of flavours that works for you. The point is to start with something dark at the bottom, add a layer of medium and finish with light. How you get there is very much up to you although it makes sense for dark chocolate to be involved in the bottom portion.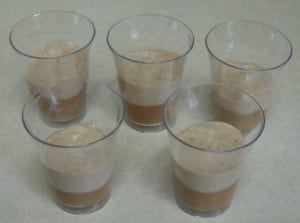 It is also an option, if time is an issue, to simply combine all your ingredients choices together in a flavour filled combination and fill your shot or sherry or port glasses. No one is going to comment unless they have seen this post.
So here are some additional flavour combinations, bottom layer, middle layer, top layer to think about:
Dark Chocolate & *Kahlua, Kahlua, Vanilla
* or Baileys or Rum or any other liquor you like and have on hand. Chose one with a little colour though so you can see the layers.
Dark Chocolate & Mint, milk chocolate & mint, Vanilla
You get the idea.
If your mixture is thick as can happen if the cottage cheese has less moisture, you may find that air pockets appear between the layers. This can be resolved by adding a little more liquid to your mixture. An extra half teaspoon should do the trick and allow for better flow.
Cool in a fridge for about an hour and cover if you are making them a day ahead to ensure the top layer does not go crusty.
Decorate before serving with a dusting of cocoa or orange zest or something else that suits your flavour choices. This will make about 16 shots or fewer using sherry glasses.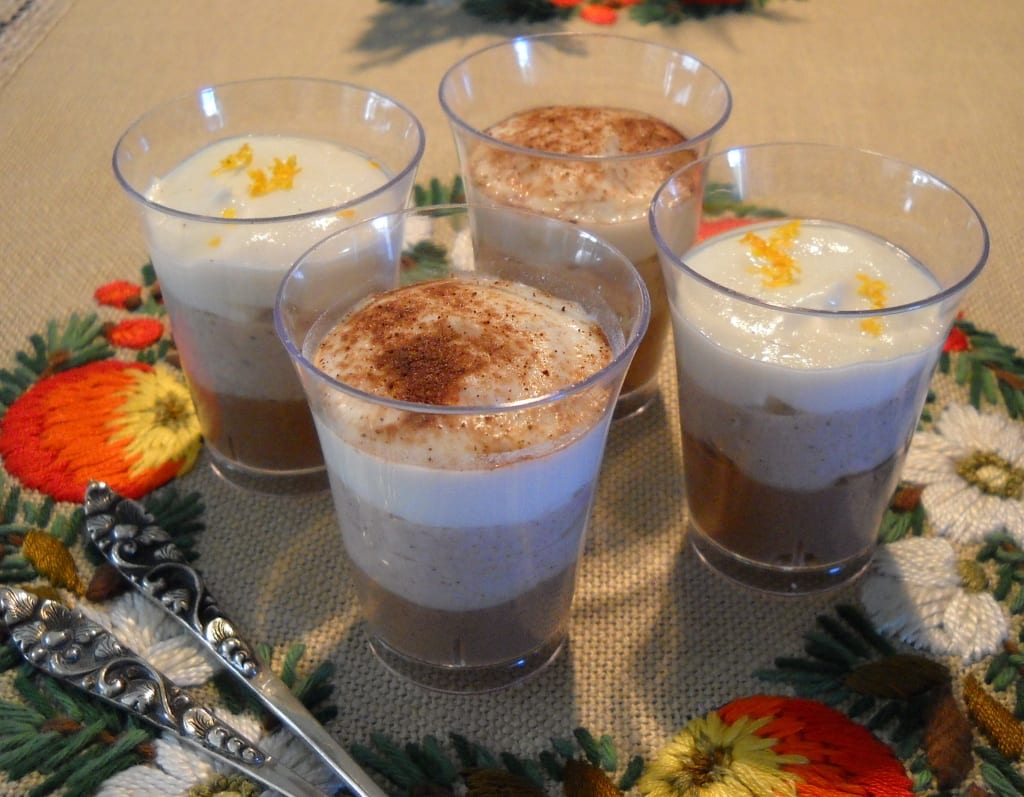 Chocolate Cheese Parfait Shots from My Kitchen Wand