A couple of years ago I posted a sage and lovage pesto as part of a friend's birthday high tea. Her birthday has come around again today and it reminded me that many people think of pesto as basil and pine nuts, which is true. They are the ingredients of a classic Pesto Genovese.
There are however additional options in an herb garden; mint, cilantro, sage, parsley, chives, lovage. Fresh green herbs can be mixed in many combinations and this post is intended as a reminder/inspiration for thinking outside the box. The growing season is coming to an end and a final round of clipping ( along with a heartfelt thank-you ) can produce a lovely pesto from a little bit of this and a little bit of that. I mix these "leftover bits" up and then store in small glass jars ( 1-2 Tbsp.) in the freezer. When a dribble is needed to garnish soup or a couple of tablespoons to kick up a sauce, it is quick to pull out a container and thaw just what is needed.
If you are also considering larger jars for pasta, let me share a trip I sometimes make in the fall, after a few phone calls. If the garden centers are still open where you are, see if they put their herbs on sale at the end of the season. I generally pick up 3 – 4 fully grown basil plants at sell out prices ($2.00 CDA) that can be clipped and pureed in a snap.
Another change up that can be made are the nuts. Walnuts, macadamias, pistachios and almonds are all options to consider. Best to plan a little bit ahead of making big batches to get the best pricing. In the picture below are pine nuts but in the end I went with all macadamia nuts as they naturally contain Omega 7.
All of this leads me to a final question, blender or mortar and pestle? We all lead busy lives and it is easy to automatically reach for the powered kitchen devise that will get you finished the quickest. I did just that for the basil and sage pesto below. However there is a very different consistency to the finished product when pesto is made by hand. Yes, it takes longer but the pay off is well worth the effort when time and equipment permit.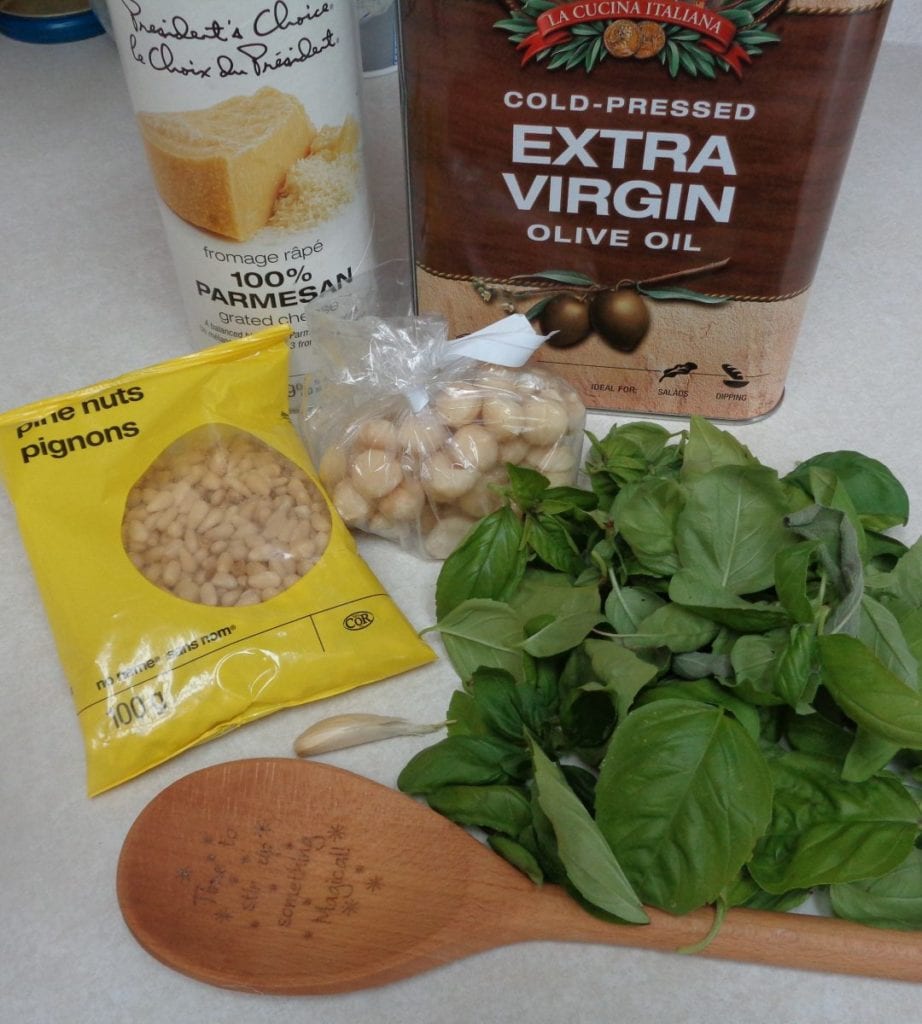 You will need:
1 cup fresh basil leaves (firmly packed)
1/2 cup fresh sage leaves (firmly packed)
1/4 tsp. sea salt
1/4 tsp. white pepper
1/4 cup Parmigiano-Reggiano
3 Tbsp. macadamia nuts
1 small clove garlic
1/2 cup extra-virgin olive oil and more if needed.
Start to bring your attention into the present moment while you gather your ingredients. Let any nigglies drop off the ends of your fingertips as you wash your hands under warm water. Feel the trials of the day release. Close your eyes, take a deep breath, hold it a moment then and slowly release it before you begin.
Thank you the herbs for their life energy as you clip, wash and dry the herbs as need be.
Place clean herbs and all the other ingredients, except the oil into a kitchen processor that has space to add the oil while the machine is working. Pulse several times and then slowly pour the oil into the mix. Test for consistancy and flavour. Add a little more oil if needed and any extra salt and pepper to taste.
Use the same day or transfer to containers and store for future use. I froze mine. Buon Appetito.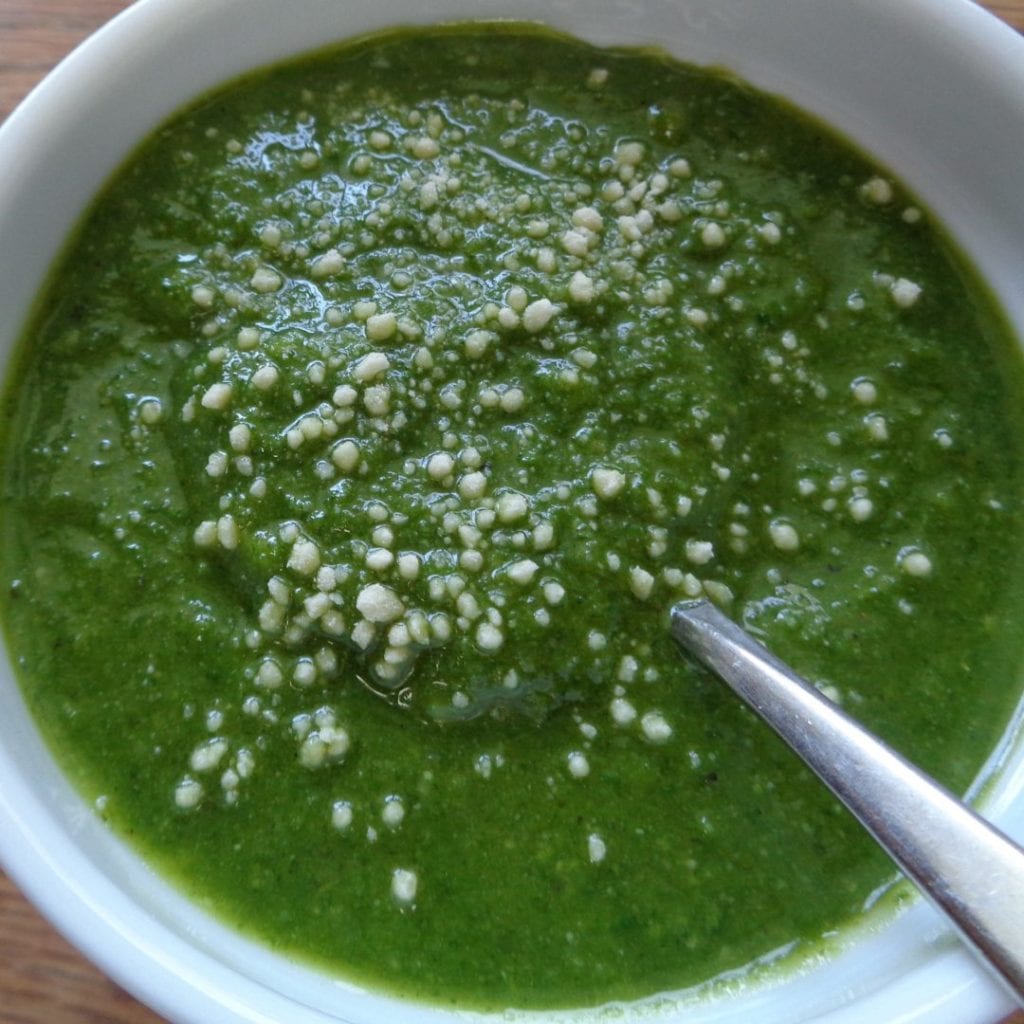 Basil & Sage Pesto with Macadamia Nuts from My Kitchen Wand