A trip to the grocery store is a quick way to get the neighbourhood kids sorted out for Hallowe'en but homemade for/with special friends can also be reasonably priced when making these three options; Rocky Road, Trailmix Bark and Rice Krispie Toffee Clusters.
Let's start with the chocolate. There are two types of chocolates available on the market. One variety needs no tempering. It contains palm oil, is literally melt, stir and use. It is typically called confectionary coating and is what most chocolate bars are made with. Option two is couverture and is a chocolate that is made with cocoa butter, the good stuff. That chocolate will need tempering, a process if melting and recombining the ingredients to that it will not melt in your hands when the chocolate is touched but will melt nicely once in your mouth. Here are step by step instructions and pictures for tempering couverture. https://mykitchenwand.com/tempering-chocolate/
Clusters are made by adding ingredients to the melted chocolate, combining to ensure they are completely covered and then transfering the mixture to a wax paper covered tray by hand in small mounds, about a tablespoon of mixture to a chocolate. The finished form is free style and it is helpful not to make them too large or they will be difficult to bite.
This is THE most popular chocolate I make in kids classes. It is made with Rice Krispies ( they work better with actual RK and not generic alternates ), crushed MAC toffee and a little nut butter.
I keep MAC toffee in the freezer and run it through a blender until it is powdered before returning it to the freezer to wait until needed. Letting the toffee get to room temperature makes the whole mixture clump together.
Do not put more than two tablespoons of nut butter into whichever chocolate variety you are using as the oil in the nut butter will soften the mixture allowing them to melt more easily when touched, leaving lickable fingers.
Exact amounts are not needed but what is important is that there is enough working time to divide and transfer to clusters before the chocolate gets cold and hardens. First time through start with about 1 cup melted milk chocolate, stir in about 1 tablespoon nut butter, add between 1 and 1/2 cups cereal and half to all of one bar of Mac toffee, powdered. Done!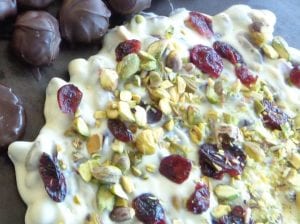 Bark is a term that originally applied to white chocolate and whole almonds poured out in a flat shape with nothing on top. not like in the picture to the left. When the chocolate was cut and you looked it sideways, the mixture looked like birch bark peeling away from the trunk.
These days a bark can have extra garnish on top and lots of different ingredients mixed in, peppermint candies, dried fruit, cookie pieces. The picture to the left is cranberry and pistachio, a good Christmas option.
The chocolate is still poured out onto a flat surface, allowed to dry and then cut or broken into pieces.
For this Hallowe'en bark I used the most cost effective trail mix I could find in the bulk department. It just happens to have pumpkin seeds and dried papaya in the mix. Set aside some of the seeds and papaya for spinking on top and cut the papaya a little smaller if you feel the pieces are too large.
This is a good option for mixing melted milk and dark chocolate together to get a mixture of something in between. Stir in the trail mix. Transfer to a wax paper covered tray and spread the mixture out into a flat free form shape. Sprinkle with the pumpkin seeds and papaya, trying to get a couple of pieces on what will become each section once divided up.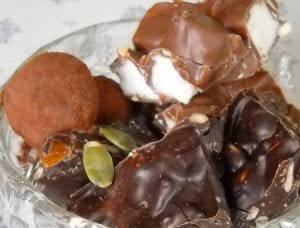 Rocky Road is a specific bark option made from dark chocolate, chopped walnuts and mini marshmallows. Your eyes are not deceiving you. The one in the picture is made with milk chocolate.
Dark chocolate is used to balance the sweetness of the marshmallows.
Into the melted dark chocolate, stir the marshmallows and nuts. Make sure everything it coated. Transfer to a prepared tray and leave this "bark" a little higher when spreading out the mixture, about the height of 1 1/2 – 2 mini marshmallows. Allow to cool and solidify before cutting into squares with a knife.
When tempering chocolate it is possible to do all the combining with a spatula on the marble before transferring to a tray. If the confectionary coating has melted in a bowl, then adding the other ingredients into the bowl and stirring to mix makes more sense.
One of the nice things about making chocolates this way it that more can be made in a shorter amount of time. Molds will need to be made repeatedly to get a similar volume of product.
The Rice Krispie Toffee clusters are in the coffin below on the left and the Trail Mix Bark and Rocky Road are in the coffin on the right. The boxes and tea towel were gifts from a friend to help with photography (Thank-you Juanita!). It is also possible to place your treasures into a clear bag and tie with a black and orange bow.
Either way, these are chocolates that will not break the bank, are easy to get others involved in and go down very well with the apprentice witches and warlocks in the neighbourhood.
Happy Hallowe'en!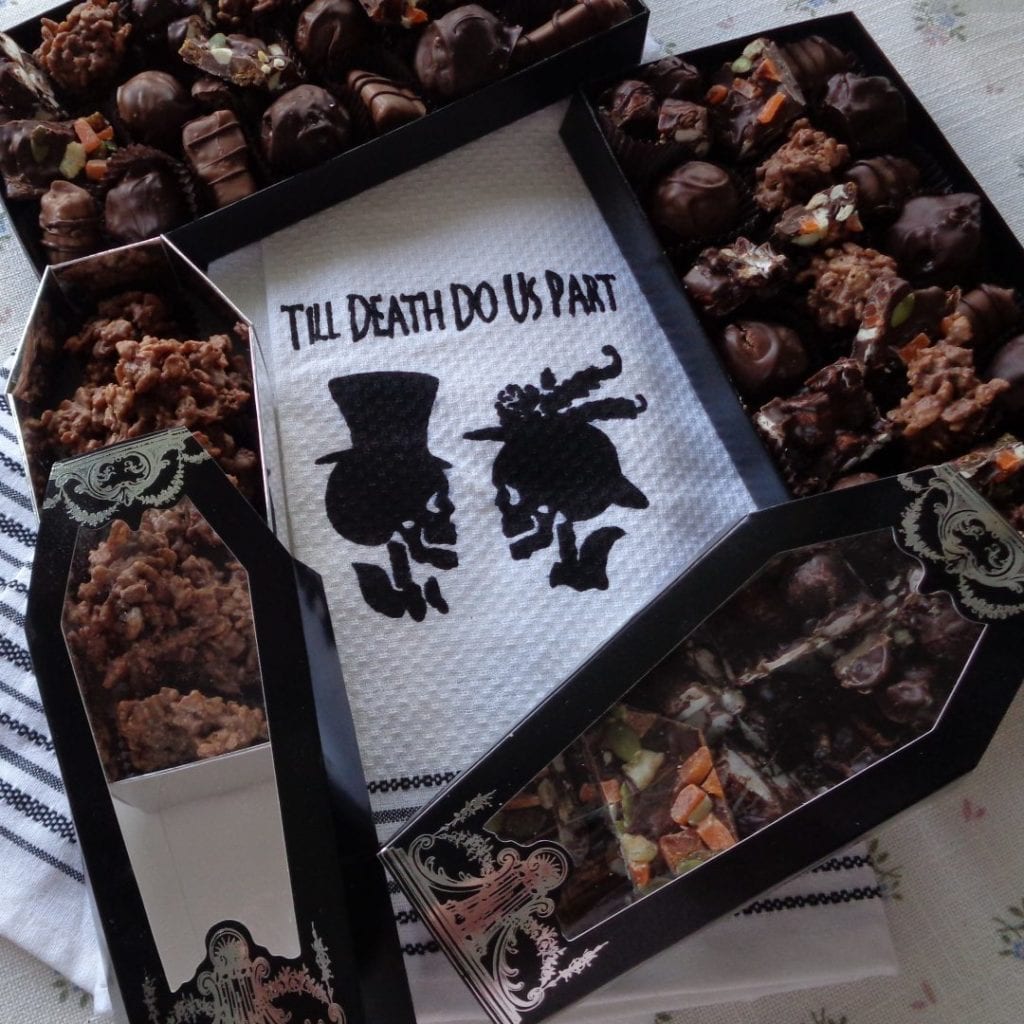 Three Price Conscious Hallowe'en Treats from My Kitchen Wand