I was out at my favourite tea shoppe the other day (www://myaromatica.com/) and Karen suggested using tea to flavour custard. In England, desserts of all varieties are often called pudding (or just pud) and a custard sauce is a happy addition to the plate.
I have used tea to flavour honey and truffles, so I was itching to give the idea a try as it is possible to infuse meals with additional health benefits by paying attention to the ingredients in the tea used. And of course there is always the fun that happens in your mouth with the right combination.
First Harvest celebrations may be over but you can still pop this away for next year. It has all the right ingredients for a contribution to a potluck feast.
For the sauce you will need:
1 cup milk
2 Tbsp. cream
1 tsp. Earl Grey tea
2 Tbsp. sugar
1 Tbsp. cornstarch
There is a product available called Bird's Custard Sauce that is an option if you happen to have some handy but from scratch is just as quick for me.
Gather your thoughts and leave any "nigglies" at the door, or let them go entirely. Focus on the task at hand, close your eyes and take a deep breath in, hold and release. Ask the compassionate spirits for creative inspiration as you remember that "work is Love in action".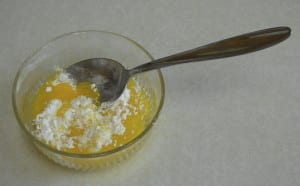 Place the milk and cream in a small pot and place over medium heat. Use what you have on hand but a thicker bottomed pot will save the milk from browning at the bottom. Continually stirring will also stop any caramelizing from happening.
Mix sugar and cornstarch together then add a few tablespoons of the heating milk mixture, creating a slurry. Stir until smooth and return the slurry to the pot. Stir to mix well.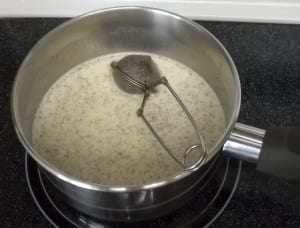 A tea bag will work if you are very gentle with it. I used loose Earl Grey Tea and popped it in a tea holder. You can see that some of the very fine bits made their way into the sauce. This was not a problem for me personally but I did run the sauce through a sieve at the end for others. Next time I might use a fill your own tea bag and clip it to the side of the pot.
Bring the milk to a slow simmer, allowing the cornstarch to do its job and thicken the mixture. To get the full working of the cornstarch allow it to bubble for about a minute, stirring all the time so as not to burn the milk at the bottom of the pot.
If you have lumps or tea bits you would like to remove, drain the sauce through a fine sieve.
The next question was what to serve the sauce with. On hand were a few blueberries, some freshly picked blackberries and several apples in storage. I decided to use them all. The tartness of the apple was a nice balance to the other fruit and the additional fruit in the biscuit kept it moist.
For the cobbler you will need:
2 cups blackberries
1 cup blueberries
1 apple, grated 3/4's went into cobbler and 1/4 quarter in topping
1/2 cup flour
1 tsp baking powder
6 Tbsp milk
2 Tbsp sugar
sugar sprinkles
Wash, peel, core and grate the apple. Mix 3/4's of the grated apple with the blueberries and blackberries and place in a oven proof dish. I did not grease it but you could certainly choose to. I used fresh fruit and if you are pulling summer's bounty from the freezer, you might want to toss the fruit in 2 Tbsp. flour as there will be more juice in the finished product.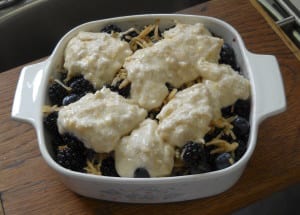 To create the topping, mix flour, baking powder, sugar together with the remaining grated apple and add milk. Stir only until mixed. It will be very soft. Spoon over the top the fruit in an abstract pattern, leaving space for the fruit to come through.
You can see in the picture how quickly the apple is beginning to turn brown. Best to focus on getting this in the oven.
I sprinkled some large sized dusting sugar over the biscuit topping but regular sugar will do just fine.
Use what makes sense, shopping for a new bottle of something or other does not always make sense. I have many things in my pantry, used for classes and not often at home. This time I thought I would use up leftover bits.
Bake at 350 degrees for about 30 minutes until the topping is baked and nicely browned and the fruit is bubbling. Once baked, how you serve this is open to possibilities. During the winter, the probable choice is hot but during the summer months it may be well received at room temperature.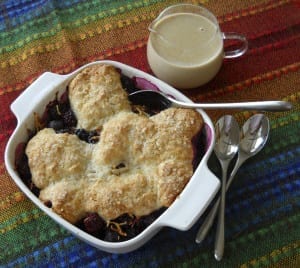 So the next time you are thinking cobbler, crisp, grunts, pandowdy, or slumps, don't make ice cream the go to accoutrement before considering a tea flavoured custard sauce option.
It is not for everyone but a tea lover will thank you and my taste buds did a little jig as Karen had predicted.
There are so many different flavours of tea to experiment with.
I was even wondering if the compromise might be Earl Grey flavoured ice cream but that is an entirely different post.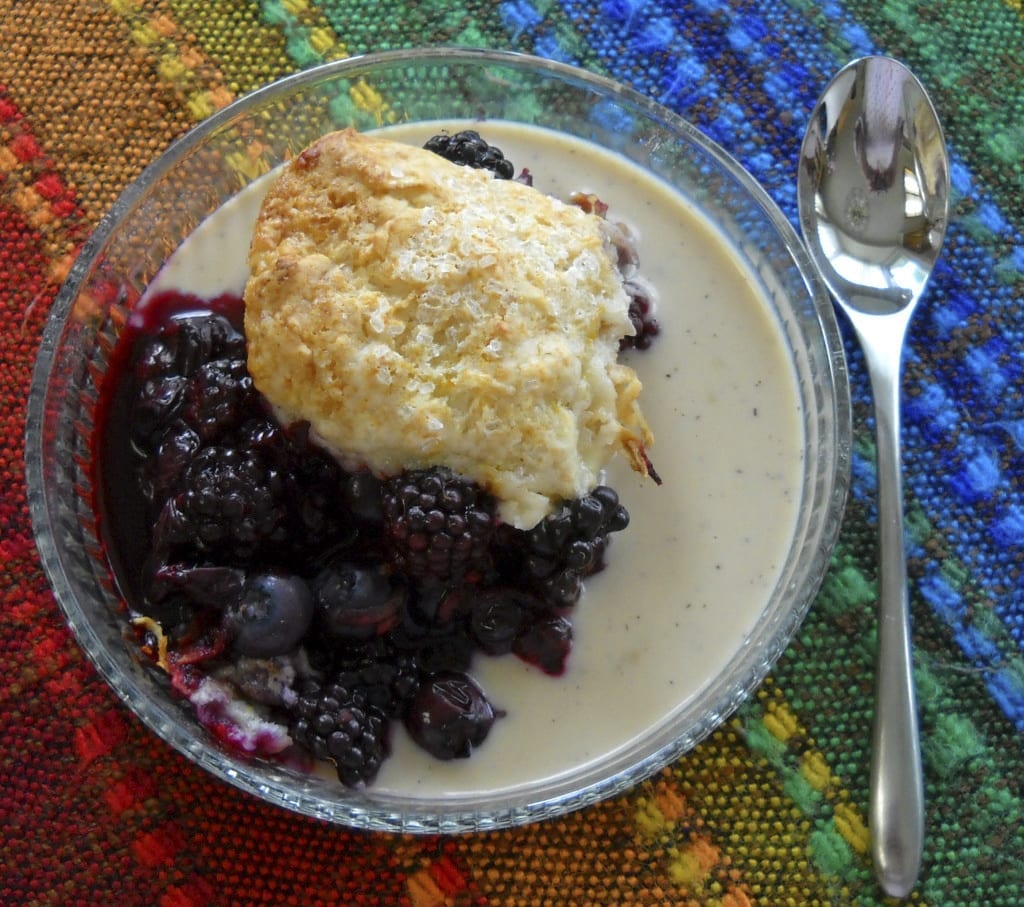 Black and Blue Cobbler with Earl Grey Custard Sauce from My Kitchen Wand