When I started this mini theme in the spring the title was more from the reader's perspective, an "I got them now what do I do with them" kind of thing. I have realized over the months that it can also mean how do I use my herbs and so I am going to focus on that question today and quickly run through some things I have not previously mentioned.
I will apologize upfront for the quality of some of the pictures. My poor Nikon went to camera heaven last week. I am looking forward to seeing what my new camera can do when it arrives. In the mean time making the best of the resources available.
Butters and Mayonnaise
I was invited to a delicious dinner a few nights ago that included B-B-Q roasted corn on the cob with basil butter. The basil was finely chopped and mixed in with the butter. Quick and simple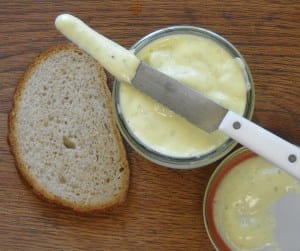 and very tasty with the corn.
Try parsley butter with potatoes or chive butter on sandwiches for a little extra kick. Strawberry Thyme butter is alternative. Mix it up as suits your tastes and purposes.
Homemade mayonnaise is another way to add in the goodness of fresh herbs. Dill mayonnaise goes great with salmon dishes and tarragon with halibut. Another layer of flavour gets added to sandwiches and egg salads with a lift from herbed mayonnaise.
Hummus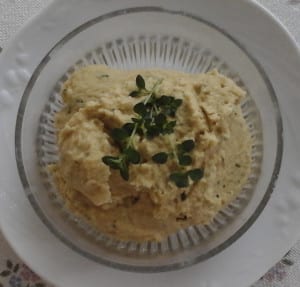 These days there are so many flavoured options for hummus that it can be fun to experiment with roasted veggies and other spices. This hummus used apple cider vinegar instead of the lemon juice and a few drops of hot sauce to replace the garlic.
After the chick peas were ground, I chopped up a mix of chives, parsley, thyme or oregano. Easy, peasey. It all disappeared.
Chick peas can be adjusted in many ways to suit the occasion and fresh herbs add that little bit extra.
Grilled Cheese and other Sandwiches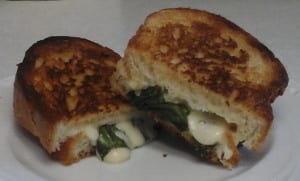 Serve fresh tucked into tuna, chicken salad, tomato and other cold sandwiches.
Mozzarella with basil, thyme and chives is what the picture shows but there are soooo many options. This combination lets the herbs stand out as the cheese is mild but mix it up with what you like.
Try aged Cheddar or smoked Gruyere for something with a little stronger cheesy taste.
Baking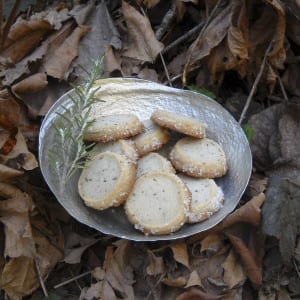 Spices are the more common combination when baking sweets but that doesn't mean that some combinations don't work really well together.
Try finely chopped rosemary in shortbread. Additionally, rosemary combines well with candied ginger.
Lemon and basil is another nice combination. Try it in a pie or lemon slice. Use your own favourite recipe or try this one posted last year.
As in all things use with discernment. Over used flavours get tired but that doesn't mean it isn't fun to experiment and try out new ideas and combinations.
Even simple items that you might never have thought of will sparkle with a little something herbal. Start small, more can always be added if you like the results. Magic comes from playing in the kitchen.
What do I do with my herbs? Everything (almost) from My Kitchen Wand