Without getting into a full discussion about the differences between crumble, cobbler, crisp, grunt, slump, buckle or brown Betty, let us just say that in a buckle the batter is underneath the fruit instead of on top as it would be in a cobbler. As it bakes, the cake expands around the fruit, while the fruit tries its best to sink to the bottom, making the whole thing "buckle" inwards.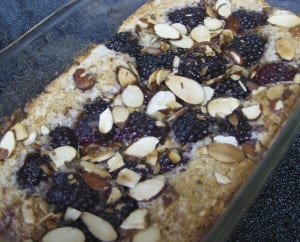 Blueberries, peaches or apples can easily be substituted for blackberries but since blackberries are in season here, why not enjoy the picking and time in the kitchen.
Here are some things you might not know about blackberries, also known as bramble, dew or timbleberries and lawers. They are rich on Vitamin C and bioflavonoids; are low in sodium and a cup of fresh ones is only 62 calories. The deep dark colour of the berries says they have high antioxidants and the best way to get that benefit is to eat then raw. They promote skin tightening which helps create a younger look and when a steady part of a healthy diet help to keep your brain alert. The high tannin content has additional benefits for oral hygiene, diarrhea, hemorrhoids and intestinal inflammation. Blackberries also have an impressive amount of Vitamin K which is an aid in muscle relaxation and blood clotting, making it useful in relationship to fertility cycle issues. The leaves have also been used for teas and can help with mild gum inflammation, although you might want to add a sweetner.
Blackberries are said to be the food of Celtic fairies and bad luck would follow humans who ate the sweet berries, although drinking them as wine did not seem to have the same taboo.
Blackberries have also carried a taboo in Christian lore. It is told that the berries, originally red, turned black when bramble branches were used to create Christ's crown of thorns. Did blackberries even grow in Isreal 2000 years ago? Aah, Myths, legends and finding source material!
Lucifer is said to stomp on them on Michaelmas (Sept 29) or from some sources All Hallows Eve (Oct 31) and afterwards it is unlucky to harvest the berries. It was an act of retribution for landing in a cluster of brambles when he fell from heaven.
As summer brings the end of berry season, take a trip to the farmers market. If you have a local secret spot for picking, visit and gather the bounty, ensuring a location away from car fumes and remembering to leave some for the local birds and animals.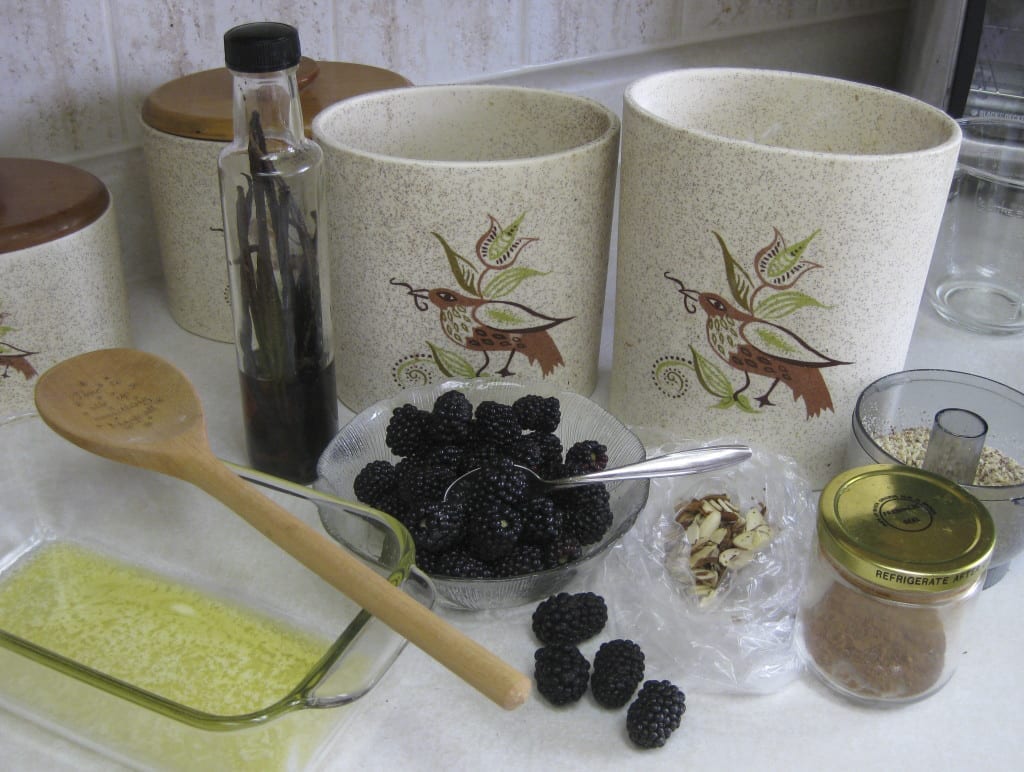 You will need:
1 1/2 cups fresh blackberries
1 Tbsp. Sugar
1 tsp. vanilla extract
1/2 cup + 2 Tbsp. flour
3/8 cup sugar
1/4 cup almonds ground
1 tsp. baking powder
pinch of salt
pinch or two of cinnamon
1/2 cup milk
3 Tbsp. butter
1 1/2 tsp. sliced almonds
For the Sundae:
Vanilla ice cream
A few extra fresh blackberries per serving
Caramel or Dulce de Leche
Preheat oven to 350 degrees while gathering your ingredients and shifting your focus to the prohect at hand. "Work is love in action" is a theme shared by the Findhorn community is Scotland. It is a recognition of the understanding that intention, well applied changes action from a labour to an offering. Clear your internal space with a few deep breaths before beginning.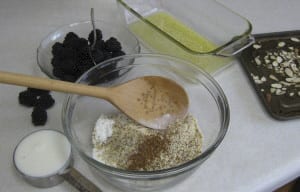 Combine the blackberries with sugar and vanilla extract in a bowl and set aside for 15 to 20 minutes.
Place the almond slices on a tray and lightly brown in the oven as it preheats. Set aside.
Melt the 3 tablespoons of butter either in the microwave or a pot and pour into the bottom of a loaf size baking dish.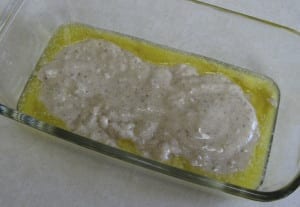 Combine the dry ingredients, flour, sugar, almond meal, baking powder, salt, and cinnamon together in a bowl. Stir together. Add milk into flour mixture until the batter is just combined. Do not over mix.

Spoon batter over melted butter into the loaf pan a leaving a border of butter around the sides of the dish. Move the batter as little as possible once it is in the pan.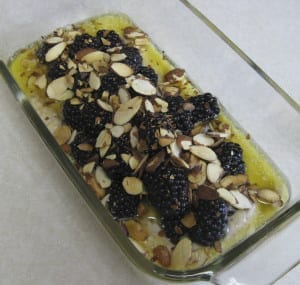 Scatter the steeping blackberries over the batter including any juices and then top with the toasted almonds.

Bake buckle until the cake section is firm and the edges are browned and crispy. About 50 minutes but each oven is a little different.
Remove from the oven and serve hot, warm or at room remperature.
In a traditional English pudding, a serving of this buckle would come with a little creamy sauce so this was initially served with a drizzle of cold whipping cream.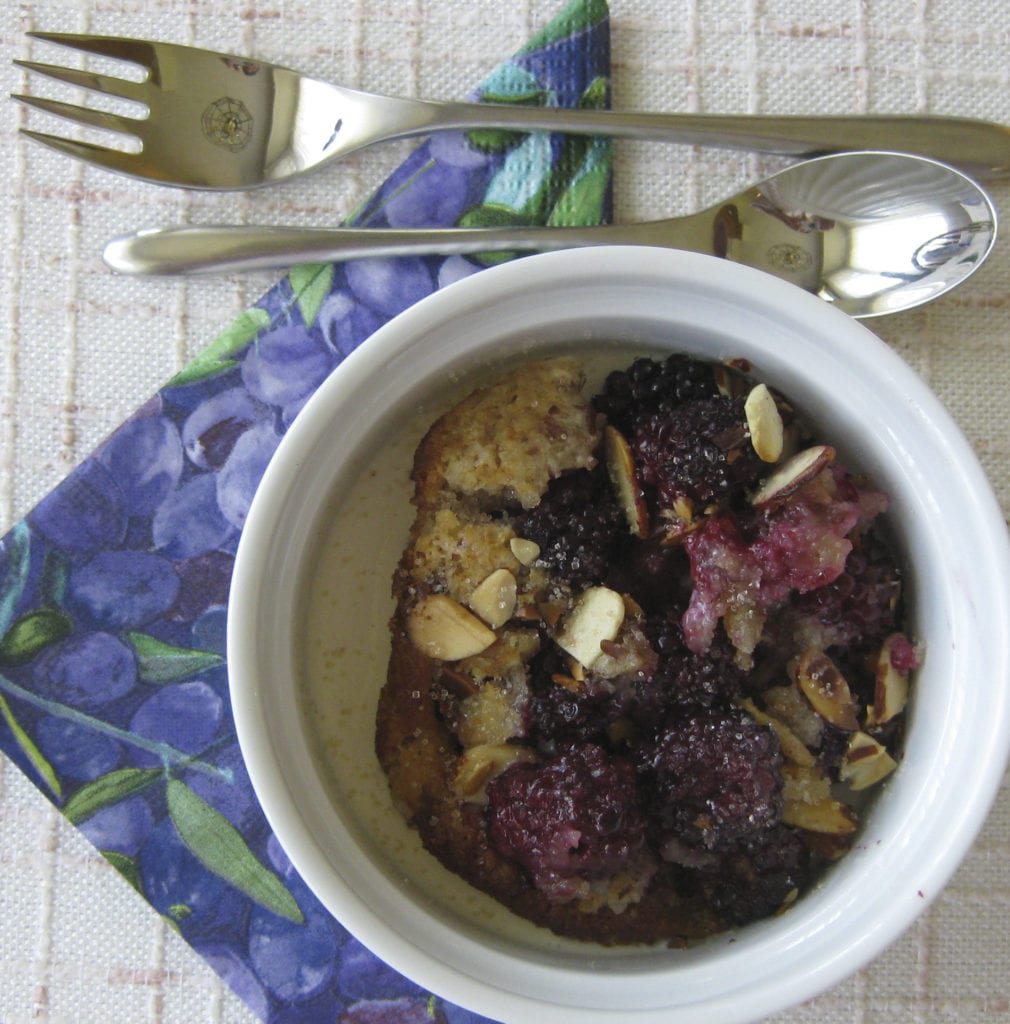 Blackberry Buckle from My Kitchen Wand
The remaining buckle was turned into a Blackberry Buckle Sundae with a few easy tweaks.
One – warm the buckle or at least bring it up to room temperature if using leftovers that have been stored in the fridge.
Two – Interlace the buckle in a nice serving bowl with vanilla ice cream and fresh blackberries.
Three – Drizzle a teaspoon or two of caramel sauce over the sundae. Top with a few sliced almonds.
Bon Appétit!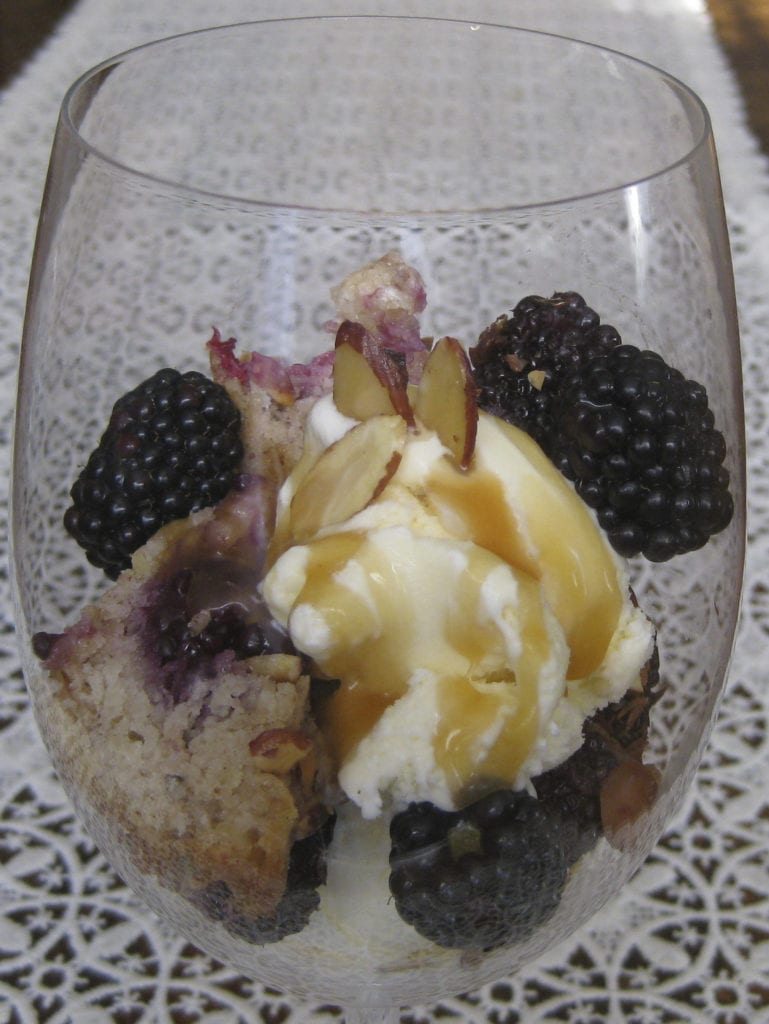 Blackberry Buckle Sundae from My Kitchen Wand