Tea for Two Tuesday has not been around for very long but I am in favour of any gathering that brings people together to relax, sip and build healthy connections. It is a celebration of all things tea and a recognition of the value of friends, be that two or twenty.

This is just a little tasty tea treat to go along with that cuppa.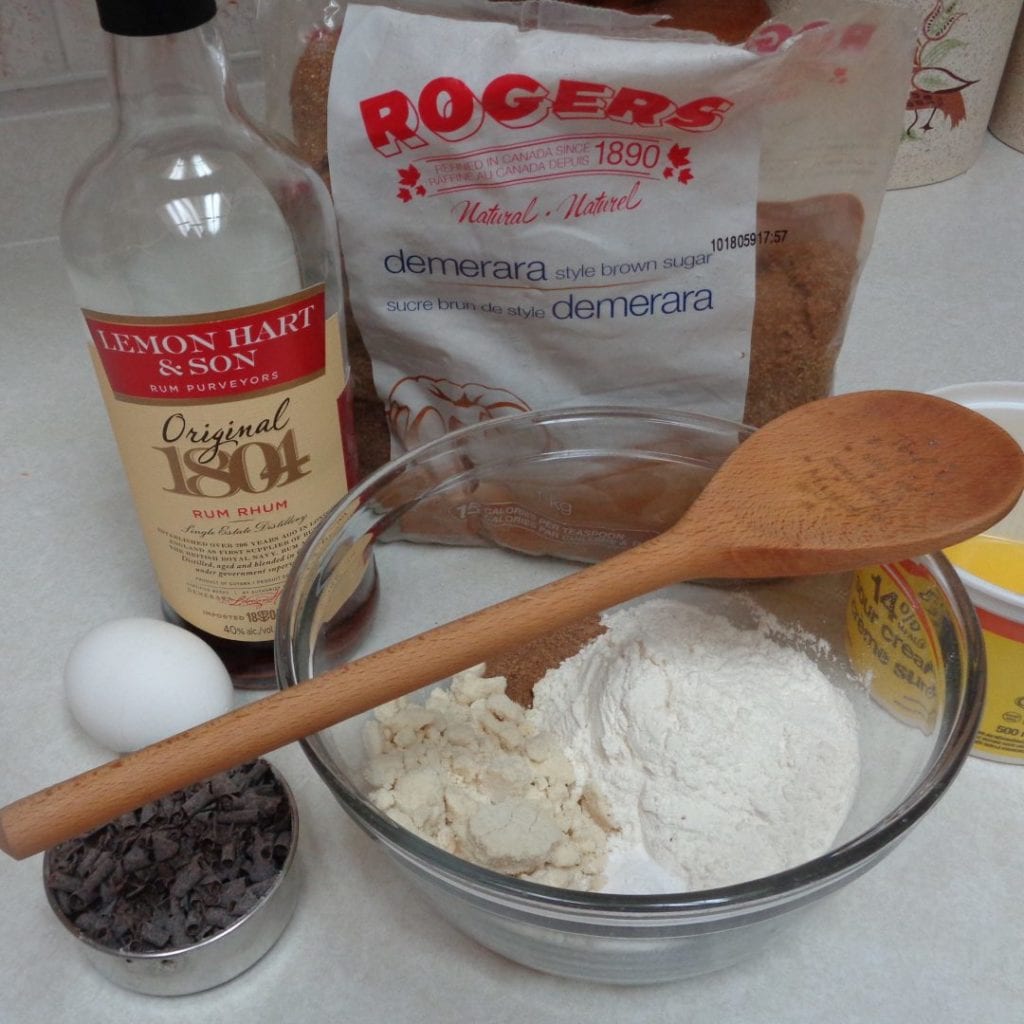 You will need:
1/2 cup butter
1 cup Demerara sugar, packed
1 large egg
2 Tbsp. spiced rum
3/4 cup all-purpose flour
1/2 cup almond flour
2 1/2 tsp. chai spice
1/2 tsp. baking soda
1/2 cup dark chocolate curls or mini chocolate chips
Knowing that these cookies are going to be enjoyed with friends, helps bring the work into focus. Gather the ingredients and equipment with gratitude; for time, friends, skills and supplies. Come into the present moment by closing your eyes and taking several deep breaths. Hold those breaths for a moment before releasing, helping your "nigglies" leave on the exhales. There will always be space to collect them again if "needed". Your choice. For the moment invite the compassionate spirits to join you and begin.
Brown butter also known as "beurre noisette", is easy to make. My stepmother grew up with it on Brussel sprouts and cauliflower but in this case it is going into a sweet item. Start by melting butter over medium heat.
Once the butter is melted, it will continue to heat and begin to foam before settling back down. Swirling the pan will make sure the butter cooks evenly and a light bottomed pan will assist in seeing how the colour is coming along. The milk solids will settle to the bottom and will cook faster. The colour of the butter will change from yellow to brown over time and take on a nutty aroma, hence "beurre noisette".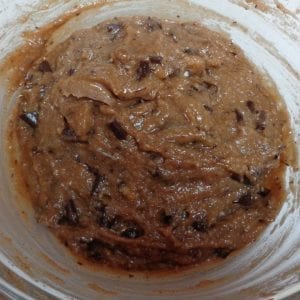 Let the clarified butter cool for several minutes before adding to the sugar.  Allow to cool. The process should take 5 – 7 minutes.
Combine the brown sugar and browned butter in a large bowl and beat until well mixed. When pouring in the browned butter, keep as much of the milk solids out of the mixture as possible. Add the egg, then rum. Stir together.
Combine the dry ingredients; flours, spices, baking soda and salt.
Chai spice mix can be purchased or it can be made at home. Remember to label before storing if making your own.
There are many combinations and this is just one suggestion. Mix together the following amounts and stir to combine.
2 tsp. cinnamon, 1 tsp. cardamon, 2 tsp. ginger, 1 tsp. nutmeg, 1 tsp. allspice, 1 tsp. cloves, 1/2 tsp. black pepper. Put aside 2 1/2 teaspoons and store the rest.
Add the dry ingredients to the brown sugar mixture and stir until well combined. Add in the curls/chips and stir to combine.
Cover and refrigerate for at least 30 minutes.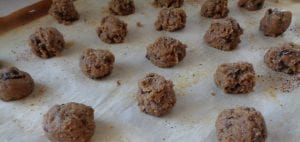 When ready to bake preheat the oven to 350 degrees F and place a layer of parchment paper on a cookie sheet.
Using a small scoop or two spoons divide the mixture into 22 – 24 balls, leaving space for the cookies to flatten and expand, 2 1/2 inches or more. It is possible to see in the picture that the cooler balls could be easily rolled and came out smooth. The later balls were stickier. Damp hands or extra time in the fridge for the dough will solve the issue if it happens to you.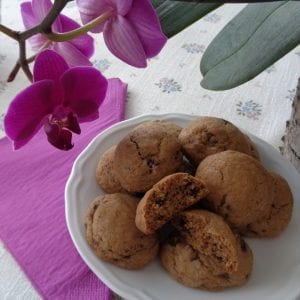 Ten – twelve minutes in the oven should be good. The bottoms will be lightly browned and the cookies themselves will firm up as the cool. Transfer to cooling racks once stable.
Note: The almond flour creates a softer, moister finished cookie as in the picture below but if there is no almond flour easily available, it is possible to make this recipe with just all purpose for a firmer cookie that does not flatten and expand as much as in the picture to the left.
Just as tasty, different texture.
Tea for Two Tuesday can be anytime. We all benefit from quality time with friends and a cup of something warm.
Being face to face social can be refreshing, relaxing, caring and healing.
How about offering someone(s) an invitation to tea?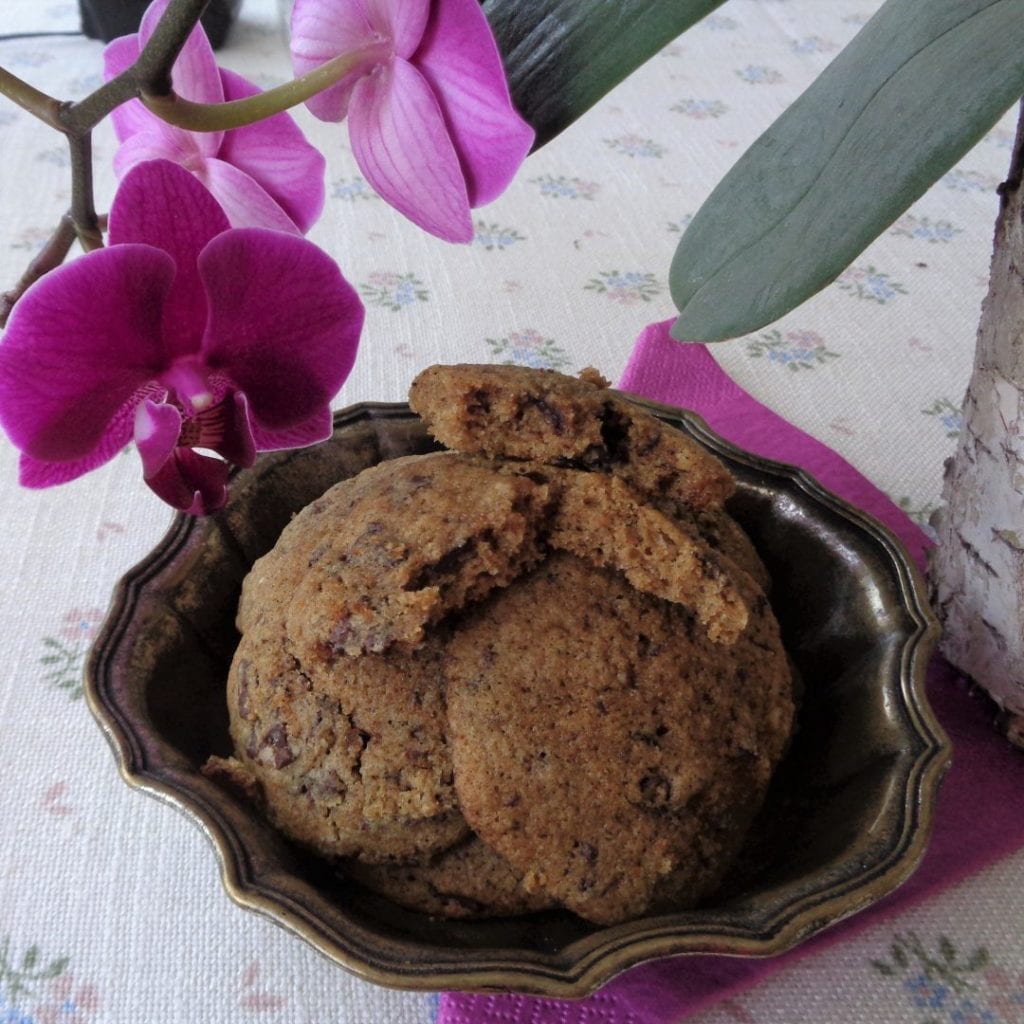 Chai Spice Cookies with Browned Butter & Rum from My Kitchen Wand