Having just finished up a batch of Greek yoghurt, I have whey on hand and raisin bread sounded like a REALLY good ideas for two friends who love raisins and think there are never enough of them in store bought raisin bread. No knead overnight bread is a simple way to produce lovely crusty artisan style breads with next to no work.
Just remember you have to start the day before so the dough can sit and do the work for you.
The first two pictures are from a savoury option, previously posted. I didn't think about taking pictures until it was too late as this was happening during all the fun with migrating my websites. I cheated! When you see herbs and spices in pictures but not mentioned, don't worry. The instructions and ingredients are correct.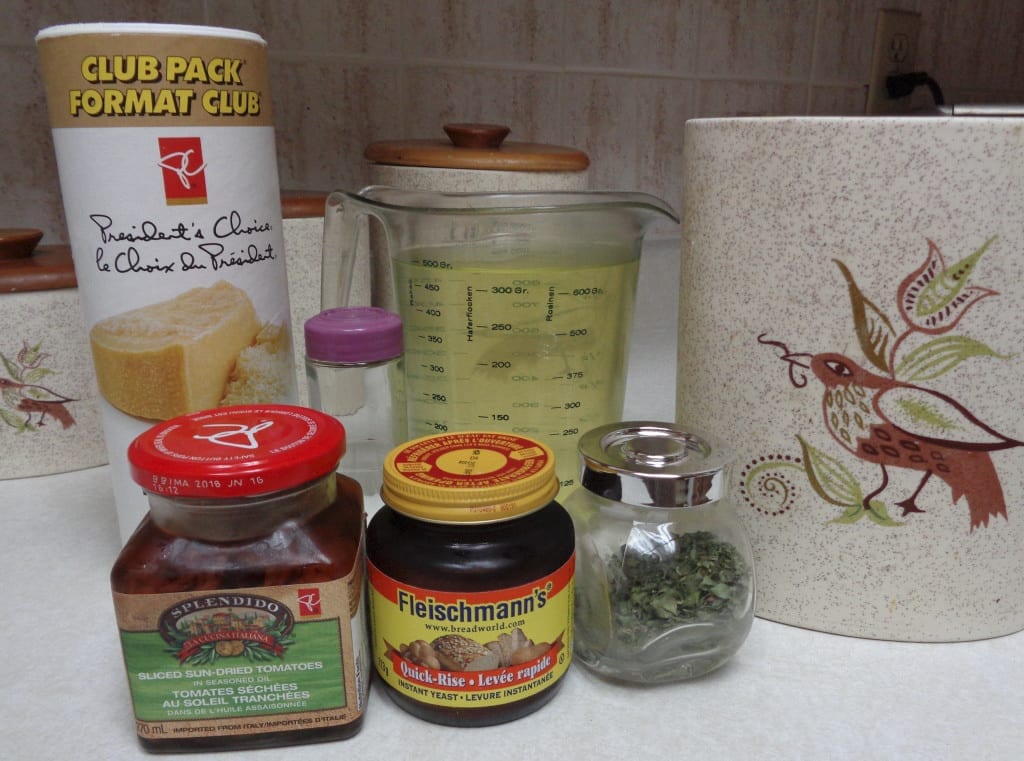 You will need for one loaf:
3 cups all purpose flour
1 1/2 cups + 2 Tbsp. whey or water if that is not available
2 tsp. salt
3 Tbsp. sugar
1 -1 1/2 Tbsp. Chai Spice
1 cup mixed light and dark raisins ( or more)
1 tsp. yeast
If you don't happen to have chai spice sitting on a shelf, try the mix below (while feeling free to tweak). It is very similar to pumpkin spice or speculaas spice mix. There are many combinations of basic ingredients. This is just one. Store what is left over for next time and remember to label.
2 tsp. cinnamon
1 tsp. cardamon
2 tsp. ginger
1 tsp. nutmeg
1 tsp. allspice
1 tsp. cloves
1/2 tsp. black pepper
" In my kitchen filled with care, I welcome, Earth, Fire, Water, Air " is an appropriate invitation to bread making as all of these elements are needed to be successful.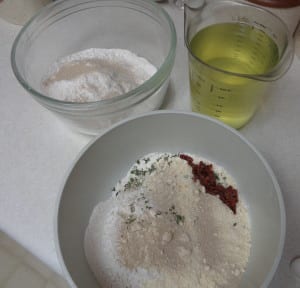 In a medium sized bowl add the flour, salt, raisins, spices and yeast. Stir once or twice with a spoon.
I am making a double recipe here and will get two loaves from 6 cups of flour.
Add the whey or water to the dry ingredients and stir.
It will start out dry and moisten as the whey has time to incorporate into the flour.
Do not overwork the dough. No kneading is required and because of that the work of creating gluten is done during the time the dough sits.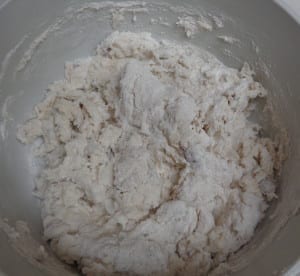 For that reason the dough will not feel the same as when bread dough has been worked, either by hand or with a dough hook. This  only needs patting or forming of he dough.
Wipe down the sides of the bowl to ensure the bowl is as clean as possible with everything incorporated. Cover and place in a warm location.
I covered everything in a blanket and placed it in front of the gas fireplace overnight. In the oven, away from drafts, will work as well.
My grandfather had a cardboard box he built over his gas stove and the warmth of the pilot flame was enough to keep his dough in heaven. I miss it when baking bread myself. Truly anything from 10 – 18 hours will be fine for the yeast to work, so there is no need to stress about the timing.
Do what you need to do to keep just enough heat that the dough is cozy and not chilled during cooler winter months.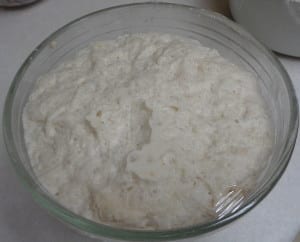 It is going to happily bubble away all night. In the morning the dough will be very loose and tend to slither rather than sit.
Cover a counter with a bit of extra flour and let the dough gently fall on top. You might need to turn it a couple of time to get flour all the way around so flouring or oiling your hands can be helpful.
The addition of the raisins can make the dough a little firmer as they also absorb liquids while the dough sits. For that reason there are a couple of extra tablespoons of whey added to the ingredient list above. Plain dough is moister and happily unfolds itself, slinking down on the counter when poured out of the bowl.
If you have never made this style of bread before, do not panic. It will be alright in the end.
Proof is in the pictures below!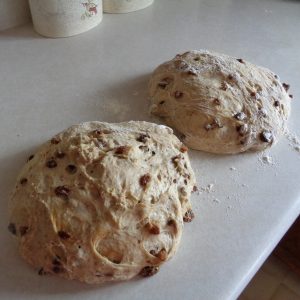 Let the dough rest for a hour on the counter, away from drafts.
There are two ways to bake this bread, with or without a parchment layer between the bread and the bowl. I prefer to use parchment because the crust, still crunchy, will be thinner once baked.
I say bowl as I have a Pyrex one that is just the right size and height that I like to use with a plate on top to act as the lid. A casserole with matching top will work as well. Push, crease and tweak the parchment so it sits nicely inside your container and then put the parchment paper aside.
At 30 minutes into the dough sitting time, turn the oven on to 450 degrees F. ( This high temperature may affect your choice of container. No plastic/wooden handles. ) Place the baking container and its lid into the oven to heat until the hour is up. Remove the baking/casserole dishes carefully as they will be very hot! Place on a heat resistant surface.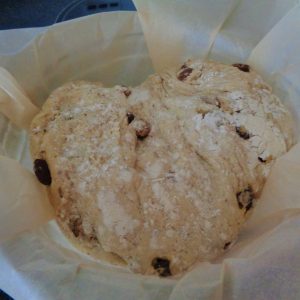 Replace the parchment paper into the container without touching the heated surfaces.
Gather up the dough, form it into a loose shaped ball by folding the edges under to give a smooth top. Gently drop the loaf into the center of the parchment paper. Dust with a extra little flour if you would like. Snipping the top will help to give you that cracked artisan look.
Place the lid on top of the bowl and return to the oven for 30 minutes.
When taking the bowls out of the oven and lifting the lids off, be careful to open away from yourself. The air within the casserole/bowl will be very hot. Return the bread to the oven, without the lid and bake for another 7 minutes.
The parchment paper is a one or two time use item when baking bread this way.
The bread will fall from your container easily. Let it cool on a rack before cutting and it is a good idea for the air to be able to get all the way around while cooling. Storing the loaf in a paper bag will keep the crust crisper longer. If you prefer the crust soft, use plastic.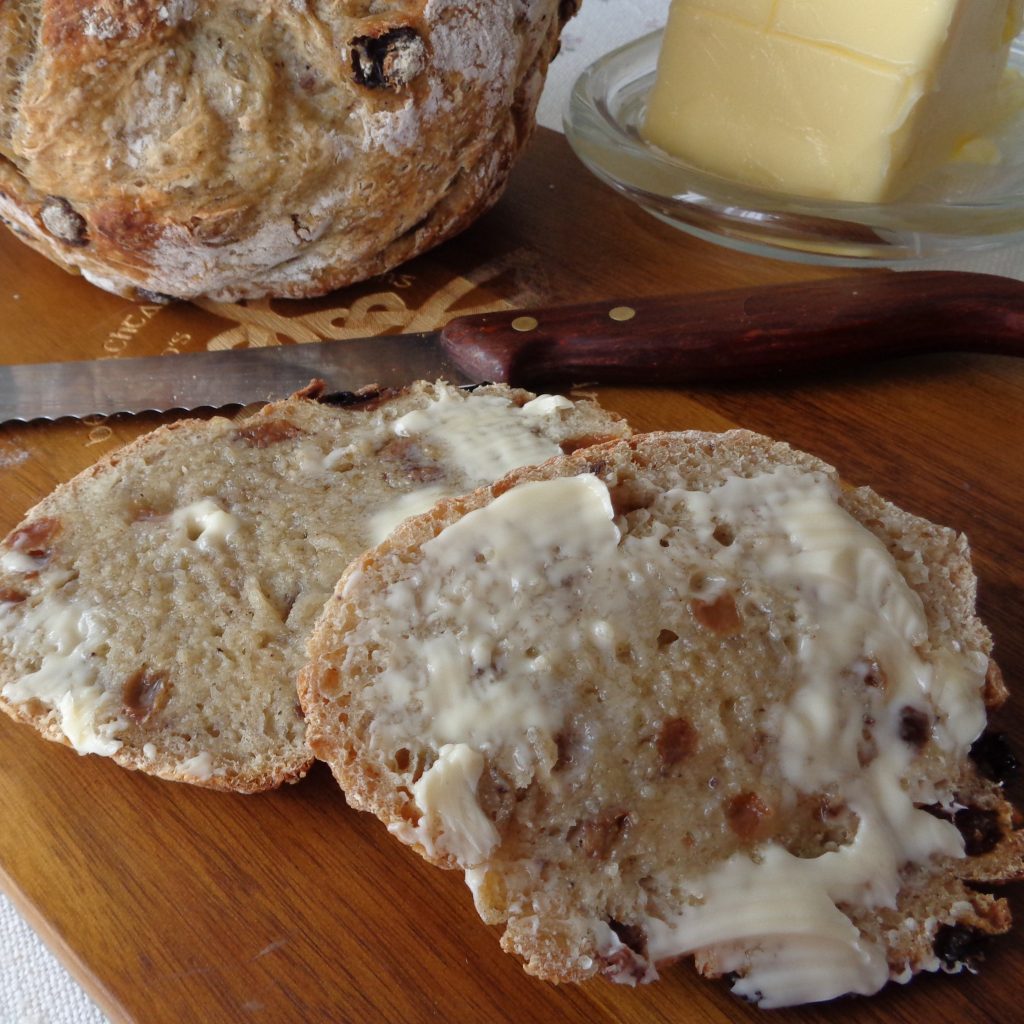 Lovely moist slices of bread that lasted for several days before what remained was repurposed into a batch of French toast.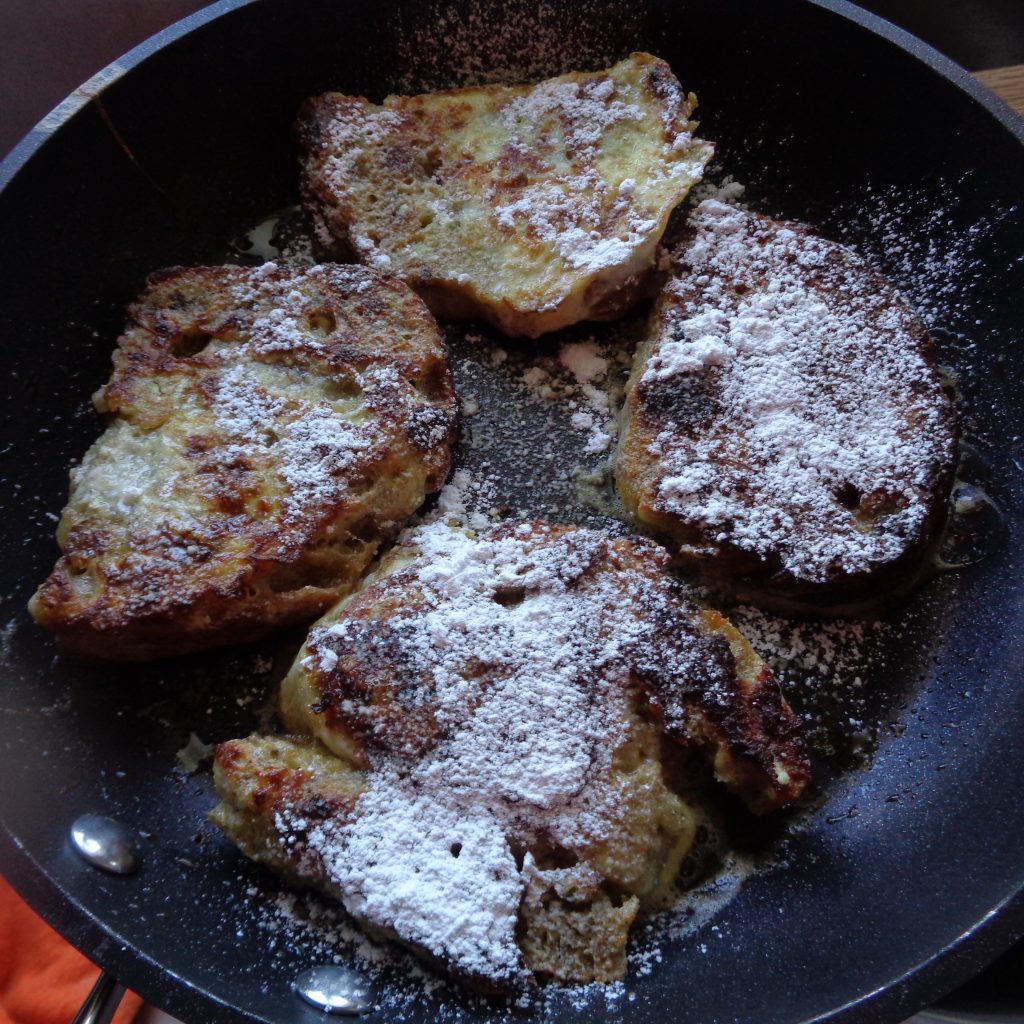 Chai Spice Raisin Bread from My Kitchen Wand
Lammas Fruit Bread Version
You will need:
3 cups all purpose flour
1 1/2 cups + 3 Tbsp. whey or water if that is not available
2 tsp. salt
3 Tbsp. sugar
1 -1 1/2 Tbsp. Chai Spice
1 cup mixed light raisins, black currants, dried cherries, crystal ginger and orange peel
2 Tbsp. ground flax
1 tsp. yeast
Please follow the steps above.
The bread went into the oven to bake at 450 degrees F. Once in and the temperature reached again, it was lowered to 360 degrees F. This created a softer finished crust. Bake for 35 minutes. The bread will have an inside temperature of 193 degrees F. when done. Anywhere between 190 – 195 should be good.
This a moist bread as liquid was added, most of which was absorbed by the dried fruit and ground flax seed as the batter sat overnight. If the additional three tablespoons are not added the fruit will draw moisture from the bread and it will be dry.
The version in the picture below was triple this recipe, divided into two loaves. It baked for an hour.
The fruit mixture was about 2/3 mix of golden raisins and dried cherries with the balance being a mixture of currants, chopped ginger and orange peel. Adjust to your personal preferences and what is on hand. Dried cranberries and/or apricots would also make a tasty version.
As samples were being enjoyed and discussed, french toast and Yule bread (brunch and gifts) were suggested as options beyond breakfast. Enjoy!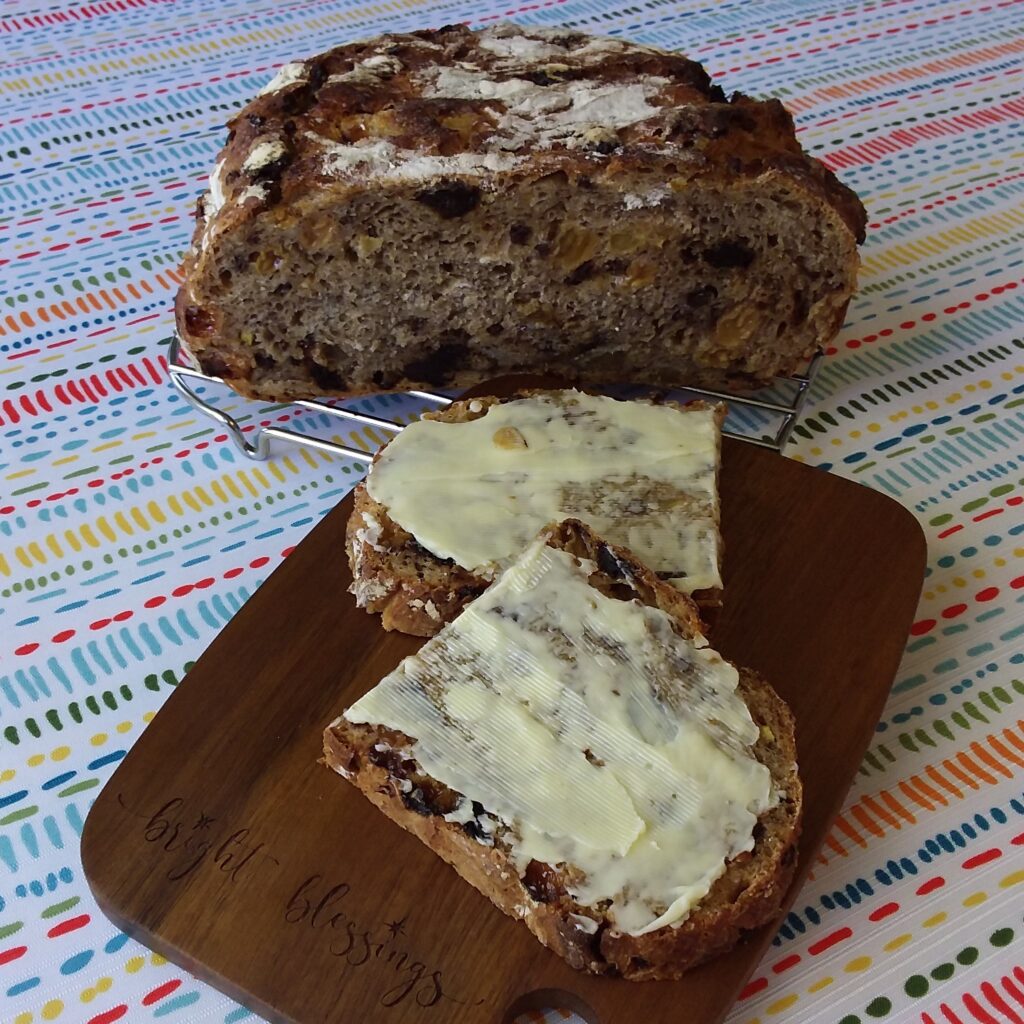 Lammas Fruit Bread from My Kitchen Wand