Fusion cooking is combining dishes from two cultures to create something new. Spanakopita Spring Rolls or Ramen Noodle Burgers are two examples. Chai Tea Scones is a third.
Curry has been described as England's national dish so mixing chai and scones together is not much of a stretch but oh so tasty, full of warming spices that pair well with a winter cuppa's. I admit I took it one step further and mixed up some cream cheese with maple syrup as a Canadian substitution for clotted cream.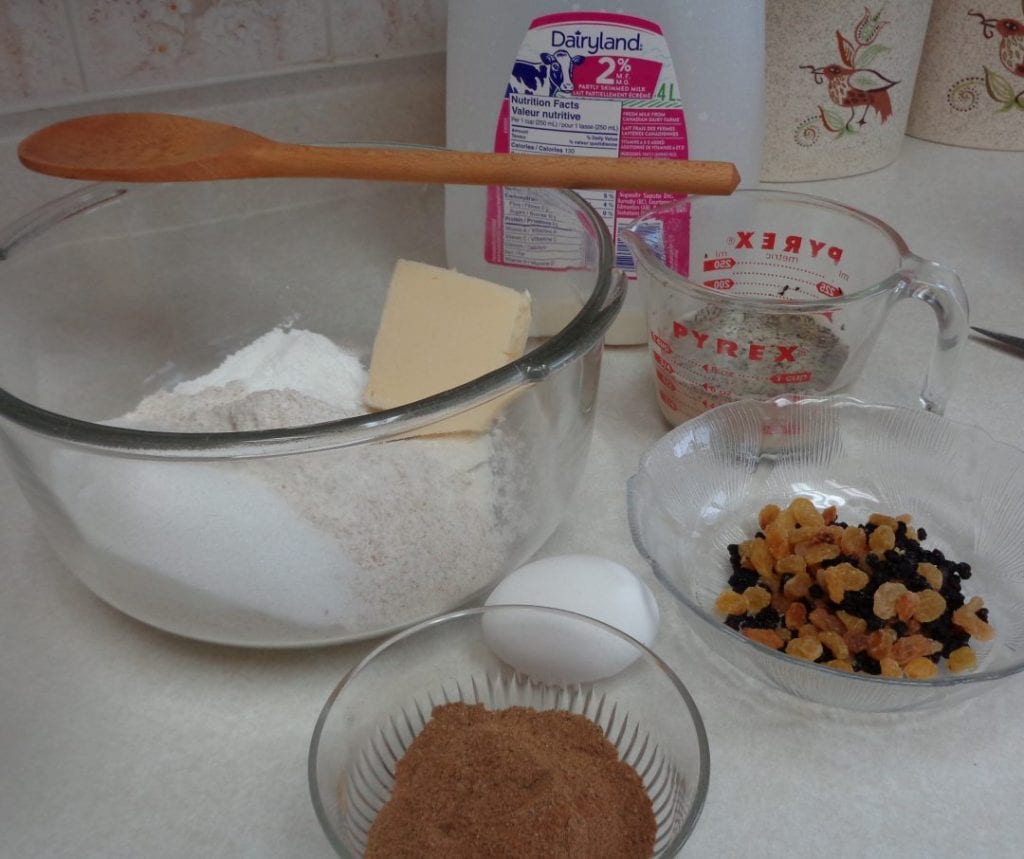 You will need:
1 cup flour
1 cup whole wheat flour
1/4 cup sugar
4 tsp. baking powder
2 tsp. chai spice
1/3 cup butter. room temperature, cubed
1/4 cup golden raisins
1/4 cup currents
1 egg
2/3 cup milk
1 tsp. black tea or a tea bag
extra infused milk and cane sugar
Begin with a deep breath in as you wash your hands under warm water. Hold that breath for a moment and then exhale letting any "nigglies" drip off the ends of your finger and swirl down the drain. Repeat. Now focus on your intention for these scones. Who are you making them for? What feeling would you like to infuse? Open your heart, invite the compassionate spirits to join you in the kitchen and begin.
Preheat the oven to 425 degrees F. and line a cookie sheet with parchment paper then put aside. (Greasing works too.) Let's start with the chai spice mix.
Usually when chai tea is on the menu, I use whole spices and they simmer in the milk/water. For this recipe ground spices go directly into the flour mixture. The combination used is below BUT and this is important, you may chose to tweak it and create the flavour combination you think of as chai spice mix. This really is no different than pumpkin spice or speculaas spice mix. There are many combinations of basic ingredients and this is just one. Mix together the following amounts and stir to combine. The scones will take two teaspoons and the rest is available for other lovely adventures. Remember to label before storing.
2 tsp. cinnamon
1 tsp. cardamon
2 tsp. ginger
1 tsp. nutmeg
1 tsp. allspice
1 tsp. cloves
1/2 tsp. black pepper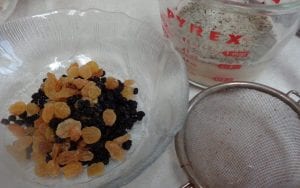 Heat the milk to just below scalding and add the loose tea or tea bag. Allow to steep. I used loose black tea but a tea-bag will work as well.
The milk should change colour as the tea seeps into the milk.
After five minutes, remove the teabag or pour the milk through a sieve into the bowl of fruit and continue to cool the milk while softening the fruit. Let the tea leaves continue to drip over the container the milk was in and there will probably be an additional two tablespoons of infused milk that will be used later. If not, no worries, regular milk will do as well.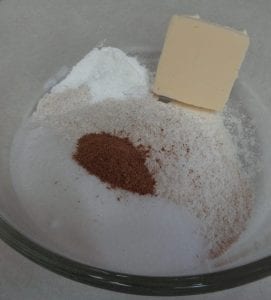 In a separate bowl measure the dry ingredients, both flours, sugar, baking powder, spices. If using unsalted butter add in 1/4 teaspoon salt. If you prefer, it is possible to sub out the whole wheat flour with all purpose. Using just whole wheat flour will create a denser finished product.
Most instructions will say use cold butter and if that is what you are used to please continue.
I used room temperature butter as I find it quicker and more efficient. In either case, please remember to not overwork the mixture or the flakiness will disappear.
The mixture should have pea size butter balls covered in dry ingredients once the butter is mixed in.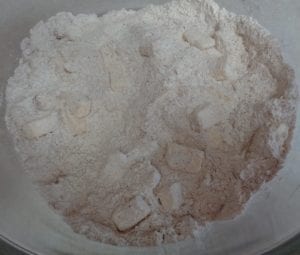 I started by cutting the butter into small cubes and tossing them in flour before getting into the mixture with my hands and squeezing the bits of butter into small balls.
At room temperature this really only takes a few minutes and you will be ready for the next step.
The point of not over mixing is so that the butter has a chance to melt inside the scones while baking, giving lightness to the finished product.
Crack an egg and add it to the cooling milk mixture. Stir to combine and
pour the entire mixture, fruit and all into the bowl of dry ingredients.
Combine with a few stirs and then, gently transfer the mixture to a flour covered surface.
Knead or pat the dough together in three or four quick folds/pressings and divide into two equal amounts.
Shape into two flat circles about two inches high.
Cut each circle into four or six wedges and transfer to the prepared cookie sheet.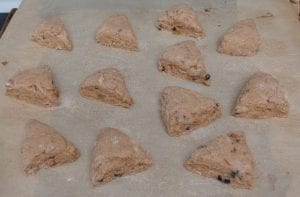 Collect the last of the infused milk and using a pastry brush, paint the scone tops before sprinkling with cane sugar.
Another option is the transfer the entire circle to the cookie sheet before cutting almost all the way through and adding the milk wash and sugar.
The individual scones should be checked the first time at about 8 minutes and then every two minutes thereafter. Start checking the circular scones at 12 minutes and every two minutes thereafter.
I use cane sugar for the sprinkled topping as the grain is bigger and will be more noticeable but regular white sugar works too. This is not an overly sweet mix so the sugar on top stands out which is something that also happens in a cup of chai.
Serve warm with butter and honey, maple sweetened cream cheese or open a jar of homemade jam.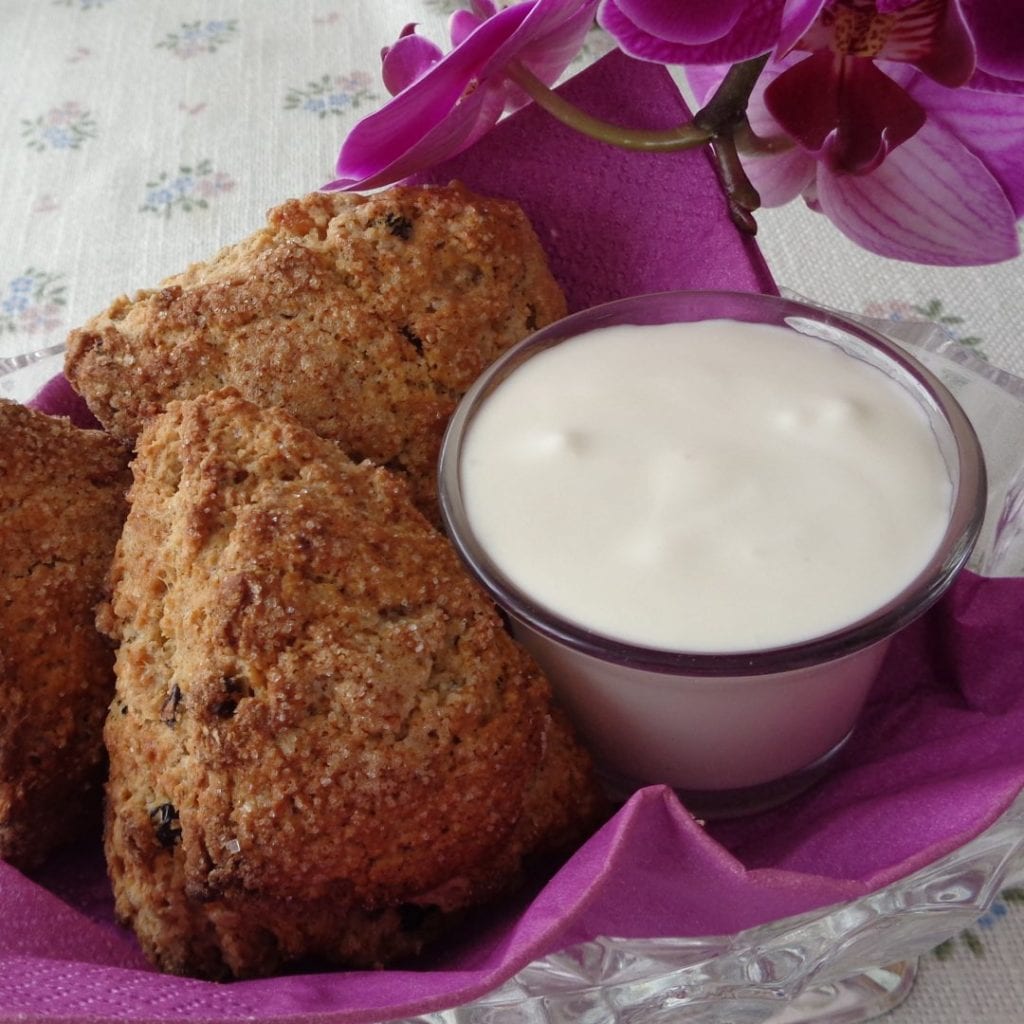 Chai Tea Scones with fruit from My Kitchen Wand