As the wheel turns and we move towards Imbolc, I generally get an urge to clean. It just seems natural to me after the Yule decorations disappear, that clearing cupboards, class supply boxes and fridge of leftovers is the next step.
A richly flavoured cookie for the dark half of the year and those who love crisp chocolate cookies. Made with almond and oat flour, this intense cookie might also work with milk chocolate if that suits your taste buds better.
I agree, some of the quantities look a little wonky below. It comes from experimenting on the fly. Not wanting more than two dozen cookies, ( we are trying to be healthy, right?) I left the ingredients as is.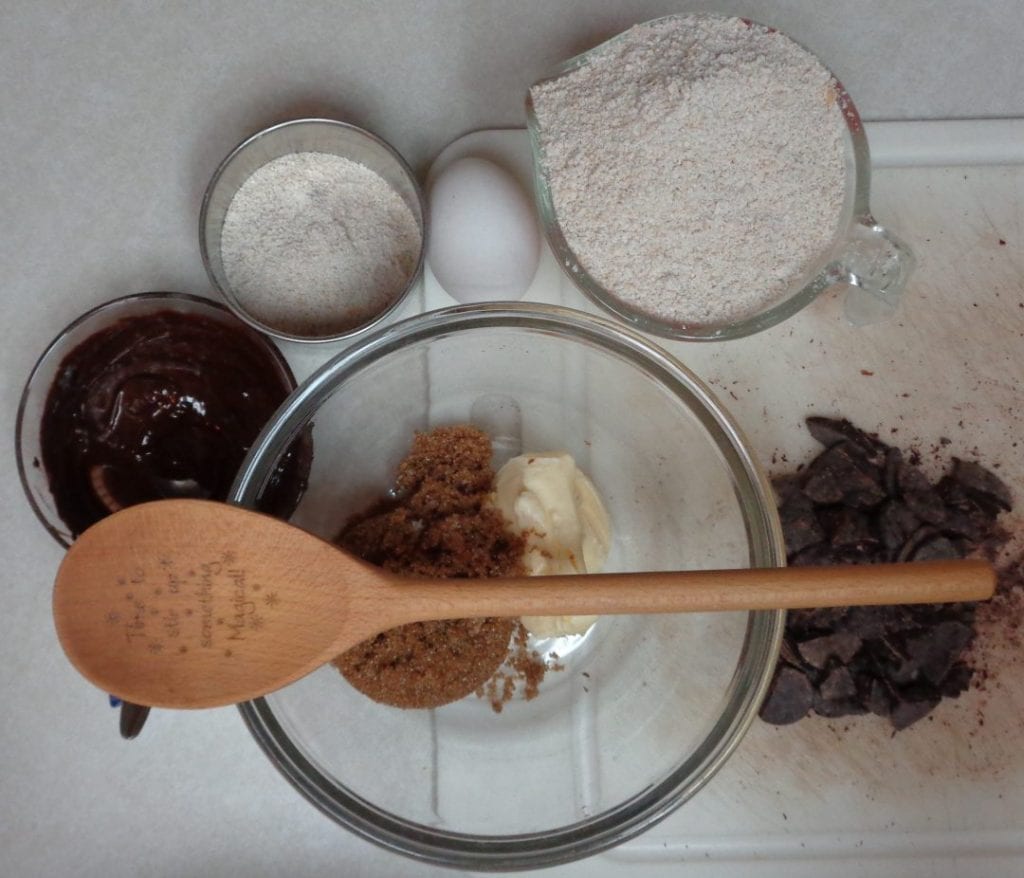 You will need:
5/8 cup brown sugar
5 Tbsp. butter, room temperature
1 egg
1/4 cup melted semi sweet chocolate
1/2 bottle rum essence, 1 tsp, rum extract or 1 Tbsp. rum
1+2 Tbsp. cup almond flour
1 cup oat flour + extra for 2-3 Tbsp. to finish
1/2 tsp. baking soda
1/4 tsp. salt
1/4 – 1/2 tsp. cinnamon
1/4 – 1/3 cup chocolate chips
Begin by finding a place of gratitude that can be your center. What was the best thing that happened in the last week? Had the time to read a good book lately? Is there enough food in the fridge today? Hold that place as you wash your hands and prepare. Open your heart and invite in the compassionate spirits. Begin.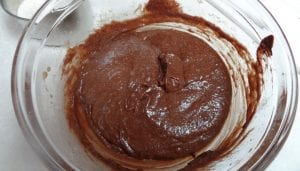 Whip the butter together with the brown sugar until light and fluffy. Mix in the egg, flavouring and melted chocolate and combine until well mixed. ( I was using up left over chocolate bits from classes so there might have been an extra teaspoon or two of melted chocolate.)
Combine the dry ingredients together and add to the wet ones. If gluten is a concern, please ensure that the oat flour is processed in a gluten free location. Rolled oats can also be turned into flour by processing in a blender but again check the labeling to ensure the oats are gluten free. Oats themselves are gluten free but many are processed in plants that also work wheat and the gluten is in the air, attaching itself to the oats.
Before the last of the oats is added
, toss it over the chocolate chips, then combine with the dough. I used chopped chocolate drops but chips are just fine.
If you find the dough a little soft, an extra one of two tablespoons of either flour will easily firm it up.
Preheat the oven to 350 degrees F. and line a cookie tray with parchment paper, or grease.
Roll the dough into balls the size of large walnuts and place 9 to a tray.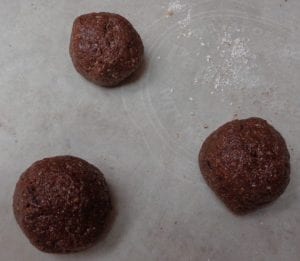 Using the bottom of a glass or something similar, dip into either flour and use to press the dough evenly down and into a flat circle about 1/4 inch thick.
The dough will expand while baking so don't try to put more cookies on the sheet unless they are much smaller cookies that will bake in a shorter time.
Twisting the glass as you lift up helps to release the dough.
It is very possible that not all the flour on top will bake into the cookie while in the oven. I actually like the finished look as it seems to be dusted with icing sugar.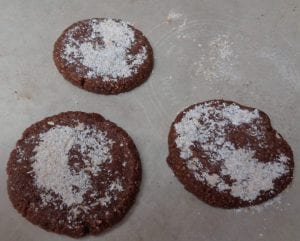 Bake for ten minutes.
The cookie centers will be soft and transferring them gently to a cooling rack is important.
As they cool they will crisp up but freshly baked and served warm they have a melted gooey center and crisp edges.
This recipe made 21 cookies but I did make them larger than I normally would because I thought they might also work for ice cream sandwiches. Update:Yup!
The recipe can easily make two dozen with a small reduction in size and possibly nine minutes in the oven. As half the flour is almond and the other half oat, this is a filling cookie.
Cold winter nights, fresh baked cookies by the fire and a good book, furry friend or partner to cozy up with…sounds like a plan.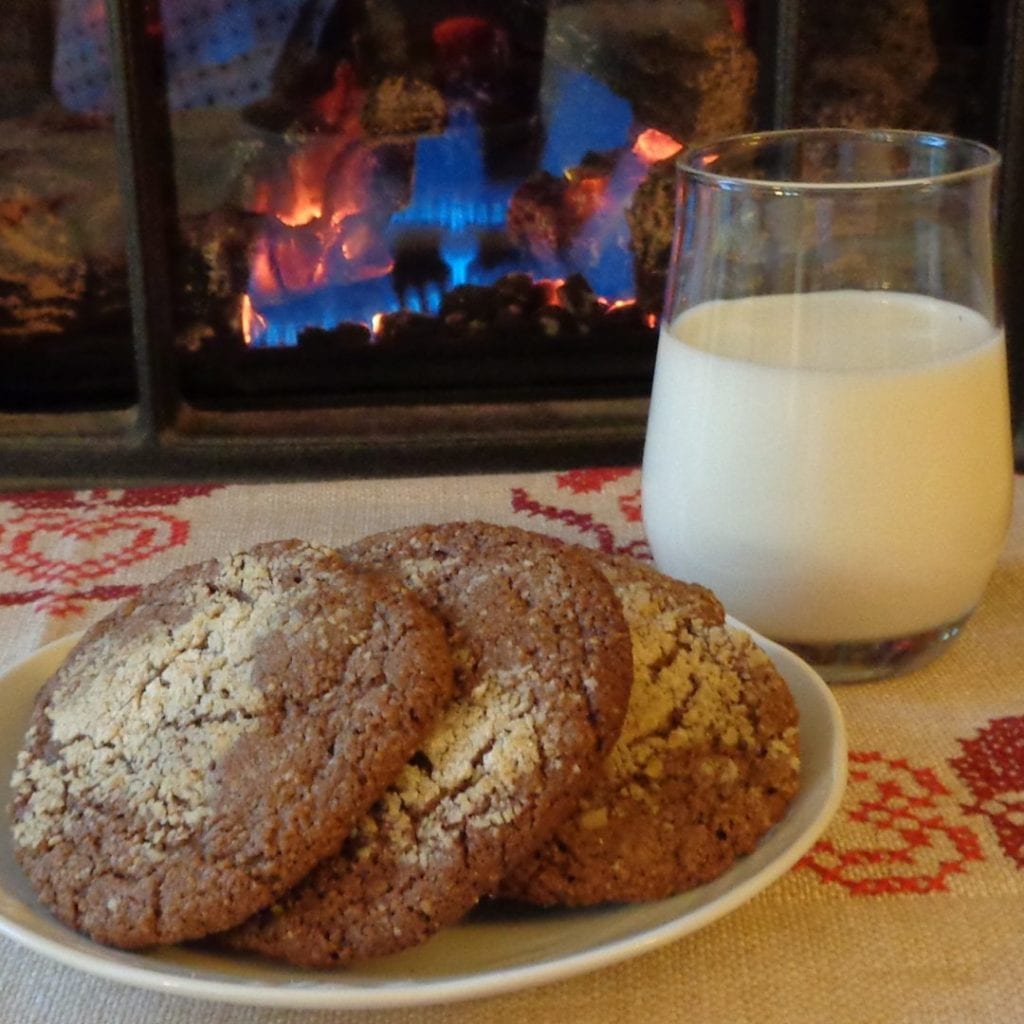 Chocolate Chocolate Chip Cookies from My Kitchen Wand