Fall, winter, any cold day really is a chance for a thick and warming bowl of soup. A lovely combination of silky textures with a little added kick to keep the body extra warm.
Pumpkin's nutrient profile is packed with healthy things. Pumpkins contain three different antioxidants, that support your cells health. It is also 94% water and at 49 calories and 0.2 grams of fat per cup, a good choice, unless you are counting carbs (12 gr). Packed with Vitamin A (245% of RDI) and goodly amounts (10-20% of RDI) of Vitamin C, Potassium, Copper, Manganese, Vitamin B2, E and Iron makes finding ways to use this fruit in a selection of dishes a wise move.
This hearty, on the table in about 1/2 an hour, soup makes for a quick and filling dinner, especially while preparing for Thanksgiving or Hallowe'en.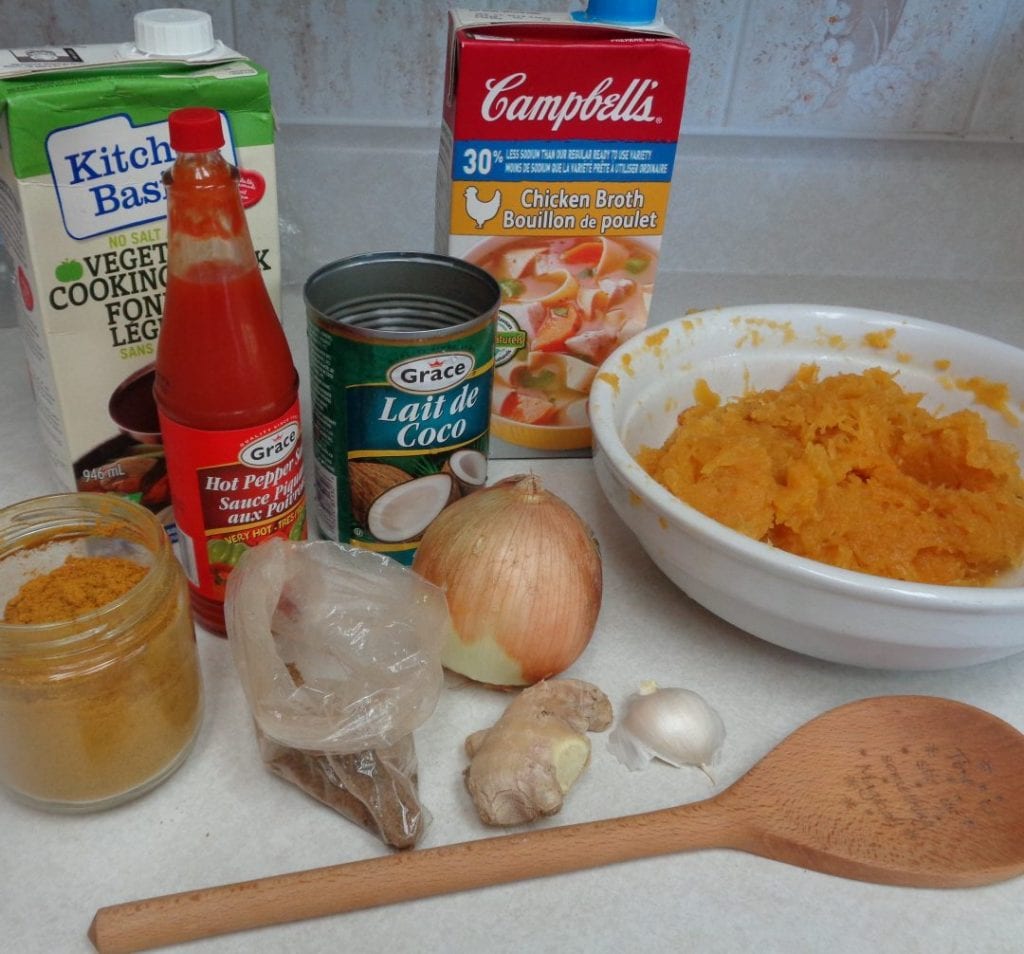 You will need:
2 Tbsp. butter
1/2 large onion
1 clove garlic
2 inches fresh ginger
1 Tbsp. mild curry powder
1 tsp. garam masala spice blend
3 cups vegetable stock (I used half chicken and half vegetable)
1 (14 oz.) can coconut milk
3 cups fresh roasted pumpkin puree
salt and ground black pepper, to taste
red pepper sauce to taste
cream and pesto  for garnish
Gather up the ingredients; take, hold and release a deep breath. We are heading into the homestretch of holiday season and you have got this. Wash your hands before starting and let whatever is bothering you drop off your fingers as the warm water heads towards the drain. Bring your focus into the present moment, open your heart and begin.
Into a medium to large pot pour the oil and place on a burner on medium heat. Dice the onion, add to the oil and saute for 4 – 6minutes, until soft and translucent. Mince and add the garlic. Peel and mince the ginger. Cook for about 1 minute. It should be smelling wonderful.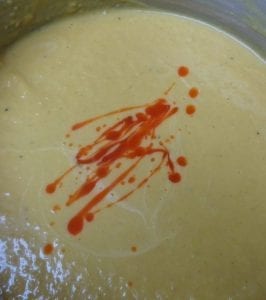 Sprinkle the spices over the mixture and continue stirring for about 15 seconds to mix them in before adding  vegetable stock, coconut milk, and pumpkin puree.
Bring to a boil. Reduce the heat to low and simmer for approximately 20 minutes, covered. Season with salt, pepper and pepper sauce to taste. I added the amount shown in the picture. It gives a nice extra layer of warmth in your tummy but leaves the skin on the inside of your mouth intact. Taste and adjust to your preferences.
Puree the soup with an immersion blender to your desired smoothness. A blender will work too. I just like keeping clean up to a minimum. If you find the soup too thick for your liking a little extra stock can be added.
Serve hot with a drizzle of cream and pesto. Run a spoon or toothpick through to decorate. Pumpkins are associated with wish granting, so why not make one before taking that first sip?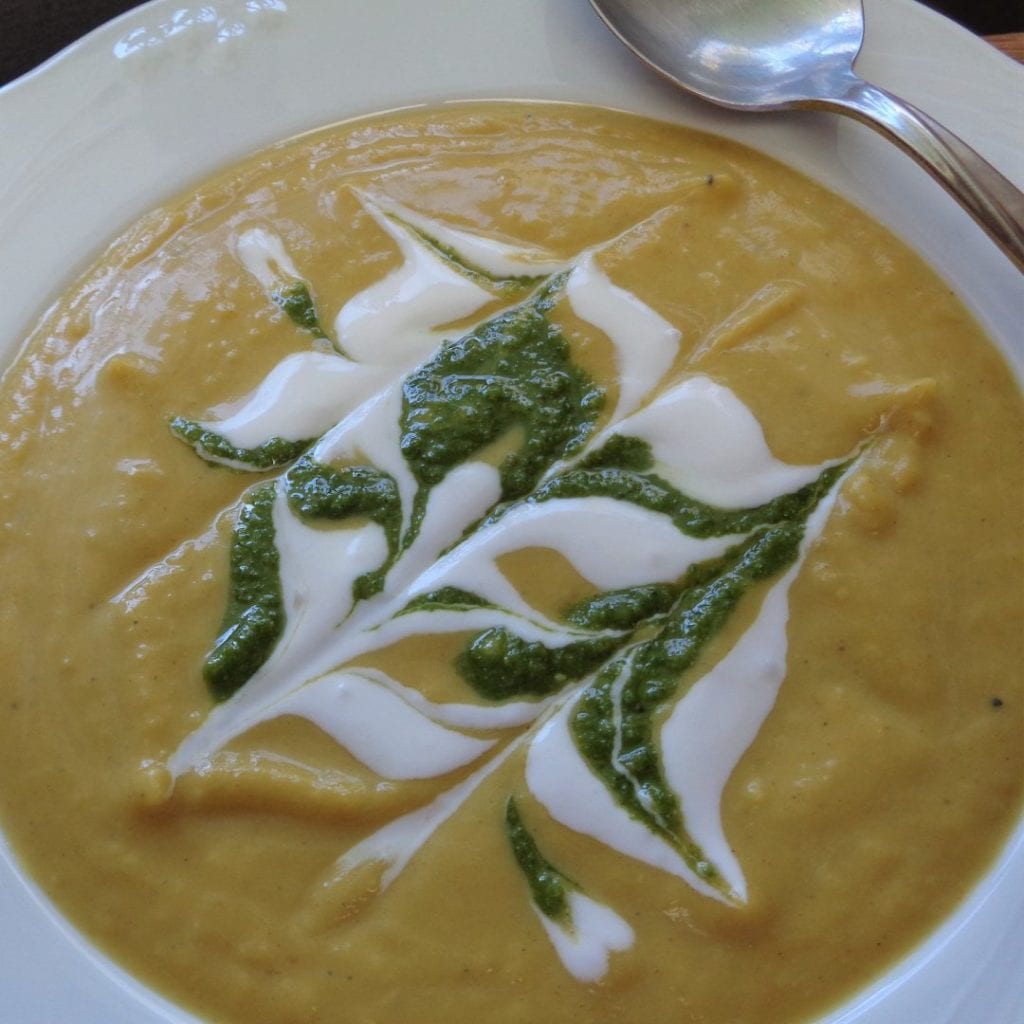 Pumpkin Coconut Curry Soup from My Kitchen Wand