On cold winter days (in places that have a proper winter season) it is nice to have something fresh tasting that helps us remember warmer climes. It is after all citrus season.
Additionally we are coming up on Chinese New Year, February 7th, this year, so orange related dishes definitely fit the bill. Oranges are connected to good fortune, peace, harmony, healing and money, while coconuts are associated to protection and fertility.
Chocolate as always is love and money and even if there are no nibs in white chocolate, there is cocoa butter that comes from the same plant.
You will need:
1 1⁄2 cups all purpose flour
1/3 cup white sugar
2 tsp. baking powder
1⁄2 tsp. salt
1⁄2 cup melted butter or coconut oil

zest of two oranges or 1 Tbsp. zest if it is already handy
1⁄2 cup orange juice
2 eggs
1⁄2 cup shredded coconut, sweetened (plus more for topping)
3 Tbsp. chopped white chocolate
With warm water running over and off your hands, close your eyes. As your hands are being washed, see all your nigglies dripping off your fingertips, releasing them down the drain to the ocean. Take a deep breath in, hold and release. Repeat. Invite the compassionate spirits to join you and begin.
Preheat oven to 375 degrees F.
Grease a 6 compartment muffin tin or not, if you prefer to use paper liners, silicone moulds or stick free bake ware.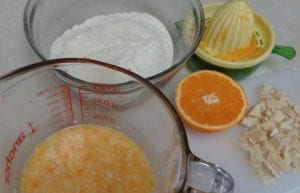 In a medium bowl mix the dry ingredients; flour, sugar, baking powder and salt.
In a separate bowl melt the butter. I used a measuring cup and popped it in the microwave for 20 seconds and then stirred until melted. This can also be done on the stove in a small pot. Do not over heat as the eggs will cook when combined with butter that is too hot. Add in orange peel, orange juice, eggs and coconut until well blended.
I used extra large eggs. There is a lot of batter for the baking form to hold. Using regular eggs would also work and reducing the flour content by a couple of tablespoons is just fine. Depending on the size of the orange, you will need one orange and a couple tablespoons of water to reach the half cup of juice. One and half oranges will do the job and two oranges will leave a little juice over to enjoy fresh.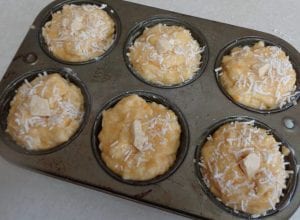 Keeping six larger pieces aside, add the chopped white chocolate to the dry ingredients and then follow up with the wet ingredients. Stir together until just combined. Over mixing creates pointy tops and tunnels in muffins. It is alright if you can still see a little flour here and there.
Spoon into muffin cups, sprinkle a little extra coconut on the tops of each muffin and finish with a piece of white chocolate centered on top.
Bake for 20 – 22 minutes.
As mentioned there is a lot of batter so expect them to be a little darker around the edges that spread over the top when baked as that is the thinnest place and will bake the quickest. Reducing the temperature by 25 degrees will lighten the finished product but in this house we like crunch.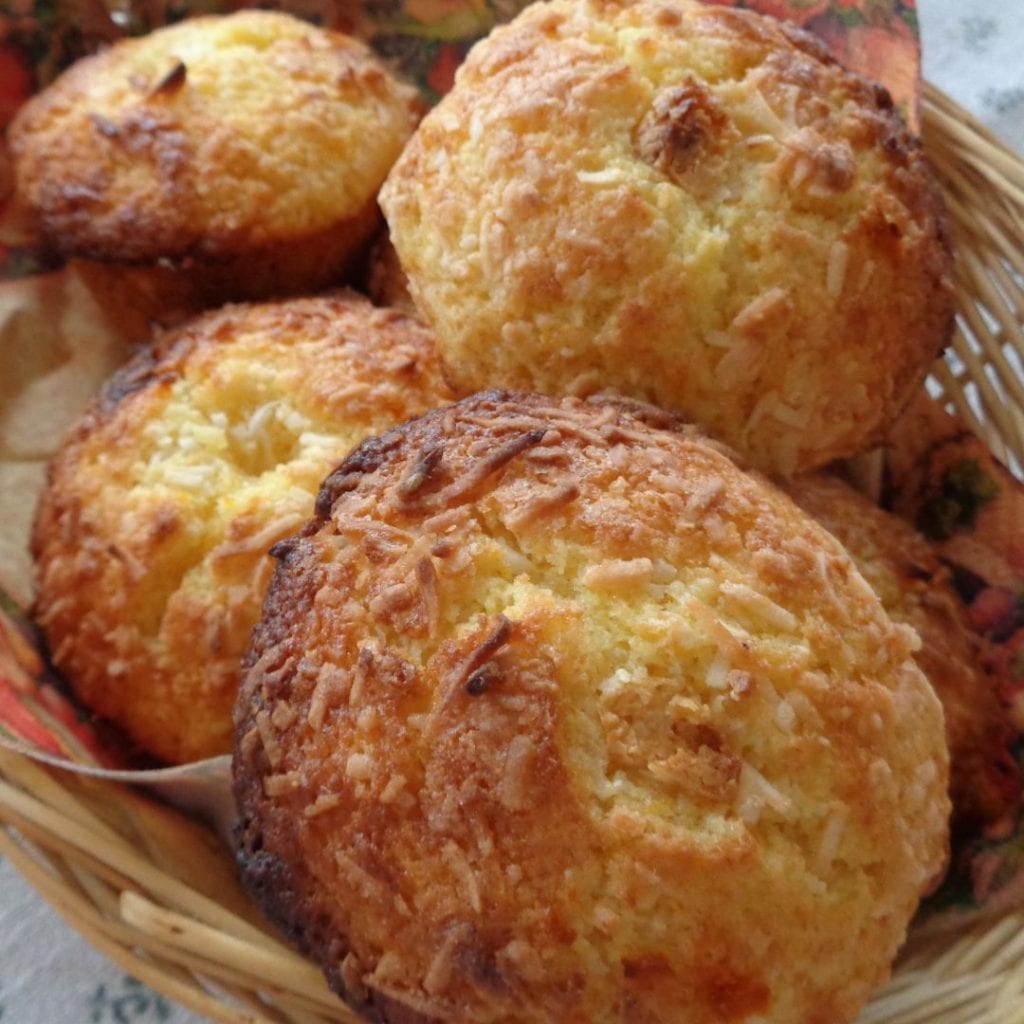 Coconut Orange White Chocolate Muffins from My Kitchen Wand