Try this tasty addition to my favourites list . By using quick rising yeast it only needs to rest once. I used the oranges from last weeks post of oranges in cardamon, cinnamon and rosewater syrup but you can also use fresh sections. Baking with fresh oranges was a new thing for me and I was happy with the results in this recipe.
2 1/4 tsp. quick-rise dry yeast ( 1 package)

2 1/2-3 c. all purpose flour
1/4 cup ground walnuts
4 – 6 candied orange slices, finely chopped or the zest of one orange
1/2 cup of dry cranberry sauce
Orange sections cut in slices
1 cup icing sugar
1 tsp. liquid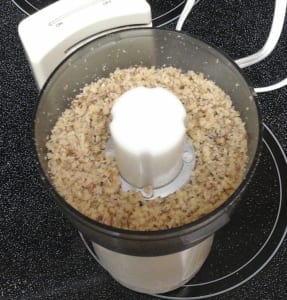 As always, start with a moment dedicated to the purpose of the work. Bring your focus into the room and leave behind what does not serve you. Take a deep breath in and hold to the count of three, exhale. Repeat. Let's begin.
In a small bowl, dissolve yeast in warm water with a sprinkle of sugar and let sit for about 10 minutes. The temperature of the water is best around 110 degrees. Hot enough that you don't want to relax in it but not so hot you can't even dip your finger in. The purpose of doing this is to ensure your yeast is viable before going further and to also activate it for use.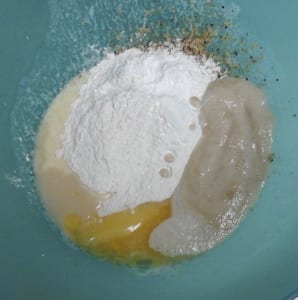 Finely chop the walnuts and orange peel by hand or in a small chopper. I popped them together. Now if you missed last weeks post on making your own candied peel, please don't start by making some.
Fresh orange zest will also do as well as store bought peel if you happen to have some on hand. ( Maybe left over from Yule baking?)
Combine buttermilk, egg, butter, sugar, with half the flour, baking powder, salt and walnut, orange peel mixture. Add the bubbling yeast.
Blend with a hand mixer or something similar for about 30 seconds on low speed, making sure all the sides are also cleaned and incorporated.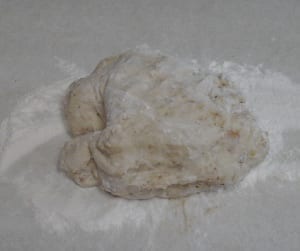 Continue beating another two minutes at medium speed, scraping the sides of the bowl occasionally.
Stir in enough remaining flour to make dough easy to handle. (Soft and sticky is good.) Turn dough onto well floured board or counter top; knead 5 minutes or about 200 turns. I added 2 1/2 cups flour in the bowl and worked in the last half cup while kneading.
With a floured rolling pin, roll the dough into a rectangle, no longer than the length of your cookie sheet and then cut a series of lines one third of the width of the dough on either side. These will be the strips used to create the impression of a braid.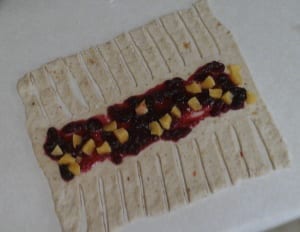 Spread the uncut section in the middle with cranberry sauce and dot with small pieces of orange segments. When I mentioned "dry" on the ingredient list, I meant that some cranberry sauce will have more liquid than others and may need to allowed to drip a bit to separate the berries from the extra moisture. Try using a slotted spoon or sieve if you need to. You can see though from the picture that is does not need to be totally dry.
Start at the top and fold the cut strips over the fruit at an angle. Starting with one from one side and then one from the opposite side.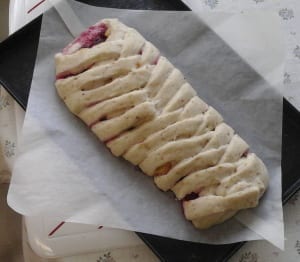 Tip #1:If you happen to have not cut equal numbers of strips as I did then make sure you start and finish with the side that has the most strips.
Tip#2: DO NOT do this on the counter like I did. Roll out the dough on parchment paper so that is it easily transferable to the baking sheet.
Once the braid is complete. allow it to rest and rise for about an hour or until an impression remains when it is gently touched.
I turn the oven on the very lowest setting and do not heat it until the light went out, just enough to make the oven a nice cosy place for the bread. Turn the oven off an place the bread inside.
The picture above is the braid after 1 hour.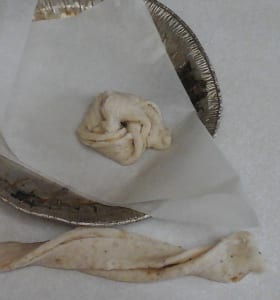 Another option is to cut the rectangle in one inch slices width wise, fold them in half and twirl to create a corkscrew effect, them curl in a circle like the photo below.
Making sure the middle has no space for the cranberry sauce to work it's way through, top with sauce and orange sections. Allow to rest and rise.
Heat the empty oven to 375 degrees.
Bake for about 25 minutes or until golden brown and the bottom of the loaf sounds hollow. The danishes will take about 20 minutes.
Cool for at least half an hour.
Mix icing sugar with 1 – 2 tsp. water, milk, cream or orange juice and drizzle over the finished baking.
The cooler the bread the less your drizzle will run off. I ran two drizzles along the length of the bread at 90 degree angles to each other.
Serve fresh for Valentine's, Thanksgiving or Christmas brunch or afternoon tea or bring the bread along to your Imbolc potluck. Actually any time you feel like it. Cranberry and orange really has become a year round flavour combination; tangy, sweet and in this case a little crunch of walnuts.
This is the recipe finished off as a danish pastry.