Valentine's Day is the day after tomorrow and I have been playing with an "I love turtles theme" as a treat. Turtles mean chocolate, pecans and caramel. Chocolate, vanilla, ice cream, sugars are considered love foods, as is cake. Pecans are connected to wealth so it seemed to me that this combination with the addition of a little extra spice would be ideal as a finishing touch. As in all things, use your own intuition.
During Roman times a festival called Lupercalia was celebrated over this same time period. Said to honour Lupa, the she-wolf who fed Romulus and Remus, the founders of Rome, it was also a festival of purification and fertility blessings. Traditional stories say the vestal virgins prepared salt meal cakes that were burned in offering making the final flaked salt topping of this desert, the perfect homage.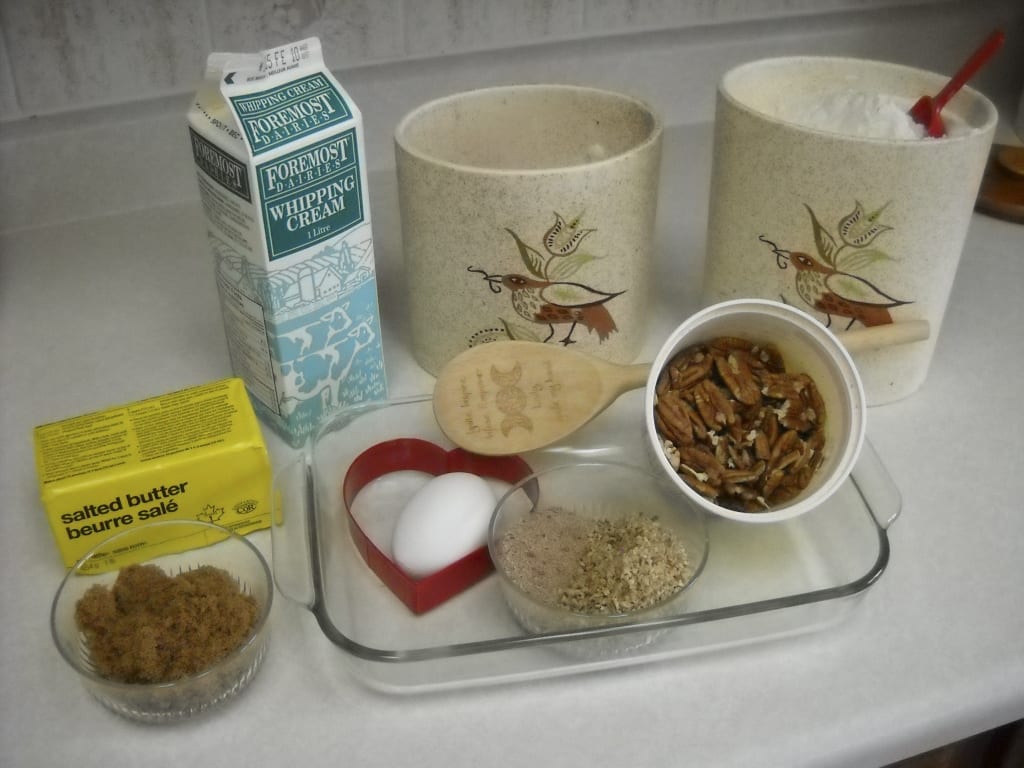 You will need:
1/2 cup whipping cream
1/3 cup sugar
1 extra large egg
1 tsp. baking powder
1 cup flour
1/3 cup ground chocolate
1/3 cup ground pecans
3 Tbsp. butter melted
1 1/2 Tbsp. whipping cream or milk
1/3 cup brown sugar
1/2 cup chopped pecans
2 Tbsp. ground Mac Toffee
Flaked Salt to taste
Gather your ingredients and prepare your space. Bring your focus to the work at hand and release the thoughts that get in the way. Deep breath in through your nose to help bring you into the present moment. Hold and gently release. Repeat. Invite in the spirits that can best assist you with your purpose and begin.
Preheat oven to 375 degrees and grease a 9 x 13 pan. If you do not have one, you can try an 8 x 8 baking dish, the cake will be higher when finished and may need a little longer baking time.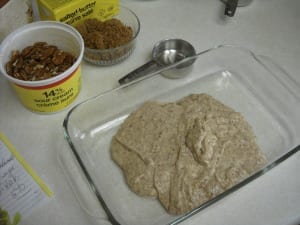 In a bowl, add the unwhipped whipping cream and sugar, mix well and add the egg. I used an egg from our local farmer which was extra extra large and had a double yolk. If you are using regular size eggs try two. Once all the liquids are mixed, add in the ground nuts, ground chocolate, flour and baking powder. Stir well to combine and turn out into a greased 9 x 13 pan.
I did this all by hand as there is not a lot of batter and it is not overly stiff. This is no intended to be a tall cake once finished, more the height of a brownie so gently coax the batter to the edges and bake for 10 – 15 minutes.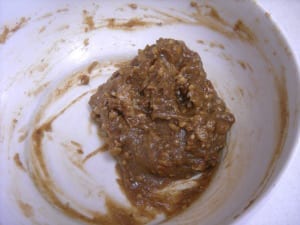 While the cake is baking, mix coarsely chopped pecans, melted butter, brown sugar and milk in the bowl you used to make the cake. Do not add the topping to the cake until the top is firm enough to hold the weight and do not put it all in the same place and then spread. The half baked cake will not support the weight of the entire topping. Instead, place the topping by  spoonfuls over the partially baked cake and spread gently. You can see in the picture below that the heat from the cake is already melting the topping.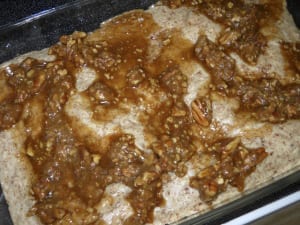 Return to the oven and bake another 10 minutes. Remove from the oven and allow to cool before cutting into heart shapes.
Now if you are doing this for someone who like the crispy edges, you can forgo the next step and just cut into squares, making sure everyone gets at least one edge.
However, this is intended for Valentines, so using a heart shaped cookie cutter to cut out your shapes in the easiest way to incorporate the theme. You can either wait until serving dessert to cut the shapes or cut and cover the shapes to keep the air out and the cake fresh. Using a cookie cutter will give you left over unuseable bits to nibble on. You will get two to four hearts depending on the size of the cookie cutter. Cutting squares will give you six to eight pieces.
If you are making this dessert to finish of a romantic dinner for two, smaller pieces are better. The energy in your body gets used to digest your meal and leaves less available for other things. You can always come back for seconds later.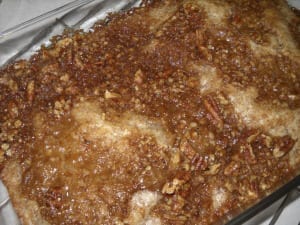 Our well known heart shape certainly does not resemble an actual heart but is said to be sourced in the shape of an ivy leaf and can be seen on pottery over 5000 years old.
It was used to decorate tombs and because ivy is a long lived plant, it represented enduring love past life itself.
Leafy vines are also connected to Dionysus, who represented human passion and  sensuality in the Greek pantheon and can be easily seen in stylized forms on their vases. This connection to passion is why the brothels in Ephesus used a heart as their calling card.
This symbol moved with the Romans into Europe and is now understood the world over.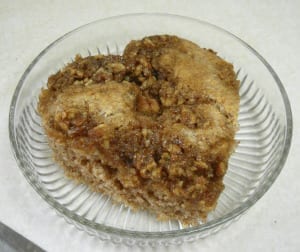 When you are ready for dessert, add three small balls of ice cream. I kept it simple and used vanilla but there may be something you find more appealing.
Drizzle with salted chocolate caramel sauce, (recipe below), ground Mac toffee and flaked salt to taste.
I use this toffee for chocolate making classes. One bar of Mac toffee or some of the individually wrapped ones in the freezer until there are hard. Place in blender or food processor and pulse until finely ground. Store in the freezer to avoid it all sticking together again.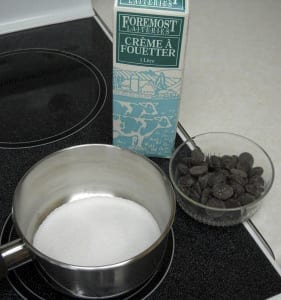 For the Chocolate Caramel Sauce you will need:
1/2 cup sugar
3/4 cup whipping cream
6 oz good quality dark chocolate, finely chopped or chips
Another piece of proof I live in Canada, creme a fouetter, means whipping cream. I usually turn the carton around to the English side.
Okay, so put the sugar in the heavy bottomed pan and allow it to melt over medium heat, swirling to pot as needed. The sugar will start to clump as the liquid forms at the bottom.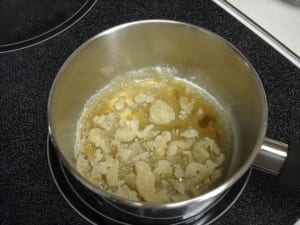 Keep swirling and if need be use a metal spoon to squish down any bigger pieces.
Keeping the sugar moving will assist in keeping it from burning.
Once all the sugar has liquified and is a lovely amber colour, over the heat add the whipping cream and mix well. If you find that any of the sugar has hardened, keep stirring over the heat while the sugar remelts. Add the chocolate to the caramel and stir until all the chocolate has melted into the sugar whipping cream mixture.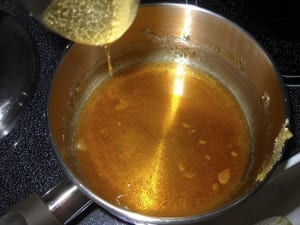 If you are going to use the sauce right away it will be thin enough to drizzle.
If you have bottled the sauce and are taking it out of the fridge, set the jar in a bath of warm/hot water and allow it to thin before using.
When you are ready, build your Salted Turtle Sundae Cake desserts and serve immediately.
This is filling so time your presentation to a mid afternoon treat or an after, after dinner dessert, giving tummies a little time for digestion.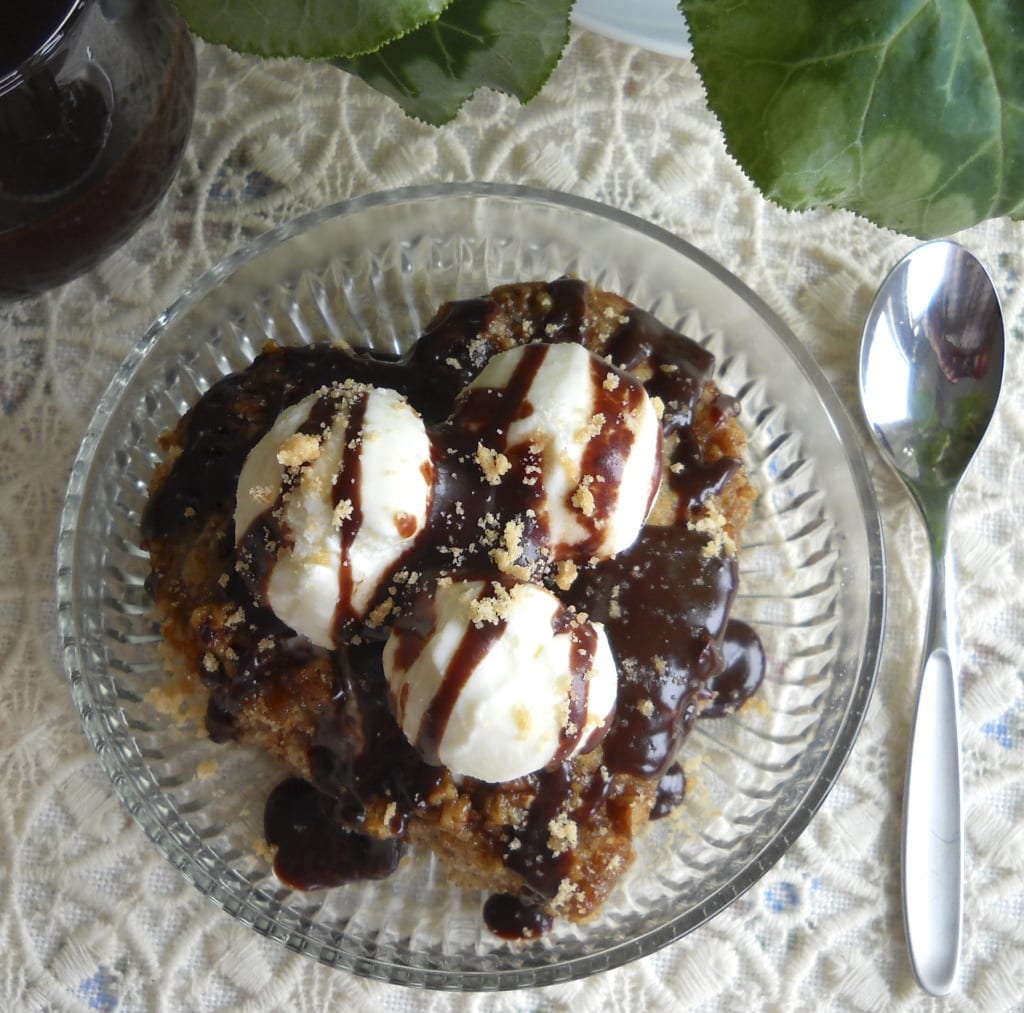 Heart Shaped Chocolate Pecan Cake with caramelized Pecan topping. Served with vanilla ice cream and Chocolate Caramel Sauce, sprinkled with ground toffee and Maldon Salt Flakes.
Are you drooling yet? Come a little bit closer.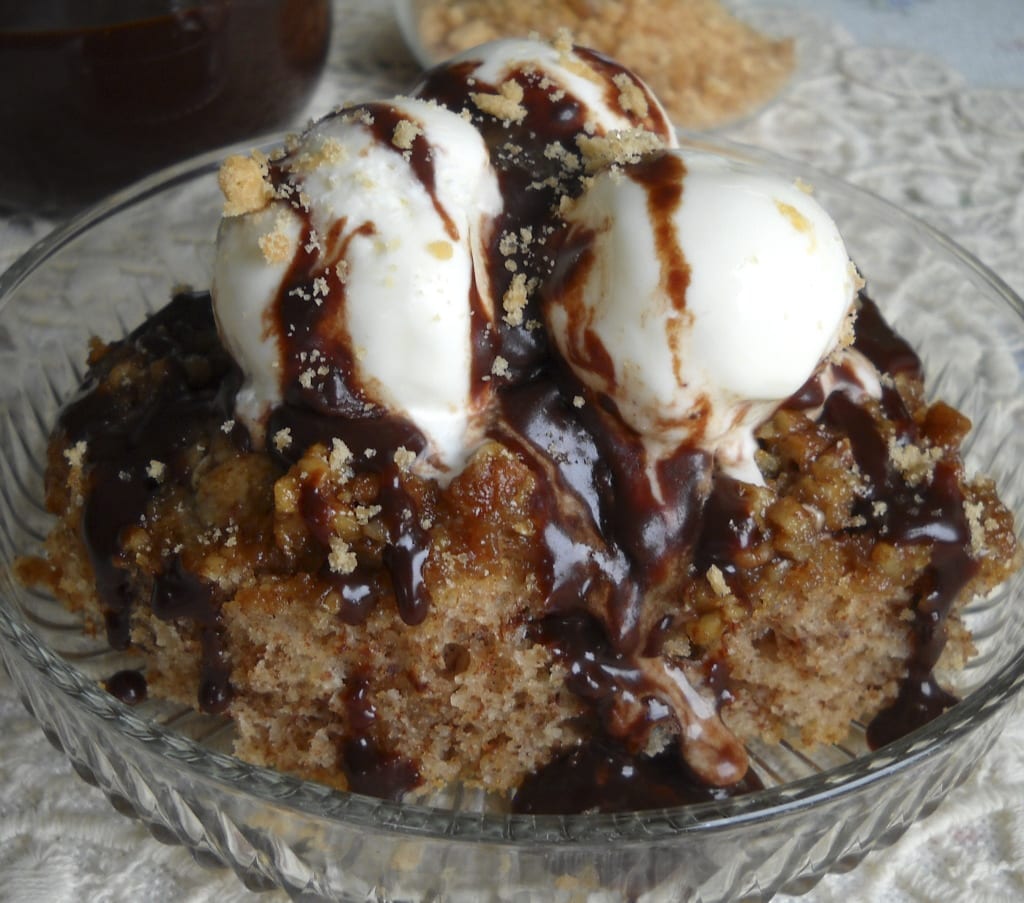 Salted Turtle Sundae Cake from My Kitchen Wand