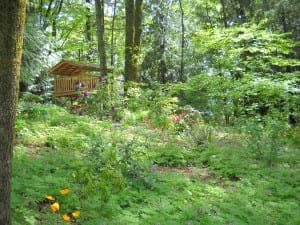 It has been a precious few months of watching a garden grow that I did not have the responsibility of weeding. ( Which is not to say I didn't pull a few here and there. )
Jean has been so generous with her time and information. The designed section full of cooking herbs to play with in new dishes and the more natural area, calming and restful amongst the bunnies and deer, bats and hummingbirds. Even a tree house where Jean occasionally has morning coffee. I want to climb trees when I am almost seventy years of age too.
The last time I wondered through, the Cleavers had just finished blooming and it brought to mind something we touched on at the beginning of the season, the need to really get to know your garden and to be able to identify plants especially when you are harvesting for use.
Plants wander. What can I say, just because they were in the nicely designed bed this year does not mean they will be there next year. Some don't make it over winter. Some only bloom every two years while others spread their seeds to the most inopportune locations for next year. If they are REALLY happy where they are, they can overgrow what is living beside them and the neighbour will not come back. Pruning will help most times but when plants pop up in new locations for the first time, don't be too quick to name them unless you really know your stuff.
One of the first plants to bloom in Jean's garden is Sweet Woodruff. It has intermittent leaves that grow out in a circle around the stem and small clusters of white four point flowers.
Cleavers on the other hand have intermittent leaves that grow out in a circle around the stem and small clusters of white four point flowers.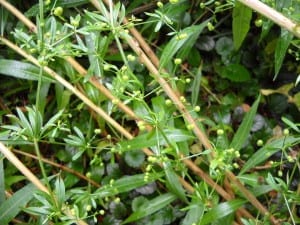 Now they bloom at different times of the year and one is low lying while the other has longer stems but at first description they can sound the same. It is not at all uncommon to be fooled by the new foliage of young plants. Daffodils can look like garlic and comfrey like foxgloves.
The reason that knowing is so important is that while foxgloves and daffodils may be a favourite of fairies, they are both poisonous to human beings.
As you explore your space and design your herb garden, do so with anticipation and information. Birds and animals will bring gifts that suddenly sprout in spring. Keep a good resource guide for your area nearby, take a wildcrafting class from someone who knows their stuff. Watch the plant grow through the season and pick only when you are certain of what you have and that it will do no harm.