This post is the start of a fall high tea I am doing for a friend I have known 96.6% of my life. There will be six people attending so I really only need half of what I am making here. Feel free to double or triple the recipe as needed.
This is the menu at the moment. I don't promise it won't change. The things that can be stored a few days are coming first.
Havarti on Pumpernickel with tomatoes, mayonnaise and Herbed Salts
Rolled Smoked Salmon Sandwiches with Asparagus
Prosciutto & Persimmon Tarts 
Chicken & Mushroom Pockets with Sage Pesto
Walnut Cranberry Scones
Devonshire Double Cream
Earl of Raspberry Plum Jam
Five Spice & Cayenne Candied Nuts
Apricot Cardamon Cake
Rosemary Ginger Cookies
Frosted Grapes
Port Truffles
Cascade Berry Creams
Apple Cider Caramels and Persipan
Hoping there is something in the mix that tempts your tummy.
Five Spice is a mixture of fennel, cloves, and cinnamon, along with star anise
and peppercorns. This recipe adds a little extra kick with some cayenne pepper. I am not good with too much heat but this mixture was fine for me.
There is some discussion that suggests in combining all five flavours; salty, sweet,
bitter, pungent and sour; that the original mixture was a search to create a "wonder
powder" of the five elements in Chinese thought.
1/4 cup icing sugar
1/4 tsp. salt, heaping
1/4 tsp. five spice mix
1/8 tsp. cayenne or more if you are feeling adventurous
1 cup nuts (I used pecans and almonds but the choice is up to you)
2 tsp. water
If you think of an apron as a kind of vestment, then putting one on, sends signals that you are making preparations. Wash your hands in warm water, allowing the water to sluice away the stresses of the day and deeply exhale to aid in the letting go. Welcome the compassionate spirits and begin.
Preheat oven to 350 degrees and line a cookie sheet with parchment paper.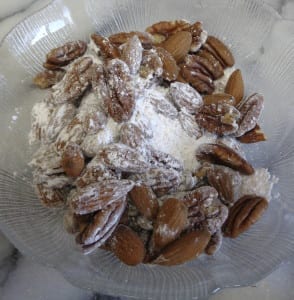 In a small bowl mix all the dry ingredients together.
Add nuts and toss to cover.
Once covered, add the water and stir until the icing sugar is dissolved.
Spoon the coated nuts onto the parchment paper. There may be an extra 1/4 tsp or so of liquid, depending on the choice of nuts. Smooth nuts will use less coating than crinkly nuts. Leave that liquid in the bowl.
Spread nuts out evenly, leaving space between the nuts so they don't touch each other.
Bake at 350 degrees for 10 to 12 minutes.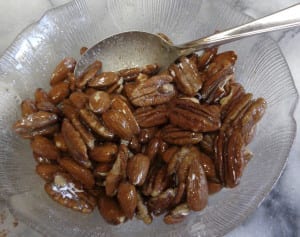 Each oven is a little different so start checking at about 8 minutes to prevent burning.
Transfer the nuts to a clean piece of parchment and loosen any nuts that have formed friendships before they cool to much.
Store any left overs in an airtight container but plan to finish them off reasonably quickly.
The basic process can be adjusted for any spices so if you are looking for something without the kick or perhaps more seasonally spiced, simply adjust the flavours.
Packaged, they make tasty homemade prezzies and you might also consider adding these to your next batch of caramel popcorn or "nuts and bolts".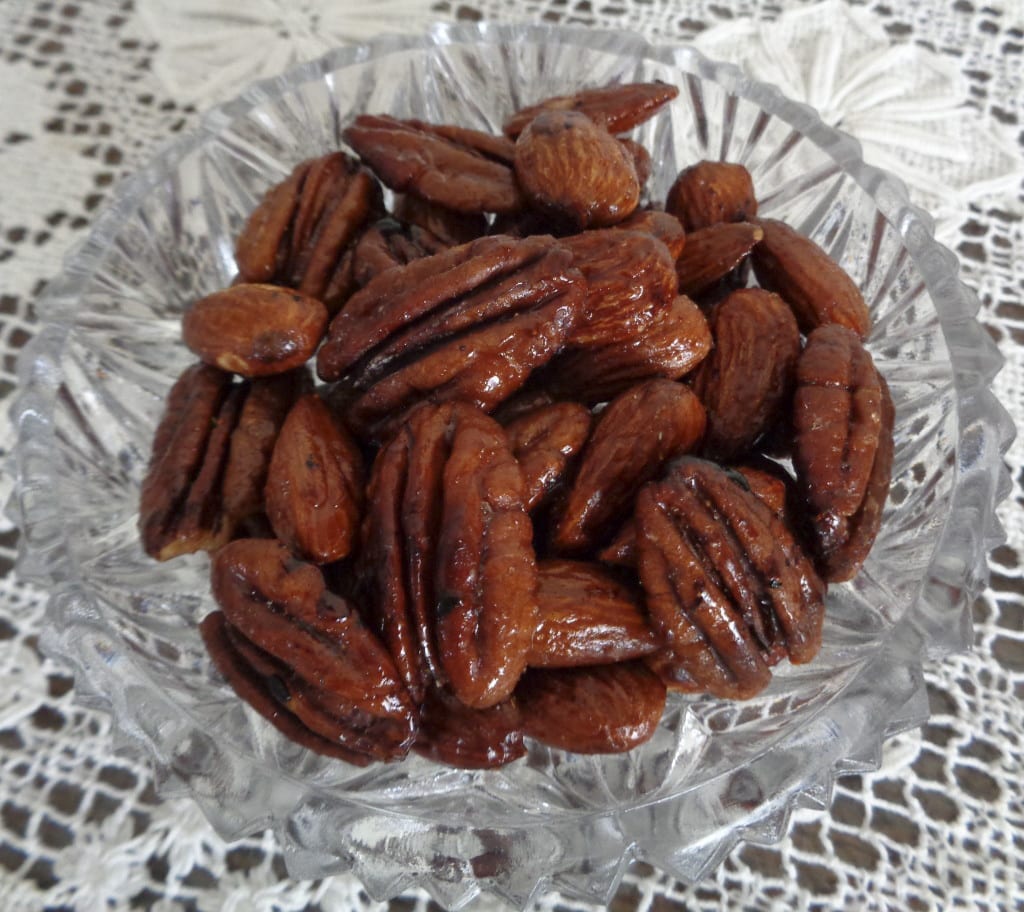 Five Spice & Cayenne Candied Nuts from My Kitchen Wand.