A quick and simple side for Summer Solstice Brunch. The Salmon Florentine Benedicts are filling so something light such as these shooters can be a good balance if hashbrowns are feeling like too much. Strawberries are local here right now and raspberries arrived the day after I took these pictures. Apricots are from the Okanagan but the mango is from a little(lot) further afield. Use what is fresh in your area, keeping to yellows, oranges and reds to represent the sun. If you are living in warmer climates try a citrus combination.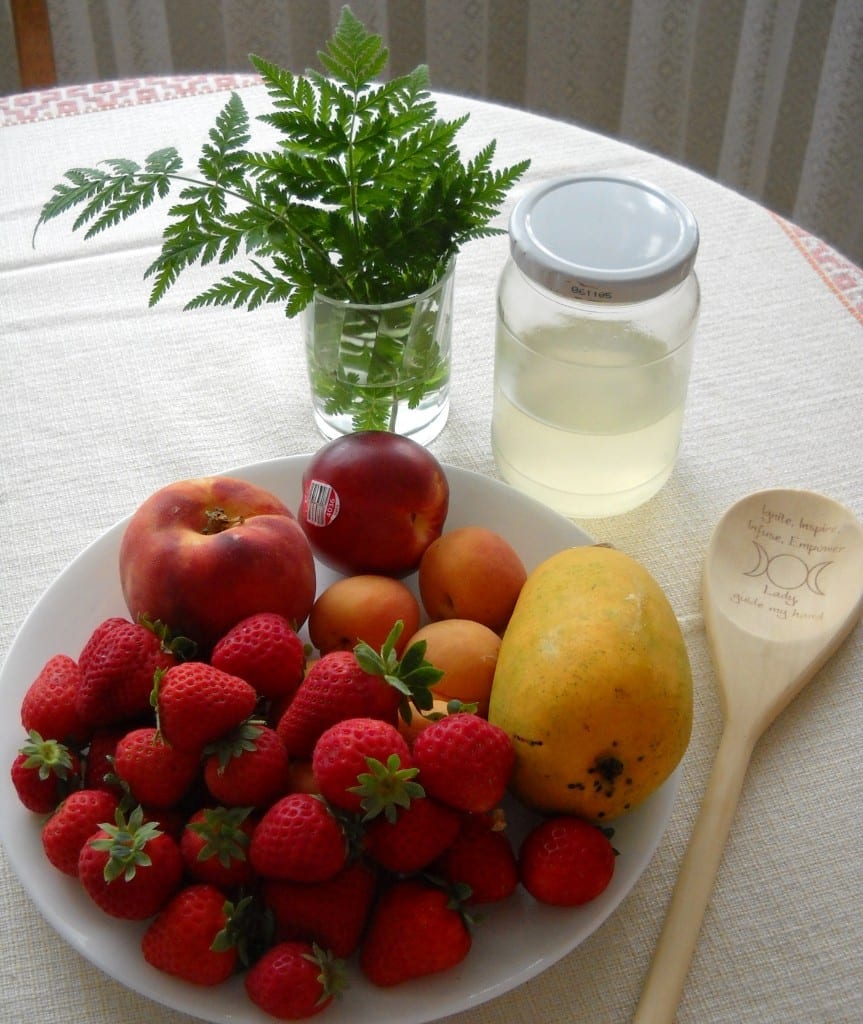 You will need:
A selection of fresh local fruit if at all possible. If not, then do the best you can with your options.
A couple of teaspoons of chopped fresh herbs, I used sweet cicely but if mint, lemon verbena or thyme are easier to find use that instead. (or anything else you would prefer)
A couple of tablespoons of the herbal simple syrup per cup of chopped fruit from the first summer solstice post. Another option would be a touch of honey or a sprinkle of sugar to get the juices flowing.
Gather up all the ingredients while enjoying the aromas of spring fruit. Breath deeply in, taking in all the different notes. Try to experience each level of scent just as a perfumer might when blending a new eau de toilette. Fresh local berries are here for such a sort time.
"Summer Solstice, fire and heat, we thank you for the fruits so sweet.
As the bounty of the Earth we praise, we lightly dance and our songs raise."
Take another deep breath, welcoming all the compassionate spirits around you today and begin.
Wash the fruit, remove any blemishes and cut into small pieces that will fall into your mouth easily. Ideally you would like to get a bit of each fruit in your mouth, so smaller pieces are helpful, neater and more work.
Chop your herb of choice and add to the bowl. Add the simple syrup to taste and allow to sit for an hour or so to mix all the flavours or get the juices going if using just sugar.
Shooter cups make for easy portion control but you can also serve from a larger bowl. Garnish with a larger sprig of herb.
Since these are being made for brunch I am not adding alcohol ( It may be 5:00pm somewhere but not here.) Later in the day though and for adults, an option would be to add a little extra punch with vodka or possibly rum. Not my first choice for the first fresh fruit of the season but I have a friend who adores it. She likes to get a head start on her Rumtopf.
Rumtopf is a collection of fresh summer fruits as they become available that are placed in a ceramic jar and marinated in rum and sugar over the summer for use over desserts in winter months. But for now let's stay with summer time and fresh fruits.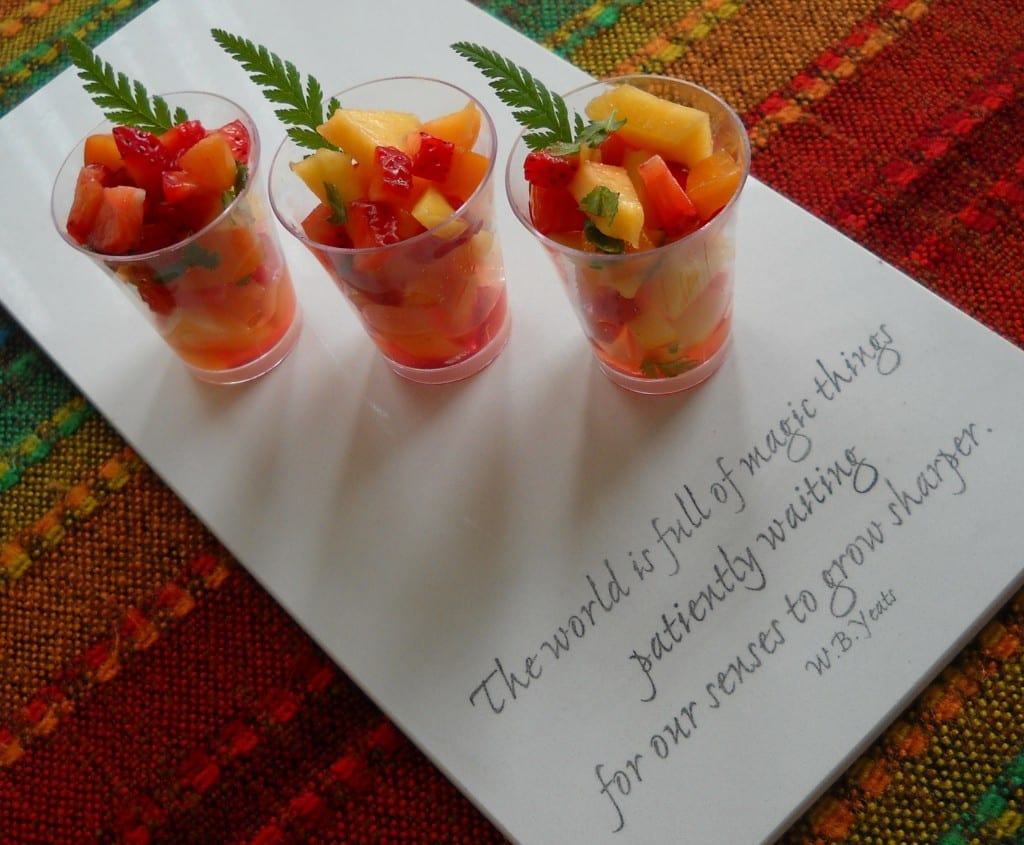 Fresh Fruit Salad Shooters from My Kitchen Wand