Having something that young people will enjoy making to offer at celebrations is usually a good thing and I try to post at least one option at these times. That is not to say that someone under the age of majority has to be around to make these tasty treats.
You can take this idea and turn it into one big pizza that gets cut into pieces. My intention was to give free reign to individual creativity and turned the cookie dough into individual pizzas.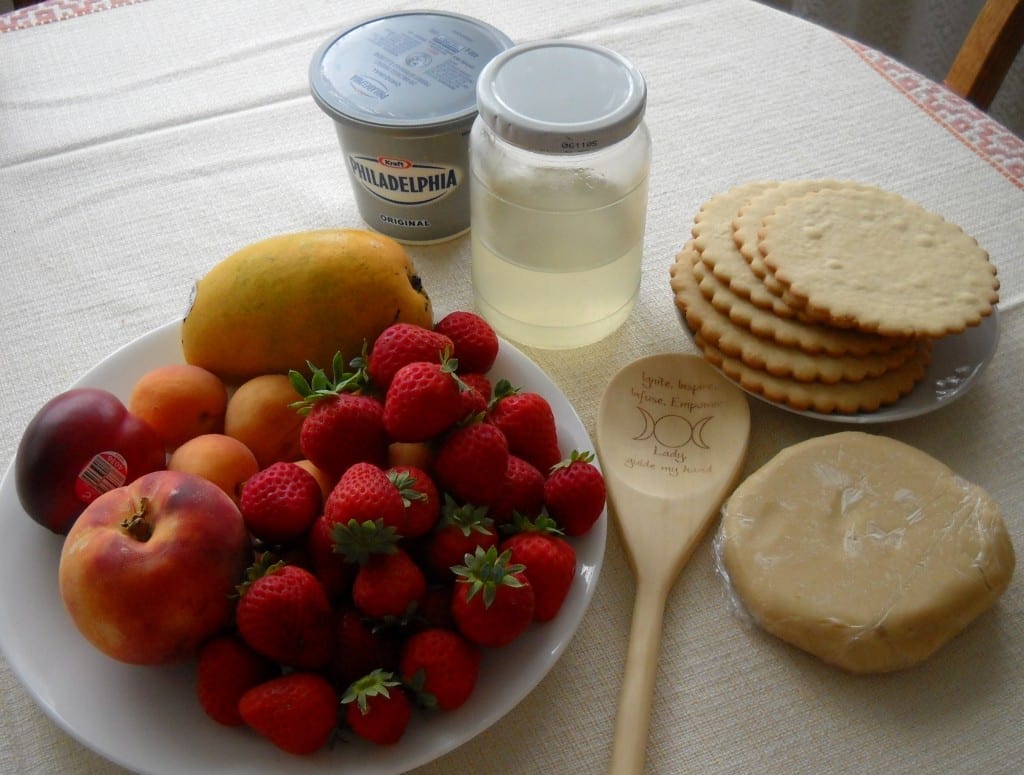 You will need:
Large sugar cookies. I used the recipe at the bottom which will give you 12 – 14 large cookies but you can also buy ready made cookie dough from a variety of places. For the pizzas, I would suggest making the cookies in advance and then allowing the decorating, finishing and serving to be the focus of the day.
8 oz. cream cheese
1/4 cup sugar
1/2 tsp. lemon zest
Fresh fruit in season
1 cup of  herbal simple syrup
1 Tbsp corn starch
or melted jam or marmalade for brushing
These fruit pizzas do not keep a long time once finished, partly because of the fresh fruit but also the cookies will soften from the cream cheese mixture on top so don't plan to have them around for hours. (If they need to hold longer then paint a layer of chocolate between the cookie and the cream cheese.) In a group this is something that can be treated like an arts and crafts project with the bonus of being able to eat them right away.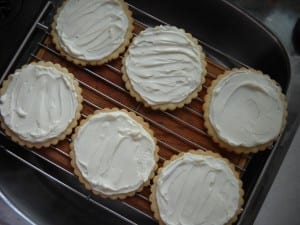 Mix the cream cheese, sugar and lemon zest until smooth.
"Ice" each cookie with the cheese mixture and set on something flat, like a cooling rack.
Wash the fruit and take off any labels. Allow the cutting to happen as the pizzas are being decorated.
Share your thoughts on how to decorate the pizzas. Solar and Brigit crosses are a great possibility for summer solstice as are eight pointed stars and anything that represents the sun. Open a little discussion about all the good things that the sun does for us.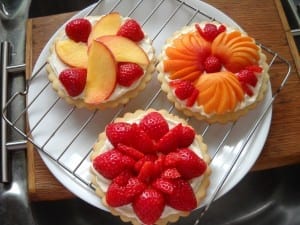 Pieces can be cut thinly like the apricots and fanned out or chopped or sliced in what ever way spirit moves you.
Pizzas can be just one fruit or a mixed selection and using what is readily available and fresh in your area is best.
Once all the pizzas have been decorated, place them back on a rack and possibly over a plate as they are ready for a final glaze.
The glaze will keep the fruit shiny, stop them from drying out as quickly, hold the fruit together and add a little sweetness and extra flavour.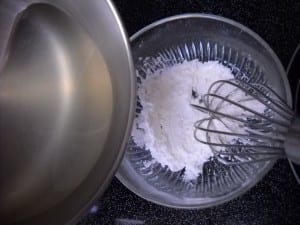 Place what you are using for the glaze into a pot and gently heat.
This is the simple herbal syrup, posted last week and linked above. Place cornstarch in a bowl and add enough syrup to mix together. Pour the mixture back into the pan and stir. You will notice the mixture will go milky. As the cornstarch cooks it will return to it's transparent state. Stir regularly until it thickens.
You can also heat a jam of some variety until it liquifies. Best to choose something with no big pieces of fruit.
Using a pastry brush, dip into the sauce and paint the tops of the fruit, being sure to get into all the little crevices but not to move the designs around.  You want enough glaze to cover but not to hide the design. Once the pizzas have been topped with glaze allow about 30 minutes as they cool and the glaze firms up to set the table and prepare beverages.
Serve and enjoy! Happy Summer Solstice!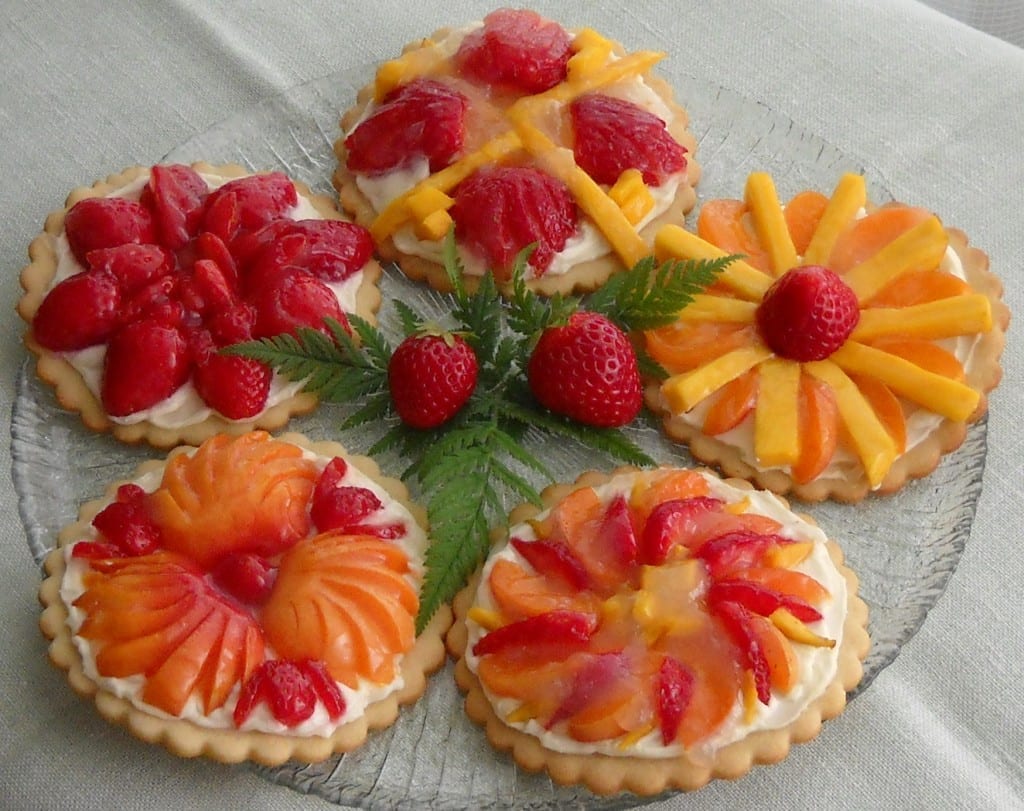 Summer Solstice Fruit Pizza from My Kitchen Wand
Sugar Cookie Recipe ( if needed )

2 cups flour
1/2 tsp. baking powder
pinch of baking soda
1/2 tsp. salt
10 Tbsp. butter
1/2 cup brown sugar
1/3 cup white sugar
1 egg
3/4 tsp. vanilla, lemon, almond or rum flavouring
This is a standard cookie method and will give you 12 -14 individual pizza size cookies.
Cream butter, add sugars and beat until light and fluffy. Add eggs and flavouring and continue to beat.
Sift flour and add baking powder, baking soda and salt.
Combine the dry ingredients with the creamed mixture and blend thoroughly.
Divide into two section and create "patty shapes". This will allow for easier rolling when they come out of the fridge. Wrap in  waxed paper or plastic wrap and cool for at least 4 hours or over night.
Sprinkle board with flour and roll out cookie dough. It will be very firm to begin with. I used a small tart form to make the fluted edges. If that is not handy a bowl will do just fine, something around 4 – 5 inches in diameter.
Bake on ungreased cookie sheets at 350 degrees for 10 minutes, then keep an eye on the cookies to ensure they don't get too brown around the edges.
When using this recipe for smaller cookies turn the oven up to 400 degrees and bake 5 – 8 minutes.