There is some debate as to where exactly this dish originated. Hungry, Poland, Slovakia and the Ukraine all claim ownership and if Pittsburgh had a chance they would try too. Haluski is one of those simple, cost effective, tasty dishes that also qualifies as comfort food.
With so many people looking for ways to keep their budgets flexible right now Haluski makes total sense. Cabbage is connected to prosperity energy so perfect timing all round.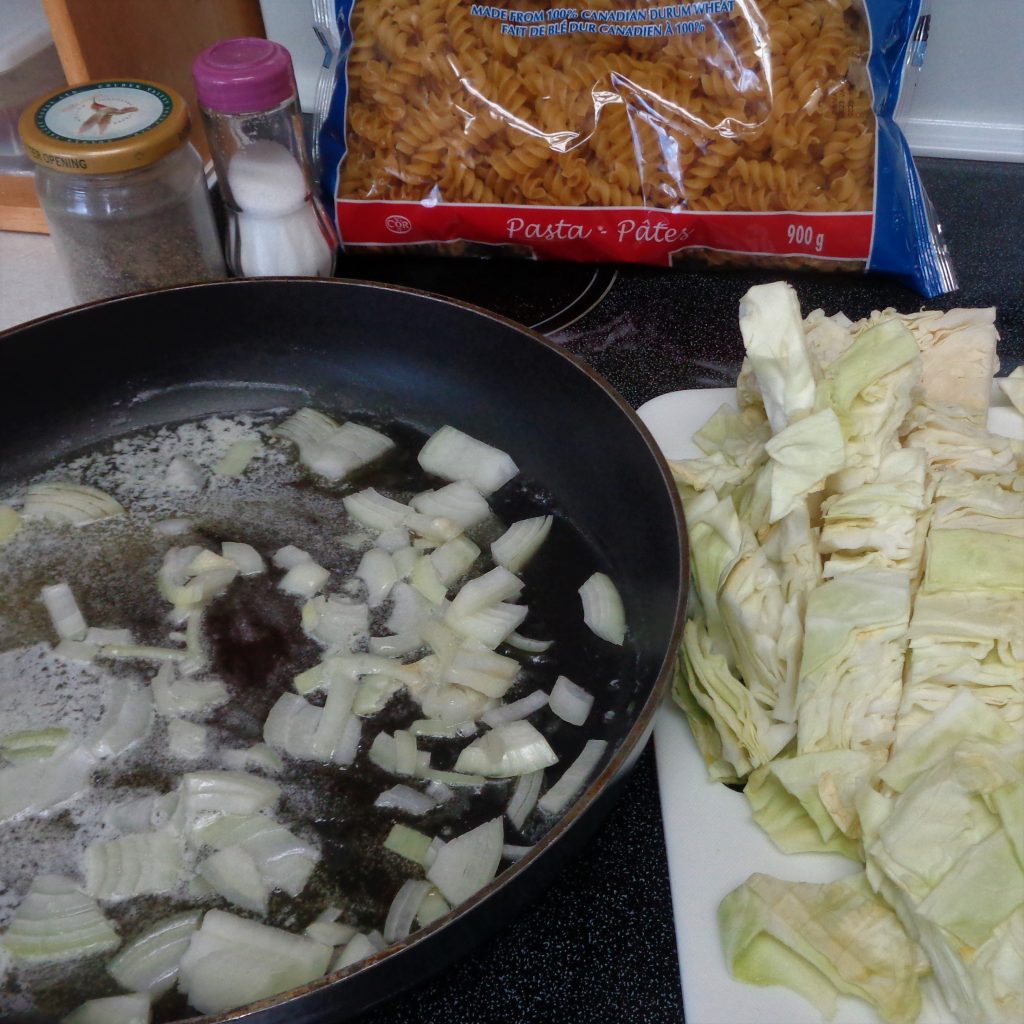 You will need:
1/4 – 1/3 cup butter
1 large onion
1 green cabbage
salt
pepper
bacon (optional)
sausage (optional)
1/2 recipe of homemade egg noodles or purchased eggs noodles or a gluten free option if you prefer
Take a moment to let go of all the things on the "todo" list. Take another moment to let go of all the nigglies, things that are weighing on you. Give yourself space to breath deeply and come into the present moment. Invite the compassionate spirits to join you. "In my kitchen filled with care, I welcome, Earth, Water Fire & Air". Begin.
Melt butter in a large saucepan. The cabbage will shrink over time, just like apples, but you will need the space to begin with.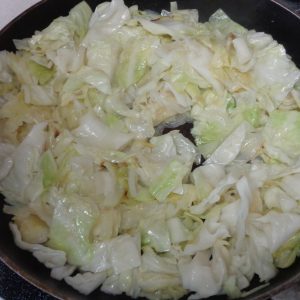 Peel and chop the onion and transfer to the heated pan. The plan here is not to brown the vegetables but give them a longer slower time to cook.
Chop the cabbage into one inch strips and then reduce the size by cutting crosswise into chunks, separate any large chunks, into its slices.
Once the onions are transparent, add the cabbage, toss to mix and put a lid on the frying pan.
What makes this dish special is that braising sweetens the cabbage. Something that doesn't happen when it is boiled. Who'da thunk?
While the cabbage is getting soft, it to time to move on to the noodles. I had originally planned to open a bag of store bought pasta but at the last minute changed my mind and whipped up a batch of egg noodles.
Haluski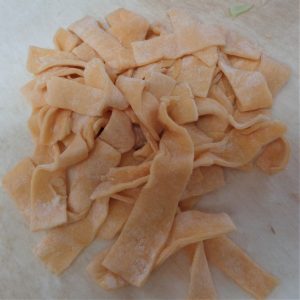 is made with broad noodles that can easily be rolled out and cut in strips with a kitchen knife. However, it is not a must to make them from scratch and store bought can make life a little simpler on busy days.
If you decide to also go this route, you will need:
3 eggs
2 cups flour
½ tsp. sea salt
Combine the three ingredients in a mixer and pulse until they are mixed and the dough is beginning to come together.
It is best to use large eggs for a little more moisture.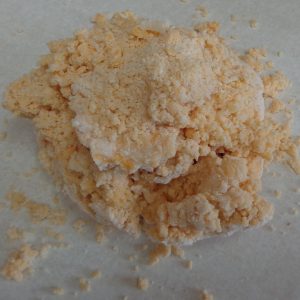 Turn out the dough onto a clean work surface.
You can see it will be crumbly. Simply pat the mixture together and divide into two balls.
Allow the dough to rest for 30 minutes before beginning to work with it.
During this time liquid will be absorbed by the flour and the gluten strands are relaxing. The resting time helps give you strong, pliable, dough that is more easily rolled.
As a general rule of thumb, the higher the yolk content, the longer the dough should rest. Thirty minutes works for this whole egg version.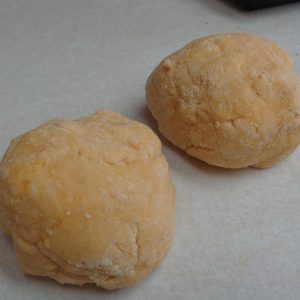 Wrap the dough so the outside does not dry out and check on the cabbage. Stir if needed and lower the temperature if the edges are getting too brown.
Fill a large pot with hot water, cover with a lid and place on high heat to bring to a boil. Once boiling, salt the water.
When the pasta has sat for 30 minutes, begin to roll out one of the balls. (Put the other one away for another project).
Feel free to use your pasta machine if you have one.
If not, divide a ball in two or three sections and roll out on a floured surface until about 1/16 of an inch thick. Cut is 3/4 inch strips and then again so the strips are about 3 inches in length.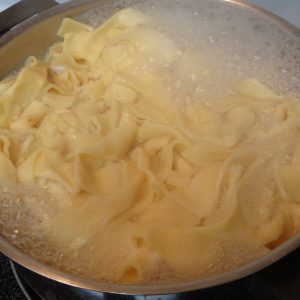 Place the fresh pasta in the boiling salted water and cook for about 5 minutes. Test and add extra minutes if needed to get to the consistency you like.
Remember to keep the lid off while cooking to help stop the water from boiling over.
Before I forget, a note about adding meat. This is traditionally a vegetarian dish but adding bacon is very common. It can be sliced, diced or cubed and added right at the beginning with the onions.
If a sausage/weiner is your choice, brown in a separate pan then dice into small pieces and add at the end. Deglaze the frying pan of any caramelization with a little pasta water and add to the finished mixture before serving.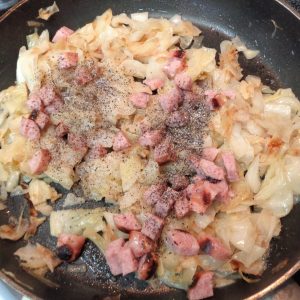 Combine the cabbage, pasta and meat if adding. Sprinkle with black pepper and toss.
Add in a few tablespoons of pasta water toss again and repeat if needed. This will add an extra little sauciness to the dish.
There is lovely sweet, spicy, soft and crunchy combination that happens on your tongue. How crunchy depends on how long the cabbage is cooked. Test/nibble/gorge along the way to make sure it meets your satisfaction.
The pepper should be recognizable but not so much it burns your tongue, unless you like that sort of thing.
Ultimately the noodles and cabbage will be pretty close in colour and that can make picture taking a challenge but I think it worked out well in the end.
I am not going to get into the ownership debate for this recipe. I will simply say "Приємного апетиту", "Bon chuť k jedlu",  "Smacznego", "Bon étvágyat"; Bon Appétit in all languages!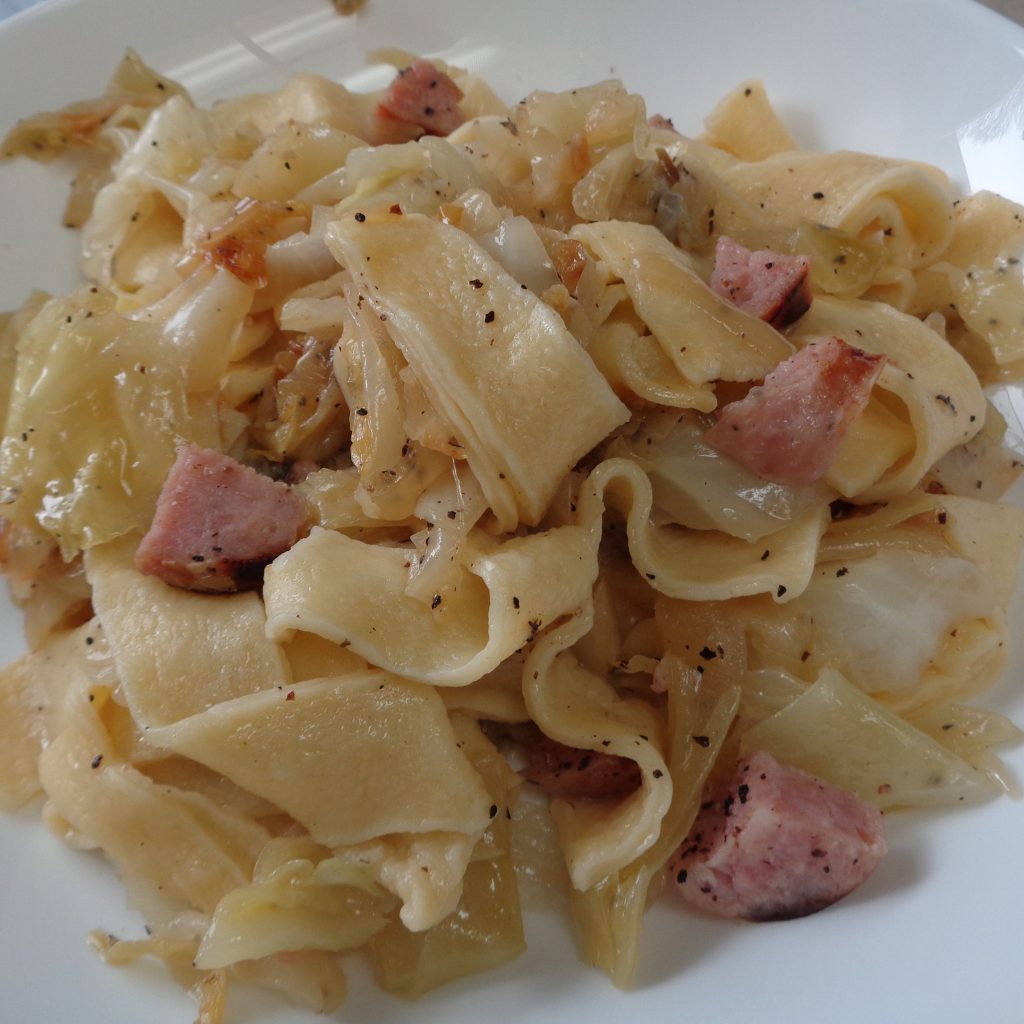 Haluski from My Kitchen Wand