Yes!, this is a post about Mushroom Linguini but more than that it is about making the most of what you have and getting through life's challenges together.
Over the last weeks, I have had various phone calls from people going shopping, fresh mushrooms and wildcrafted plants turning up on my door step, homemade masks being gifted. I, on the other hand, have been baking for sharing (untouched by human hands once baked), making hand creams for those feeling the results of all that hand washing and keeping contact with shut-ins. With Ruth being 91 and having MS, going out is being kept to an absolute minimum.
We all have reasons for doing or not doing certain activities right now but if there is anything (large or small) you can do to make life easier for a friend, your family and community, please do it. It is the acts of kindness, so much needed, that bring a little brightness to the day and help those you care about know they are not going through Covid season on their own. Just as the messages on each Kitchen Wands help us remember, the kind of energy we put out into this world has an effect.
So when these "interesting" times drop mushrooms on your doorstep, make linguini.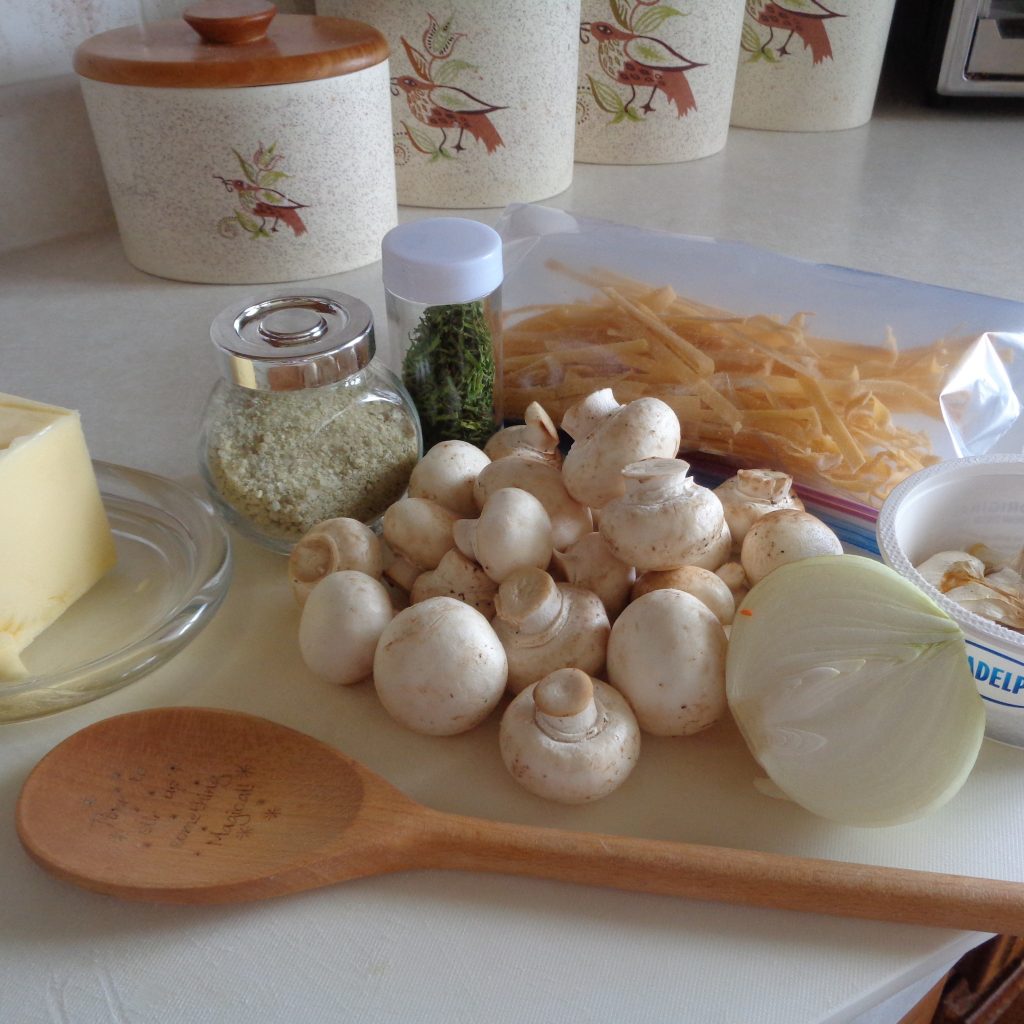 You will need:
2 – 3 Tbsp. butter
1/2 – 1 onion, peeled and diced
20 – 30 fresh mushrooms
1 – 3 roasted garlic cloves
linguini noodles for two
seasoning salt to taste
pepper, or hot sauce to taste
fresh chopped oregano or chives
With gratitude for all the blessings we still have, take a deep breath and hold it for a moment before releasing. Breath in again and feel your shoulders drop, letting go of the weight you might not even know you have been carrying. Breath deeply again, close your eyes for a moment, be here now and begin.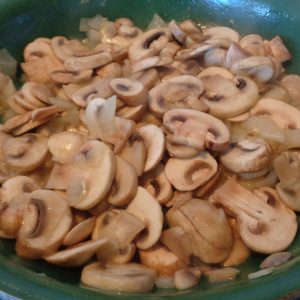 Melt butter in a frying pan and when melted and heated, add the diced onions.
Before we go any further I should tell you a short story. For the last 10 years I have been living with someone who HATES the smell of garlic. That has been a challenge in the kitchen. I have learned to make Hummus with hot sauce and modify many of my other recipes. In the last year "the rules" have relaxed a little and there is new understanding that roasted garlic is a different kettle of fish. I now roast cloves late at night (with the vent on) and am happy to say we are back to having a clove here or there.
I mention this only as an explanation for why there are roasted cloves in this recipe. I used to use a story in class about Bob and Betty. You may have already heard it.
They are newlyweds and on their first Easter together, Betty is baking the ham while Bob looks on. She cuts both ends off the ham before putting it in the pan. Bob asks why and she gets a little defensive but says that is the way she was taught. As Thanksgiving rolls around the family gathers together and Bob happens to be in the kitchen while his mother-in-law is getting the ham ready and she is doing the same thing, cutting off both ends of the roast. When asked why, she replied, she isn't sure, it was just how she learned to do it. Christmas arrives and everyone gathers at Grandma's place for potluck. Grandma though insists on baking the ham. Bob heads to the kitchen with his question. Grandma looks up surprised and replies, " It won't fit in my pan otherwise!"
If your preference is to add in finely diced raw cloves with the onions and cook them together, please feel free.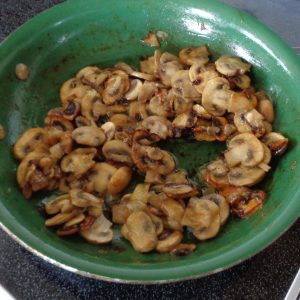 Add the washed and sliced mushrooms to the pan and cook over medium heat, stirring intermittently while the water for pasta comes to a boil.
Once boiling, salt well and add a tablespoon of oil, drop in the linguini.
I used half the leftover home made egg noodle pasta from last weeks Haluski post. It had been rolled through a pasta machine to make linguini noodles and dried.
Store purchased linguini works too, as does spaghetti or angle hair if that is what is at home. I am using what is available and making room in the pantry.
Once the pasta is cooked to your preference, drain the water, making sure to keep about a cup of pasta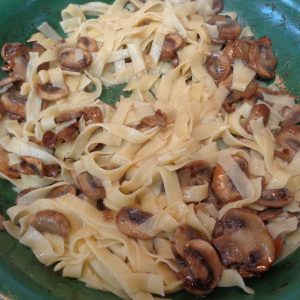 water.
Add the cooked pasta to the pan with the mushrooms, onion and garlic.
Add in 1/4 cup of the pasta water and toss. Use the water to deglaze the pan gathering all that flavour.
Add in any additional water you would like to achieve the consistency you prefer.
Plate the pasta, sprinkle with freshly chopped oregano or chives (because that is what is fresh in my garden right now) and herbed salt (because I had some sitting on the shelf) and possibly a little pepper depending on your preference.
A finishing salt works too.
If a vegetarian option is not your thing, try adding diced bacon, ground pepperoni or shredded cooked chicken to the mix.
Serve hot and enjoy, being grateful for the friends who are looking out for you while you try to figure out how to trim your hair.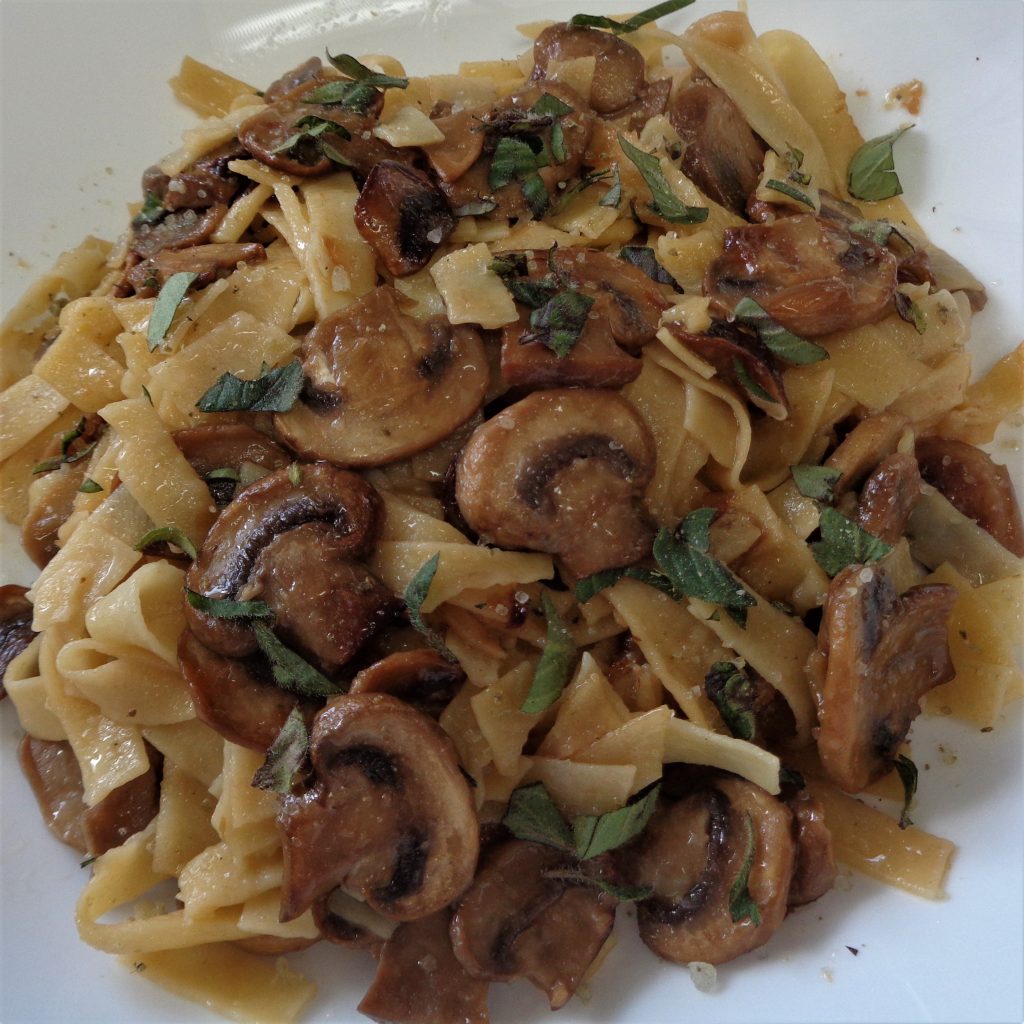 Mushroom Linguini from My Kitchen Wand