November 13th is World Kindness Day. It is an official United Nations sponsored day to recognize the contribution acts of kindness, random or otherwise, make to the world.
From 2000 to 2010, the United Nation also declared a decade of Culture for Peace. I created this recipe at the start of that decade because food has a big role to play in all cultures. It was featured in November 2002 issue of Canadian Living Magazine.
The ingredients in Kindness Cakes represent major faith traditions and support the hope that out of respectful diversity comes something, new, healthy and nurturing.

Almonds are used in Mandelbrot, a specialty of Chanukah. They also represent the work pillar of Kwanzaa, are one of the customary foods of Mehregan, a Zoroastrian Fall Festival & are enjoyed in dishes such as Seera, & Gujai during Diwali.
Oranges represent prosperity & good fortune in the celebrations of Chinese New Year
Dates are often used to break the fast of those honouring the month of Ramadan
Cranberries, a fruit long used in Native cooking, have become a staple at Thanksgiving & Christmas for many families across North America
Wheat Flour is a special ingredient of the many sweets prepared for the celebrations of Diwali
Buttermilk is an ingredient often used in the baking of treats for the pagan celebration of Samhaim.
Eggs have a long history dating back to ancient Egypt & Persia when children received eggs each spring as a gift of fertility.
Salt, considered a very expensive luxury item, was put on the table for guests to use in order to show them great respect. It also symbolizes friendship & loyalty because, like salt, friendships can disappear and then reappear to still be as solid as a rock!
The recipe was designed to make two loaves, one to share with your family and one to give away in a personal act of kindness.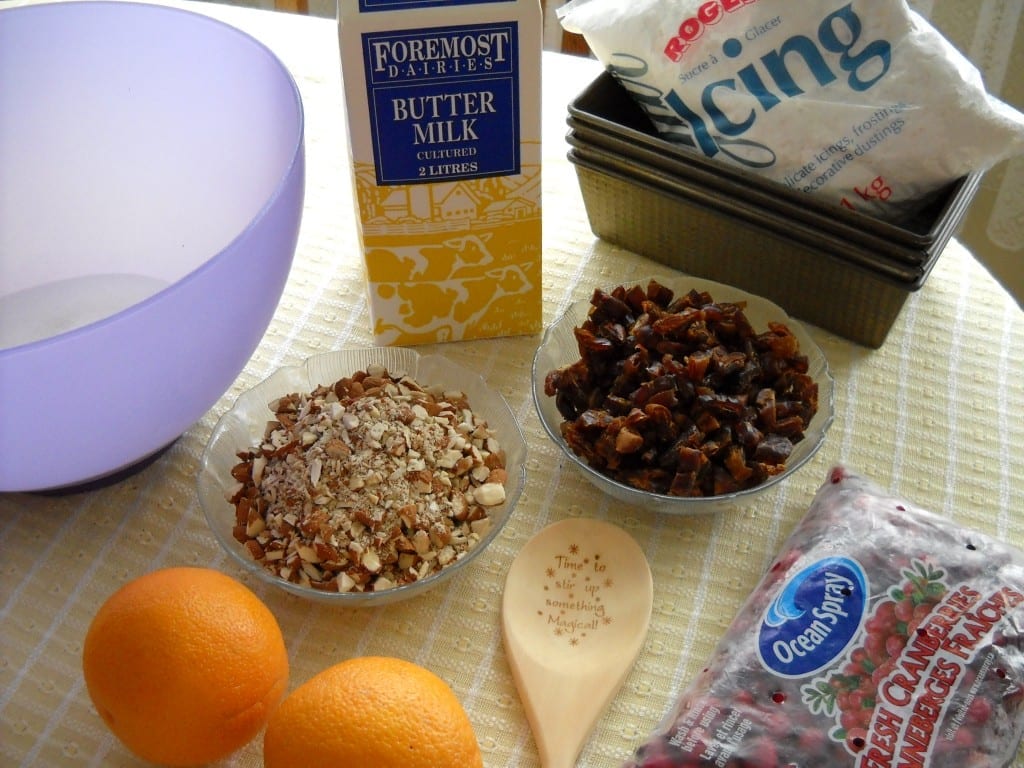 You will need:
1 cup butter
1 1/2 cups sugar
1 orange
3 eggs
3 cups flour
11/2 tsp. baking soda
1/2 tsp. baking powder
1/2 tsp salt
1 1/2 cups buttermilk
1 cup chopped almonds
1 cup cranberries, fresh or frozen
1 1/4 cup chopped dates
Icing:
2 Tbsp. softened butter
2 Tbsp, orange juice
2 cups icing sugar
There is a Cree teaching that says, when you make something by hand you put a portion of your spirit into the creation.  Just the knowledge that you are preparing a gift will add focus to your actions. Be present in the moment and be present in the work. With your best intentions, be love in action……and begin.
Grease and flour 2 loaf pans.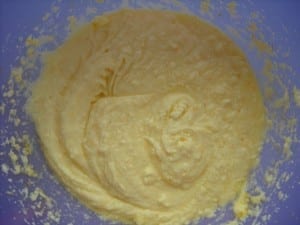 This cake has a lot of "weight" in it and sometimes a date or cranberry will stick to the pan, so after making several hundred of these over the years, I hate to loose one. I find the flouring really helps the cakes to pop out with no issues.
Cream butter and sugar together. Zest the orange and add to the creamed mixture. One by one add the eggs and mix well.
This is a standard cake recipe methodology; add dry, liquid, dry, liquid, dry.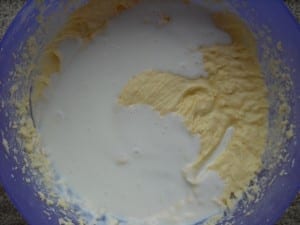 Start by adding a 1 cup of flour and mixing well. Add in 1 cup of buttermilk, then another cup of flour and the last 1/2 cup of buttermilk, mixing well each time and scraping down the sides of the bowl.
These photos will look like more batter that what you will have as I doubled the recipe to make 4 loaves,
Sprinkle the dates, almonds and cranberries on top of the batter.
Mix the baking powder, baking soda and salt into the last cup of flour.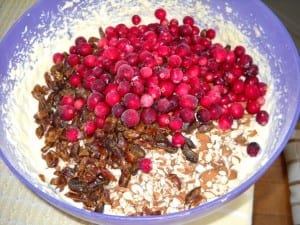 I started doing it this way when I was in production mode. It allows me to get the next batch underway while the previous batch is baking and if I need to stop it is not big deal as the leavening agents have not been added yet and the batter can sit for half an hour if need be. The more traditional way would be to mix the baking powder, baking soda and salt into the entire flour mixture.
Sprinkle the last of the flour et al over the top dusting the sticky pieces and using a wooden spoon gently mix all the ingredients together.
Transfer batter to loaf pans and bake at 350 degrees for about an hour. Remove from the oven and allow to cool 10 minutes. Remove the loaves from their pans and cool completely.
To complete the icing; cream butter and add sifted icing sugar, mix well. Slowly add orange juice until a creamy firm consistency is reached. Ice the top of each loaf.
I have found over the years that I put less and less icing on each loaf and I get requests for Kindness Cakes with no icing, partially because the cakes themselves are so full of other flavours. I am not quite ready though to give it up entirely.
These cakes will last over a week in the fridge and freeze well.
When serving, I cut both ends off each loaf and then slice 10 pieces from each loaf. Each slice can be cut in half , making 20 pieces to share at a meeting, office lunch or social get together. ( I have been know to stop along highways and deliver cake to construction workers. Then, I leave the slices whole.)
The name comes from the fact that we are each a unique one-of-a-kind expression of the Universe (just as each bite will taste different depending on whether you get dates, nuts or cranberries) and the wisdom that harmony is achieved through acts of kindness that foster understanding and trust. Mahatma Gandhi said it this way, "The simplest acts of kindness are by far more powerful than a thousand heads bowing in prayer."
Who will share your act of kindness on World Kindness Day?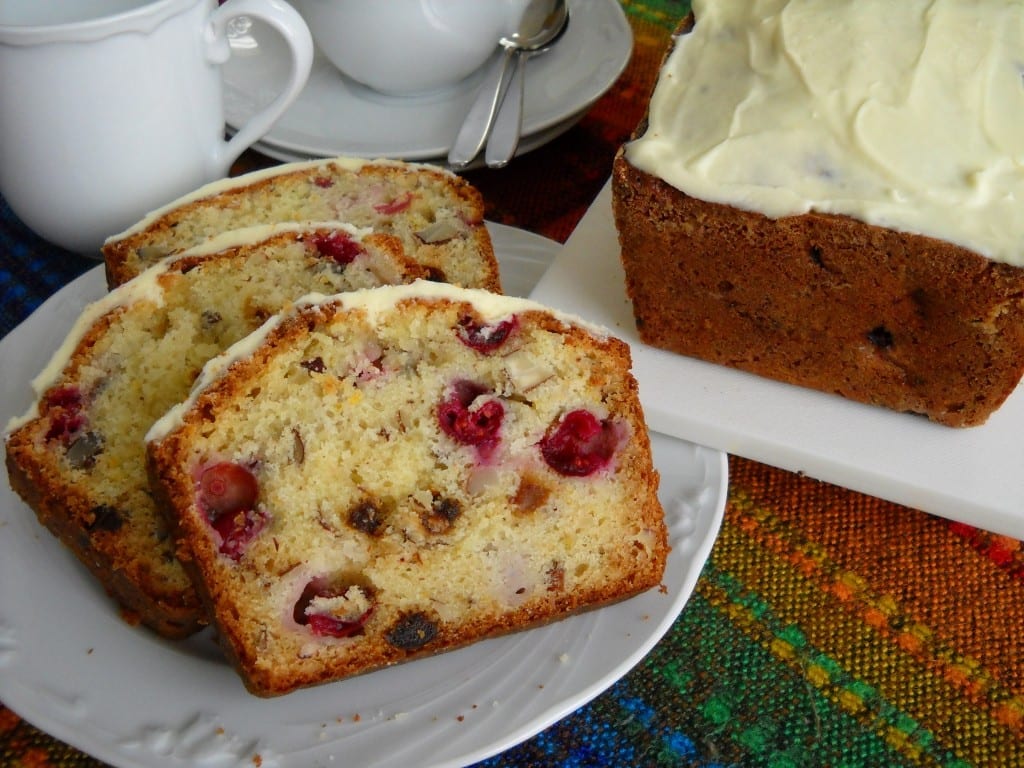 Kindness Cake from My Kitchen Wand