As the days get cooler, it is nice to have nibblies that have a little extra substance to them. This is a lovely cake for cutting. It is moist and will freeze well ( I often put half in the freezer for short/no notice visitors ).
Full of the flavours of fall and easy to prepare, Pecan Raisin Pumpkin Cake hits the spot for both kids and adults.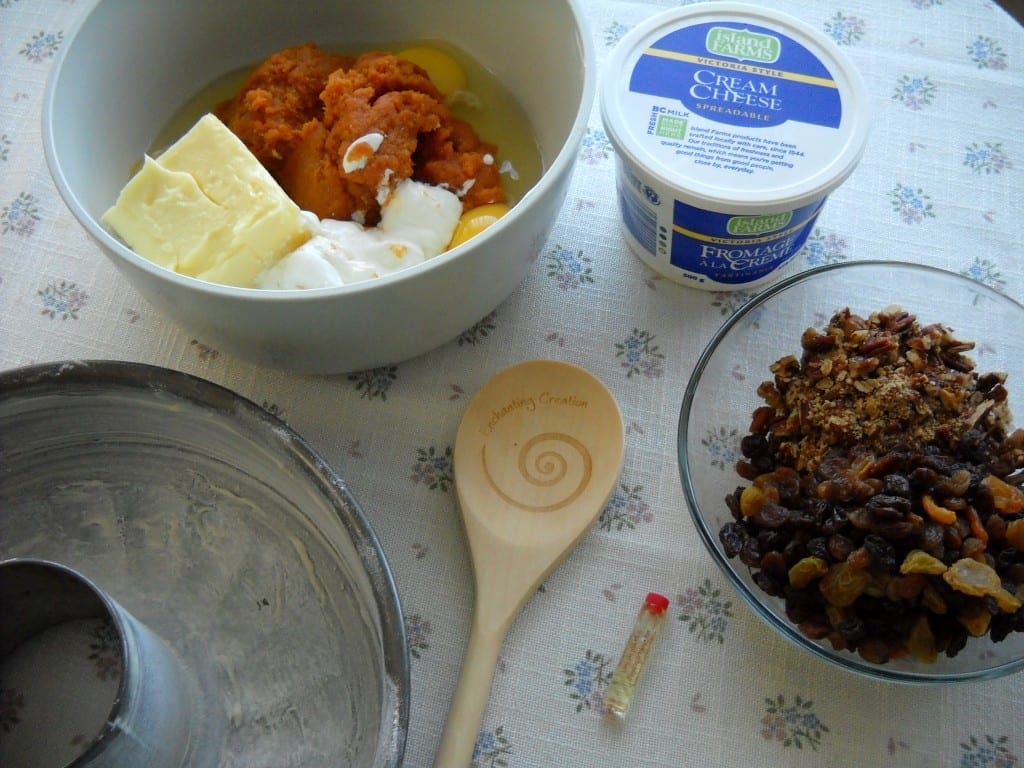 You will need:
1 cup butter
2 1/2 cups all purpose flour
2 tsp. baking powder
1 tsp. baking soda
2 tsp. cinnamon
1/2 nutmeg
1 tsp. ginger
1/4 tsp. cloves
1/2 tsp. salt
3/4 cup sour cream
1 cup pumpkin puree
1 bottle rum essence o 1 1/2 tsp. rum flavouring or rum!
1 1/4 cups sugar
3 eggs
1 cup raisins
1 cup chopped pecan
Glaze:
1 1/2 – 2 cups Icing sugar
2-3 Tbsp, cream
1/3 – 1/2 cup candied pecans, if you have some, otherwise chopped roasted pecans.
I feel that a cooks energy is a vital part of any cooking. Intention in the kitchen when preparing food has an effect on the outcome. Today, I pulled a little information from Cunningham's Encyclopedia of Wicca in the Kitchen. Scott Cunningham shares his perspective on the elements and energies of food items and writes that pumpkin is an Earth element with healing energies. Pecans are an Air element with the energies of money and employment while raisins are a Water element related to dreams, money and fertility.
Food for thought? or at the very least dreams. So, settle yourself in the present moment, take a clearing breath and begin…..
Heat the oven to 350 degrees. Chop pecans. Grease and flour a spring form pan. Taking this extra step ensures the cake, once baked and cooled a bit, will pop out nicely.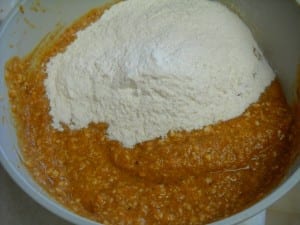 Cream the butter until soft and add the sugar.  Beat well. Add eggs, pumpkin puree, rum flavouring and sour cream to the butter and sugar. Mix well.
Essences are a European flavouring method that have become easier to find here. The most common brand is Dr. Oetker. They come in little bottles and most recipes call for 1 bottle, sometimes one half. Rum flavouring will work also.
Suggestion: If you are thinking about more of an adult cake. Leave the flavouring out and once the cake is baked, with a fork, poke a few holes in the top and drizzle 2-3 Tbsp. rum over the cake. Allow to absorb.
Sift dry ingredients together, flour, baking powder, baking soda, salt and spices and sift over wet ingredients. Fold together.
Add raisins and chopped pecans. I used a mixture of raisins here as I had leftover bits of golden, sultana and a dark variety. That is why the picture shows different colours. You can use which ever variety works for you.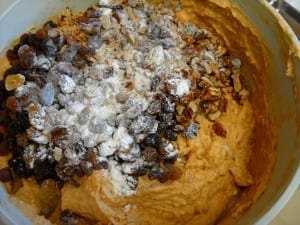 If the batter is moist as this one is, I sometimes hold back a couple tablespoons of the flour mixture and sprinkle it on top of the raisins and nuts. By coating the fruit there is a better chance of having them spread throughout the cake and not settled to the bottom of the cake.
Another option is to toss some of the flour mixture in a bowl with the fruit and then adding to the cake batter. ( I am all for less dish washing so I opt for sprinkling on top.)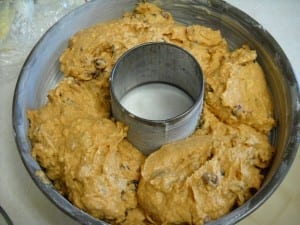 Once the nuts and fruit are folded in, spoon the batter into the spring form pan. Be careful not to wipe the flouring off the sides of the pan and keep the sides a clean as possible from little drips of batter. Smooth the batter to create an even top and place in the oven for approximately 1 hour.
When done the sides can be seen to pull away from the the baking form. Use a toothpick to check the centre. It should come out clean. Remove from oven and allow to cool for 10 -15 minutes before opening the spring and releasing the pan. Cover with a cooling rack and Invert before taking off the last part of the pan. Cool completely.
Place icing sugar in a bowl and add milk, a few drops at a time, stirring well until a thick glaze consistency is reached. Too runny a glaze will not be visible on the cake and to thick a glaze will not create dribbles down the side and in my opinion, is just too much sugar in a bite.
Set a pan under the cooling rack to catch and reuse drips. Spoon the glaze along the top of the cake, encouraging it over the side in an irregular pattern. Before the glaze hardens, tops with chopped nuts.
When I made this cake I had some maple coated nuts in the house. That was a lucky fluke and not a requirement. Chopped roasted pecans will work as well.
Fresh baked Pecan Raisin Pumpkin Cake and a cup of steaming coffee (or tea). Make sure to include some time for a conversation about dreams, healing and money. Enjoy!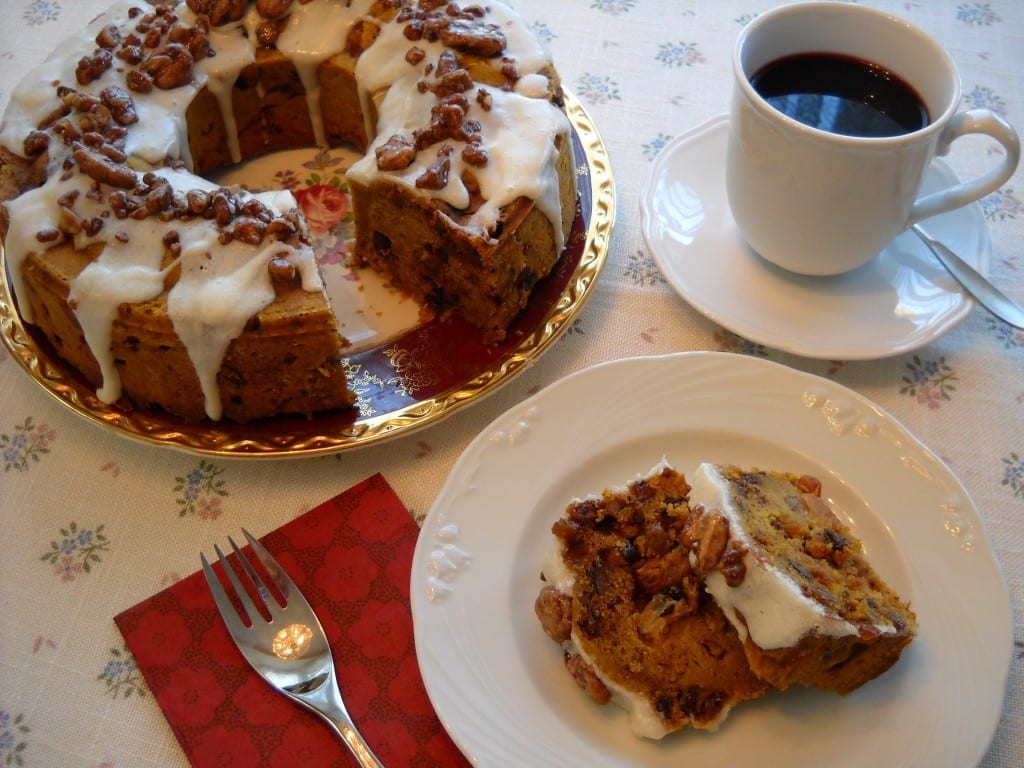 Pecan Raisin Pumpkin Cake from My Kitchen Wand